East, West, South, and North Africa all represented in the ABH competition's Top 20 this year .
By Samuel Ouma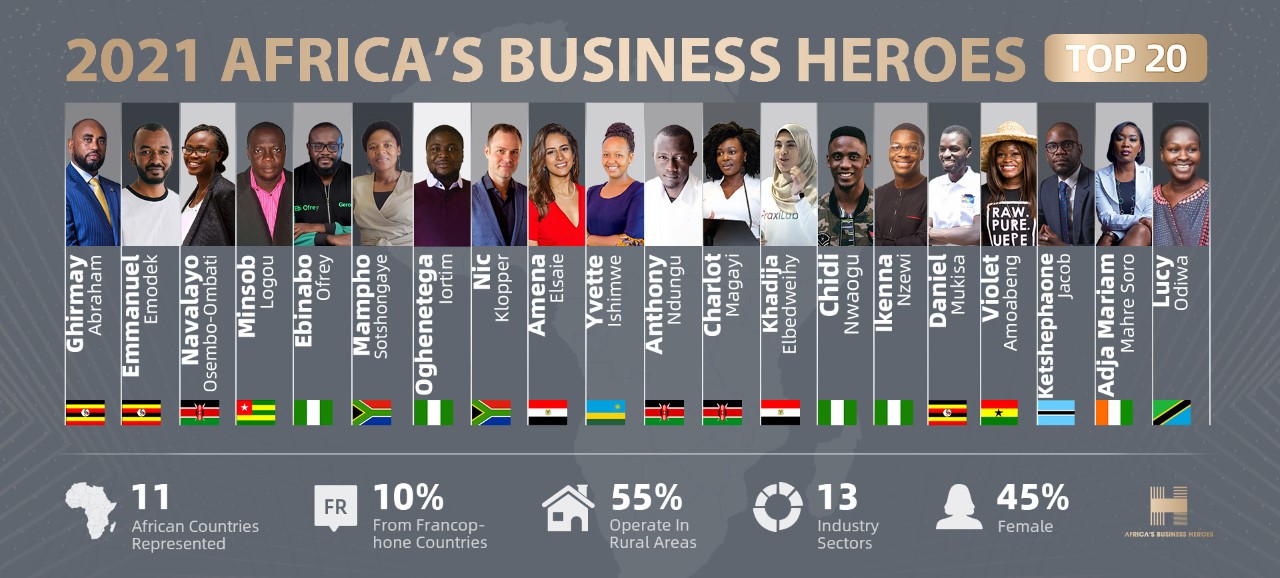 Africa's Business Heroes (ABH), a flagship philanthropic program by the Jack Ma Foundation which aims to identify, support, and inspire the next generation of African entrepreneurs who make a difference in their local communities, solve the most pressing problems, and build a more sustainable and inclusive economy for the future – recently announced this year's Top 20 finalists.
The 20 African entrepreneurs are competing for a position among the Top 10 outstanding heroes who will stand a chance at the grand finale to win a share of the US$1.5 million grant funding in November this year, on top of invaluable networking and training opportunities.
This year's ABH competition attracted over 12000 applications from all 54 African countries representing sixteen sectors. The Top 20 outstanding entrepreneurs are representing 11 African countries, including Cote d'Ivoire, Botswana, Egypt, Ghana, Kenya, Nigeria, Rwanda, South Africa, Tanzania, Togo, and Uganda.
In terms of regional representation, East Africa has the largest number with a total of 8 entrepreneurs from 4 countries namely, Kenya, Uganda, Tanzania, and Rwanda. West Africa is represented by 7 entrepreneurs from 4 countries including Nigeria, Ghana, Togo, and Ivory Coast; while Southern Africa follows with 3 entrepreneurs from South Africa and Botswana; and North Africa also represented by 2 entrepreneurs both from Egypt.
The ABH 2021's youngest entrepreneur is 24 years and the oldest 46, a confirmation that entrepreneurship can start at any age. Out of the Top 20 finalists, 9 are female making a 45% representation, as Africa waits to see what the Top 10 this year brings. The Top 20 entrepreneurs represent a diversity of different sectors including agriculture, beauty & wellness, construction, consulting, education, energy, environmental protection, financial services, food & beverages, healthcare, ICT, logistics, manufacturing, media & entertainment, retail, and transportation.
The Top 20 entrepreneurs are currently undergoing further rounds of selection whereafter the Top 10 will be selected and announced later this Fall.
These will be headed to the grand finale where they will each pitch their business ideas live to global business legends in November to determine who takes what share from the 1.5 million USD prize pool.