A Pillar For African SMEs In Ecobank.
By Ajong Mbapndah L*
For small and medium size enterprises across Africa, there is no better partner today than Ecobank. From its roots in Togo, West Africa, Ecobank today has banking operations in about 33 African countries and counting. It therefore came as no surprise when the Ecobank Group was named as the 2021 African SME Bank of the Year beating a host of other banks at the African Banker Awards.
For Ecobank Group Executive, Commercial Banking, Josephine Ankomah, the unprecedented challenges triggered by the COVID -19 pandemic in 2020 required resilience and innovative ways to assist SME customers survive the enormous challenges. Gracious in victory at the Awards, Josephine Ankomah lauds the tremendous work of staff, and collaboration of customers and partners in the success of the robust response provided by Ecobank to SMEs.
"Since the onset of Covid-19, the Ecobank Group has considerably ramped up investments in programmes targeting SMEs by expanding SME-focused lines of credit, providing technical assistance to SME development institutions and building SMEs' capacity via linkage programmes in partnership with its strategic partners, "says Josephine Ankomah.
From the support to SMEs, to the promotion of gender inclusion, perspectives on the African Free Trade Agreement, corporate social responsibility, historical insights, and more, Josephine Ankomah sheds lights on operations of Ecobank which is today one of the indispensable actors in the business and development equations in Africa.
Thanks for accepting to answer our questions, for those who are not familiar with Ecobank could you start with an introduction, and business concept or vision around the Bank?
Ecobank is an innovation of our founders – members of the Federation of West African Chambers of Commerce and Industry and the Economic Community of West African States (ECOWAS). They imagined and actualized their idea of setting up a Bank that transcends country borders, in an era where most banks were either international or country based, to initially assist the business community in the West African Region and later the entire African continent.
Their aim was to break the artificial border barriers along the region and galvanize economic development and integration. A Pan African bank was consequently born dedicated to the continent and its people. The parent company of the Ecobank Group, Ecobank Transnational Incorporated is headquartered in Lomé, Togo where the visionary Togolese leader agreed to host Ecobank on behalf of Ecowas.
The dual objectives of the Ecobank Group are to enable a modern pan-African bank to thrive and to contribute to the economic development and financial integration of the continent.
36 years on and with extensive footprint across 35 African countries in key geographical regions: Nigeria, Francophone West Africa (UEMOA), Anglophone West Africa (AWA) and Central, Eastern and Southern Africa (CESA), Ecobank is the largest Pan-African full-service banking group in terms of spread on the continent. we have banking operations in 33 African countries, representative offices in Ethiopia and South Africa, international operations in Paris (France) as well as offices in Beijing (China), London (The UK) and Dubai (The United Arab Emirates).
As a banking group, our strategic purpose which steers us towards growth and success, is to build a world-class Pan-African bank and contribute to the economic development and financial integration of Africa. Our mission is to provide all our customers with convenient and reliable financial products and services.
As of 31 March 2021, The Ecobank Group had $25.59billion in total assets and $1.95billion in total equity, a customer base of over 24million, 690 branches, over 76,000 Xpress points over 2600 ATMs, over 11million Mobile App users, 40 million digital transactions, a staff strength of over 14,000 with a 54: 46 ratio of male to female employees.
The Bank is also listed on three stock exchanges: The Nigeria Securities Exchange, The Ghana Stock Exchange and the BVRM in Cote d'Ivoire. We also have Bonds trading on the London Stock Exchange.
In what parts of the continent does Ecobank have operations in, what are some of its leading products, and what kind of clientele does the Bank carter to?
The Ecobank Group has presence in 33 countries on the continent, what we refer to as middle Sub-Saharan Africa (outside of South Africa). In South Africa, we have strategic partnership with Nedbank, which is also a major institutional investor in our parent company.
The Bank has a diversified business model by which we manufacture financial products and services centrally, at the Group Level, and distribute them locally through our 33 banking affiliates in the four geographical regions. Our customers are segmented in line with our three Business segments namely: Consumer Banking, Commercial Banking and Corporate & Investment Banking.
Consumer Banking caters for individuals, offering deposit, loan and payment products. We deliver our services through two consumer sub-segments – Personal Banking and Direct Banking. Personal Banking focuses on our Premier and Advantage customers with moderate to high-net worth revenues, and Direct Banking focuses on the mass market and the youth. Through these sub-segments, we serve our customers through our unrivalled footprint in Africa, leveraging digital, branch and agency channels.
Commercial Banking caters for SMEs, Local Corporates, Local NGOs, Local Government Agencies, Faith-Based Organisations, Educational Institutions, Healthcare Institutions. These customers have access to working capital financing, asset financing, business prepaid cards, digital products for payments and collections. We also offer specialized programs such as Ellevate by Ecobank our gender financing product for women owned businesses and women focused businesses.
Corporate & Investment Banking caters to Governments, Regional and Global Corporates, Financial Institutions, International Organisations. Some of the products and services on offer to our Corporate Banking customers are Fixed income, currencies and commodities (FICC), Cash Management, Trade Finance and Services, Loans and Liquidity, Securities, Wealth and Asset Management (SWAM) and Investment Banking.
The Ecobank Group recently won the '2021 African SME Bank of the Year' award, for its significant contribution to the development of the SME sector during the coronavirus outbreak last year, how was the award received and what does it mean for the Bank?
We were delighted to receive this award particularly during this challenging COVID19 period. The award was in recognition of the collective hard work of all Ecobankers and our partners in responding quickly and providing the needed support to our SMEs from the onset of the COVID pandemic.
We had to rethink our business and provide innovative ways to assist our SME customers survive the difficulties brought about by the pandemic. We were also at the forefront of promoting gender inclusion at this challenging time with a product for women owned and women focused businesses – Ellevate by Ecobank.
This award indeed serves as motivation to our staff that all their hard work in improving our products and services, providing the right level of support to our customers is appreciated and recognised. Together, we demonstrated how we can positively impact SMEs and women during a crisis period. As a Bank with a vision to promote economic development, we are proud of this achievement.
What were some of the specific contributions that you made towards supporting or cushioning the impact of COVID 19 the SME sector?
Our customers, particularly the small and medium-sized enterprises (SMEs) – bore the brunt of the financial pressures as they had to contend with supply chain challenges, effects of the lockdowns on their businesses, consequently, decline in turnover, revenue loss and operational challenges in 'getting back to normal'.
Staying close to our customers and providing them with the necessary financial and non-financial support, was critical and served to demonstrate our commitment to them. We quickly identified the most vulnerable sectors impacted by the pandemic and with an understanding of what our customers required during this difficult period, we proactively put in place mitigating actions including tenor extensions and moratoriums on interest to assist our clients manage their loan repayments. This also helped us manage our loan portfolio and avoid significant deterioration.
Our investment in technology, internet banking and digital transfers in prior years paid off making the transition from in branch services to digital quite seamless. Customers did not face disruptions in making and receiving payments for their goods and services. They were able to continue paying salaries to their employees using digital means and reducing the use of cash which could be a vector of transmission. These were some of the positive experiences. The tremendous uptake on our digital platforms and solutions was a major positive outcome.
Being mindful of the effects of the pandemic particularly on MSMEs, we partnered with AUDA-NEPAD, an African Union agency to support the agency's 100,000 MSMEs initiative. This led to the launch of the MSME Academy by both Ecobank and AUDA-NEPAD in 2020, in the midst of the outbreak of the COVID-19 pandemic. The objective is to provide entrepreneurs, owners and managers of micro, small and medium sized enterprises (MSMEs) with coaching, mentoring and business skills training courses.
Ecobank has also partnered with Google to equip African SMEs with the necessary digital skills to navigate the rapidly evolving business world. The aim is to assist African businesses remain relevant and fulfil their potential by embracing digital capabilities.
From your perspective and that of the Bank, how important are SMEs to the development of the continent, and additional support could Institutions like Ecobank, and others, governments etc provide to strengthen and support their growth?
A lot has been said about how SMEs are critical to economic development and rightly so, because they constitute 90% of businesses on the continent. In Africa the desire and determination to start a business is not in doubt. What is needed however is the means to unlock their full potential, grow these businesses in a sustainable manner and turn them to multi-million-dollar companies in the future.
We have noted that there are three (3) key things that SMEs need namely, access to finance, capacity building and access to markets.
In terms of access to finance we continue to work at de-risking credit facilities extended to SMEs through credit guarantee schemes that can be provided by DFIs and Governments. Through these risk sharing partnerships are able to lend to SMEs against reduced collateral requirements. We are also partnering governments in our markets to deliver support to SMEs e.g., MIFA and FAIEJ in Togo.
We recognize the need to strengthen and build the capacity of business owners to ensure efficient management of funding. Between June and July this year we provided training to over 800 SMEs under the MSME Training for Financing Programme. This programme proved to be very impactful with more than 90% of participants testifying that what they had learned would significantly help improve their business operations.
As with any major disruption, COVID 19 pandemic ushered in a period of both great risk and opportunity. One positive aspect was the exponential growth in digital payments. Business owners quickly realized the need to close the digital skills gap within their places of work for a sustainable post-pandemic recovery. This is where our partnership with Microsoft through their Global Skilling initiative successfully offered digital training to our SMEs.
Finally, access to markets. We have developed eCommerce solutions to expand market access working through partners such as iPay, DPO, Flutterwave and with Google through the Google My Business platform. With these solutions our customers benefit from enhanced visibility for their business through a digital presence. They are able to expand their customer base with whom they can have access and interact 24/7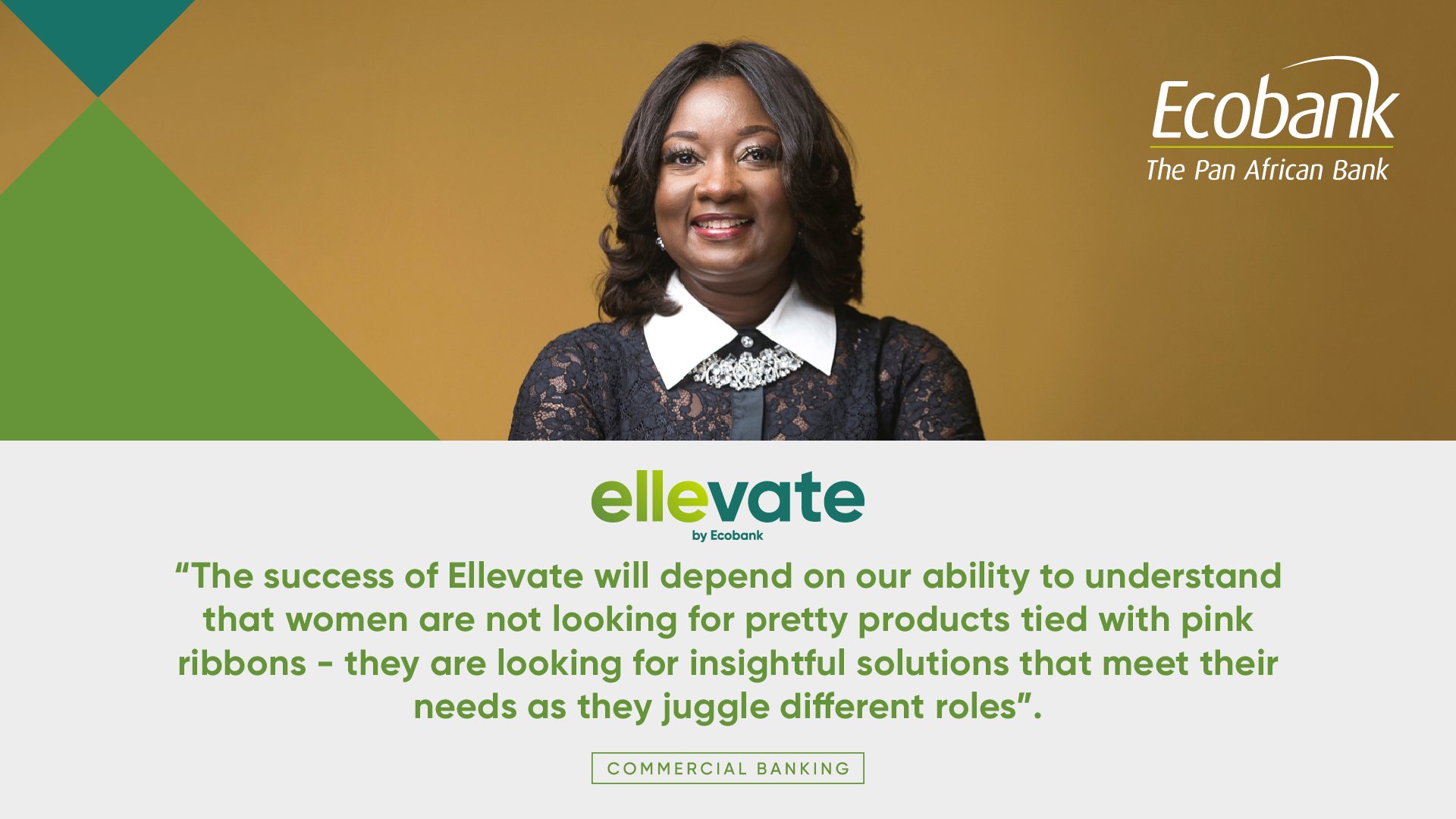 May we know what specific programs or activities that the Bank has in place or has in view to empower women?
Gender Financing is an area we are keen to support, and this led to the development and launch of our women's program Ellevate by Ecobank in November 2020.
Women constitute roughly half of the population in Africa. One in four female adults in Africa starts or manages a business, Women also invest as much as 90% of their incomes into their families and communities. So, clearly our goal of positively contributing to the economic development and financial integration of the African continent can only be strengthened if we focus on women.
Ellevate by Ecobank is now on the market as a pilot programme in a few countries. We are convinced that the needs of women entrepreneurs are largely the same across the continent and should be addressed without exception. With this in mind, we launched Ellevate by Ecobank simultaneously in all our 33 markets. Today you will find dedicated Ellevate Desk Managers ready to attend to the needs of women all across our footprint.
The program is designed for women owned and women focused businesses. This means that any business founded by a woman or is 50% or more owned by a woman qualifies for Ellevate. A business whose management or board is made up of 20% or more women also qualifies for Ellevate. Another criteria we consider is the number of women employed. If the business employs more than 30% women it qualifies for the programme and finally companies who manufacture products specifically for women for example cosmetics, sanitary ware, mother care products also qualify for Ellevate.
The value proposition of Ellevate by Ecobank offers women an end-to-end partnership in which they gain access to financial services as well as non-financial services. This distinguishes us from other women's programs where the focus is on either financial support or non-financial support. In the case of Ecobank we are offering them both.
We are committed to meeting the needs of women businesses with tailored loan products, at favourable lending terms as well as capacity building, providing access to markets, networking opportunities and recognition.
Still on COVID -19, may we know what impact it had on operations and business in general for Ecobank?
We were prepared having made significant investments in technology in the last 5 years to digitalise our operations and services. We therefore ensured that we steadfastly provided our customers with 24/7 access to their financial service's needs. For example, our call centres were open, and Rafiki, our artificial intelligence (AI) self-help bot, supported routine banking services. Our full suite of banking services remained available on all our digital platforms: mobile, online, Omni Plus and Omni Lite.
In the wake of COVID-19, businesses transitioned from cash towards e-commerce and digital payments. The gradual shift from physical to digital channels among consumers accelerated with the pandemic, which has changed the way that we work in so many ways.
ATMs and call centres remained open 24/7. We ensured that customers had the full range of banking services available on our digital platforms: Ecobank Mobile and Ecobank Online available to our consumer customers, and Ecobank Omni Lite and Ecobank Omni Plus to meet the needs of SMEs and large businesses. We took the decision to waive some fees on our digital channels.
To ensure the safety of our customers we adhered strictly to guidance from WHO, governments and health agencies making it safer for our customers to visit our physical locations by providing temperature checks, crowd control, hand sanitisers and social distancing, among other measures.
Our staff were also able to work from home with very minimal initial challenges. Staff today can operate from wherever they may be.
For our communities, we contributed circa $3 million in the form of cash, healthcare equipment and supplies and embarked on sustained and robust COVID-19 awareness campaigns across our footprint.
What are some other challenges that Ecobank faces in countries where it has operations, and any plans to expand into more countries across the continent?
Admittedly there are challenges operating in Africa, a large unbanked population high levels of poverty, unemployment etc. However, we see these challenges as opportunities to positively impact the lives of people and their communities. This is what drives us to work with partners, leverage our strength and help to solve some of these challenges. For example, our focus on women through our gender financing programme Ellevate by Ecobank will not only set us apart, but more importantly, will touch the lives of one of the most vulnerable groups in Africa by providing them with tailor-made and relevant solutions that will empower them to continue to effectively contribute to Africa's development.
The Ecobank Fintech Challenge affords us the opportunity to collaborate with Fintechs who are ready to scale. We provide them access and to 33 markets to provide payment solutions. Our own digital solutions like OmniLite, Ecobank Pay,Rapid Transfer s, Mobile App facilitate payments and collections seamlessly across our footprint and ensuring final inclusion is extended to a vast number of people on the continent
There has been so much talk about the African Continental Free Trade Agreement, first, how does Ecobank view the AfCFTA, and what is the Bank doing to tap into opportunities that may accrue from it?
The Africa Continental Free Trade Agreement (AfCFTA) officially became operational in January 2021 paving a way for our clients to access a unified African continental market. Africa has six major customs unions and a number of trade agreements but that notwithstanding these trading arrangements and their related costs of doing business are far from conducive to the success of entrepreneurs seeking to trade beyond their national borders.
The African Continental Free Trade Area (AfCFTA) Agreement aims to improve cross border trade for both formal and informal service suppliers, with particular attention to micro-, small- and medium-sized operators and "women and youth service suppliers."
As the pan African bank with the largest footprint in Africa, we have from our inception been prepared for AfCFTA. We have the spread and the payment platform to help achieve the implementation strategies to operationalize the AfCFTA Agreement. We intend to leverage this initiative as it is directly aligned to our Group's vision of contributing to the economic development and financial integration of Africa.
AfCFTA affords as the opportunity to use our skills and immense local knowledge across 33 markets to enhance our customers' understanding of AfCFTA to enable them tap into the opportunities that this new single market covering 1,2Bn people and with a GDP of $3,5 trillion brings.
Ecobank is able and does enable intra-Africa trade. We are the go-to Bank for AfCFTA.
How does Ecobank give back to the community and are there a few specific examples of projects that you could share with us?
We recognize the importance of also giving back to the communities we work in and to drive social impact. Through the Ecobank Foundation, we are focused on staying relevant through social impact programmes related to health, education and financial empowerment.
The Ecobank Foundation has contributed to the NCD Alliance's Civil Society Solidarity Fund to accelerate African NCD Alliances' response to the COVID-19 pandemic for people living with Non-Communicable Diseases (NCDs). The Fund aims to ensure that the needs of people living with NCDs continue to be addressed during the COVID-19 pandemic as it strives towards achieving Universal Health Coverage, NCD prevention and control. It has awarded grants to ten NCD Alliances in Africa, of which nine are in Ecobank countries or regions: Benin, Burundi, Cameroon, East Africa, Mozambique, Nigeria, Togo, Uganda and Zambia.
Again, through the Foundation, we are collaborating with UNITLIFE, the UN initiative dedicated to fighting chronic malnutrition, to raise awareness and funds on this disease affecting a third of African children.
In partnership with Speak Up Africa and the UN hosted RBM Partnership to End Malaria we launched the Zero Malaria Business Leadership Initiative to drive private sector engagement in the fight against malaria in Benin, Senegal, Burkina Faso. This initiative is being expanded to include Uganda, Cameroon and Ghana.
The youth of the continent are important to Africa's development. In view of this the Ecobank Group has partnered with Junior Achievement (JA) Africa to mobilize over 600,000 young people across the continent and educate them in financial literacy. The partnership taps into JA's vast online community of over one million young social media followers. It seeks to grow financial inclusion for young Africans using Ecobank's mobile and digital services. By educating young people in the importance of money management skills, we aim to empower them to build a culture of savings as part of their personal financial habits.
This year, during our Ecobank Day celebrations, we will be partnering with various
organisations to help raise awareness about the issue of Mental Health across Africa
which has become a major concern with the rising cases of suicide, mental illnesses,
sigmatisation and the general lack of understanding and compassion towards people
who may suffer from mental health issues.
Through our innovative digital platform, we can help fundraise across Africa and mobilise capital in support of charities, disaster appeals, healthcare and other worthwhile causes.
As we wrap up this interview, any major developments in the pipeline that you want to share and to potential customers out there, why should there consider Ecobank as the first choice to do business with?
The Ecobank Group recently raised a US$350 million Sustainability Notes. This was a landmark issue which represents the first ever Tier 2 Sustainability Notes by a financial institution in Sub-Saharan Africa. An equivalent amount of the net proceeds from the notes will be used to finance or refinance, new or existing eligible assets as described in our Sustainable Finance Framework.
This is particularly important to us as it will help us push through our commitment to the sustainability of the continent. Our current area of focus i.e. on women, health and education can now be extended to other areas of opportunity such as affordable and clean energy, clean water and sanitation, quality education and housing. We see this as a testament to our clear strategy, solid positioning across the pan-African banking space as well as our deliberate and long-term focus on sustainable initiatives.
To all the potential customers out there, Ecobank is the leading pan African banking group with the widest footprint on the continent. A relationship with any one of our affiliates gives you access to 33 markets in Africa and a banking operation in Paris France. We highly value our relationship with our customers and work with them to consistently improve our products and services to suit their needs. In the area of digital solutions, we are pace setters as amply demonstrated during the Covid19 pandemic.
Our digital payments platform is robust and provides ease of payment to any country in which we operate.
Finally, our professionalism, product innovation and the level of support we provide to our customers has culminated in our winning numerous awards. We were adjudged the 2021 African Banker, African SME Bank of the Year.
I will take this opportunity to high-light other awards we won recently:
Global Finance – Best Trade Finance Providers 2021
Ecobank Côte d'Ivoire
Ecobank Rwanda
The Digital banker – Middle East & Africa (MEA) Innovation Awards
Outstanding Digital Transformation in Cash Management
Global Finance – Innovators awards 2021
Outstanding crisis finance innovations – Ellevate by Ecobank
Euromoney – Excellence awards 2021
Best Bank in Ghana – Ecobank Ghana
**Culled from September Issue of PAV Magazine.