Zimbabwean: Afro -Barometer Survey Reveals Stark Differences on National Dialogue.
By Nevson Mpofu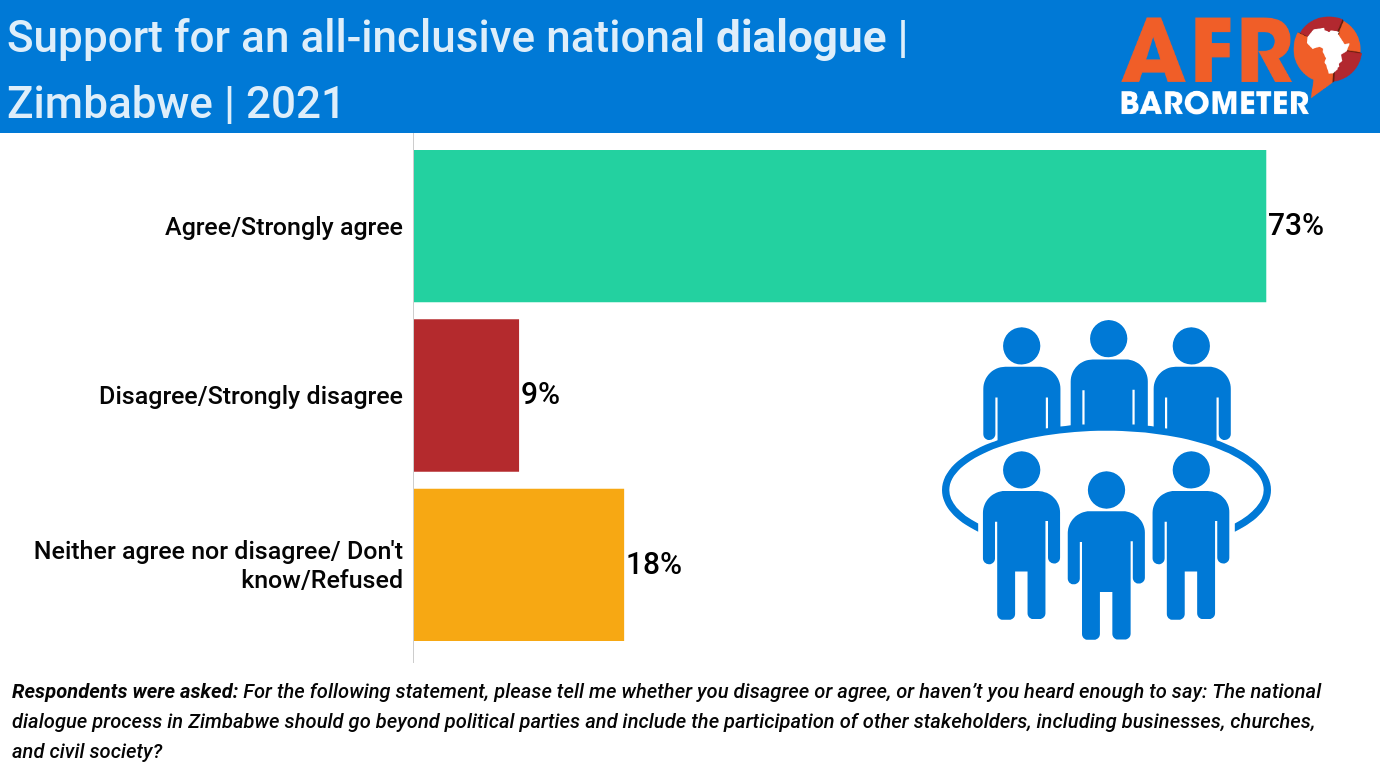 Zimbabwe is on a tight straining rope after several sections of society took it up in opinion regarding a national dialogue incognisant of the recognition of polad as framework to pave way for a platform in national dialogue meant to bring stability and development. This is subject to findings confirmation by Afro-Barometer a Pan-African non-partisan survey research network . This was also done under the eye of MPOI , Mass Public Opinion Institute .
Afro-Barometer provides data on African experiences and evaluations of democratic governance and quality of life . In a press release posted to the Pan-African -Visions early this week tittled , Most Zimbabweans endorse an inclusive dialogue but support for POLAD framework is much weaker , Churches , Civil Society organisations and the Business World is in a hectic scuttle to push for national political dialogue but without much support of the polad framework.
According to the survey ,1 in 4 out of questioned respondents took POLAD framework as the only option to bring stability to the nation . The question of dialogue is taken as brilliant but the support for polad framework remains weak at national level . This has been learnt.
Moving on with the opinion , 73% heavily support inclusion of the business world ,churches and civil socity . The pressure groups take it as vital in the escalation of a dialogue meant to cherish the flourish of sanity to the nation .
Rural residents outstreach urban ones . According to the findings , 76% are rural , 68% are urbanites. From the respondents , 68% are women while 78% are men . MDC surpasses ZANU PF , MDC 85% , ZANU P F 67% support dialogue for a change but took a back seat in support if POLAD framework for national dialogue .
The report recapitulates on the point that 1 in 4 that is 28% supports POLAD framework . In percentage proportions 23% disagree , 47% stand in-between and the rest 30% figure remained quiet and unrespondent . Harare residents , 70% talk politics for change to stabilise the economy . This goes down to other cities and towns the figure decreasing by 2 to 5% all in support of a dialogue excluding POLAD framework.
Question —– Respondents asked ….
For each of the following statements please tell me whether you disagree or agree or haven't you heard enough to say .
"the on-going POLAD framework is the only option to bring about National Stability and Development in Zimbabwe" , Agree or Disagree ..
Further findings on Polad framework support in line with dialogue .
49% neither agree or disagree
28 % agree strongly
23% strongly disagree
Ticking clock timing out dialogue ahead of 2023 Elections .. MDC Faction leader speaks ..
An MDC party leader Douglas Mwonzora who heads an MDC splinter group opposed to Nelson Chamisa another MDC is vehemently pushing for a dialogue as early as yesterday ahead of 2023 elections .
"We are only a year and some months to go to 2023 elections but there is still no dialogue meant for national stability and development ".
" Time is moving out before all this is done .There must be dialogue between MDC and ZANU PF but now it looks like time is out . South Africa President Cyrill Ramaphosa the one supposed to mediate is now also facing problems in his own country as well" , said Mwonzora when he was contacted by this on-line media house last week .
Mwonzora has since three months back ran around trying to get hold of President Mnangagwa so that there is created room for national dialogue meant to stabilise and develop the country .
Political parties and supporters are running all around with the support as well of civil society organisations, churchues and the business world eager to bring stability for development through dialogue .