Skin Gourmet is Already A Winner irrespective of the Final Outcome-ABH 2021 Top 20 Hero Violet Awo Amoabeng.
By Ajong Mbapndah L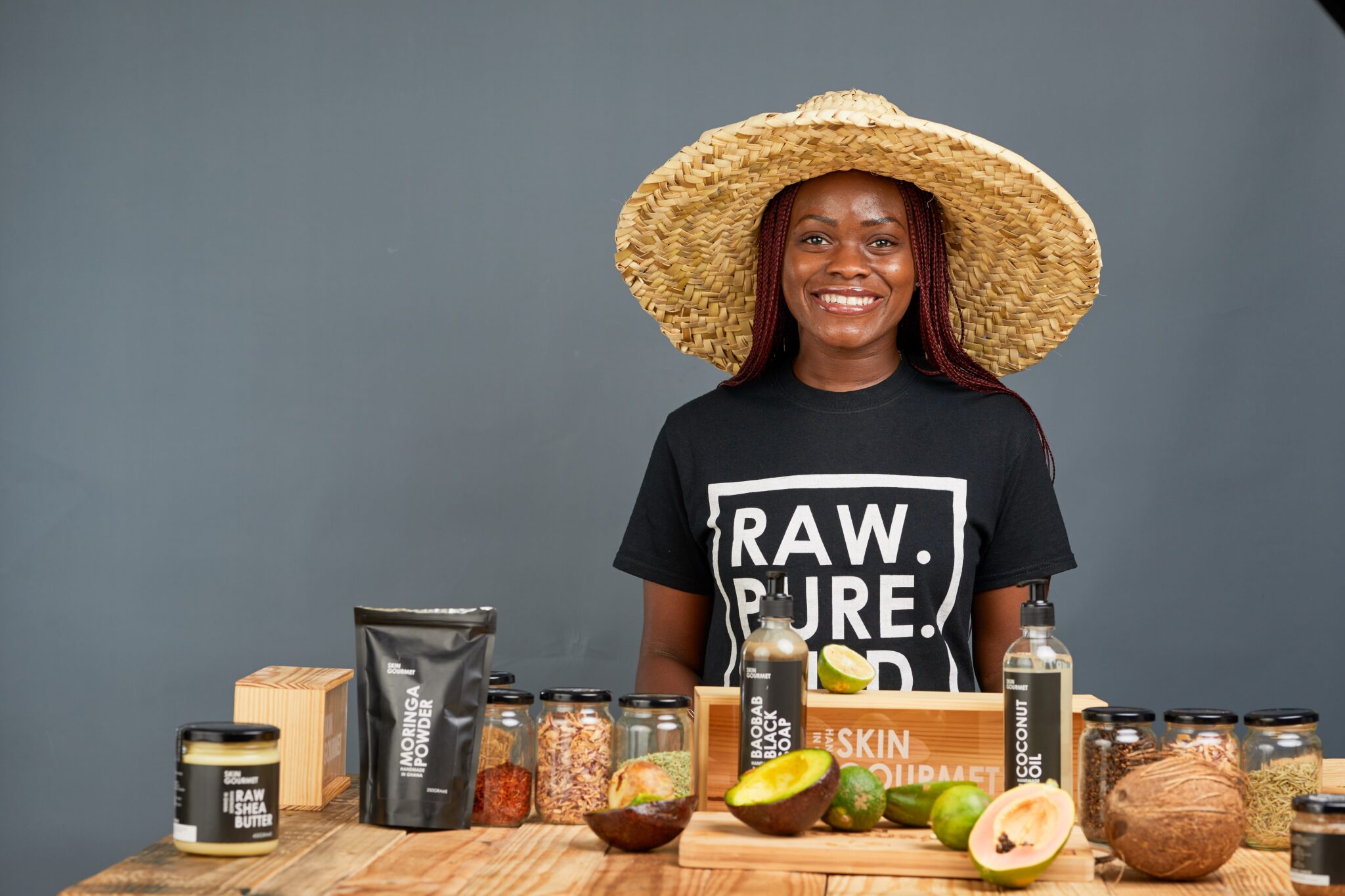 For Violet Awo Amoabeng, selection as a finalist in the 2021 Africa's Business Heroes (ABH) prize competition would, mean benefitting from expert advice, access to support, knowledge sharing and learning opportunities. The dream is still on for the young Ghanaian entrepreneur as she moved closer to the finishing line with a place in the top 20 selection.
Serving as CEO of CEO of Skin Gourmet – dealers in RAW handmade high-quality skincare sourced from the Wilds of Ghana, Violet Awo Amoabeng believes that her brand is aligned with the vision of the ABH.
"I believe that Skin Gourmet will be a top 10 finalist. However, regardless of the outcome I am so grateful for the knowledge, support, feedback, and exposure that ABH has given us thus far," Violet Awo Amoabeng tells PAV.
How does it feel to be in the ABH top 20 selection?
Honestly, I don't think there are any words to describe this feeling, if I had to choose one it would be GRATEFUL.
May we know how you initially heard about the ABH and what prompted you to apply for you?
I initially heard about the Africa's Business Heroes Competition while researching opportunities for supported growth online. I applied because I knew that if I was selected as a finalist at any stage I would benefit from expert advice, access to support, knowledge sharing and many learning opportunities.
In apply what where your expectations, especially with thousands of applicants across the continent?
I expected that we would be selected as a finalist. I believed that the Africa's Business Heroes Competition would see the opportunity for growth in Skin Gourmet and want to support us in building a sustainable global brand that puts people before profit. This competition aims to help African entrepreneurs help themselves so they can help others. Skin Gourmet is a brand that is aligned with ABH's vision.
Your product is Skin Gournment , can you tell us a little more about it?
Skin Gourmet specializes in RAW handmade skincare sourced from the WILD of GHANA and is so PURE that you can eat it. We believe that what you put on your skin will end up in your body and what you put in your body shows up on your skin. Our approach to skincare is holistic because we believe that GREAT SKINCARE IS CARE FROM THE INSIDE OUT NOT JUST OUTSIDE IN. When formulating we consider the effectiveness and taste of the product and ensure it is 100% safe for people and the environment. We use a maximum of 7 ingredients in every formulation with no added preservatives or fragrances, so our products remain in their most natural, rawest, and purest form. We only source from Ghana and our products are handmade by Ghanaians. We choose handmade because it adds value and enables job creation. Sustainability is the name of the game, so we ensure our products and business practices do not impact anyone or anything negatively. At Skin Gourmet we put PEOPLE OVER PROFIT because sustainable profit only comes when you profit others.
What motivated you to create the company and how has it fared so far?
I am motivated to help people and saw an opportunity to create skincare that was beyond cosmetic. Many products are made with profit in mind and not people, so they are formulated to create profit not a real solution. They are made to entice buyers and as a result they are aesthetically pleasing but lack real value for the consumer. They focus on fragrance, texture, packaging, shelf life and cost instead of focusing on the bigger picture which is what people need not what they want. Skin Gourmet was created to give people skincare they need – natural, non – toxic, effective skincare that creates value for the consumer and others. Skincare enhances beauty but real beauty is more than skin deep. People want to be beautiful so they are valued and admired by others but to be truly beautiful, a person must be of value to others before they are validated by themselves. Skin Gourmet was created to tackle the real need for skincare – health and wellbeing which is only achieved with a product that satisfies a person's need to be validated. Skin Gourmet's mission is to develop people one jar at a time with quality products that deliver true health and well – being by positively impacting others throughout our value chain.
I started Skin Gourmet with GHS 145.00 (About USD 45.00) in 2014. We are now distributed in over 17 countries on 4 continents and have built a team of 17 people. I'd say that it is going well but we can do better.
May we know some of the challenges that you have faced?
Skin Gourmet has no loans or investors so we have been bootstrapping and that can be quite challenging. However, the restriction of financial resources pushes us to come up with innovative solutions that I believe has made the company what it is today.
The greatest challenge I believe is getting people to understand that skincare SHOULD be edible. The notion of edible skincare is a very foreign concept to most because they are used to cosmetic skincare that contains harmful ingredients they cannot consume. Not realizing that by applying them they are consuming them. However, it is this challenge that has created an opportunity to create value for others.
Challenges are opportunities, it just depends on your perspective. We grow when we are challenged if we don't give up.
How have your products been received in Ghana and what potential do you see the medium and long term?
Skin Gourmet has been received very well by Ghana and is widely distributed. We have been nominated for several awards including brand of the year by EMY Magazine. We are currently one of the top skincare brands in Ghana and I foresee us gaining greater traction (worldwide) due to the support received from the ABH Competition.
You were selected in the top 50, now you in the top 20, how hopeful are you for the next phase of the ABH awards competition?
I believe that Skin Gourmet will be a top 10 finalist. However, regardless of the outcome I am so grateful for the knowledge, support, feedback, and exposure that ABH has given us thus far.
What changes do you anticipate for your company should you be amongst the top laureates?
The changes I anticipate are:
Better corporate governance
More market opportunities
Better compliance & regulation
Improved corporate strategy
A clearly defined direction
Improved leadership and decision making
Enhanced systems that facilitate accountability & transparency
More exposure and brand awareness
Increased growth and competitiveness
What are some of the lessons that you have learned so far from the ABH application process?
The ABH application process and competition has taught me more about my business and helped me to understand the best way to grow the brand. The competition has improved my presentation and pitching skills and shown me how to seek investment and identify the investor we need as a company.
*Watch Out for more interviews with ABH 2021 Top 20 Heroes