Rugby Africa Targets Women's Rugby in all Unions – Women's Rugby Advisory Committee President Paulina Lanco
By Boris Esono Nwenfor
The president of the Women's Rugby Advisory Committee Paulina Lanco has said she sees a bright future ahead for Women's Rugby on the African continent as efforts have been redoubled to advance the women's game to about 40 per cent registered players being women by 2025.
"I hope for a genderless sport, one with equal opportunity, equal exposure, equal pay and based on merit," Madam Paulina Lanco told Pan African Visions.
In an exclusive interview, the President who is also a Rugby Africa Exco member detailed the strides made in the advancement of women's rugby on the continent, the challenges and the future of the game in the next ten years.
According to Paulina Lanco, there is also a lack of pathway development and elite competition at the U20 level. "This is currently a priority agenda in which we are lobbying accordingly with the hope of launching a pilot in 2022," she said.
Pan African Visions: Could we start this interview by getting an introduction of the Rugby Africa's Women's Advisory Committee (WRAC) that you lead?
Paulina Lanco: In line with our strategic plan at Rugby Africa (RA) and in noting that women's rugby is a growing and performance-driven sport, and one that aims to attract investments and empower women at all levels and in all structures of the game, women's rugby represents a key strategic area of growth for RA. In line with this commitment, WRAC was approved by the Rugby Africa (RA) EXCO in August 2020 and I was duly nominated as its founding President.
Our mandate is to take lead in the development of Gender Inclusion and Women's Rugby in the region. To do so I have a 7-member committee and in line with our women strategic plan, we have four (4) subcommittees i.e. Communication and PR, Competition and Finance, Player Welfare and Participation and last but not least, Leadership Training and Conferences.
Pan African Visions: In what shape is women's rugby in the African continent today, and what kind of changes have taken place since you took over leadership of the committee?
Paulina Lanco: Due to the ongoing pandemic, a number of scheduled activities and tournaments were and have been greatly interfered with in the last year. Despite this however, WRAC continues to lead from the front and one of the most notable changes has been the streamlining of our Women's Rugby leadership (with the formation of WRAC), strengthening the management through the appointment of a Women's Rugby Manager and introducing an enhanced Women's competition program. We also saw the the launch of the Africa Women's Rugby Network, the launch of the regional Unstoppables Campaign in partnership with World Rugby and the eventual appointment of 12 Women's Rugby ambassadors across Africa. Last but not least, virtual training and speaking engagements were launched for both technical teams and women in rugby and we are soon looking to launch the first ever Virtual Training Management Program for women in rugby management.
Pan African Visions: Can we get some more statistics or figures on the growth or state of women's rugby, and in which parts of the continent have you seen progress?
Paulina Lanco: Growth has been steady and in reference to data provided by World Rugby, in 2012 we stood at 47,600; 2018 at 261, 300 and the latest data as at October, 2020 stood at 386,000+.
Our strategic ambition is to have 40% of registered players being women by 2025. We currently stand at 27.2%.
Unfortunately, the October 2020 statistics do not provide a breakdown in order of countries however if the 2018 data is anything to go by, it would appear that the leading African Nations are South Africa with 200,00+ players followed by Kenya, Madagascar and Tunisia. Additionally, and excitingly so, we have seen the emergence of Women's Rugby in countries like Ghana and Cote d'Ivoire in West Africa and we are looking to see more nations in that region rise up!
Pan African Visions: What are some of the big challenges facing your leadership and women's rugby across the continent?
Paulina Lanco: Funding remains a major challenge with the Men's game still receiving a bigger percentage of available funding. In this regard we are working to strengthen our women's product so as to attract more funding.
Lack of enough competitions and exposure: We are working towards improved, better and more diverse competitions if we are to compete strongly at the world stage. There is also the lack of a pathway development and elite competition at U20 level. This is currently a priority agenda in which we are lobbying accordingly with the hope of launching a pilot in 2022.
There is also a lack of strong domestic women's leagues at member union level. We are in constant discussion with the unions and are looking to support where effort is evident and as we can.
Pan African Visions: May we know the steps being taken to ensure that the game is supported primarily for women?
Paulina Lanco: The most notable commitment and support in this time of the global pandemic has been the big communication and marketing effort largely through the Unstoppable campaign in which 75% of all content posted on Rugby Africa's networks during the first semester of 2021 relates to women's rugby. The primary objective and aim is to be Visible, Viable and Unstoppable! The objective of the campaign is about changing perceptions, creating an appeal, telling the inspiring stories and encouraging more girls and women to join and stay in rugby.
Additionally, a women specific grant was availed to respective RA member unions in support of Return to Play among other activities.
Pan African Visions: Who are some of the big names in corporate and individual actors that are supporting you in the development and growth of women's rugby in Africa?
Paulina Lanco: Société Générale is an official sponsor of women's rugby. Corporates are interested to support the growth of the women's game and that's why we are trying to create attractive products like a new 15 a side competition, more sevens tournaments in regions, and an U20 girls' competition. World Rugby is definitely pushing and supporting us in this mission and we have great support from the RA President Khaled Babbou and members of EXCO.
Pan African Visions: What are some of the major competitions for women's rugby in Africa today?
Paulina Lanco: Africa Women's Sevens tournament is the top continental tournament to qualify African Representatives for Olympic Games, Commonwealth Games and the 7s Rugby World Cup. The next 7s Rugby World Cup is happening in Cape Town, South Africa in September 2022.
Women's 15s: World Rugby recently announced the launch of a yearly W15 global competition divided into three tiers. This is fantastic news as it creates an aspiration for teams and an incentive for unions to invest more into their women's rugby program. Rugby Africa will build an adequate qualification competition for this event starting in 2022. Right now, and for the first time ever in Africa, we organized through the recently concluded Rugby Africa Cup (RAC) tournaments, a series of test matches across the continent to feature as many women's teams as possible and evaluate their levels.
We started in Ouagadougou where Burkina Faso and Cameroon played two matches and Cameroon emerged stronger.
We continued in Nairobi with two matches between Kenya and Madagascar, in Kampala with two matches between Uganda and Zimbabwe and had scheduled one in Tunisia with a three team tournament between Tunisia, Côte d'Ivoire and Senegal; however due to Covid-19 the last one was disrupted.
This means a total of 6 matches, which is unprecedented in Women's 15s continental rugby. We were positively impressed by the enthusiastic response from Unions when we launched this initiative and their commitment to get ready and compete despite the difficult times we are in with the pandemic.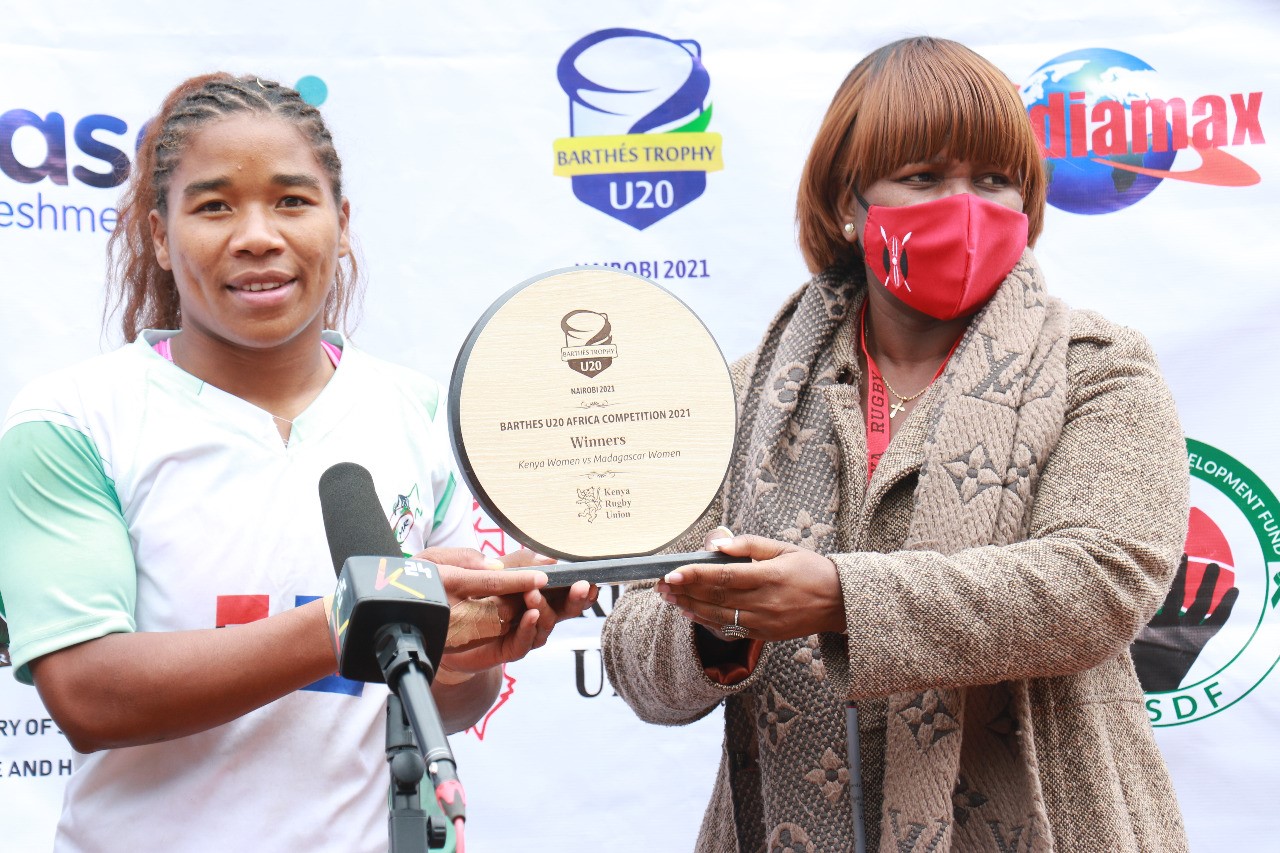 Pan African Visions: We understand there is the #AfricaAsOne campaign coming up; could you shed some light on this for us?
Paulina Lanco: This campaign is to embody the strength in our diversity and our ability to communicate through sports despite the language barrier; It showcases our ability when we are down to reach back, give a hand and rise together as one when the moment calls for it and importantly it is a call for unification, a moment to stand As Africa, As One for we are stronger together!
Pan African Visions: South Africa will participate in the next women's Rugby World Cup in New Zealand in 2022 and Kenya's women are due to compete in rugby sevens at this summer's scheduled Tokyo 2020 Olympics, how significant are these developments to you?
Paulina Lanco: They are great faith builders and milestones for us and I commend both the unions and players concerned. Indeed, they prove that our strategy is on the right path. This is more so, noting that we aim to have at least 4 African teams in the top 30 worldwide, 2 teams competing in the Women's Rugby World Cup and in the World Series.
Pan African Visions: Let us focus a bit on my home country, Cameroon, the country was suspended from Rugby and was eventually brought back, how will you rate the country's participation so far?
Paulina Lanco: It is good to acknowledge that Cameroon was only reinstated as a full World Rugby member in November, 2020. As such and noting the strong performance by the Indomitable Lionesses of Cameroon Women's 15 A Side team at the RAC in June duly hosted by Burkina Faso, I truly commend their President, Marc Essono for that great outcome and would urge that he builds upon it even as he looks to support their male counterparts who unfortunately fell at the hands of the host.
Pan African Visions: What do you advise Cameroon to do to attract more females and males to the game looking at the limited following Rugby has within the country?
Paulina Lanco: Cameroon has great athletic potential and there is a noted existing and growing passion for Rugby. We also continue to see great media exposure and coverage more so on social media platforms. As such and with the known dedication of their President who is himself a rugby man and with the assured support of Rugby Africa, it is my belief that Cameroon with further exposure and a vibrant domestic league, will in days to come be a rugby powerhouse in Africa. Of course, you too can help (as you are now) by giving them continued exposure and more so a platform to be seen and heard.
Pan African Visions: Lastly, how do you see the development of Women's rugby on the African continent in the next 10 years?
Paulina Lanco: I hope for a genderless sport, one with equal opportunity, equal exposure, and equal pay and based on merit.
Additionally, our aim and ambition as Rugby Africa is to see women's rugby well established in all our unions, to see each men and boys competition matched with a women and girls' competition. We aim to have more teams and more competitive teams qualify to play in international events such as World Series and Women 15s global competition. We believe we can bridge the gap between Africa and the rest of the world with women's rugby, as the athletic and youth potential on our continent is unparalleled.