Products of ICT University Are Job Creators Not Job Seekers- Prof Victor Mbarika
By Ajong Mbapndah L
Fresh off another hugely successful graduation ceremony this time in Yaoundé, Cameroon, Prof Victor Mbarika says the ICT University continues to excel in producing job creators and not job seekers. The University Don, Founder and President of the Board of Trustees of the ICT University sees the future with optimism with the focus his Institutions have on quality.
"We have a model to create businesses not to create an additional burden of job seekers in Africa," says Prof Mbarika who is solidly on course to achieving his vision of having ICT Universities in all regions of the continent.
In an exclusive interview with Pan African Visions Prof Mbarika discusses progress at the ICT universities, relations with governments, perspectives on higher education in Africa and more. A major announcement from the Board Chair of the ICT University is the commitment of one million dollars in the next five years to fund business projects of ICT University students.
Pan African Visions: For those who may not be very familiar, could Prof Mbarika start by introducing the ICT University and its guiding philosophy?
Prof Victor Mbarika: The ICT University is purely a US-based curriculum higher education institution that provides quality information and communication technology and managerial human capacity development for individuals located largely in developing nations, although we have students literally from over the world; we have students from the U.S, Europe, Asia. We have as our guiding principle, imparting information technologies in every discipline. In other words, we teach information technologies in all our fields of study. For example, if you are doing marketing at ICT university, you do not just graduate after defining what is marketing, no, you should be able to graduate after knowing how to build good e-commerce websites and conducting e-business.
Yes, we do have purely degrees in ICTs such as computer science, computer engineering, software engineering but we also have business programs that are heavy in ICTs. We have marketing, management programmes, banking and finance; then we have our public health programmes that are heavy in ICT where we teach telemedicine, electronic health records; ICT in healthcare. Teachers today do not just depend on using a textbook in class and dictating notes in class, but they should be able to use technology to teach. Those are some of the things that make ICT universities different from many universities in Africa and around the world.
Pan African Visions: On the quality of graduates that you send out, how equipped are they to help Africa meet its current development needs?
Prof Victor Mbarika: The ICT university has the premier focus on quality and by God's grace we have had our reputation in producing quality graduates. Now, when I say quality graduate any university can claim that but hardly any of our graduates are without a job. Remember that they create their jobs and some that choose to, they go and work or other organizations. We have been graduating job creators; many of them own companies and other types of businesses and we are very proud of them for doing that. If you go on our website, you will see many testimonies and if you go on our Facebook and you will see many testimonies of what our graduates are doing all over very successfully.
It will please you to know that 90 per cent of PhD holders at Makerere University Business School of computing are graduates from ICT university. The current head of department for computer science of National Open University of Nigeria which is the largest university in Nigeria and one of the largest universities in the world (has over 450 students) is a graduate at ICT university. ICT University has a reputation for graduating entrepreneurs and those that get jobs to get them in top-notch organizations. We are proud of them.
Pan African Visions: From the seasoned academic and global scholar that you are, what is your overall take on higher education in Africa; any recommendations on how to make it better meet the challenges of our time?
Prof Victor Mbarika: I must say I am proud of the growth in higher education across Africa. I know many people want to criticize anything in Africa; saying how universities in Africa graduate more students than there are jobs. That is true around the world and there is more graduate in America than there are jobs available, and I think it is very unfair when people look at African graduates that these universities in Africa are graduating many students than there are jobs. That in itself is the problem because they are graduating students to look for jobs. ICT university has taken another route; we graduate students to produce jobs and that is why we have many students who have graduated and have produced companies out of ICT university.
I am excited to announce that I have committed one million dollars in the next five years to fund businesses to come out of ICT university students; so those of you coming to join ICT University will have the opportunity to get funding during your studies to start up a company but of course to get that funding will be extremely competitive. This will not be free money going to students; this will be conducted by ICT university consulting services. So, the students will jointly own the company with ICT university consulting services (the ICT university consulting services will put in the money, mentorship for the students to be able to build it to become a lucrative business).
We have a model to create businesses not to create an additional burden of job seekers in Africa. That is how we are different from other universities. The other universities are still playing their part; it is better to have people with some education than people with no education. I congratulate my other fellow university leaders all around Africa for the graduate we are producing; we need to keep the quality, but we need to keep creating jobs through creating graduate that is job producers and not only job seekers.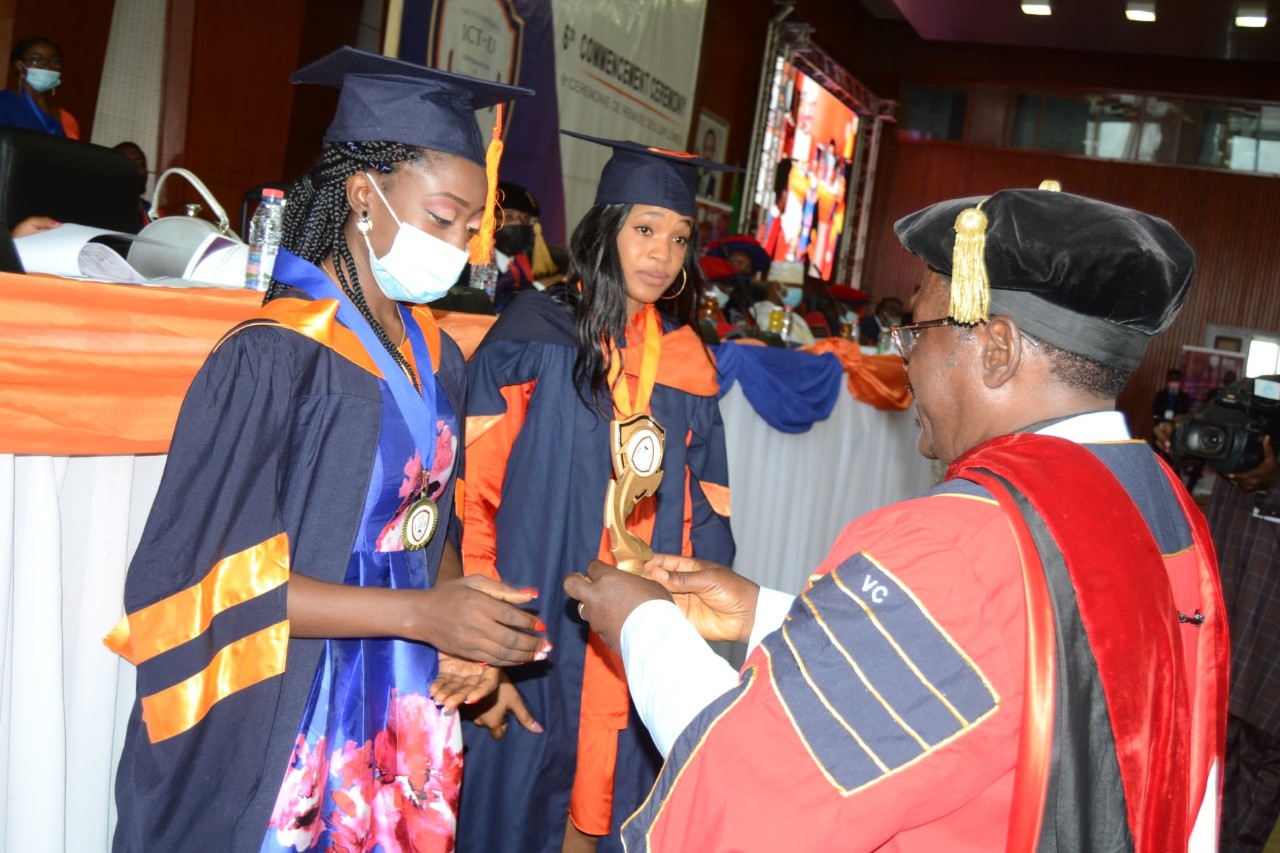 Pan African Visions: The last time we spoke to you, there were plans to have ICT Universities in all regions of the African continent, what progress has been made towards that goal and how are things working so far?
Prof Victor Mbarika: The ICT University has a presence in almost all regions of Africa except Northern Africa. We have a strong presence in East Africa which is Uganda in particular; we have a strong presence in Central Africa (Cameroon, which is fast becoming the headquarters of all our operations in Africa); we have a strong presence in West Africa (Nigeria) and Southern Africa region in Zimbabwe through our joint-campus operations with Arrupe Jesuit University. The only part that we do not have a clear presence but which we will is Northern Africa, and we have some plans working with Algeria to make that happen.
We are very proud, and we thank God for the growth of ICT University across Africa, and we will keep growing; we will be establishing more campuses even in Francophone countries. Beginning next year, we will be having a campus presence in Congo and Chad and all of that has been arranged., we have a presence in Guinea Bissau besides having a presence in Nigeria. We will be growing and be sure to keep your magazine updated as we grow in different parts of Africa.
Pan African Visions: How affordable is it for students to get an education in the ICT Universities considering that you try to make them meet international standards in all forms?
Prof Victor Mbarika: Talking about the cost to study at ICT University, there is no way we can compare with the government Universities because the government universities in Cameroon for example you pay just 50 thousand francs a year; that is a great gift from the government. However, ICT University has its role; yes, we are much more expensive than the government institutions because our regular fees for undergraduates is about 900 thousand francs per year. However, with donations and support we have had from people in the USA and donors in other parts of the world, we have given scholarships to all African students that come to our universities. Our undergraduate students now pay about 700 thousand per year but the other part is paid for by our donors that support the university.
Almost every ICT University student has some kind of a partial scholarship because of our funding from organizations and individual supporters that provide funding through the ICT University Foundation to our students of ICT University. We have been very successful o make the fees very affordable and that is why many students are attracted to come to ICT University. However, to keep the partial scholarship, students must maintain a minimum GPA of 3.0 over 4 otherwise they lose the partial scholarship.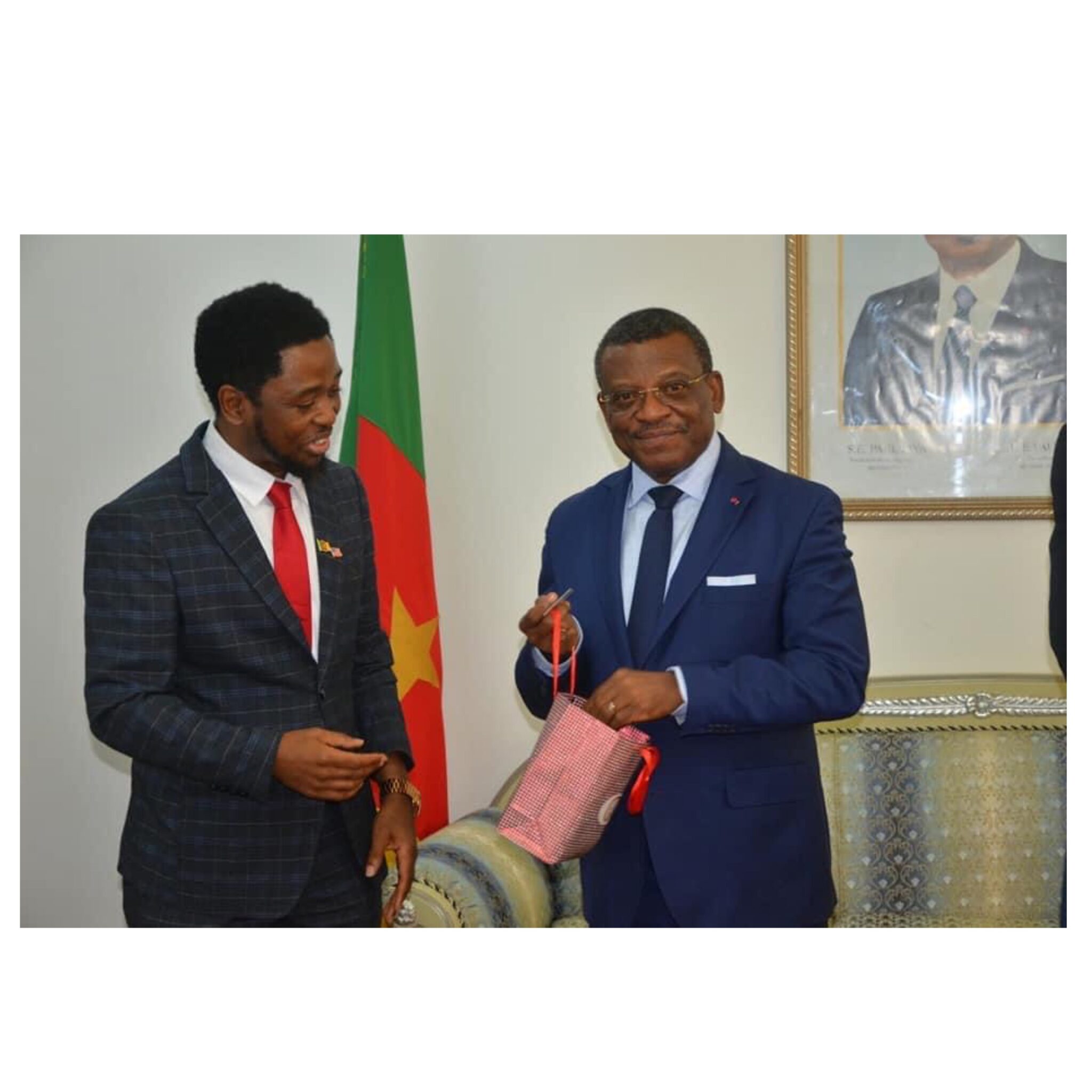 Pan African Visions: What has been the response of governments in countries where you have ICT Universities, have they been supportive in any way or receptive to the vision you have?
Prof Victor Mbarika: We have been receiving tremendous supports from governments across Africa and in other developing nations across the world. Honestly, I hear many people love to complain about governments in Africa and to me, it is very discouraging. You do not encourage the government by only insulting the government all the time we have to call out good things when they do. We have had tremendous support from the Cameroon government; even with our graduation, we had support from the Head of State President Paul Biya who supported the ICT Conference in 2015 financially. Recently we have had support from the Minister of Higher Education Prof Jacques Fame Ndongo with the donation to the ICT University over a hundred thousand dollars' worth of computers and other related equipment to support learning at ICT University.
Similarly, we have had great support from the government of Nigeria; they have given us three-storey buildings and other buildings to launch the ICT University campus. In addition, they are working to give us about a hundred hectares of land for our university. When we even went to Zimbabwe for our conference, when the late Robert Mugabe was president, they gave us tremendous support for our conference; they provided funding, provided support for many private companies for a successful conference. The government of Uganda also supported many students who do their PhD at ICT university, and we are proud to say today, about 90 per cent of PhD holders in Makerere University Business school, 90 per cent of PhDs in ICT come from ICT university. We are proud of that record.
ICT university has been getting tremendous government support; we saw this during the graduation where a lot of government Ministers were president. The former Prime Minister was president and the Minister of State, Minister of Higher Education was present to grace the occasion. We are thankful to all governments that have supported us across the continent. We owe it to them and the people of Africa to continue doing much and gaining their confidence, so they are not disappointed in what we do.
Pan African Visions: The ICT university recently organized the 6th graduation ceremony; how did the ceremony go?
Prof Victor Mbarika: The graduation ceremony went on well; I want to start by thanking the government of Cameroon for their support in many ways with the presence of many government ministers thanks to the support of the Head of State and the ceremony was graced by H.E Olusegun Obasanjo who is the former president of Nigeria and gave the graduating speech. In his speech he emphasis on some things we are already doing and more things we need to do. One of the things he emphasized is for students to be humble, creating their employment and creating businesses and this is the main guiding principle of ICT university. We do not train students to go and get jobs; we train students to create jobs and if they so wish they can go look for jobs.
We came out of the graduation very happy because President Olusegun Obasanjo talked about some of the things we are already doing and encouraged our students to do more and gave some very strong guiding principles of life which the students carried away. We were very excited by his presence.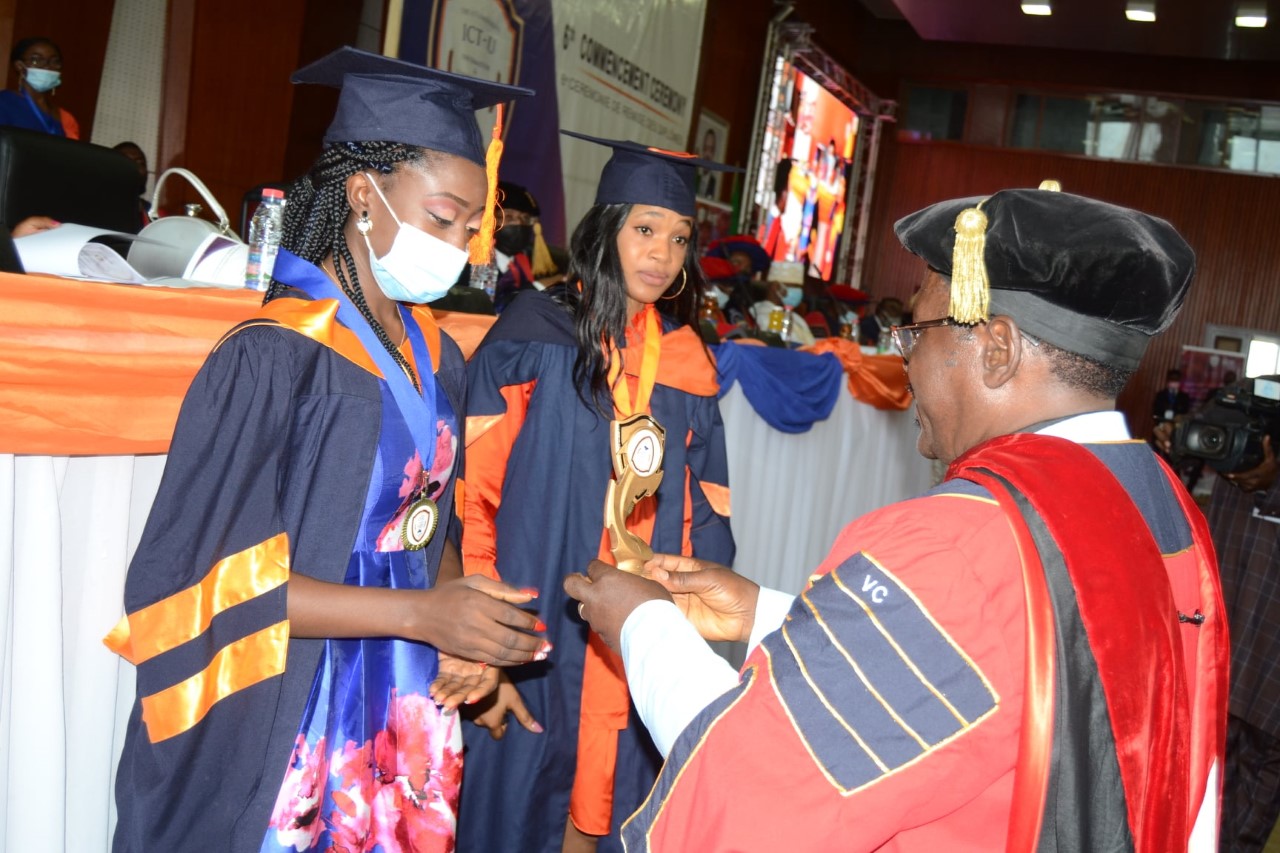 Pan African Visions: What next for the ICT University, any other major innovations or reforms in view, and what should we expect in the upcoming years?
Prof Victor Mbarika: The future of the ICT University is extremely bright. As you may know, we just started a free summer boot camp to train students with different ICT and business skills; skills such as artificial intelligence, robotics, and we are beginning to train these students from secondary school. We have a free Bootcamp going on in August to get students on internet of things; new technologies. We do not just train them in theory, we have the equipment funded by ICT University Foundation USA with top-notch equipment for them to practice this summer.
The additional projects involve the building of a medical school that will be largely based on ICT in medicine. We will be having a major telemedicine centre; that one is slated for the North West Region of Cameroon and we want to have a major school on Electonic Agriculture (E-Agriculture) using ICTs to promote great agriculture yields (we will be having that in the South West Region as well as the Eastern Region of Cameroon).
Our goal is to have a presence in all the Regions of Cameroon; the Northern Region of Cameroon does not have many universities and we plan to establish something there; we plan to establish campuses all over the country and like I said earlier in terms of Africa like the Northern Region also. ICT University has big goals and dreams and we do not just talk about it, we demonstrate it like you have seen over the years.
*Culled from August Issue of PAV Magazine