Optimism for improved bilateral cooperation as Tanzanian President Suluhu visits Rwanda .
-Rwanda-Tanzania ties could grow even stronger
By Jean d'Amour Mbonyinshuti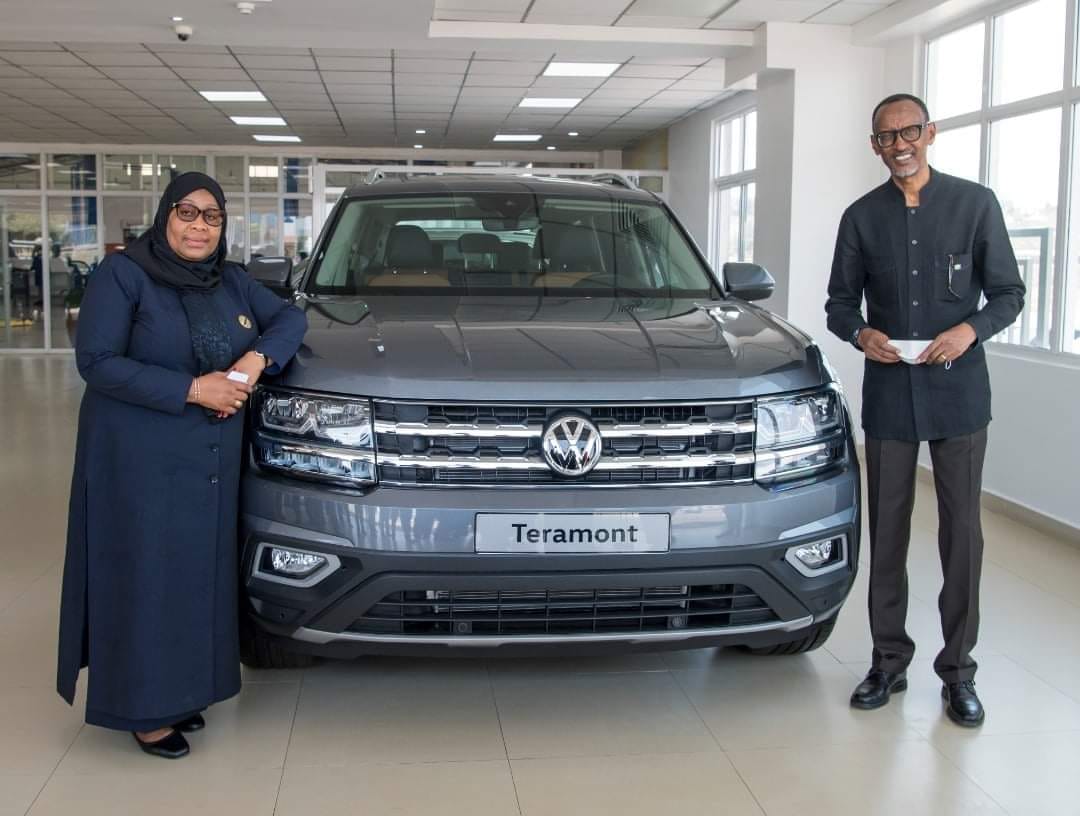 As Tanzania President Samia Suluhu Hassan started her two-day maiden visit on Monday 3rd August 2021 as the head of State in Rwanda, both countries expressed optimism that the bilateral ties will even grow further and the East African Community will also benefit as a bloc.
Both Rwanda and Tanzania are member States of the six Member East African bloc.
President Suluhu who was accompanied by a delegation from Tanzania was received at the Kigali International Airport by the Minister of Foreign Affairs and Cooperation Dr. Vincent Biruta before she visited the Kigali memorial site where over 250,000 victims of the 1994 Genocide are buried.
There, president Suluhu laid wreaths on the grave and wrote in a visitor's book that what happened was a tragic story and that African leaders should stand firm to ensure that no such tragedy happens again on the continent.
Shortly after the visit, both the heads of state hold one on one talks before they jointly addressed the media
Both the heads of the state expressed commitment to back a stronger, prosperous East African Community as they strive to the economic recovery after the sector was hit hard by the Covid-19 pandemic.
As part of the visit, four bilateral Memorandum of Understanding on cooperation in the field of information and communication technology, immigration matters, education matters as well as health.
"We share more than just a border; strong historical ties and a common aspiration to deliver prosperity to our people have always been central to our cooperation," he said.
"Rwanda stands ready to work closely to work with our brothers and sisters in Tanzania in the context of the East African Community and beyond to speed up our countries' and region's recovery from the Covid-19 pandemic.
The President said the challenges that the region was faced with can only be addressed by unwavering solidarity and seizing opportunities for mutually beneficial partnerships.
"I look forward to a stronger, prosperous East African Community," he said.
"This gives new impetus to key infrastructure projects of mutual benefits particularly the standard gauge railway line, milk production, and improved port logistics," he said.
Among the envisaged infrastructure projects that Rwanda shares with Tanzania includes a rail line that is seen as key in easing movement of goods across the Central Corridor.
President Suluhu described president Kagame as a brother said that their talks had covered subjects including strengthening economic cooperation, regional integration, cooperation on aspects such as ICT, combating Covid-19 and fostering recovery
" Our talks focused of fostering cooperation and economy as the main issues to foster development, we also discussed how to work together to advance our regional cooperation, we thanks Rwanda for its strides in boosting ICT and we will work with Rwanda to boost ICT back home," President Suhulu said.
Suluhu added that going forward, the two countries have an opportunity to build on the historic ties to expand the current areas of cooperation.
It is expected that on the second day of president Suluhu's maiden visit, both heads of state will tour several companies in various sectors including the Special Economic Zone which is home to 120 companies with activities ranging from manufacturing, agro-processing and education among others.
Tanzania is one of the countries with the majority of companies that set up factories in the Special Economic Zone and one of ten countries with a strong economy in Africa.