Introducing Communication Platforms as a Service (CPaaS)
Communication Platforms as a Service (CPaaS) is arguably one of the more disruptive innovations to affect the business communications market, providing solutions that significantly depart from the way businesses of any size have operated in the past.
Alchemy is an enterprise-grade self-stacking CPaaS, meaning all our technology is developed and upgraded in house. Our API's are enterprise-grade and customisable and our network connections are nationwide carrier-grade.
Cloud enables many different platforms/software as a service provider. CPaaS is a Communication Service and the underlying technology of a CPaaS, that works behind the scenes, pulling together devices, application software and digital services, is the application programming interface (API). Simplifying the integration of communication services,
meaning SMS, email, voice, push, social, RCS, chatbots, any channel or microservice such as authentication you care to name – into existing back-end systems and apps.
"How does a Communication Platform differ from other types of Platforms?"
Technically, CPaaS is a platform and a software (PaaS/SaaS) but neither terms are specific enough. The UCaaS (Unified communication) space provides a one-stop platform already designed for businesses to access phone services, video, call recording and more. However, a CPaaS is more focused on a build-your-own approach, allowing for custom uses for individual communication tools. CCaaS (Contact Center) space also enables multichannel communication via a single cloud-based platform and is about customer communication, again CPaaS is about building
customised solutions.
In a nutshell, CPaaS is all of the above!
"Is a Mobile Operator (MNO) a CPaaS?"
Traditional telecom carriers offer telephone services, like analogue voice and messaging, which includes off-net services (across networks). They also offer VoIP services over mobile data, but they are not considered CPaaS providers. Typically, they do not partner with developers or individual businesses as they offer limited or no API's and cannot offer on-net services across networks. They are increasingly looking to partner with CPaaS Companies to provide value-added services thus increasing revenue through direct connections within their SIP and traditional switch infrastructure. A CPaaS vendor that fosters and supports the development community brings an ecosystem of developers, consultants and system integrators to the telecom service provider.
"Are there different API's?"
Yes, software and AP's are built using different languages so it is important that API's are configurable, this enables businesses to progressively connect their existing systems and add to them, this simplifies any complexity of interconnectivity between multiple channels.
"Are Companies embracing CPaaS? If so, which ones?"
Recent studies show that 92% of leading companies, large and small, are on-boarding this digital transformation, to increase their bottom line and improve their customer services, compared with only 22% for non-leaders. No coincidence, that the Leaders have found a winning formula with CPaaS.
"Does CPaaS fall under my IT department's remit?"
Companies that are successfully integrating modern communication strategies have created a new role within their IT departments – Chief Digital Officer, someone who works closely with the Chief Information Officer to bring IT operational decisions to life, or they use CPaaS like Alchemy to consult with the Chief Information Officer.
"How much does it cost a Company to use CPaaS technology?"
It is simple for companies to embrace Alchemy's CPaaS strategy with a minimal upfront investment, as connectivity is achieved by utilising the devices available and our pay as you go "operational expenditure" business model, removing the need to purchase hardware.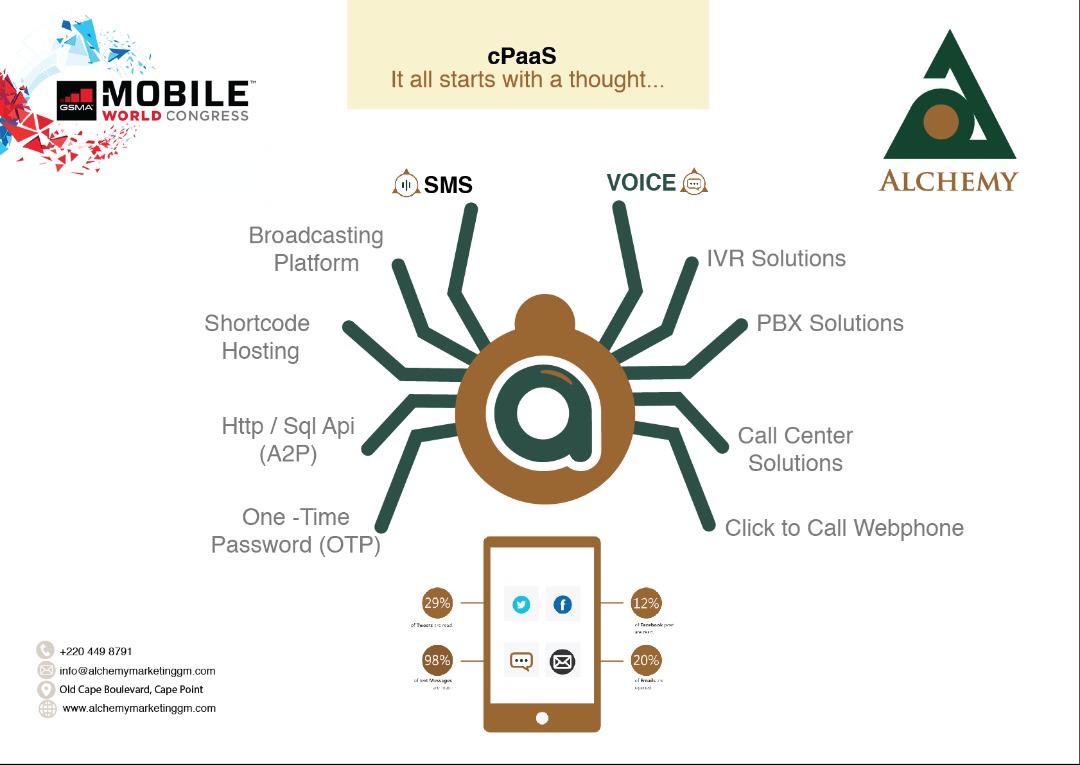 "Can CPaaS save me money?"
Yes, absolutely. With the ease of deployment, flexibility and cost savings, CPaaS allows companies to embed communications into existing applications and create customised flows between their CRM, purchasing, billing, marketing, customer service and HR departments, whilst protecting the investments a business has already made in communications infrastructure at the same time as foregoing any new infrastructure investments.
Let us take an example of a Bank embracing communication API technology. The marketing team can build multi-channel integrated campaigns. An email campaign can be followed up with an SMS or phone call and the results can be analysed all from one inbox, saving time and manpower. With automated surveys, follow-up actions can be
triggered.
The Finance Team can implement two-factor authentication, by texting or emailing a customer a one time, time-sensitive code to verify their identity when logging in from a new device. Transactional SMS can be automated for all bank account activity.
Customer Service Teams can automate their current CRM or ticket management system so that agents have up to date customer data before speaking with a customer. Contact Centers are then more user friendly and personal. Equipping customers with the tools to assist themselves with routine issues of balance requests, card activations, or simple technical troubleshooting through SMS, phone and online chat options.
Approximately 85% of people who do not reach someone on the first try will not bother calling back. With Alchemy's VoIP contact centre the calls can be forward to a mobile telephone, answerphone or an automated immediate text message whenever a call goes unanswered. Every phone call is an opportunity, missing even a single call can seriously
affect your bottom line!
Field Agents are also supported when they can text their progress directly into the system. With CPaaS there's no need for them to have an active internet connection to send information.
The HR Team greatly benefits by being able to send company-wide notifications and alerts ranging from birthday messages, surveys for feedback and office changes.

IT Teams can save a great deal of time creating custom applications and workflows by using our API's easily deploying CPaaS solutions across the company.
There are literally thousands of ways CPaaS can improve a business's overall communication strategy. Alchemy specialises in working directly to solve communication pain points to help build the best communication and engagement strategy that fits each businesses needs also, ensuring that everyone within the business is on the same page at all times.
VoiP service (Voice over Internet Protocol) that allows for voice calls to be made and received via the internet is always less expensive than a traditional phone service, not only as it requires no additional hardware, just a device that is connected to the internet, but in the cost of calls. Alchemy's system also integrates videoconferencing capabilities and team meetings or chats.
CPaaS solutions offer businesses a compelling operating expense (OpEx) alternative to costly capital expenditures (CapEx) in the appropriate communications and network infrastructure needed to securely support API-driven voice, video, and messaging services. Also important, cloud-based CPaaS offerings are priced at published per-API call or per-second rates, enabling businesses to pay for the exact amount of services they consume. This is a very
compelling value proposition for organisations with varying levels of demand or seasonal spikes in business. The inherent scalability of cloud architectures also benefits CPaaS, enabling businesses to consume the maximum or minimum of a provider's API-directed services as required by their application or work process.
To summarise businesses can cut their bills down by even up to 90% which is formidable!
Does Alchemy's CPaaS offer data security?
We take the security of our client's and their client's data very seriously indeed. There is a great deal of suspicion and mistrust associated with the 'cloud' but we all use it to some degree or other, emails, whatsapp and apps on our telephones.
For this interview perhaps it is more relevant to specify Alchemy's APIs. We do not have access to any data. Information is scrambled during transit to its destination! We do within our consultancy service advise on what we call "communication Health and Safety" which is a very specialised and knowledge based service. It is especially relevant today with Companies moving towards home working and the technical advancements we are
embracing today.
This is what CPaaS is all about – bringing secure and reliable omnichannel communications capabilities, scalability, and agility to companies, or any size, with none of the associated headaches and expense. It's perhaps not surprising, then, that revenues from CPaaS are projected to grow to $5.2 billion (£4.3 billion) in 2023, and 67% of enterprises expect CPaaS to have an impact on their organisation by 2025.
In the future this will open up more opportunities – whether it's improved analytics of the customer experience or creative use of technology, like automatic recognition of a customer's tone of voice to know the best approach to take – All companies can build on a CPaaS platform.
The important thing is ensuring you chose the right CPaaS platform to build on in the first place!