At ICT University's 6th Graduation Ex-Nigerian President Dr Olusegun Obasanjo prescribes Humility, Deftness in Smelling Opportunities
By Boris Esono Nwenfor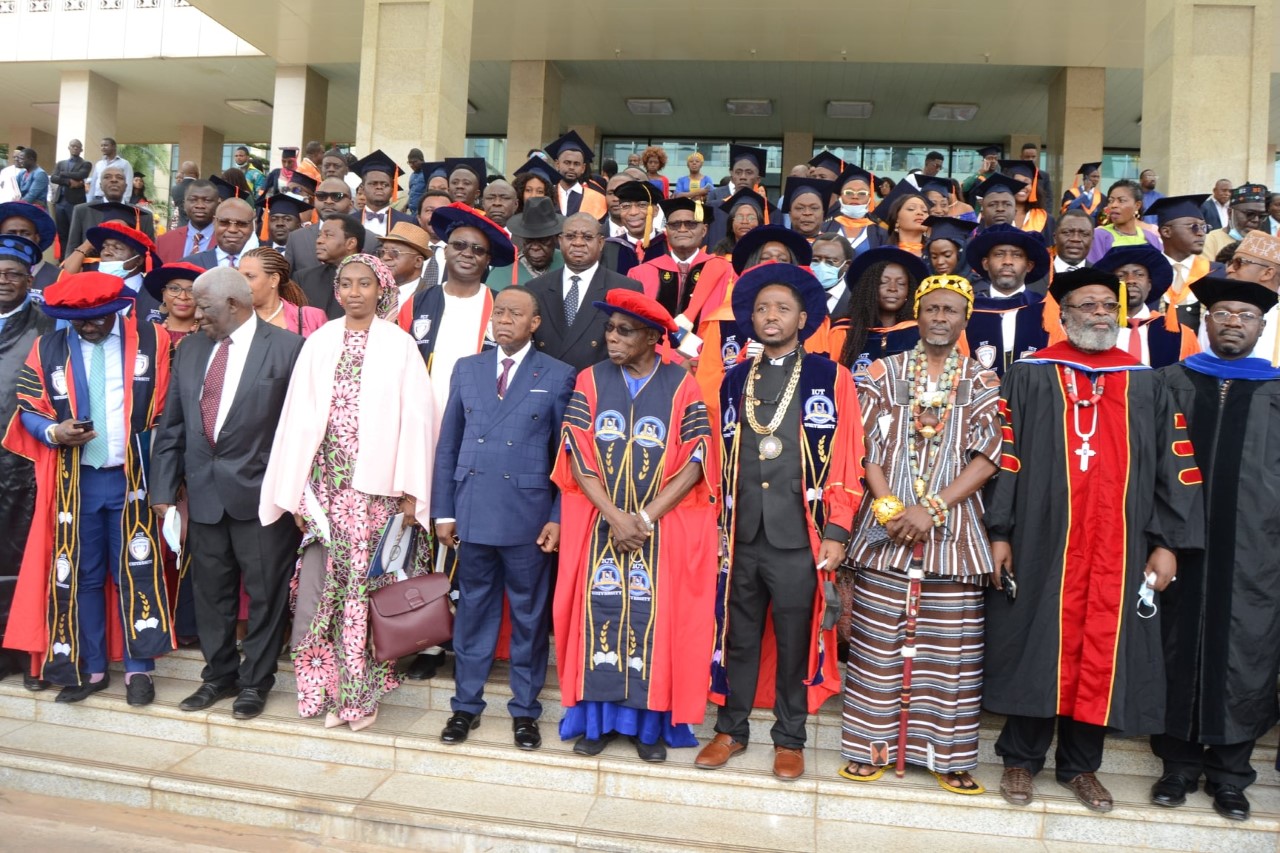 Former Nigerian President Dr Olusegun Obasanjo has encouraged the 6th graduating batch of the Information Communication Technology (ICT) University Cameroon to be humble and to grab every opportunity that comes their way.
Chief Dr Olusegun Mathew Okikiola Aremu Obasanjo, GCFR, was speaking during the 6th Commencement and graduation ceremony of the ICT University Cameroon that took place Saturday, July 31, 2021, at the Yaounde Conference Centre.
The graduation ceremony was attended by the Minister of State, Minister of Higher Education Prof Fame Ndongo, Prof Nalova Lyonga, Minister of Secondary Education, Professor Jean Emmanuel Pondi, several government Ministers, Ambassadors and the students, some of whom followed online.
In his keynote address titled "The Hidden Processor for Success Beyond ICT Knowledge and Skills" the former Nigerian President Olusegun Obasanjo, told the graduating students that "humility comes with the lack of arrogance; it comes with wisdom. You need humility towards one another."
Dr Obasanjo went on to encourage the graduating students to take advantage of the opportunities that will come their way. To him, the students must be curious to know and mentally prepared. "You have to be deft in smelling opportunities. It will not come easy but you need to continue searching. I hope to come back and hear that some 50% of the graduating students are gainfully employed or are employing others."
"You need to remain focus and determined. The ride may be tough but commitment will keep you in it. Whatever you do, you need to put your all into it and not a half-hearted something. Take responsibility and it will be well with you," Dr Olusegun Obasanjo added.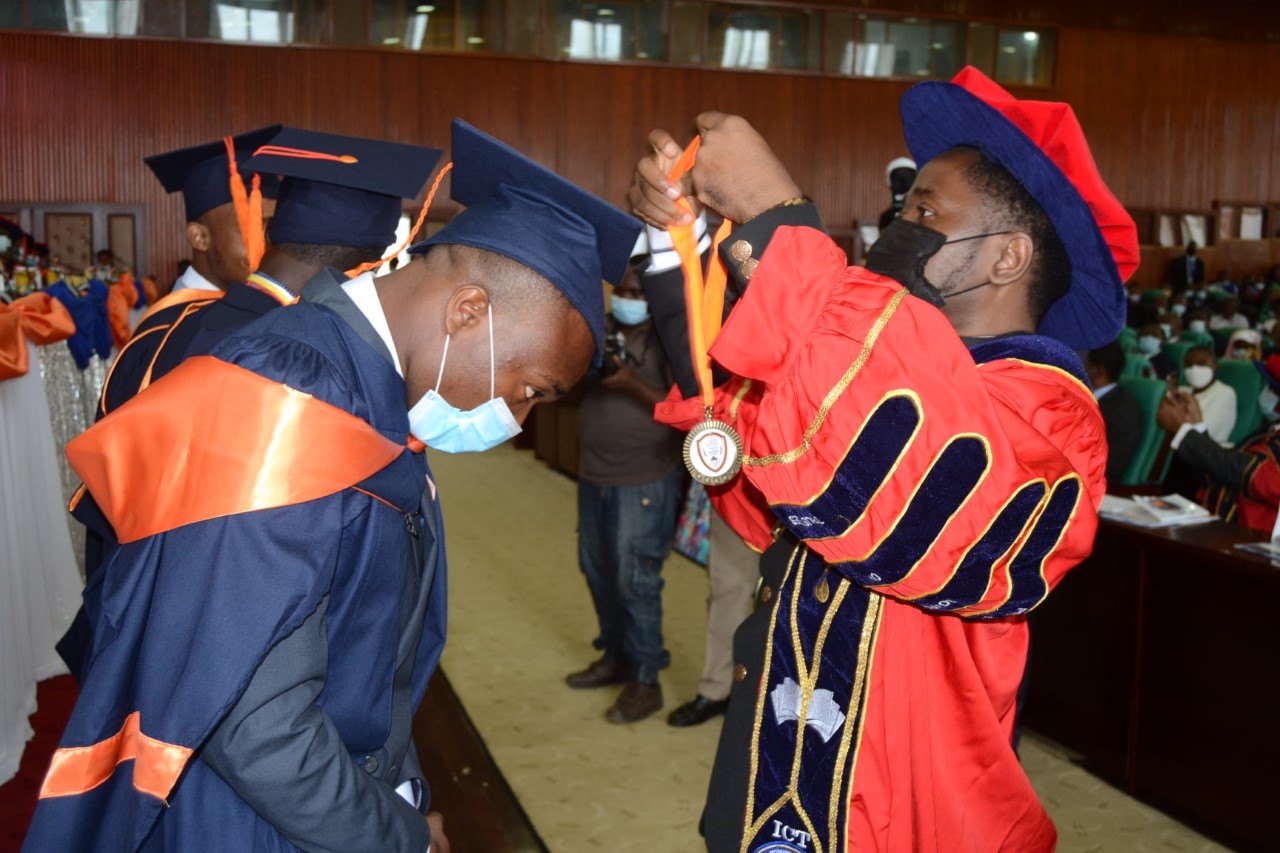 "Always remember that Cameroon, your communities and the world needs you; you have been prepared for it and delivery is important."
Dr Olusegun Obasanjo went on to commend Dr Victor Mbarika for his investment in the education of the students. He said: "You are investing in the graduating students and all the other students that are in this institution. You are investing in their development, you are investing in their today for their family, you are investing in the today of this country and its progress and development." President Olusegun Obasanjo told Prof Victor Mbarika.
Speaking during the graduation ceremony, Professor Victor Mbarika, President of the Board of Trustees went on to appreciate the enormous support he has gotten from both the Cameroonian and Nigerian governments.
"Nigerians have been very good to us; they have donated to ICT University 100 hectares of land, three-storey buildings in the state of Kaduna," Professor Victor Mbarika said. "I want to thank the Nigerian government for their support to ICT University and we are about to launch a campus there within the next one year."
Professor Victor Mbarika added: "I am a product of free education… Thank you Cameroon government for your free education. I believe in public education and that is why we are committed that all my former institutions will receive a multimedia computer lab on behalf of the George Mbarika Foundation. Every school I went to in Cameroon will receive a multimedia lab."
Prof. Jacques Fame Ndongo, Minister of State, Minister of Higher Education commended the former Nigerian President on the historic peace accord that was struck between the two countries bringing an end to the Bakassi crisis.
Describing the University as the citadel of education, Prof Fame Ndongo said the graduates are now ambassadors of the Cameroonian higher education system and ambassadors of the Cameroon ICT University in Africa and the world.
"There is every indication that you have received a fine education and are now the new gladiators, catalyst and galvanizers of the transformation of your country, Africa and the world.  As you take the journey into the professional world, make your presence felt, make your light shine, make your teachers proud and above all make your country and continent proud."
The event saw some personalities being given a special award for contribution to peace in Africa and also made a distinguished visiting Professor of the ICT University, something that the distinguished peace advocate takes great pride in it.
"Excellence was the pillar of the training and rewarding excellence was envisaged. They have achieved a high level of performance with at least a 3.5 GPA. They are outstanding and deserved recognition," Professor Beban Sammy Chumbow, pioneer Vice-Chancellor of the ICT University Cameroon said in respect to the special awards.
Over 300 students from across the African continent received their Bachelor's and Master's degrees in a ceremony that also involves the award of doctorate degrees to some fifteen students.
"My decision to join clubs and other associations at the ICT University helped me developed a broader community as I met new friends with similar interests. Activities on campus helped me build confidence while developing important leadership and teamwork skills. The ICT University offered me more than a degree. The clubs and activities provided me endless ways to broaden my horizons," Agbor Austine Abang, Banking and Finance said.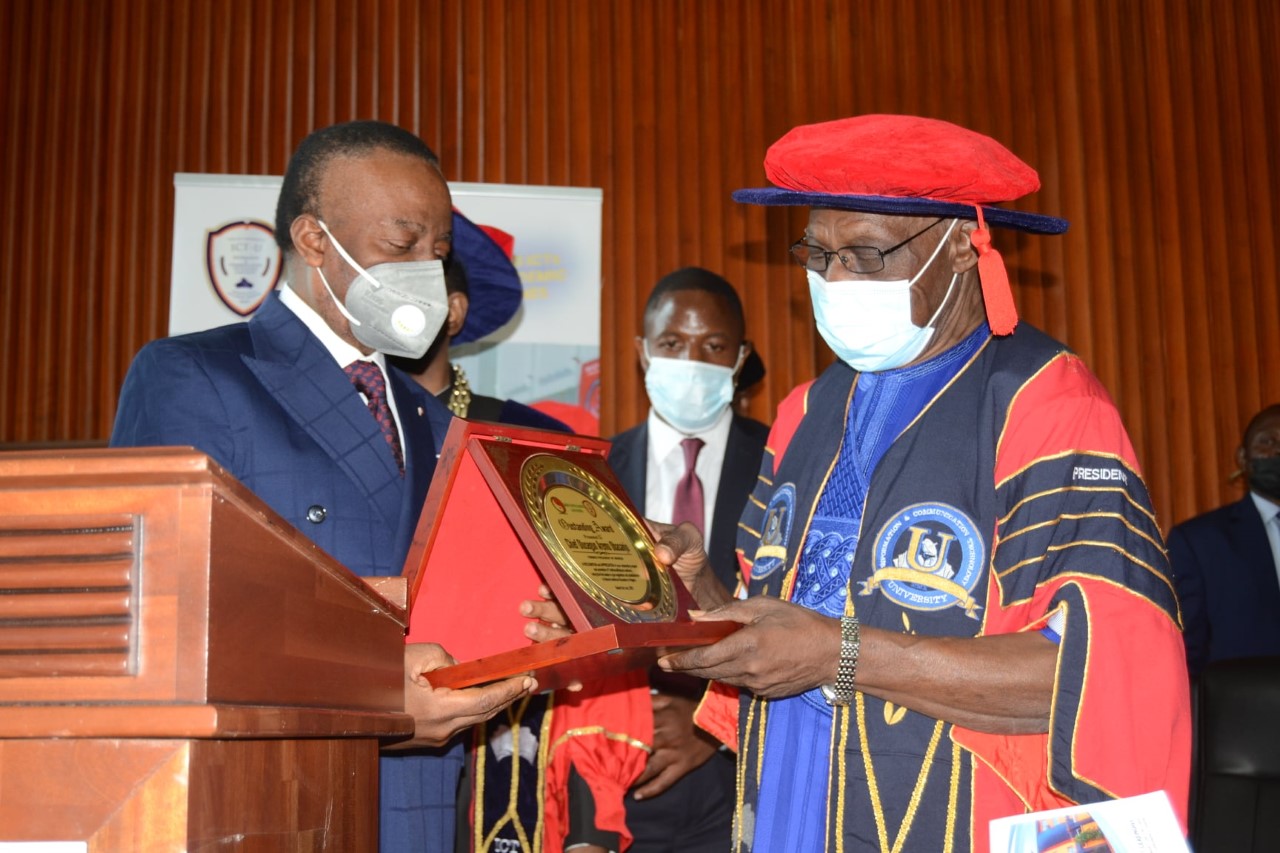 The most remarkable experience I have had with The ICT University is Research. It has been great to be in a university with a huge space for academic research on contemporary business and environmental issues. Research is highly encouraged and supported through research facilities and expert researchers in the field of business,"Maimo Jovanny, IMBA, BMS Department said.
Other special awards were equally awarded such as to Reverend Jimi Titus who was given the endowed professionalship of the ICT University, Professor Robert Stephen (endowed award of professionalship), and Professor Muhammadou Kah (endowered professorship of the ICT University), amongst others.