Third COVID-19 wave takes a devastating toll on Namibia
–…..as several national leaders fall to the virus
By Andreas Thomas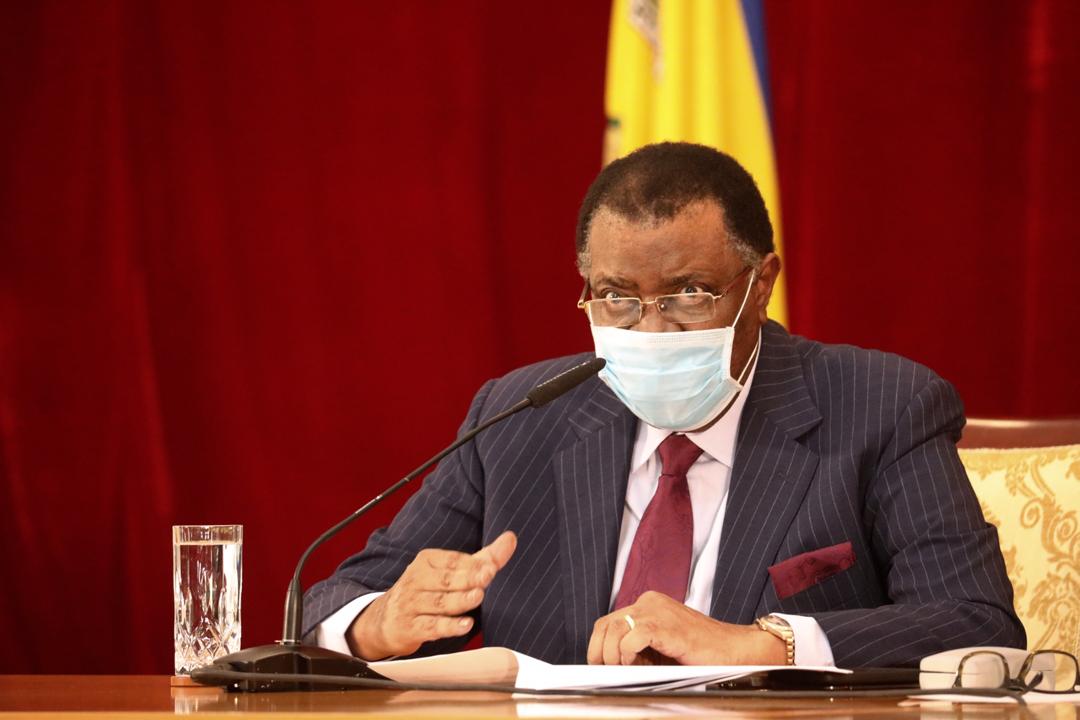 Windhoek- COVID-19 is currently out of control in Namibia, where the third wave of the virulent respiratory virus has been sweeping across the southern African nation. Since the beginning of June, Namibia has been experiencing a record-breaking spike in new coronavirus infections that has hospitalized many and lost their lives. In recent weeks, major hospitals around the country have been overwhelmed with the highest number of patients' hospitalization in history. Hospital beds including intensive care units are full in both public and private hospitals across the country. Funeral homes were also struggling to keep up as more people succumb to coronavirus-related complications. The surge in cases was exerting tremendous pressure on the country's fragile health infrastructures that have suffered years of neglect. The number of new infections per day has more than tripled, since the first week of June, from an average of 507 cases per day to an average of 1,798 cases per day. Over the last 15 days up to June 30, the country has recorded 513 deaths, which brought to a total of 1626 deaths as of July 4. These are devastating numbers for a country with a small population of fewer than three million people. As of June 29, Namibia ranked third in Africa after Gabon and South Africa, with a testing coverage of 207 people tested per 1,000 population. Authorities have indicated that the recent spike in COVID-19 cases might be driven by the more aggressive Delta variant that has been reported in neighbouring South Africa. However, local scientists were yet to confirm the existence of the new, deadly variant in Namibia. Experts are projecting that the rising incidence curve, during the third wave is expected to peak around mid-August. President Hage Geingob has since cautioned the nation that "The darkest hour of the night, comes just before day-break. It is expected to get worse before it becomes better. We must therefore do everything in our power to suppress the rate of transmission. Only you and I can stop the further spread of this virus from ravaging our homes and communities."
Oxygen supply
Major hospitals mostly in Windhoek have resorted to prioritizing severed cases of COVID-19 patients after the surge in new infections left them with a critical shortage of beds and oxygen supply. Health and Social Services Minister Dr Kalumbi Shangula has said steps have been taken to improve the supply of life-saving oxygen to health facilities. These include the installation of freestanding oxygen generating systems and bulk oxygen tanks and refillable portable oxygen cylinders at public hospitals. A 20-ton bulk oxygen tank has been installed to provide oxygen to the 76-bed respiratory unit at Katutura Intermediate Hospital in Windhoek, where COVID-19 patients are admitted. Shangula added that a 13-ton bulk oxygen tank was expected to be installed at Oshakati State Hospital. He noted that the existing bulk oxygen tanks at Tsumeb and Walvis Bay State Hospitals, with the capacity of 6.5 tons each will also be supplied to ensure adequate care. A new gas generating unit with a capacity of producing 370 litres of oxygen per minute has been installed at the Windhoek Central Hospital. It will supply the dedicated 15-bed COVID-19 intensive and high care units at the Windhoek Central Hospital. "Government is also pursuing the option of procuring oxygen concentrators to be distributed to various public health facilities around the country as part of the intervention. The concentrators can play a significant role in assisting patients in respiratory distress, but do not require high flow oxygen," the minister said.
Restrictive measures
President Geingob on June 30 announced new restrictive measures meant to curb the wide community transmission of coronavirus. The 14-days restriction has banned travel between all the regions except essential service providers and emergency medical cases. This follows an earlier restriction of movement into and out of Windhoek, Okahandja, and Rehoboth that were deemed the epicentre of the third wave of the coronavirus. As part of the new measures, public gatherings have been limited to 10 persons, and a nationwide daily curfew between 21:00 to 04:00. Schools from pre-primary up to lower primary are on special winter holidays until July 26. Classes for grades 10, 11 and 12 have been suspended countrywide until July 16. The sale of alcohol is banned from Friday to Sunday while all food establishments are to serve food on a take-way basis only. "I have always reiterated that the health of Namibians remains the priority and a balance must therefore be found in protecting life and livelihoods. While a full social and economic lockdown is proven to be effective in slowing transmission rates, it must be used sparingly, as it also spurs adverse effects to the economy, business jobs and livelihoods. Under the current circumstances facing our country, this difficult step must be taken," Geingob said when he announced the news measured in Windhoek.
Vaccination campaign
Vaccines remain an important weapon in Namibia's fight against coronavirus. The country started with nationwide vaccination on April 19. So far, Namibia has received 197, 200 doses through COVAX, and donations from China and India. However, this stock is almost depleted with many regions having suspended the campaigns. The available doses will now be used to vaccinate those receiving the first dose as well as identified persons considered to be at the highest risk of severe disease, hospitalization and death, Shangula explained. The minister has also acknowledged the delay in the delivery of vaccines to the country. "We are working day and night engaging manufacturers and through diplomatic channels to get the vaccines soonest," he said. Shangula noted that Namibia has paid up in full for 108 000 doses of Astra Zeneca via the COVAX facility of which 67 200 doses have been delivered. "We expect the balance of 40 800 doses of the AstraZeneca vaccine to reach our country during July 2021. We have also finalized orders for doses of Sinopharm, Astra Zeneca and Johnson & Johnson vaccines. We await delivery of these vaccines in the coming weeks and months," Shangula said. Meanwhile, the minister arrayed public fears regarding the adverse effects of delaying the second dose due to the delayed arrival of vaccines. "According to guidance from the World Health Organisation, a delayed administration of the second dose of the vaccine will not have adverse effects on individuals. The administration of the second dose may be delayed for up to six weeks," he said.
COVID-19 carnage
The marauding coronavirus pandemic is proving to be a sword of Damocles hanging over the heads of national leaders, who many have already succumbed to the virus. During the past month, several leaders lost their lives to COVID-19-related complications. The Paramount Chief of the OvaHerero Traditional Authority, Advocate Vekuii Rukoro (66) died few days after testing positive for coronavirus on 18 June in Windhoek. Rukoro has dedicated his life to the cause of justice for the Ovaherero people. He has been at the forefront calling for Germany to pay reparations for atrocities committed during the 1904-1908 genocide of Ovaherero and Nama people. Dr Zedekia Ngavirue (88) who led Namibia's Negotiations on Genocide, Apology and Reparations with Germany also lost his life to coronavirus on 24 June. The pandemic has also robbed Namibia of Professor Mburumba Kerina (89) who gave the country its name from the former South West Africa. Kerina died in Windhoek on 14 June. He was one of the first Namibians to petition the United Nations calling for Namibia's liberation from former South Africa's Apartheid colonial region. Other prominent Namibians who succumbed to the virus in June include former environment minister Willem Konjore (76); former justice minister Dr Ngarikutuke Tjiriange (77); former chiefs of Namibian Defence Force, retired Lieutenant General John Mutwa (61) and retired Lieutenant General Lucas Hangula who was also the director-general of the Namibia Central Intelligence Services. "Unfortunately, as in any war, many lives have been lost.  I, therefore, offer my sincere condolences to the Namibian nation and specifically to the families of those who have lost their lives due to COVID-19," said President Geingob who also took a moment "to pay tribute to towering national leaders who have lost their lives to COVID-19."President Geingob and First Lady Monica Geingos are among the leaders who recovered from coronavirus. "Having recovered from COVID-19 myself, I am fully aware of the importance of being vaccinated against the disease," said Geingob who is yet to get vaccinated.  
*Culled from July Issue of PAV Magazine