Suspension Of DWB Deprives Cameroon's NW's Most Vulnerable Citizens Of Free Healthcare Amid Deadly Armed Conflict.
By Andrew Nsoseka*
Locals in Cameroon's Northwest region, who have had their lives distorted in the last couple of years by an ongoing war against cessation, which has displaced hundreds of thousands internally, and forced others to flee as refugees, now have another big challenge – access to healthcare.
When the crisis erupted and protests gradually morphed into an armed resistance and the war that ensued, many institutions folded, including healthcare institutions. Many healthcare institutions and professionals, soon became targets, as they were accused of treating belligerents in the armed conflict. Several Doctors and practitioners are today, serving jail terms or languishing in pre-trial detention on such charges.
The situation, was however, was mitigated when Doctors Without Borders, DWB an international NGOs rendering health services to those affected by the war came in. However, it was short-lived, when DWB was like several medical care providers, accused of also treating armed fighters and aiding them. The accusation of aiding the fighters has been rejected by the organisation.
Unfortunately, Cameroon's Northwest regional Governor, Adolphe Lele Lafrique in December of 2020, issued an order, banning activities of DWB in the region, leaving thousands of those who relied on the outfit for medical care, stranded, with no option. Many now rely on local remedies, prayers, or risk going to hospitals, and if treated, held hostage till the money is paid.
On its May 28, 2021 weekender edition, The Post reported a pathetic story of a family running away from the incessant raids in Bui Division, of Cameroon's Northwest Region. The news article by Chris Mbunwe narrated the sad story of a teacher, Oliver Lankar who, in escaping from the turbulent Division, lost his one-year-old baby due to the heavy rains and cold.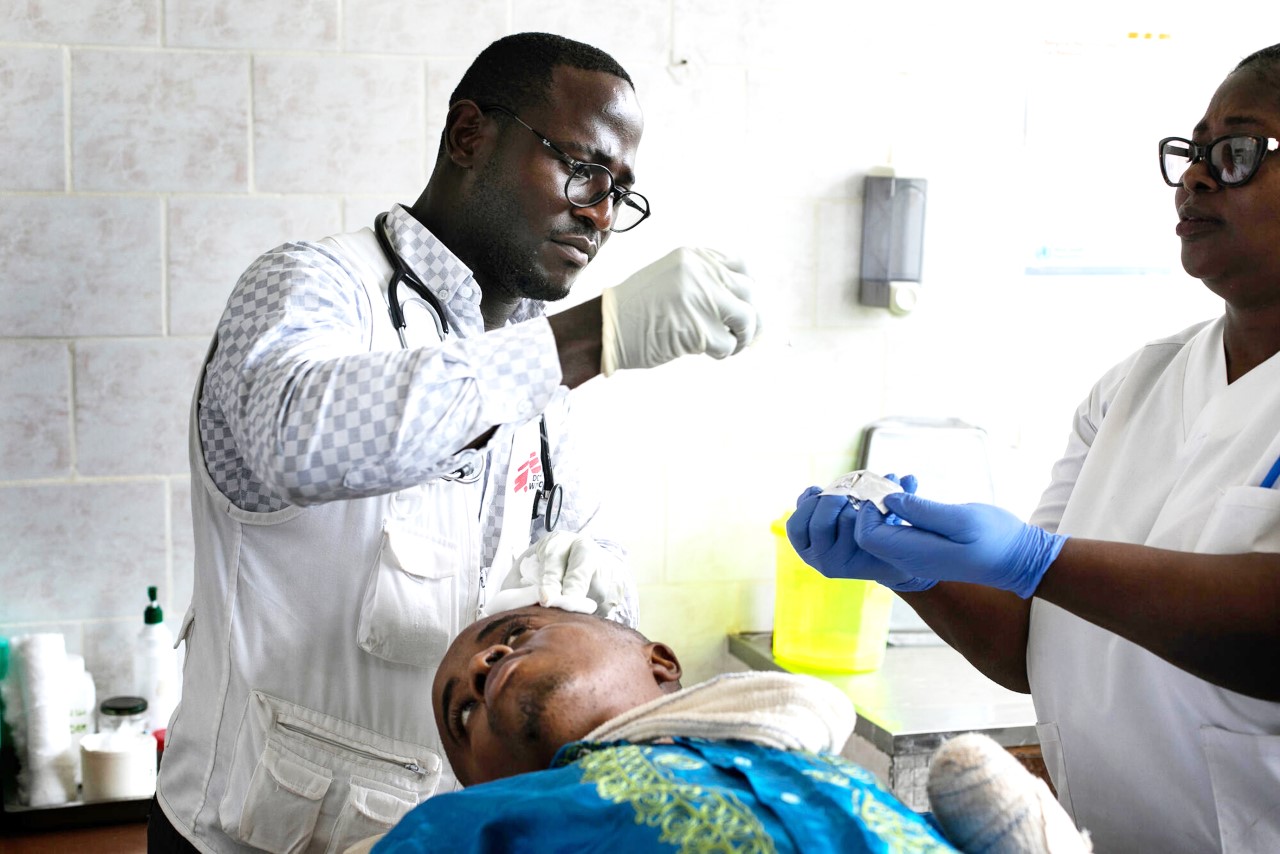 Though one could be incorrect to say that the refuge-seeking man would have sought medical help from community volunteers working with an organisation like Doctors Without Borders – providing free medical assistance to those in dire need, Lankar's family did not have that option – it was ripped from people like him and a multitude of others, when DWB, had its activities suspended.
On December 8, 2020, Governor Adolphe Lele Lafrique issued a prefectorial order, suspending activities of Doctors Without Borders, a front-line organisations providing free healthcare services to thousands of victims and those affected in one way or the other by the Anglophone crisis in the two crisis-hit regions.
In article (I) of the Governor's Decision suspending the activities of DWB, the Governor said, "The partnership between Doctors Without Borders (DWB, MSF) and Saint Maria Soledad Catholic Hospital Bamenda as well as similar partnerships with other health facilities in the Northwest Region are with effect from the date of signature of this Decision, suspended, pending definition of the framework of activities for Doctors Without Borders (DWB, MSF) by the Ministry of Health."
Locals in the region, especially those displaced by war, and who now live under precarious conditions are the main beneficiaries of health services offered by DWB. This category of persons, are the region's most vulnerable. The right to health has been denied, especially to those in distress situations who struggle to feed and can barely afford their needs, especially health needs which are expensive.
DWB often prioritises providence of its services to hard-to-reach communities, and with the current Anglophone crisis in Cameroon, many communities are without health facilities especially as many owners of private clinics were hunted down on accusations that they treat or sell medicaments to separatists too.
In 2020, DWB reported that it provided over 120,000 free medical consultations in the Northwest and Southwest regions of Cameroon – the two regions gripped by an over four war of secession. Unfortunately, with the Governor's Decision, hundreds of thousands of patients in the Northwest who relied on this free health services can't access it anymore, even though the armed conflict is rather deteriorating, leaving more people in need.
The Governor said the organisation's framework of activities are to be defined by the Ministry of Public Health, a process which has taken several months, with no sign that the organisation will be given the go-ahead, to continue to render services to the region's most vulnerable, caught between an active war, and now the COVID-19 pandemic.
The World Health Organisation, to which Cameroon is a member, in its Constitution (1946) envisages "…the highest attainable standard of health as a fundamental right of every human being."
Speaking in relation to access to health in the Northwest region, the Director of the Bamenda regional Hospital, Dr Denis Nsame regretted that that the hospital keeps losing money because many patients can't afford to pay their bills after treatment. This of course, is the category that because of the war situation and its effect on their livelihoods, previously depended on free services offered by organisations like DWB.
Dr Denis Nsame revealed that just in the first quarter of 2021, his hospital alone has lost FCFA Nine million, because many patients are unable to pay bills. The situation now puts the regional hospital, as well as other health facilities in financial distress.
On the part of the community, many who now do not have the option to receive free quality healthcare are now left with the option of either trying untested home remedies, taking a chance to be treated and held back by the hospital, or just hoping to get well someday. Many others who have seemingly lost hope, now resort to cuing up in churches that advertise miracle healings, as they hope for miracles to come their way.
One of the community leaders who recently took an initiative to address the situation, is the Mayor of Bamenda II Council, Peter Chenwi, who said his office has been flooded of recent by appeals for assistance to pay health bills. "The request for assistance from patients keep rising every day. That is why the Council decided to undertake this visit and see the situation of patients at the Bamenda regional hospital" the Mayor said. He reveals that so far, the council has paid FCFA one million, covering the hospital bills of 64 patients who could not leave the hospital because of unpaid bills. Amongst the beneficiaries were women who had put to birth, but could not pay their hospital bills.
A Community Health Worker, talking of the ban on DWB's activities in the Northwest said, "Since the suspension, many children have died in my community, due to the lack of medication. People don't have the money to go to the hospital. They keep asking me; when will they (DWB) come back" He recounts. Other community workers who served the community under DWB regret that the suspension has left them with no means to assist the people, who depend on such services.
"People keep calling me for help, but there is no means to help them anymore. They go back, and later on you hear that some of them died. It is terrible." Another community health worker in the region regrets.
Though not mentioned publicly, government sources claim that DWB's activities in the region are suspended due to allegations that it also treats wounded separatists, and actively supports them by transporting arms and ammunition. In a statement released On July 5, in relation to claims that the organisation was supporting separatist fighters, DWB said they "categorically reject the allegation of having provided support for separatist fighters in the Northwest."
"We affirm as an absolute that we have never facilitated the transport of arms, ammunition, or armed combatants, and have never provided logistical or financial support to any of the parties to the ongoing crisis". It furthered.
Information from DWB's data however show that just about five percent of its patients bring cases that are directly linked to violence. The statistics rather show that most of the patients are children with malaria, pregnant women, accidents, and sexual violence victims.
In a statement released recently after three weeks of meeting with government officials to end the suspension, DWB in a statement regretted that the suspension was not still lifted.
DWB's Director General, Stephen Cornish, remarked that "While our visit to Cameroon was an opportunity to address key points, no agreement was unfortunately reached to immediately restart our lifesaving medical services in the Northwest region. This is disappointing, but we remain hopeful that the lifting of our suspension can be reached in the coming days. Discussions will go on as all stakeholders understand that our operations cannot remain on hold indefinitely. Every extra day of suspension is another day that we cannot assist the population in dire need of health care services. An agreement will undeniably change the situation for the better in the provision of essential care in the Northwest. We are confident that such agreement is still attainable and will allow us to provide essential medical services in Northwest just as we do elsewhere in the country."
*Culled from July Issue of PAV Magazine