NBA Draft 2021: I want to be one of those players from Africa who did something big in the NBA-Jonathan Kuminga
July 30, 2021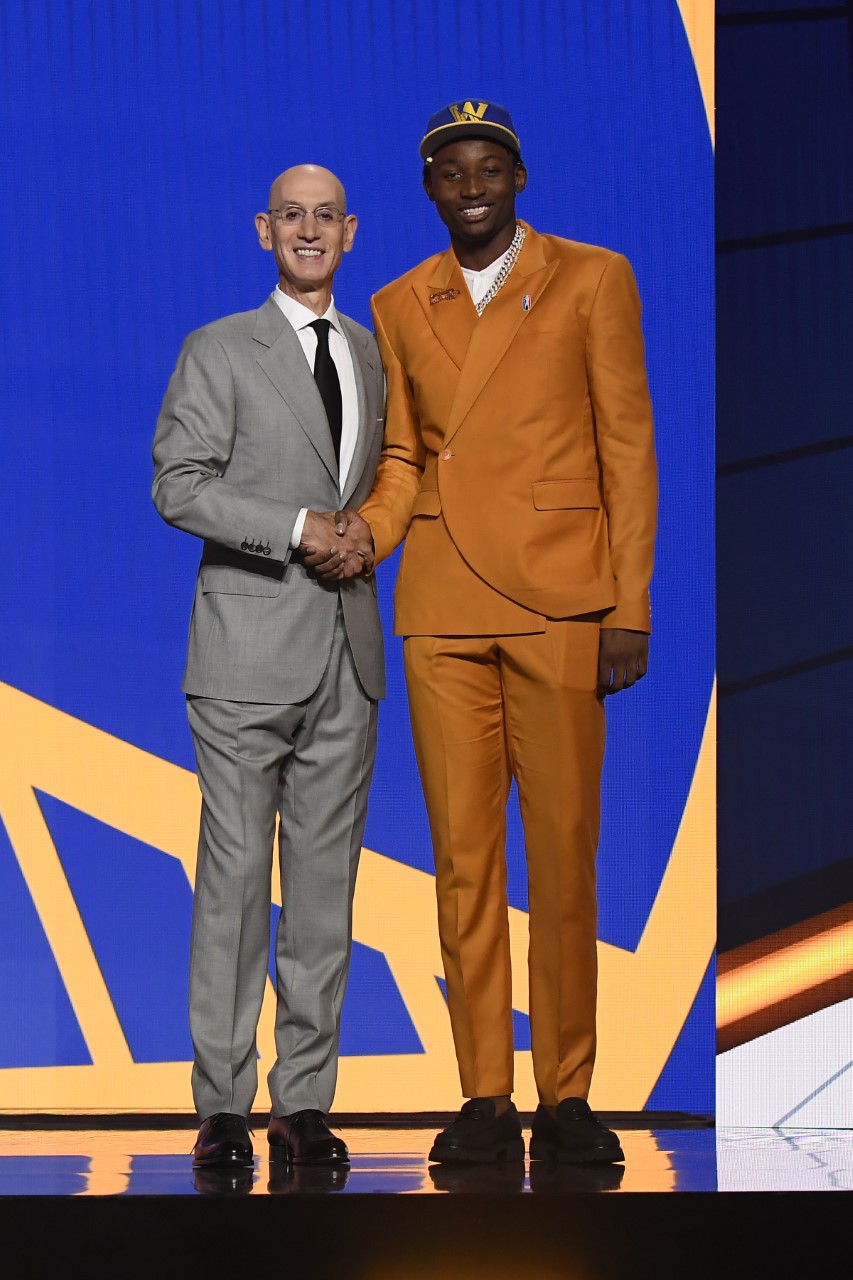 Jonathan Kuminga (Democratic Republic of the Congo) – selected 7th by the Golden State Warriors fields questions after the NBA Draft 2021 .I want to be one of those players from Africa who did something big in the NBA, he says.
You're playing with the Warriors but how will you use your physical capability, your power inside of that Warriors lineup on offense?

JONATHAN KUMINGA: I'm in a great situation. I see myself as giving out a lot on defense and at the end of the day if they need me on offense, it's just the way they want me to do it, I'm willing to do it and I feel like I'm capable to
do it. I feel like it's the right fit for me.

Like Jalen Green, you both got better as the draft approached through G League Ignite. How do you see the future for players who take the same route going to the G League? And you also had one teammate in the Ignite. His name is Kai Sotto, he's from the Philippines. Do you think Kai can be where you are, making an NBA team?

JONATHAN KUMINGA: Kai for sure, he has a chance to be a great player. At the end of the day Kai works hard, he has the size and ability to be an NBA player and drive. And just going to the G League, I feel like that's the best route to go out there and just work hard every single day.

I know today is only day one of your NBA career, but what legacy do you want to leave behind when your career is all said and done?

JONATHAN KUMINGA: At the end of the day I just want to be remembered as that guy who brought a team to a
championship, who won a championship. At the end of the day I want to be Hall of Fame, so I want to have a great career where everybody going to be talking about I want to model my game to Jonathan at some point.

The Warriors are obviously in a position to really kind of compete for a title next season. How ready do you think you are to kind of step in and play maybe like a supplementary role on a winning team like right now?

JONATHAN KUMINGA: Like I said, I always thank God, I always pray to God and I was lucky to be in this position, and I feel like that's the type of competition I'm looking forward to. As long as I grow around Steph Curry, Klay ,Draymond Green, I feel like my game is going to go from the bottom to the top in a couple months. As I get along and get used to them people, because they're going to always push me, they're always going to put me in the right situation, and I feel like no matter wherever we end up, we're ready to compete and win a championship.

I'm sure you're aware a bunch of African players were drafted last season and one of them I think even won the title with the Milwaukee Bucks. So, when you look at that progression and you look at the great African players that have come before you, where do you think your ceiling is and which African player do you think inspires you the most?

JONATHAN KUMINGA: I would say pretty much all of them. Starting from [Dikembe] Mutombo, going to Giannis who just won a championship, you know. I want to be in that category. I want to be one of those players where coming from Africa and one day do something big in the NBA. So basically I'm looking forward to going to Golden State
and help the team and just be that one African kid that's going to come out there and do everything that I can do to
help a team to win.

During this process and maybe even over the past year since you were based a little bit in Northern California with the Ignite, had you had any conversations with the Warriors with Bob Myers, Steve Kerr throughout this process? Did you have an idea that maybe this could be a possibility, you going and playing for the Warriors?

JONATHAN KUMINGA: No, you know, I didn't have any idea. Golden State is just a team — it's a good team and just me being selected at Golden State I feel like it's the perfect fit for me and I'm really excited to be a part of it. But going through my Ignite career I never get to talk to anybody, but one thing I'm just surprised and really like
looking forward for is like I'm used to the city so it's basically going back home again.

Did you talk to Bob Myers or Steve Kerr over the past couple of weeks during the pre-draft process?
JONATHAN KUMINGA: I didn't talk to Steve Kerr, but I talked to like the owner of the team, because they came in town and I had a workout and we had a dinner and stuff and it went well.

Could you tell us a little bit more about that workout in Miami with the Warriors, what specifically were you able to do for them and what was the interview process like with them that day?

JONATHAN KUMINGA: I would say the day I worked out they came and watched me it went really good. I showed
all the ability that I'm capable of doing, all the little things that I'm capable to bring to the table and help the team to
win. So, I think just from that, that's where they really picked me. And we went to dinner and it went really good,
they had a great staff, they came out to see me and I enjoyed the time I had with them.

You're a prospect that has one of the highest ceilings in the draft, potentially out of this world. How do you want to unlock that and make the Warriors right about their draft pick? So what area of your game do you want to attack first and make sure you have that down before you step on a NBA court?

JONATHAN KUMINGA: Pretty much everything. At the end of the day, like I said, I have the most and the highest ceiling in this draft and it's just my work ethic that I put every day, I'm working on pretty much everything, I don't
work on one thing. So, basically going to Golden State it's like I'm already prepared, because I'm not going to be, I'm
not going to be the man of the team, but at the end of the day I'm going to be one of the players on the team that's
going to help the team to win.

How do you think your training will be affected by playing with Klay, Steph and Draymond? You're going to have a lot of time to work on your game, you won't be asked to carry the load at first, so how are you going to attack that for your training behind the scenes where you're not going to be able to use it in the game right off the bat?

JONATHAN KUMINGA: I just got to bring it out for every time I get in the game. I just got to be the player they need
me to be, listen, learn every single day, work hard and I think everything will go well.
*Interview courtesy of ASAP Sports/APO