Cameroonian Born Priest Honored In Nigeria.
By Joseph Besong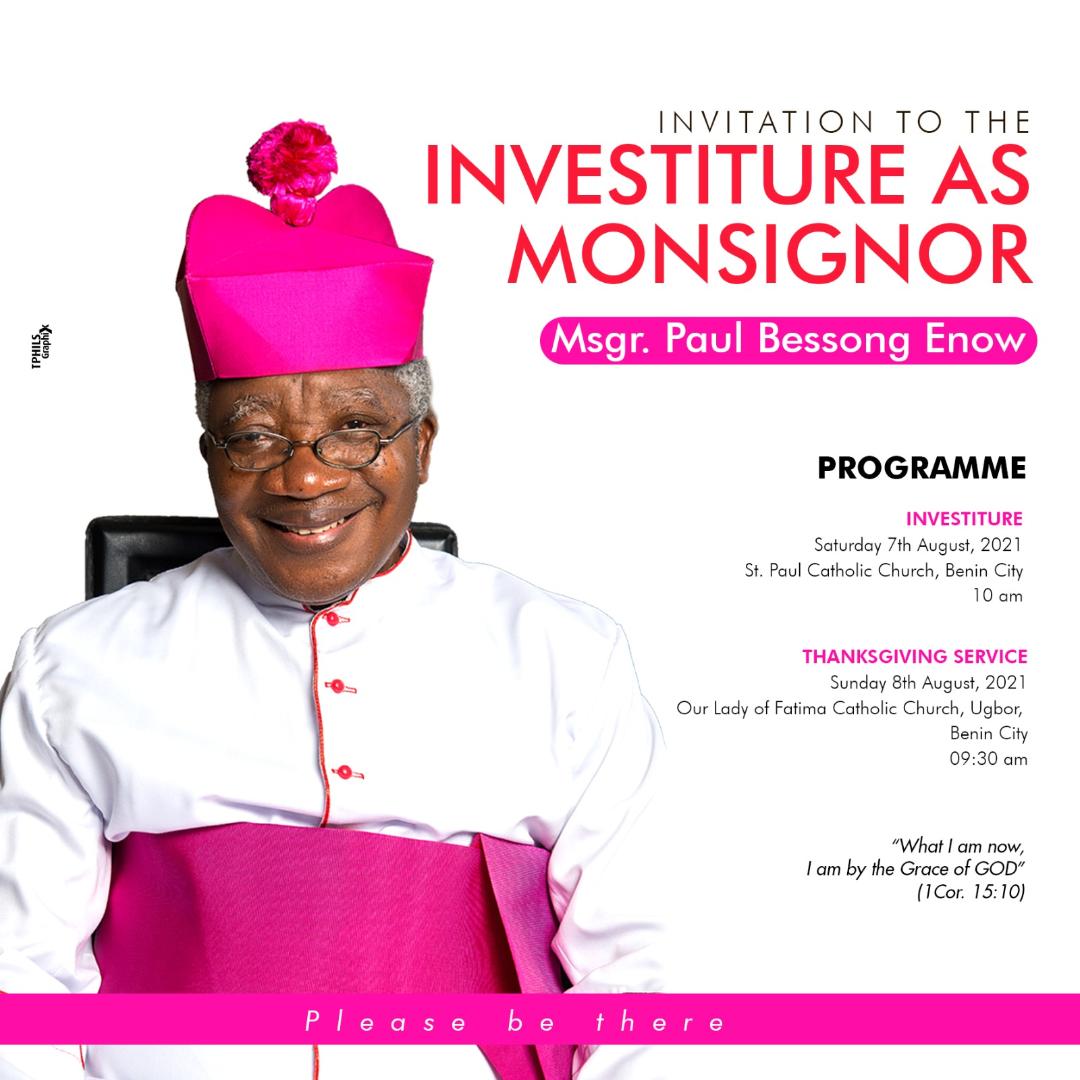 Catholic priesthood is a mystery to many especially to those who are impede in materialism. The world quest of today doesn't stop young men to say yes to the call of God all over the world. There's a story of a Cameroonian who took the risk to journey into Nigeria in order to serve God as a priest.
More than two decades ago, Monsignor Paul Besong Enow left Cameroon for Nigeria to answer God's call to become a Catholic priest. While in Nigeria, he visited the Archdiocese of Benin City and spoke to the then Archbishop of Benin City, Emeritus His Grace Patrick Epku. Bishop Epku was shocked to see a young man with a good accounting job who want to surrender it all for the priesthood in a foreign land. Emeritus archbishop Patrick Epku asked the young Paul to think about it and then to resign his job as an accountant. At this time, Monsignor Paul Besong Enow has made up his mind to respond to God's call.
Following his resignation from the job, the future Monsignor was accepted under the Archdiocese of Benin City. He was sent to the formation program and later admitted at the Saint Peter and Paul Major Seminary Ibadan-Nigeria where he studied for the Catholic priesthood. He was later ordained a Catholic priest by the Emeritus Archbishop Patrick Epku.
Monsignor Paul Besong Enow has been a dedicated servant of God.He loves his work more than you think. To arm him with knowledge, He was sent to the Catholic Institute of West Africa Port Harcourt, Nigeria. He was been a lecturer at the Saint Paul's Minor Seminary-Benin City and also held position at the Holy Cross Cathedral Airport road Benin City. Here Monsignor proved to be a true servant of God. Many there knows him as a the father for all children. He added meaning to the lives of many youths and the Christians of the Holy Cross Cathedral. It's common to hear people say "papa for all pikin" referring to the fatherly concern of this man of God. He is a charitable priest to all children irrespective of your creed, race, tribe or status in society.
As the first child in his family,Monsignor Paul Enow faced challenges in his journey into the priesthood. He attended Bishop Rogan College Provincial Minor Seminary ,Small Soppo Cameroon briefly because his mother thought doing that will prevent him from achieving his desire to become a priest. Monsignor's mom like every African mother wishes their offspring to be successful in their careers in fields like engineering, medical field,law, accountancy etc and finally to get married and have children. His case was even complicated because he was the first child in the family. His father was more tolerance and encouraging. The mother later became a champion and defender of his decision to serve God. Everyone in Cameroon called her 'mama fada" Monsignor Completed his secondary school in Cameroon at the prestigious Saint Joseph's College Sasse where he obtained his ordinary and advanced levels before heading to Nigeria. There in Nigeria, he went to the Calabar polytechnic where he did accountancy and as explained above, he picked up a lucrative job in Nigeria as an accountant. This is the journey of a man who was guided and protected by God in a foreign land for His greater glory.
Pope Francis recently honored Rev.Fr.Paul Besong with the title of Monsignor. Monsignor title isn't given to all priests. This is a title to acknowledge a priest's hard work as a priest of God. Everyone is shouting and thanking Rome for finally gracing this selfless priest who despite his difficult journey into the priesthood has offered his all in making sure who ever comes across him leaves with a positive tone of priesthood and Catholicism. On August 7,2021, all roads will be leading to Saint Paul's Catholic Church for the official Investiture of Monsignor Paul Besong Enow. It should be noted that Monsignor Paul Besong Enow is the second priest from his division in Cameroon. Manyu today can boost of many priests and religious coming from the local villages which is evidence that his call to priesthood has opened more vocations in the area. May the Holy Spirit protect Monsignor Paul Enow in his new role as a Monsignor of the Catholic Church. Journey mercies to those who will be travelling from Cameroon, Europe, US, and others who will be travelling across Nigeria for this August occasion.