Cameroon: The Fomunyoh Foundation To The Rescue With Vital Assistance To IDPs, Schools in Kumba.
By Boris Esono Nwenfor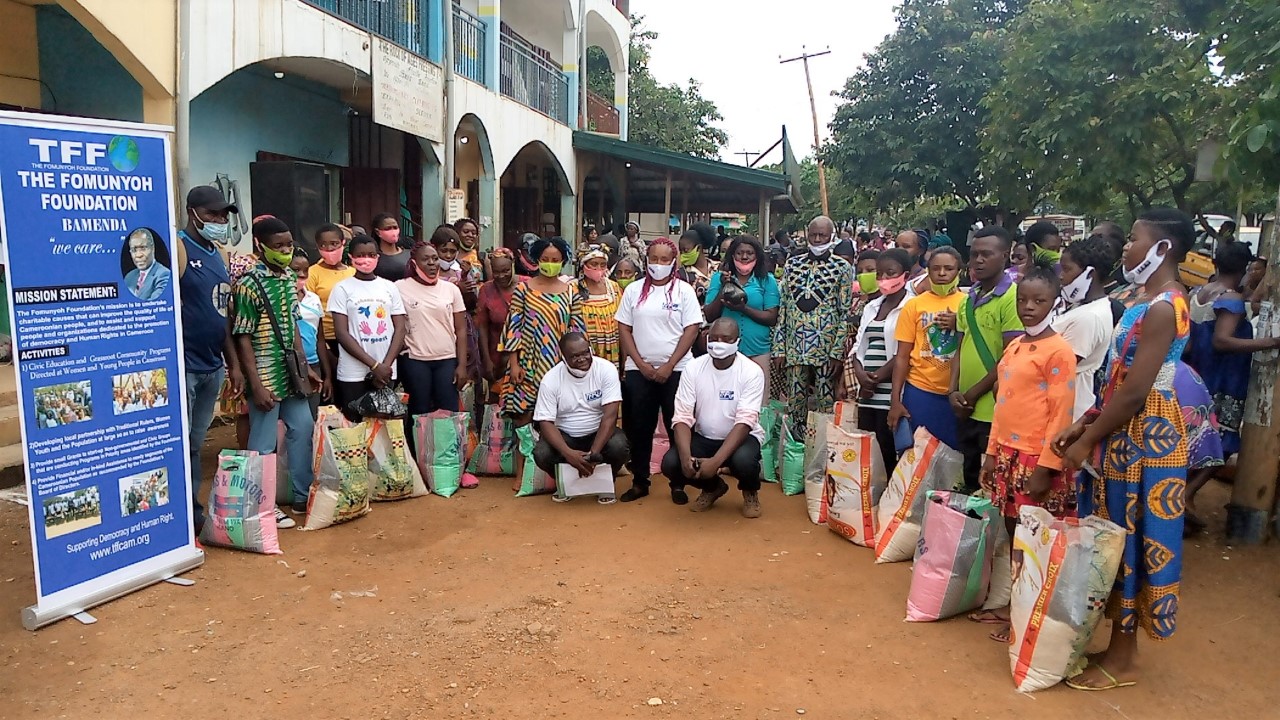 As part of its Relief and Hope Project, The Fomunyoh Foundation has made available some food and non-food items to internally displaced persons and some educational establishments in Kumba, South West Region of Cameroon.
Some 100 Internally Displaced Persons in this first phase were July 20, in Kumba provided this assistance with items consisted of rice, groundnut oil, soap, and salt to take care of their basic needs.
The conflict that started in 2016 has seen thousands of people who have been killed, maimed, kidnapped and others forced to flee their homes for shelter in neighbouring Nigeria and other parts of the country.
This initiative is spearheaded by Dr Christopher Fomunyoh, Senior Associate and Regional Director for Central Africa Programs at NDI. This is not the first time that Dr Fomunyoh or the Fomunyoh Foundation is carrying out such gestures. In addition to this one in Kumba, some other four donation exercises have been carried out in Buea and Limbe this year.
"The IDPs are coming from the outlets of Meme like Mbonge Road, Mabanda, Kosala and those areas where IDPs are choked up and also around Kasava farms. We did not want to base ourselves to take just one quarter but we decided that we will take from all the quarters and do the same in the upcoming distribution quarters," Metuge Evelyne Epole, Director – The Fomunyoh Foundation Women Empowerment Centre, SWR (Kumba) told Pan African Visions.
"When we give to Kosala, the people in Mbonge road may be aware and maybe thinking we have forgotten about them but we have explained to them that we have selected the first few names and the process is going to continue."
To Felix Ndum, Moghamo Cultural and Development Association (MOCUDA) General President Kumba and also one of The Fomunyoh Foundation representatives: "We have close to six hundred names with us and I just want to say anyone person who goes without having today should not be disappointed as we still have other phases of the distribution coming up."
The distribution exercise is expected to be done in four phases and at the end of the exercise, some 500 displaced persons are expected to benefit from this relief and hope project. The project will not only consist of aid distribution but the provision of life skill training has also been taking into account.
The gifts from The Fomunyoh Foundation were well-received by the displaced persons who went on to explain the precarious situations they were in due to the crisis and with the deteriorating situations, had to abandon their homes.
"With the situation in Mbalangi we had to hide in the bush and even there we still faced problems so we had to live for Kumba. With the so many mouths we have at home, this donation will go a long way to help us. I want to thank Dr Christopher Fomunyoh for thinking about us," Tita Wenong Paul, an IDP from Kwakwa currently living in Kumba said.
"I am so grateful for the largess that Dr Fomunyoh has given to us. I lack words to express my happiness and in my way will like to work with Dr Fomunyoh so I can teach brail to the hundreds of visually displaced persons," Obase Jean Marie said.
TFF extends Largess to educational establishments
Taking into consideration the fact that not just displaced persons need these aids, The Fomunyoh Foundation extended this gesture to some educational establishments like the Ephatha Insitute for the Deaf Primary and Nursery School and Champion Nursery and Primary School Pulletin Quarters.
Like the case of the displaced persons, bags of rice, salt, groundnut were provided to the children. These educational establishments have been harbouring displaced persons for the past years.
To the children, Felix Ndum while appreciating the work done by the teachers despite the fact that their peers have been killed, encouraged the students that: "Dr Fomunyoh will need for you is that you should be serious with your education and that tomorrow will be a better day."
"This is a surprise for me and it is the first gesture I am receiving since I came up with the centre. I want to thank The Fomunyoh Foundation for this gesture and pray for its founder," Shengang Richard, Proprietor/ Founder of Champion Nursery and Primary School Pulletin Quarters said indicating that there are about 68 displaced children in the school.
"Where we were we could not bear the problems so we had to leave the area. We appreciate the Fomunyoh Foundation for the wonderful gesture and that God will replenish the source," Ituka Dingoke, an IDP mother said.
To the Head Teacher of the Ephatha Insitute for the Deaf, Epie Justine, said "we are very happy and grateful that you thought of us. We are grateful and thank you so much. We will be waiting for you again."