South Sudan Resumes Oil Production As Peace Deal Dividend .
By Deng Machol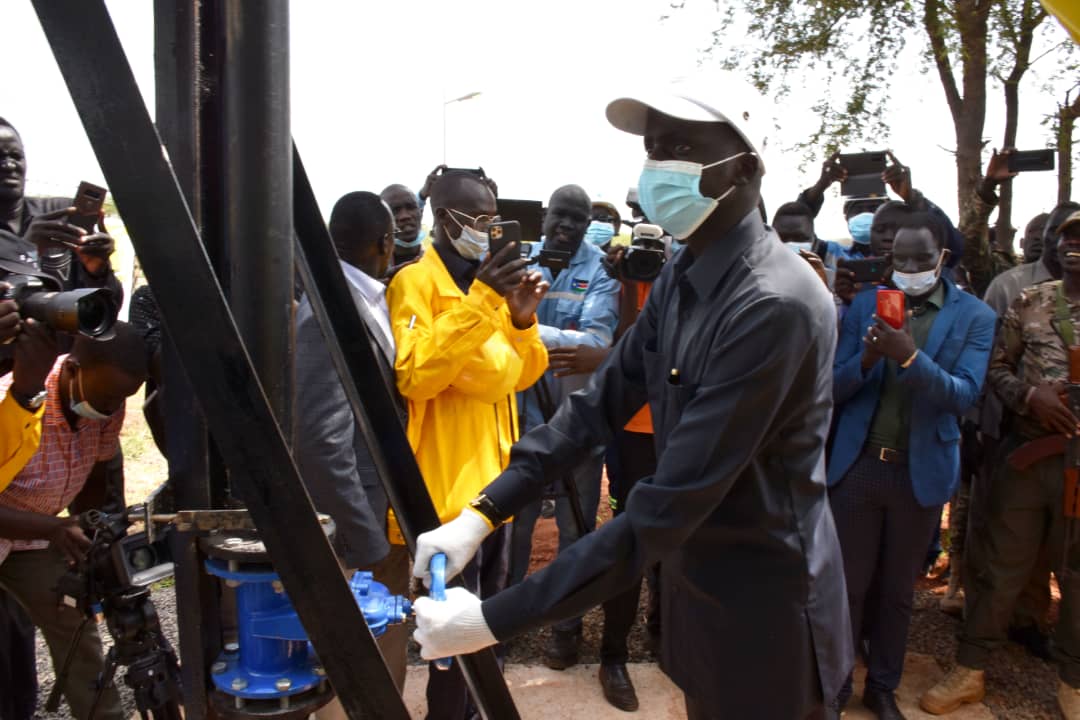 Juba – South Sudan has resumed oil production at the Tharjiath oil field in Unity State after 7 years' hiatus, a significant step in a East Africa's youngest country to resurrect its economy.

The output is being managed by the Sudd Petroleum Operating Company (SPOC), that hopes to produce up to 8,000 barrels per day.

Production in the Block 5A oilfield was interrupted in 2013 due to the country's five year conflict that left many oil facilities damaged. 

The conflict claimed nearly 400,000 people dead and uprooted four million people from their homes. 
But, with 2018 revitalized peace deal after a previous peace deal violated, President Salva Kiir's camp and key opposition groups, led by former ex – rebel leader Riek Machar gathered in Juba a year ago, promising to work together in a 3 year transitional government of national unity and usher almost a ten years' country into a democratic nation.

"The resumption to us as a government means economic security, not only to the government of South Sudan but also to the communities in the oil producing region," said Puot Kang Chol, Minister of Petroleum, who graced the resumption of oil production.

Minister Kang further said output in the oil block has been capped by Sudan but the country will make sure the capping is lifted so that we produce more than 16,000 barrels a day. 

Meanwhile, Unity State Governor, Joseph Nguen Manytuil said this is a results of  peace dividend. 
Governor said they managed to come from long way because of peace and they are resuming production because of peace.

On the other hand, Aleu Ayieny Aleu, Governor of Warrap State neighboring the oil producing region, said poor sharing of the oil proceeds played a major role into getting South Sudan into the conflict.

"If oil was shared well, we would not have gotten ourselves into this crisis," said Aleu, who witnessed the Block 5A resumption.
"We would not have gone to war if we did not use the future generation funds."
SPOC president Eruwan Gerry told reporters that the resumption "marks a significant milestone for SPOC as it resumes Block 5A oil production from Tharjiath Central Processing Facility into the Tharjiath-WNPOC Heglig Control Center pipeline after seven years of production shutdown."

Gerry said the SPOC targets to increase its production to 8,000 barrels per day by the end of 2021 and will reach the 2:11 production cap ratio at 16,000 barrels per day by middle of 2022.
SPOC is due to produce as high as 30,000 barrels per day by 2025 and with expectation to reach a peak of 45,000 barrels per day in 2028 with the completion of 4 field development projects.

Landlocked South Sudan's crude production was ruined significantly by the conflict, reducing government revenue and leading to a fragile economic situation till today. 

South Sudan seceded from Sudan in 2011 under a 2005 peace deal which ended one of Africa's longest civil wars but both countries remain at loggerheads over ownership of disputed territories and other issues.

South Sudan is one of the world's least-developed nations and grows very little of its own produce. The turn off its oil wells during a conflict triggered a deep recession.