Cameroon's UFC heavyweight Champion Francis Ngannou Makes "Triumphant" Entry to Buea
By Boris Esono Nwenfor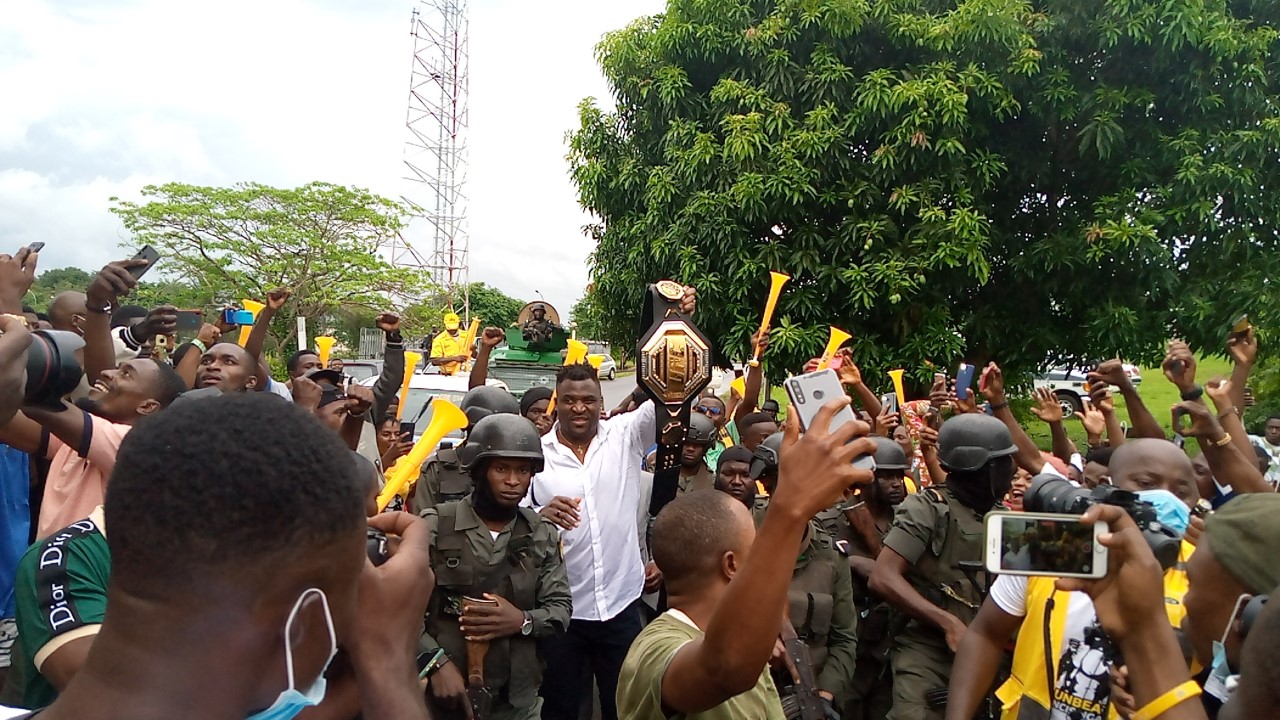 Cameroon's first UFC Heavyweight Champions, Francis Ngannou has showcased his title won a couple of months back to the population of Buea. This visit on May 8 follows a similar undertaking in Douala and Yaounde.
The "Predator" first made a stop at the SW Governor's office before moving along the streets of Buea with the final stop at the University of Buea. Despite the downpour, the enthusiasm from all those involved could not be hidden.
It's a surreal moment for many Cameroonians and especially those who have been following Ngannou for the last five years, from his highs and lows in the UFC octagon to see him as UFC champion.
His troubled upbringing has been documented and when he speaks his voice beats out words of encouragement to his fellow brothers and sisters that they too can achieve something great when they put their minds to it.
Francis Ngannou came to visit the institution that he spent his University school days and share with the population his success story.
Francis Ngannou captured the UFC heavyweight title after beaten Stipe Miocic, his second fight with the former champion in a clinical manner. His second-round knockout of Miocic saw him claimed the converted belt that he had been longing for ever since he started his MMA career.
"This belt signifies hard work and for everyone, it is a sign that if you believe in yourself you can achieve whatever you want," Francis Ngannou told UB students.
A second MMA gym is expected to be extended to Buea by the Francis Ngannou Foundation, says the UFC Heavyweight Champion whose foundation is named after him. In January 2019, Francis Ngannou opened the first mixed martial gym in his native country of Cameroon.
"The Foundation is to give kids opportunities, for them to understand that someone cares about them. We just one to empower them so that they can pick up their dreams and follow them," Francis Ngannou said on the envisage opening of a second MMA studio in Buea.
The Francis Ngannou Foundation currently runs the first MMA gym in Cameroon in his hometown of Batie in the West Region. The first MMA gym was opened in January 2019 and has since gone on to aid more than one hundred children. The Foundation empowers these children through access to professional training, gyms and facilities.
Growing up, Ngannou always hoped that someone would come back to his village of Batié and provide him with the resources to work toward his dreams of becoming a mixed martial artist. That person never came, and now that Ngannou has reached the point in his life where he can help his people, he's doing just that.
"The goal is to have them believe in themselves and to chase their dream. It doesn't matter what it is," Ngannou said as quoted by the UFC.
"I'm seeing myself when I was there [in Cameroon], how powerful my dream was and I'm like, 'Okay if there are only like three or four kids in all this village who have the same dream and it's as powerful as mine was, it's worth it."
It has been a unique pleasure for Francis to give back to his community mindful of the troubles he had to go through just to make it. Upon leaving Cameroon the UFC champion had to sleep on the streets of France for some time before he found MMA. And given back to the community is something innate.
"There is something that is special inside when I go there. If you notice, as soon as I have time I just go back to Cameroon," Ngannou said. "And when I go there I'm around all these kids and all these people and I'm seeing myself in them. I'm not Francis Ngannou, I'm not a UFC fighter, and I'm not 'The Predator.' I am just the Francis Ngannou that was born and raised there and I'm seeing myself in them."
He added: "It's kind of a thing where I grew up expecting somebody to come back and do that for us," Ngannou said. "I want these kids to know that people care about them and that they count. That's the main goal."