Cameroon's Francis Ngannou: "Left to Me I Prefer Jon Jones" For Next UFC Fight
By Boris Esono Nwenfor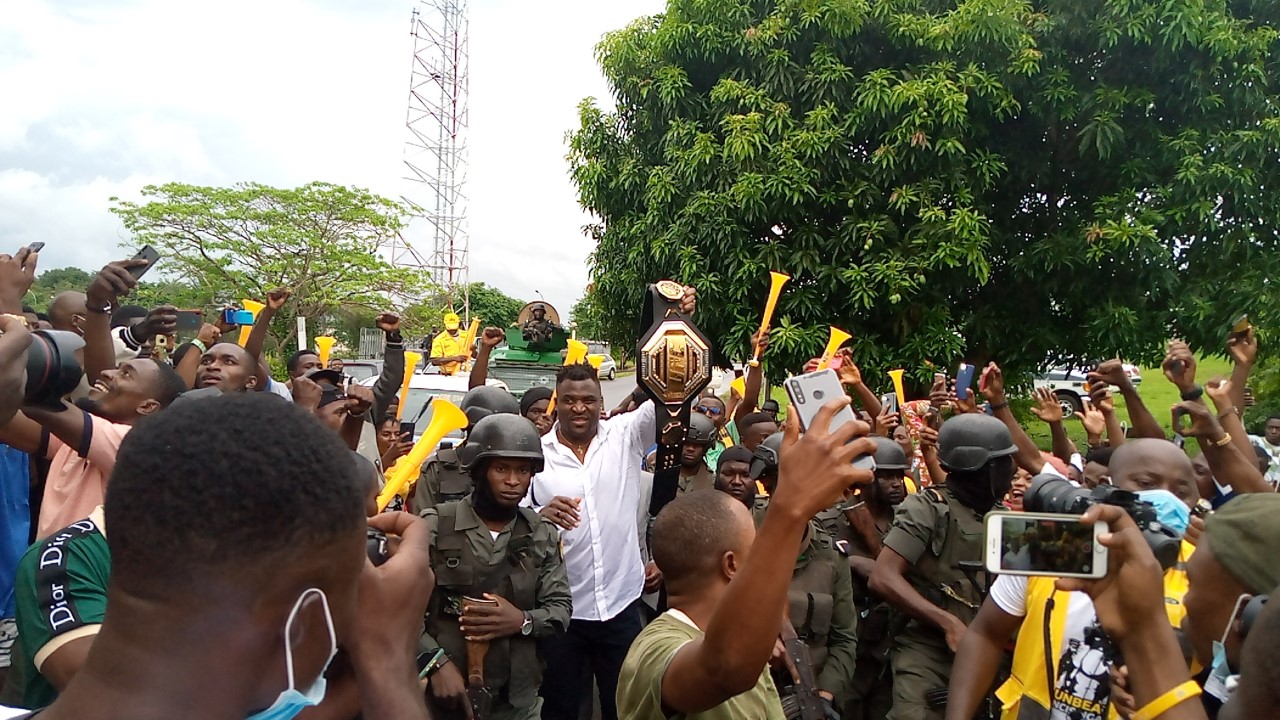 UFC heavyweight Champion, Francis "Predator" Ngannnou says he will love to fight former lightweight Champion Jon "Bones" Jones if it was left for him to decide. Since capturing the belt against Stipe Miocic, Ngannou and Jones had traded jabs on social media with both parties promising a knockout of the other.
Responding to a question from a student after he took the UFC Heavyweight title to the University of Buea on May 8, the first Cameroonian heavyweight champion said: "I am going for legacy and that can only be against Jones. If I have to choose a fight it will be against him because he has the legacy at the moment."
Jones has not fought since his February 2020 decision win over Dominick Reyes at UFC 247. Jones will go on to vacate the Light heavyweight belt and announced a move to the heavyweight division.
"Pray you to knock me out because if you do not I am going to break you, and that is a promise," Jon Jones tweeted as he hit out at Francis Ngannou. The Champ was quick to respond as he tweeted: "Please do not make me laugh! When was the last time you break somebody out?"
With Jones pricing himself out of the title fight, Ngannou looks to face off against Number One contender Derrick "Black beast" Lewis later this year for a rematch. In the first fight between both parties, it was Lewis who got a victory against Ngannou with many brandishing the fight as "one of the most boring fights ever seen."
The "boy from Batie" in the West Region of Cameroon has certainly come of age ever since that fight against Lewis some two years ago. The Cameroonian has gone on to absolute dominance in the heavyweight category clinically dispatching the challengers. He is yet to see the third round of his last four bouts all ending in KOs.
The UFC appears to be lining towards a rematch with Derrick Lewis with a proposed June 12 date. This date according to reports does not work for Ngannou but Lewis has expressed interest in the rematch and is available to fight once the UFC can lock down a date.
Despite the loss to Lewis, Ngannou is considered as the favourite to win the rematch when it is scheduled. Francis is coming off from a victory against Stipe Miocic at UFC 260. For Lewis, he has since gone on to make amends in his previous fights knocking out Curtis Blaydes at UFC Vegas 19 to notch his 12th victory by KO.
"It's probably going to be the Black Beast. At the end of the day, Derrick Lewis and Ngannou is the fight (to make). That is the fight to make right now," UFC President Dana White said about the next contender for Francis.
"He (Derrick Lewis) is a heavyweight; he has been fighting at heavyweight and he has earned his shot. He has a win over Ngannou and that is the fight to make. With the first fight, it did not do what everybody expected it to do but it cannot go bad twice, can it?"
The question from the UFC President signifies a change in mentality between the two fighters. Ngannou has progressed and upgraded himself to a level that is unmatched by anyone in the heavyweight division. He has simply become a "cold-blooded killer" as the US media calls him. And it is not surprising looking at the way opponents have fallen at his feet when they feel his punch. Junior Dos Santos,
Derrick Lewis has also progressed and he has promised to produce a better performance than his last meeting with Ngannou. Lewis is known as a wrestler and it is uncertain if he will like to go toe-to-toe with the hardest-hit fighter in the UFC now.
The world will certainly be waiting to see Francis Ngannou defend his belt for the first time. Whoever that will be is still up in the air. But should it be against Derrick Lewis or Jon Jones, it is going to be an interesting matchup for the fans.