Cameroon: Battling The Demons of of Hate Speech
By Boris Esono Nwenfor
"Anglo-fool", "Franco-fool", "Bami", and "Graffi" are all words that are being extensive use in the Cameroonian milieu. In the past, it might have been looked at as a way of making fun but today, they are all regarded as derogatory words, words that instead cause divide than uniting the population together.
Hate speech remains a global threat to peace and security. Hate speech has continuously promoted conflicts in our communities despite the national and international instruments put in place to limits its effects. It is worthy to note that authorities, especially those holding political positions, perpetrate most hate speeches.
Because, in our contemporary societies, especially in Cameroon, these authorities keep abusing power, it is very difficult to limit the use of hate speech as they keep on perpetrating hate speeches and going free without being held accountable. These hate languages against tribes, individuals, nations, political class, to incite violence against them originate from cultural, ethnic, race, political, or simply ideological differences.
The use of hate speeches and many other derogatory statements are part of the causes of the ongoing Anglophone crisis that has been for the past four years and entering the fifth year. Many Anglophones feel that their Francophone brothers west of the Mungo "do not like them" or "do not understand the problems that they are going to."
As the epoch continues to change so too is the new language that is being referred to various persons be it a Francophone or an Anglophone. It is common to hear someone being referred to as "blackleg", "ekelebe", "Larrisa", all being used in connection to the Anglophone crisis. When these slangs are used it only goes a long way to increase social tension in the country.
The NCPBM has launched a campaign against hate speech and xenophobia in the country. Our objective is to sensitize and raise awareness to be able to change the mentality, mindset on the need to move from the negative virtues of hate speech to the positive value of heart speech which involves hospitality, empathy, and tolerance," George Ngwane, Member of the National Commission for the Promotion of Bilingualism and Multiculturalism, NCPBM.
"The Commission has included everyone. On the 30 and 31st of March, we had CSOs, Media and Members of government. This is not a fight for the Commission alone and that is why we have partners to be part of it. The National Commission is a facilitator and a watchdog. Since 2017 we have been able to make a lot of presence felt."
"When I came to Yaounde there were very ugly words that were used against me like "Cam no go" but I did not understand what they meant about that. Since I have been here for the past twenty years I know the words that the people used against me was not for fun," Gladys Manyi, a Businesswoman said.
"At first we knew we were one (Anglophones and Francophones) but I did not know that the Francophones will use us for their fun games."
Gabriel Maina Pontoo, a Civil Society activist said: "When you go to places like Yaounde of Douala you have a common name like "Hausa" "Gadamayo" and others. These names that are given they have just one objective either to denigrate or to stigmatize."
This rise of hate speech is not only tied to the Francophones but the Anglophones have in the past and even till today are still involved in various derogatory statements against their French-speaking brothers. According to inhabitants, it is due to ignorance that is pushing many to make use of these various hate statements.
Nora Enonchong said: "Someone can be angry and say "Le Bamenda la" and when they describe you like that they turn to treat you differently and they turn to discriminate against you and that is what makes people angry. We do not like that attitude of discrimination."
This rise in hate speech has equally been compounded by the extensive use of various social media platforms like WhatsApp, Facebook, Twitter and others. Time without number individuals in the country and those in the Diaspora have been noted to have sent various derogatory messages to individuals especially as people have taken sides in the crisis.
There was a huge campaign of hate speech in the country which warranted the country to suspend the internet in the North West and South West Regions," Jean-Marc Afesi Mbafor, Member of the National Commission for the Promotion of Bilingualism and Multiculturalism said.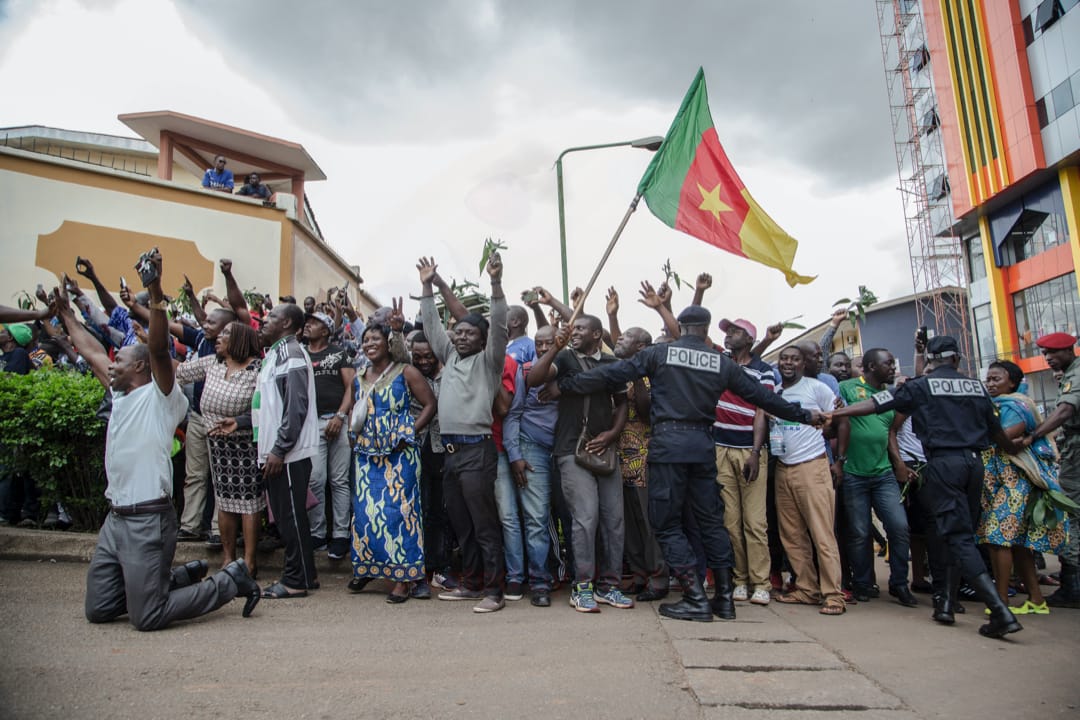 "Hate speech can ignite flames of violence in our society and we have seen the beheadings, gruesome killings in the English-speaking Regions of the country. What makes a statement hate speech is one that can incite violence."
Cameroonians in the country and those in the Diaspora are being urged to put away these statements and slangs which has no positive impact on society but one that leads to more violence and psychological trauma to many. The solution to this might have to be sanctioned being meted on those who carry out or are seen to promote hate speeches.
It is a criminal act to carry out hate speech against another person in the country but that has yet to be carried out effectively. Social media is inundated with hate messages but the law is still slow to carry out prosecution.
**Courtesy of May Issue of PAV Magazine