Zambian President Lungu hails Merck foundation's efforts to improve healthcare services
By Jean d'Amour Mbonyinshuti
The Zambian President Edgar Changwa Lungu has hailed efforts by Merck Foundation to improve healthcare services in different specialties and assured continued support by his country and the continent as a whole to ensure the better health of the increasing number of Africans.
The president was speaking on Tuesday during the opening of the three-day meeting to discuss strategies and solutions for health challenges in different countries to contribute to improving access to quality and equitable healthcare solutions and building healthcare capacity in many critical and underserved medical fields.
The eighth edition for Merck Foundation Africa Asia Luminary 2021 also coincided with celebrations of the 4th anniversary of Merck Foundation.
Merck Foundation Africa Asia Luminary virtual meeting brought together different participants including First Lady from different countries from across the continent, health experts, academia, and media among others, according to Senator Dr. Rasha Kelej, CEO of Merck Foundation
She said the meeting could focus on how diseases like diabetes, cardiovascular, endocrinology, Cancer, Research, Fertility Care, Women Health, Sexual & Reproductive care, Respiratory Medicines, and Acute Medicines among others can be dealt with.
More than 1100 doctor from 42 countries have benefited from Merck Foundation scholarship in the above fields, Dr Kelej said.
She added that more doctors could soon join in the next few years to benefit from more scholarships in more specialties such as internal Medicine, Gastroenterology, Mental Health, Orthopedic Trauma, Pediatric.
Others include emergency Medicine, Dermatology, Neonatal Medicine, Pain Management, Psychiatry, Clinical Microbiology & Infectious Diseases, Ophthalmology, Urology, Trauma, and orthopedics.
"To all first ladies in Africa who are actively involved with the Merck Foundation, I urge you to continue prioritizing human capital development through various capacity building programs which are aimed at supporting the work of the ministries of health in our respective countries," Lungu said to the First ladies who were at the meeting.
He said that initially the meeting was to be held face to face, but it was unfortunate that it could not be possible due to COVID-19 pandemic that is ravaging not only the African Continent but the entire world.
He said that much as the meeting was held virtually, it could serve as an opportunity for participants to discuss different strategies to overcome health and social challenges, and find solutions to improve access to equitable and quality health care services in participants' respective countries.
The virtual platform, he said had given an opportunity to over 2000 health care providers, policymakers, academia and media from 70 countries to share experience and learn lessons from one another.
A helpful meeting
President Lungu noted that the meeting could help participants to see how they could improve the lives of people in line with the United Nations Agenda 2030 on sustainable development.
He urged them to also not forget that COVID-19 pandemic is real stressing that all needed to adhere to the public health guidelines provided by health experts in various countries,
"As the population of Africa grows to almost 1.4 billion people, I urge African leaders and all of you to focus on building our health care providers in various specialties to keep the African population health and productive," Lungu said.
Lungu paid glowing tribute to health workers for the role played during the COVID-19 pandemic which is ravaging the globe and ensured the lives of people were saved.
I believe that strong political commitment, purposeful and strategic partnerships are key to improving health outcomes and the wellbeing of all people in the world, especially in Africa. As political leaders, we are accountable to people for the decisions we make and the results we achieve.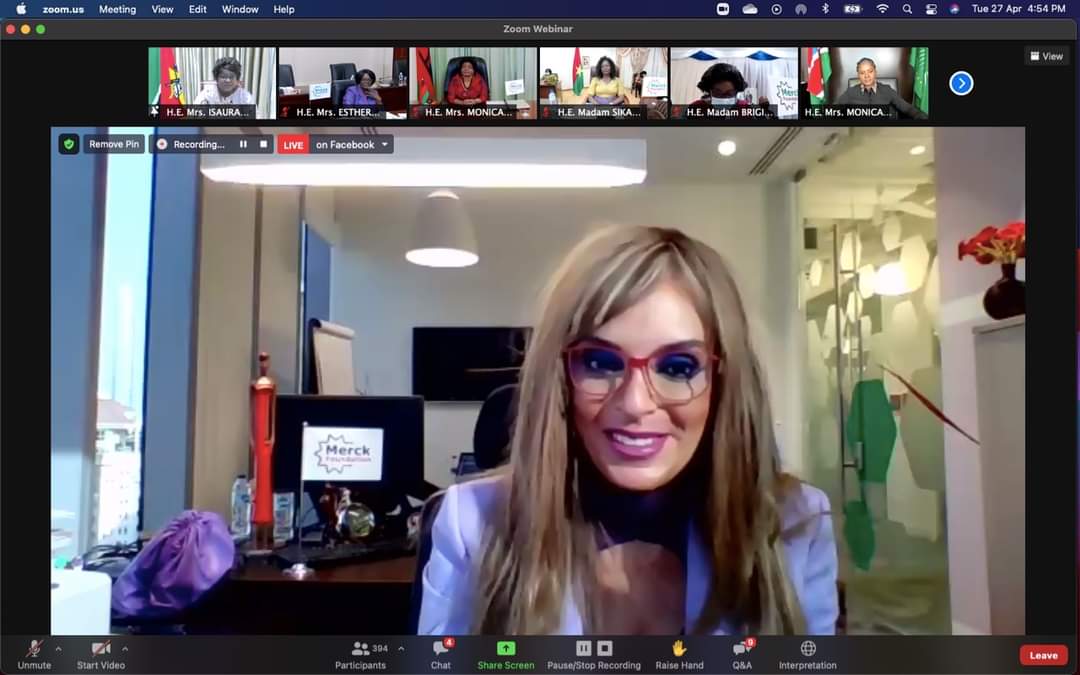 He hailed the long-term partnership with Zambia and other African countries with Merck Foundation.
"I am impressed with the foundation's smart strategy and flawless execution which is aimed at advancing capacity of our healthcare by providing critical and underserved specialty training for our local doctors across the country, hence ensuring quality ensuring quality and equitable healthcare to our people, a critical ingredient in the attainment of universal health coverage," he noted.
To achieve the sustainable development goals, President Lungu noted that there was an urgent need for innovative, dynamic and purposeful partnerships stressing that it was only through effective coordination of collective efforts that these goals can be achieved.
"Today, there are achievements to celebrate, but also challenges to address. Now more than ever, we have realized the critical importance of our health sectors. With this realization, we must continue programs that build our health care providers at all levels," he added.
He said he was happy and encouraged that Merck Foundation had partnered with African governments including, Zambia "To reshape our human capital development landscape in Zambia by providing more than 85 Zambian doctors with specialized training in many fields such as cancers, diabetes, hypertension and women health, reproductive health as well as respiratory and intensive care," he said.
"There is no doubt that our partnership with Merck Foundation will continue to add immense value to our mission of building capacity and training of more healthcare specialists and experts to improve treatment for cancer, cardiac diseases, and artificial invitro-fertilization, renal and bone marrow transplant and other specialties," he stressed.
"This will improve access to quality and equitable healthcare solutions nationwide and in Africa.This year's luminary together with all of you and with Merck foundation will enhance our African and Asian cooperation as a catalyst to great integration between developing countries," President Lungu said.
According to Rebecca Akufo Addo, the first Lady from Ghana, there is a need for building health care capacity and training more and more health care providers in many specialties.
"More than ever, we realize the significance of our public healthcare sector and we know very well that we have to focus our programs on building our healthcare capacity and train more and more healthcare providers in many specialties," she said.
"Therefore, I appreciate our partnership with Merck Foundation and support their smart strategy and flawless execution to advance our professional healthcare capacity via providing specialty training for our local doctors across the country not only in Accra, so that they can provide quality and equitable healthcare required to our people at the time of need and at all times," she said.