Treachery, A Stock In Trade Of Kenyan Politics
By Samuel Ouma
Political betrayal in Kenya is not new; it runs through since the independence in the early 1960s. The seed of political fraud, hoaxes, broken promises, and frustrated ambitions was planted by the first President of the Republic of Kenya, Jomo Kenyatta, and has become a norm in modern politics. We have witnessed unstable political marriages that ended in tears, bitterness, and frustrated dreams. Kenyan political analyst Herman Manyora, a lecturer for political science at the University of Nairobi, noted there is no honor among thieves, which is correct.
Following the fight for independence that pitied Kenyans against white colonialists, Oginga Odinga, Kenya's first vice president and the father to African Union envoy Raila Odinga, was offered the presidency by the British colonialists. Still, he refused to take the power mantle and instead demanded the release of his colleague Jomo Kenyatta who was in prison. Along with other nationalist leaders, Kenyatta was convicted for leading a revolution against white settlers and the colonial government.
"If I accept your offer, I will be seen as a traitor to my people. The British cannot elect me leader to my people…Kenyatta is around, just here in Lodwar (Kenya's north-western town). Release him and allow him to lead us; he is already our choice," Odinga was quoted telling Governor Sir Patrick Renison.
Kenyatta was released in 1961 and became the Prime Minister and later the President. He appointed Odinga to be the Minister of Home Affairs and then the vice president. Their political bromance was short-lived, they were involved in severe ideological differences that prompted Odinga to resign, and he formed a left-wing opposition party, Kenya's People Union (KPU). To rub salt into the wound, Kenyatta banned KPU in 1969 and put some of its members, including Odinga, under government detention.
Kenyatta rested with his ancestors in 1978, and then Vice President Daniel Moi beat all odds to ascend to power with the help of the then Attorney-General Charles Njonjo and Finance Minister Mwai Kibaki. He trounced a cabal around Kenyatta who had vowed to stop him from succeeding his boss. Six years later, Moi sacked Njonjo, who was the Minister for Justice and Constitutional Affairs. In retort, Njonjo termed President Moi as a "passing cloud" instigating bitter political rivalry.
It did not take long before Moi demoted Kibaki from vice president to Health Minister, and in 1991 during the multi-party politics, the latter left Moi's bandwagon.
To increase their chances of winning 2002 polls, the Kenya African National Union (KANU) led by the late President Daniel Moi and the National Development Party (NDP) led by Raila Odinga merged in courtesy of commanding huge followers. However, Moi handpicked Uhuru Kenyatta to be his successor, breaking his promise to endorse Raila. As a result, Raila led the mass exodus from KANU and joined hands with other rebels to form the National Rainbow Coalition (Narc).
The Narc coalition endorsed Mwai Kibaki, and they carried out the day, ending KANU'S 40 year-rule. In the run-up to elections, Raila conducted countrywide campaigns to ensure Kibaki, who was in a wheelchair after being involved in an accident, became President.
"The difficult bit was in boarding the plane. We did not have the control. I remember asking for some seats at Kenya Airways and they were not co-operative. Raila, who was with us, said they could not put their President at the back of the plane and must be put in the first-class cabin…he came with about eight young men who carried the stretcher to the front seats on their knees," Kibaki's doctor Dan Gikonyo told the Kenya Television Network (KTN) in 2018 saying Raila played crucial roles to get Kibaki to a London hospital for medication.
Despite Raila's effort, Kibaki threw their memorandum of understanding to have him serve only one term and leave for Raila under the bus. He sacked him and his allies in 2005 for opposing the constitutional amendments, run for another term, and rigged him out to remain in the office beyond 2007. The rigged 2007 Presidential elections caused post-elections violence that claimed more than a thousand lives and displaced hundreds of thousands from their homes.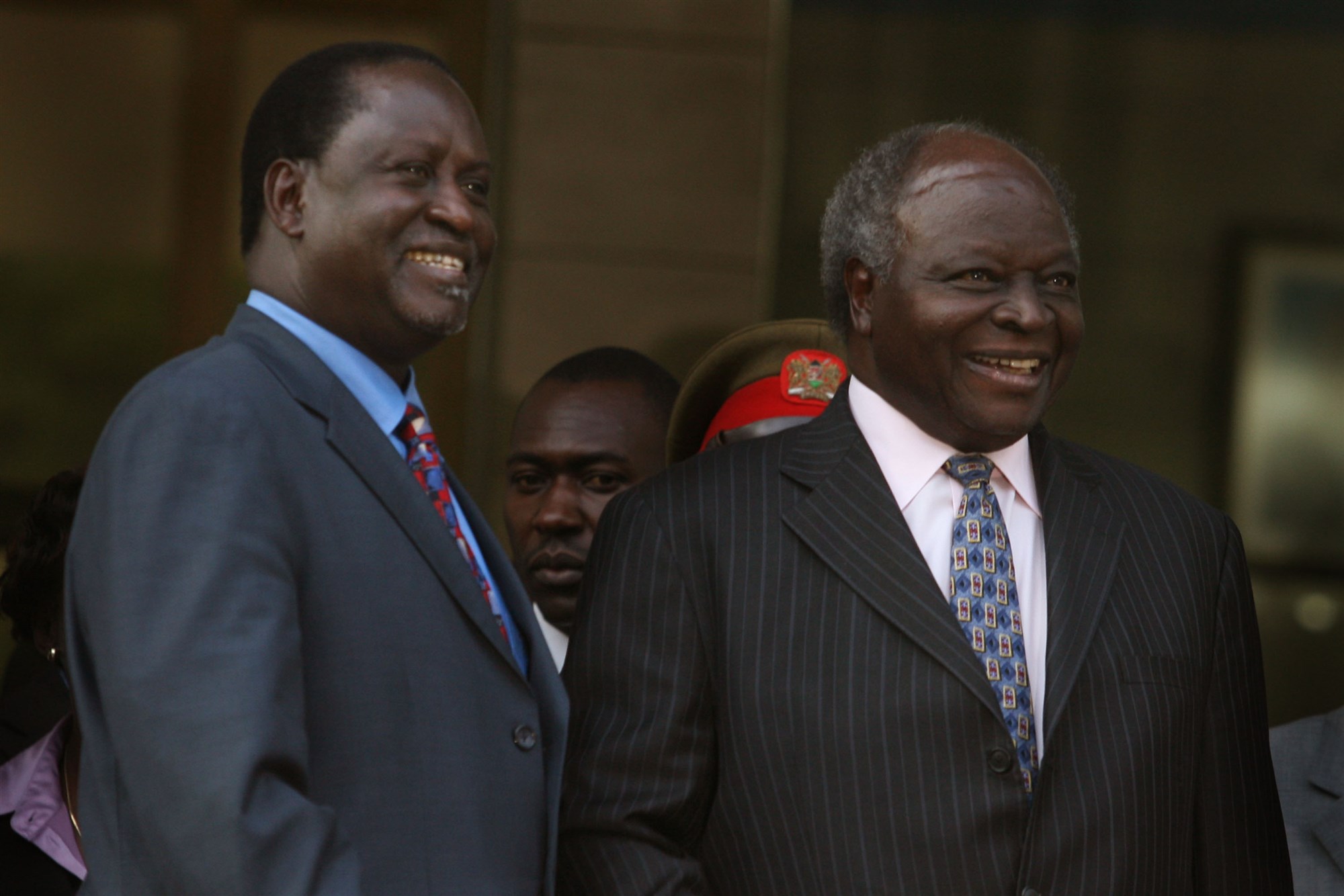 Another betrayal emerged in the process of Kibaki's succession. Facing crimes against humanity at the International Criminal Court (ICC), Uhuru Kenyatta and Uhuru Kenyatta agreed to work together. In their quest for power, they anonymously signed a pact with Musalia Mudavadi to have him go for the top seat, only to renege their promise hours later.
"He (devil) came to me and told me that if we are elected, the West will not give Kenya money; that our tea can't be sold abroad and that Kenyans are not ready for another Kikuyu president, as this will cause more bloodshed. Given that I love peace, then I decided to quit and support Musalia," Uhuru said after he withdrew his support.
Uhuru and Ruto camp floored Odinga in the 2013 presidential elections despite the rigging allegations. Seeking re-election in 2017, they folded their respective parties, The National Alliance (TNA) and the United Republican Party (URP), to form Jubilee Party. It is the fourth year since their re-elections, and the duo are not sailing in the same boat. Their second and final term has been marred with accusations and counter-accusations from their allies. President Uhuru Kenyatta has broken his promise to rule for ten years and then hand over to his deputy for another ten years. The Head of the State said that his choice would shock people.
Uhuru has accused Ruto of insubordination and challenged him to quit if he is not happy. To show how serious it is, the President purged Ruto allies from key Parliament leadership positions. Feeling unwanted in the Jubilee Party, the second in command staunch supporters formed the United Democratic Alliance (UDA) to strategize 2022 polls. Before the UDA formation, Ruto revealed that Jubilee is not functioning well because it has been hijacked by those he referred to as busybodies, conmen, and brokers.
Recently in an interview with the local radio station, Ruto hinted at the possibility of Jumping to UDA as a new political vehicle, blaming some external forces trying to scuttle his presidential bid. He also opened up to teaming together with the former Prime Minister Raila Odinga.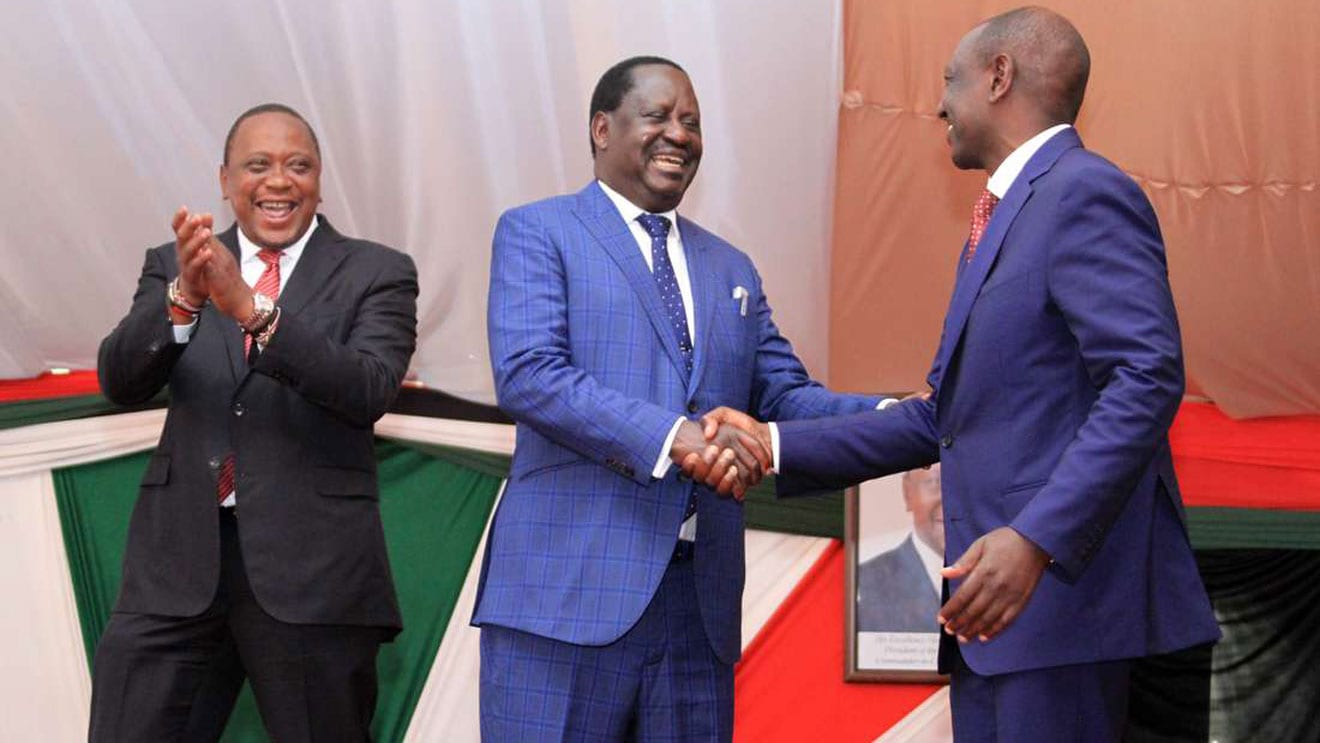 "If it gets to a point where they do not want us to be there in Jubilee, then we must have a different plan. You cannot wait to hit a wall. Going forward, if there is no agreement, and then we will plan ourselves with UDA. We have built UDA in partnership with Jubilee. It is not us starting afresh. We are just going on with what we already have."
"Some people think I have problems with Raila. I do not. These differences are political. And there are things I agree with Raila. He has agreed on the need to form national parties and he is facing similar issues (in the opposition) I am facing with regional chieftains. And I want to say this: If anybody wants to partner with us to bring up the hustler, we have no problem. We support, we will work together," said Ruto, the local media.
In conclusion, treachery is an indispensable tool in Kenyan politics, and both betrayers and opportunists have been betrayed. Betrayal is expected to continue beyond 2021. Political realignments are going on now, including the formation of One Kenya Alliance, bringing together African National Congress (ANC) party leader Musalia Mudavadi, Kalonzo Musyoka of Wiper, Ford Kenya's Moses Wetangula, and KANU chairman Gideon. It is not the first time we witness such political marriages ahead of the polls. The One Kenya alliance is not better than those that crumbled before accomplishing their purposes. It is a matter of when and Kenyans are watching.