Rwanda: There was no double genocide but war crimes could have been carried out and can be acknowledged as it happens in many war zones.
-No one can succeed in denying a factual thing like Genocide Against Tutsis
By Mohammed M. Mupenda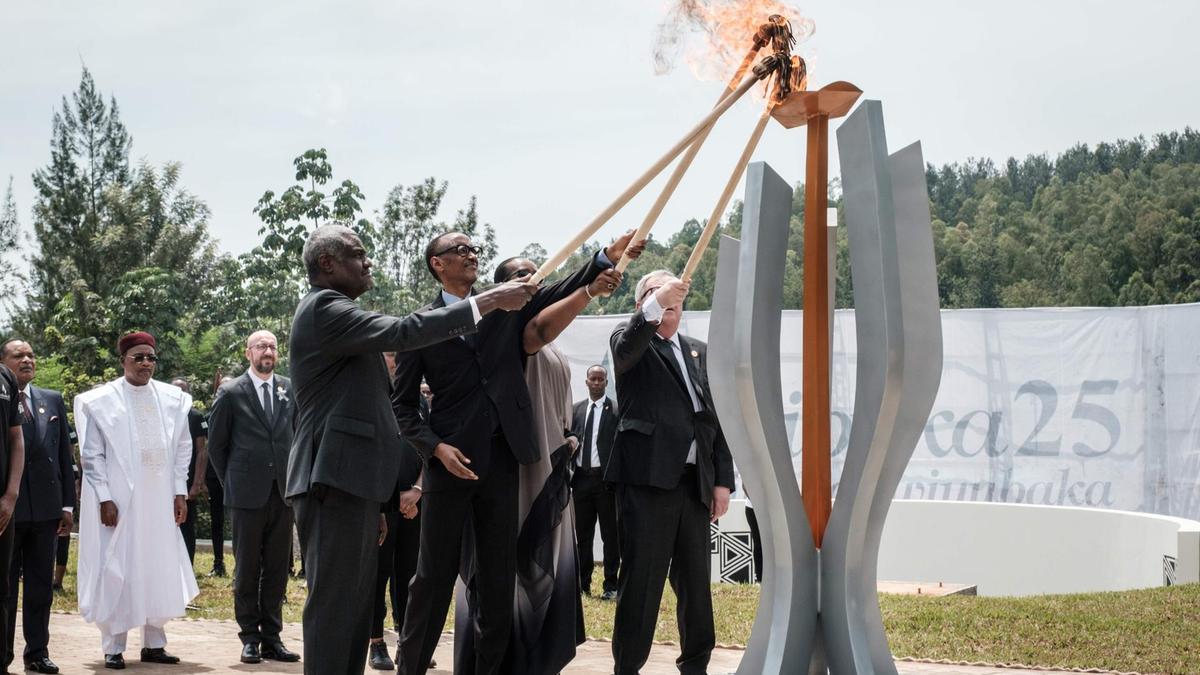 As the country marks 27 commemoration day for genocide against Tutsis, those who deny it, they have taken advantage of digital era to express on how they think it should be named, this has not only caused trauma to survivors but would lead to distortion of country's history.
I never stop pondering on when we will accept to tell our own true story in the interest of future generations. Politicians, educated people failed to control and stop genocide simply because they believed it was the best way to use and stay in power that was eventually fallen in the hands of RPF. 
These people and some oppositions living out of Rwanda can say whatever like Kagame played a role in the massacre or any other person they blame it on but denying genocide against Tutsis is a total shame, hilarious, disturbing and would lead to disaster for future generations.
This implies that RPF has responsibility to hunt down whoever denies Genocide against Tutsis, thus nothing would irritate and bother you like seeing people twisting their history simply because of their own interest driven by political ambitions.
Disturbing but not surprising, most genocide denials who take it to social media networks, some calling it double genocide others saying that it was politically named, they are elite, informed, educated, some were even old enough to have witnessed it and could have played any role on saving humanity by that time.
I think this would be the time to reconcile, acknowledge their irreversible mistake and move forward on healing those who were affected negatively rather than hurting, touching the wounds, causing many survivors to remember those worst memories and distorting history that may lead to the same tragedy in the future.
Note that the world watched genocide against Tutsis happening and it never acted while it had all it could take to save humanity. France was in a country supporting the former regime, USA was also backing RPA by then simply because of their political, geographical and economic interest, saving humanity was none of their business.
The fact is that we all watched Interahamwe looting everything belonging to Tutsis including cows, hunting down the people who speak the same language, praying together, eating, sharing the same food, culture and even those who were married never minded giving away their own children to be killed (calling them snakes) .
Young as seven (7) i was, i did notice that something was scary, inhuman mistreatment was going on, it was terrifying, i feared Interahamwe simply because i saw that they can take people's lives without thinking that they could die or be held accountable. In fact, I still have those memories of interahamwe taking on streets in different cities with machetes calling on others to kill whoever was considered as Tutsi or suspected and pointed at to back current RPF that was fighting the other side to take on power.
By the time, Tutsi were targeted, there were possibilities to those politicians including officials, prominent people, educated who were on power to give directive to interahamwe to stop killing, this never happened, they instead went on radios, newspapers to call on people to kill Tutsis without leaving one behind.
When you see people who were mature and able to stop genocide by then taking it to any social media pointing at Current President Paul Kagame to be one of those who planned and perpetrated genocide, it makes you wonder on when we will recognise our mistakes, where are we taking future generations?
How could have planned it and he orders Interahamwe to kill his own tribes?
On which ground could interahamwe listen to Kagame's instructions while they were hunting down those who are reported to be by his side.
"I think that it is high time everyone stood up against increasing cases of genocide denial that has found space in the digital pace. And best way would be Educating young people to fight genocide ideology".
Some would even say that RPF never stopped genocide. That is oK but it does not give you the right to deny, and cause heartbreak to those who were to die in case RPF was not present.
I am sure that RPF soldiers saved those who were listed to be killed in their absence. It is also believed beyond doubt that religious leaders and other people including roman catholic church christians killed their fellow in the same church when they sought refuge.
"Let us use the media to disseminate information that heals, reconciles so that our generation would never fall in the same tragedy as we repeat Never Again,".
Rwanda marked the 27th Commemoration of the 1994 Genocide against the Tutsi on April 7. Many survivors go ahead on giving their testimonies as it is widely known and was witnessed when humanity lost value and no one could help.
*Mohammed M. Mupenda is a news correspondent and freelance reporter, who has written for publications in the United States and abroad. He is also a French and East African language interpreter.