Merck Foundation CEO Dr. Rasha Kelej pledges support for health sector globally
By Ishmael Sallieu Koroma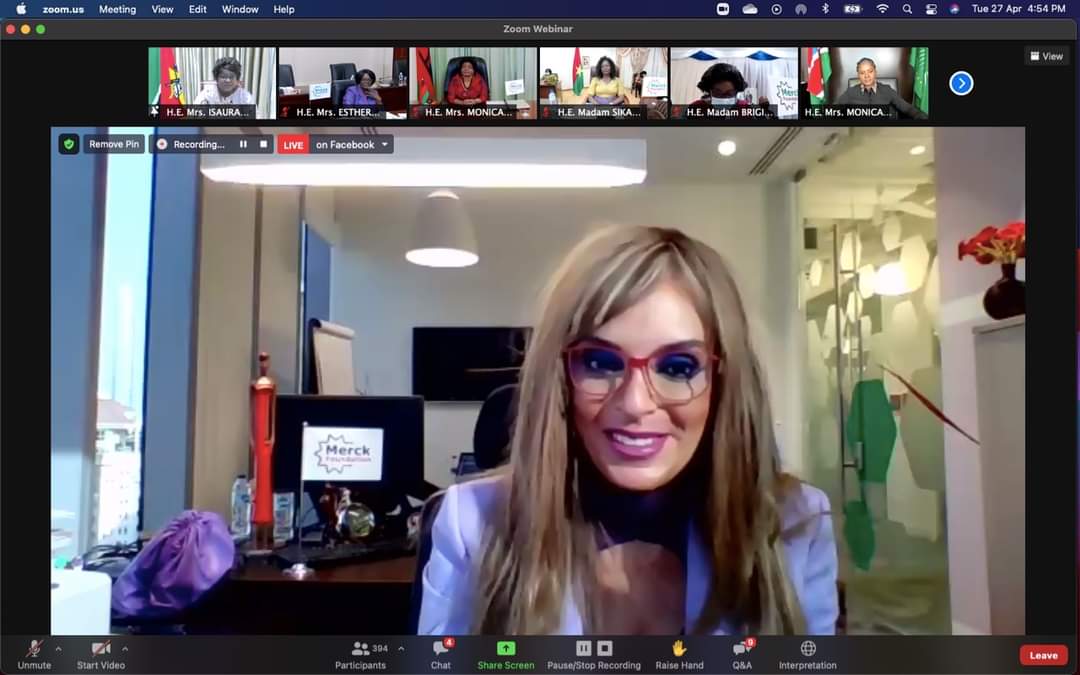 The Chief Executive Officer (CEO) of Merck Foundation who also doubles as a Senator in Egypt Dr. Rasha Kelej has said that the foundation will continue its long commitment to building healthcare capacity in more countries in the world adding that with more Partners, they will work closely with everyone to realize their vision and lead the world to a better future.
Dr. Rasha Kelej made this statement on Tuesday 27th April 2021, in a video conference during the 8th Edition of the Merck Foundation Africa Asia Luminary and Africa's first lady High Level Panel meeting organized by the foundation.
She said that they as a foundation together with Africa's first ladies will discuss their strategy realization to building healthcare capacity, respond to the Covid-19 pandemic, and provide the necessary training to establish a strong platform of experts in many important and critical specialties in their countries in collaboration with their Offices and Ministries of Health.
"As the CEO of Merck Foundation, the philanthropic arm of Merck, I am very proud to work together with all of you to realize our vision of a world where 'Everyone Can Lead a Healthy and Fulfilling Life'. It gives us a great honor to have The President of Zambia, H.E. MR. EDGAR CHAGWA LUNGU with us today to officially inaugurate the 8th Edition of Merck Africa Asia Luminary, that I Co-chair with The First Lady of Zambia, H. E. Mrs. ESTHER LUNGU,'' she said.
Dr. Kelej said, due to the global pandemic, they couldn't conduct the annual conference of Merck Foundation in Zambia as planned, but said they were pleased to conduct it online as a videoconference, where more than 32,000participants from more than 70 countries will meet and discuss strategies and solutions for health challenges in their respective countries
"More than 1100 doctor from 42 countries have benefited from Merck Foundation scholarship in different fields, and more will join in the next few years to benefit from more scholarships in more specialties such as: Internal Medicine, Gastroenterology, Mental Health, Orthopedic Trauma, Pediatric, Emergency Medicine, Dermatology, Neonatal Medicine, Pain Management, Psychiatry, Clinical Microbiology & Infectious Diseases, Ophthalmology, Urology, Trauma and orthopedics,''Dr. Kelej added.
Dr. Kelej further added that the Foundation started this smart capacity building strategy in partnership with African First Ladies and Ministries of Health and Medical Societies since 2012, which she said has contributed significantly towards transforming and reshaping the landscape of the public healthcare sector and towards advancing patient care in 42 countries thus stating that "it is history in the making''
The Senator boasted that as a foundation, they will also define interventions to break the stigma around infertility in general and infertile women in specific and to support girl education as Ambassadors of "Merck Foundation More Than a Mother" campaign stating that they will acknowledge this year the efforts and sacrifices of everyday heroes, especially medical workers during the coronavirus pandemic.
"I would like to welcome Hon. Ministers of Health, Education, Information, and Gender for their support to enable us to contribute to the development of the healthcare sector and raise awareness about Health and Social issues such as infertility stigma. I would also like to thank our Partners for their valuable participation and support to make great things happen.'' Senator Kelej lamented.
In his statement, Chairman of the Executive Board of E. Merck KG, Prof. Dr. Frank Stangenberg-Haverkamp said the effects of the COVID-19 pandemic have been greater than many expected across the globe stating that the pandemic has highlighted the importance of focusing on building and advancing healthcare capacity specially training medical staff at all levels nationwide to be any country's first defense line during times like these.
.
"Governments realized, more than ever, the urgent need to address healthcare deficiencies to meet the demands of the Covid-19 pandemic and ongoing healthcare needs of their populations. Therefore, I would like to greatly appreciate the valuable partnership that we have with all of you to build healthcare capacity and provide training to healthcare workers in many medical specialties even before the pandemic started, as this was and is still our strategy since 2012,''he said, adding that they therefore, appreciate everyone's valuable support and efforts to building healthcare capacity and improve access to equitable healthcare solutions and awareness in your countries.
Dr. Prof. Stangenberg-Haverkamp further said in their response to covid 19 pandemic , they focused on supporting livelihood of thousands of women and casual workers' families affected in more than 18 countries thus stating that they have also started the online medical specialty training in 2020 through providing one year Diploma and two year Master degree from south Wales University and Queen University such as in Diabetes, Cardiovascular , Endocrinology , Sexual and reproductive medicines, Medical oncology , respiratory medicines and acute medicines .
"I am pleased to share with you that till today; more than 1100 doctors from 42 countries in Africa , Asia and Latin America have benefited from Merck Foundation scholarship of specialty training which is an outstanding milestone in our mission to improve access to quality and equitable healthcare solutions in underserved communities,'' The Chairman of the Executive Board of Merck revealed.
The Executive Board Chairman went on to say that in 2020 alone they have enrolled more than 400 African doctors into these courses which will make a significant impact in improving the quality of care for patients who suffered coronavirus and who considered risk groups.
"We have also started this year to provide scholarships for more underserved but critical specialties in Africa such as : internal Medicine, Gastroenterology, , Mental Health: Orthopedic , Pediatric, Emergency Medicine, , Dermatology, Neonatal Medicine, Pain Management, Psychiatry, Clinical Microbiology and infectious diseases, Ophthalmology, Urology, Trauma and orthopedics. I strongly believe this will be another important milestone in transforming healthcare quality and equitability for all patients and their families across Africa and developing countries''
The First Ladies of 13 African Countries including Ghana, Liberia, Botswana, Central African Republic, Democratic and others were part of the meeting and they spoke of the impact of Merck Foundation's work in their respective countries.