Challenging for Africa to Unleash Its Potential Without Industrialization-Adam Molai
By By Ajong Mbapndah L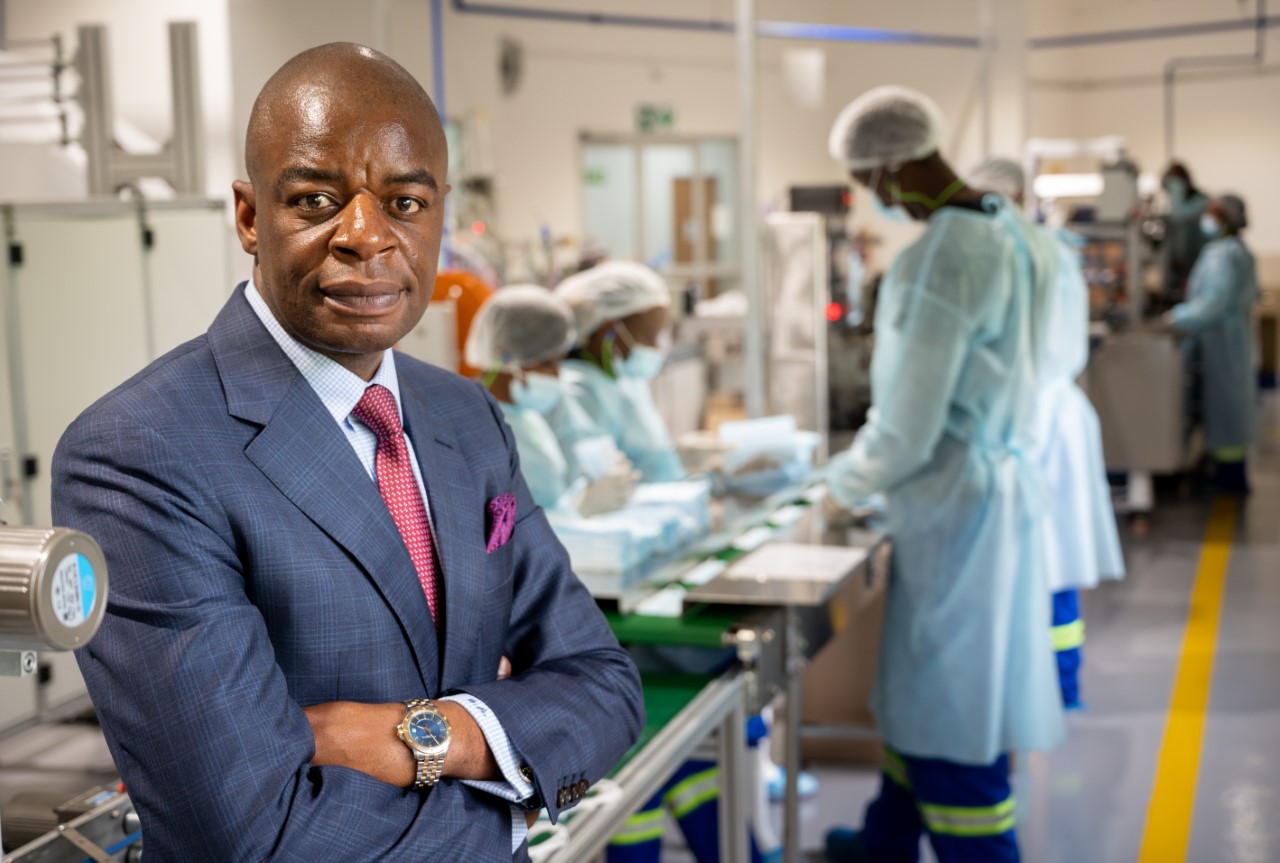 Unless Africa industrializes, it will fail to unleash the latent potential presented by its abundant resources and youthful population, says Adam Molai, African Industrialist, Founder of the JUA Fund, and Chairman of TRT Investments. Speaking in an exclusive interview with PAV, Adam Molai says the youthful population in Africa can either be its greatest asset if well leveraged, or its biggest threat if allowed to become restive owing to lack of opportunity.
"Africa is in a very poor state in as far as industrialization is concerned. We are still significant importers of finished goods and exporters of raw materials," Molai says of the crusade on Industrialization that he has championed over the years.
"In 2018, Sub-Saharan Africa raw material exports amounted to $148 billion or 52% of total exports. That is a strong case for industrialization to convert a significant portion of our raw materials into intermediate goods or finished products, creating jobs and increasing the value of our GDP," Adam Molai said.
On the JUA Fund which is his latest initiative to inspire the Continent's entrepreneurial generation, Adam Molai expressed the hope that it will start a movement which will sweep across Africa. Describing the Fund as a ripple considering the enormous needs of the continent, Molai says the desire is to have a culture in the continent where entrepreneurs give back through facilitating the creation of more entrepreneurs.
Generous in detail about the building of his companies, Adam Molai says opportunities for the continent are immense, but leaders will need to develop confidence in the ability of African entrepreneurs and stop seeing them as inferior to foreign entrepreneurs.
Could you start by telling us your own interest and journey into entrepreneurship, how did Adam Molai become an industrialist?
So, I am a true-blue entrepreneur; I was never interested in working for anybody else. I have never worked for anybody else.
I often share one of my fondest memories being a 10-year-old selling matches to earn pocket money and thinking – 'I love this!'. This is when the entrepreneurial bug struck.
I embarked on my first entrepreneurial venture when I was just 10 when I sold boxes of in-demand matches for a profit to make pocket money. While at boarding school, I sold food to fellow pupils for spending money.
In my first summer in university in the UK, I joined a network marketing business which was really an entrepreneurial exploit where I would sell frozen food products in Buckinghamshire. I recruited other students to join and work with me raising significant cash that facilitated my move to Canada.
In Canada, I ran the university consulting service, literally as an entrepreneurial venture, and this, together with other work, helped fund my university studies in Canada. I made so much money that I was able to leave a significant sum which created the Adam Molai Small Business Consulting scholarship where the proceeds from this sum are given as a scholarship annually to a deserving student at my former alma mater.
When I returned to Zimbabwe after completing my studies, I knew I didn't want to work for anybody else.
My first business, whose infrastructure I had started constructing whilst still in university in Canada, was a chicken business of 7,000 broiler chickens. I brought solar equipment with me from Canada, and this facilitated 24-hour feeding of our chickens facilitating faster development of the chickens. There was no power in the area and thus the utilization of solar power with a storage inverter, in 1997, was quite an evolution.
I then re-opened my late father's service station and supermarket, whilst at the same time also creating a stationery shop and copy bureau in my home time. So, within my first year of being back in Zimbabwe from the diaspora I was running four businesses.
These businesses spanned a significant distance and so my first two years were highly sleep-deficient. I would start my early Monday morning in my hometown, drive to Harare to order supplies for the retail outlets and chemicals for the chicken business; a 150km return journey to my hometown where the stationery business and supermarket were, ensure the goods were priced and then at the closure of the stationery shop after 5pm start the 140km drive to where my service station was. I would then collect the cash takings, use them to buy more grain from the local farmers and maize grinding mills, which we would use to mix with the stock feed, and then drive another 180km to the farm where we were farming chickens. I would monitor the slaughtering, dressing, and packing of the chickens and by 2am start the drive back to my hometown which from the farm was 230km.
I would sleep on this third journey back to my hometown and get back in time to start another day. Without fail, by 7am I would be back at my stationery store where my main office was. This, routine I continued for a full two years.
I then got the opportunity to acquire the largest service station site in my hometown. I quickly converted what was the office and former car show room into the first 24/7 retail shop in Zimbabwe, taking a cue from the 7/11 concept I had been exposed to in Canada.
The move, which drew criticism from my own family and other businesspeople, led me achieve more than double the shop's takings, transforming the retail landscape in Zimbabwe. Sixty percent of the retail sales happened in the hours when all the other shops were closed. To crown it off, which irresponsibility I didn't understand then, we managed to get a liquor license for this shop and used to be the only 24/7 liquor retailer in the country, which resulted in inordinate sales. Within a year a 60 square metre shop was making more than US$1 million! That was the first million I made, at the age of 29.
Another transformation I undertook was transforming the chicken retail sector in Zimbabwe. When I grew up working in my father's shop, only whole chickens and in some cases half chickens were generally sold in Zimbabwe. You could buy beef and pork in small and as-you-desired and as-you-could-afford portions, but not chicken. I didn't understand why that was, so I started selling chicken pieces, not just whole chickens. That transformed the chicken retail sector and demand rose beyond our projections.
I also did some dealings in the petroleum sector before turning my attention to the tobacco sector. Zimbabwe experienced significant fuel shortages and I was fortunate to receive permission from Shell, the franchisor, to direct import own fuel. Fuel had always been a controlled product only available from to oil companies through the government monopoly. However, when shortages became severe fuel companies and private individuals could direct import. Through an old high school acquaintance, who was importing fuel, I was able to receive multiple tankers a week of direct import fuel. Our site never ran dry, and we were selling over a million litres of fuel a month and still couldn't meet demand. Cars would drive from neighboring towns to fill up as we were receiving fuel non-stop!
I had also, with support of very experienced tobacco skills we had on board, pioneered contract growing of tobacco that transformed the tobacco industry from around 4 500 mainly commercial farmers and opened the way for more than 85 000 local small-scale farmers to enter Zimbabwe's tobacco sector.
In 2002, I co-founded Savanna Tobacco Company, which has now been rebranded as Pacific Cigarette Company, which is acknowledged as one of only two of the world's most significant African-owned cigarette manufacturers. The company enjoys a significant share of the Southern African cigarette market.
Our business interests cut across several industries – including energy, manufacturing, property development, transport and logistics, air transport, financial services and beverage bottling – and at least seven African countries, including the African economic powerhouses of Nigeria, South Africa and Mauritius. However, we are now streamlining our portfolio to focus only upon manufacturing and distribution, property development and sales, and technology.
Our business now has over US$200 million of assets under control.
In November 2020, we also launched the $2 million JUA Fund, making it the largest venture capital fund by a private African business individual to empower and support African entrepreneurs.
Today you are Chairman of the Pacific Cigarette Company and the TRT Investments, can you tell us a little more about this companies and how they fit in the vision that you have for Africa?
TRT Investments manages a diversified sector portfolio and operations in Nigeria, South Africa, Zimbabwe, Zambia, Mozambique and Botswana, and our latest interests have seen a foray into the US and European markets.
The aim is really to play our role in moving Africa from being on the menu to sitting at the global economic table. We believe this will only be achieved through production and productivity. So, we are aiming at driving the industrialization agenda for Africa.
TRT recently acquired, which is the largest non-food contract manufacturing business on the continent. It manufactures many leading multinational household FMCG brands. We aim to replicate this model into East and West Africa to create the largest non-food contract manufacturer in the world.
So, our ambitions are big, and we are committed to creating African institutions, with global recognition.
With the AfFCTA, we aim to leverage this opportunity to ensure localization of production on the Continent where currently there is only 18% inter-Africa trade compared to 80% Inter-Europe trade. So, just by trading more with ourselves as Africans we can grow our economies ad create the much-needed employment for our young population.
Our other area of focus is housing.
With the significant housing supply gap on the continent, and the growing population which is urbanizing at a rapid rate, it is imperative that affordable housing is availed to ensure that we help move from the squalid urban living conditions of the past.
Our final area of focus is technology.
Technology offers Africa the opportunity to leapfrog. It facilitates more efficacious and elegant solutions to Africa's myriad challenges.
Pacific was born out of the industrialization agenda and fits into the TRT agenda. Having always lamented Africa's over-reliance on agriculture for survival, I felt we needed to walk our talk and beneficiate this agricultural produce into finished goods and thus participate at a higher level of the value chain. Zimbabwe's main agricultural export has been tobacco for a long time and therefore we took it upon ourselves to add value to this crop. There is a 15 to 20 times value multiplier from raw tobacco to cigarettes and that is what we have achieved in Pacific. So, the jobs and value which we were exporting in exporting raw tobacco, we are now retaining through producing finished goods. If we look at the $600 million of raw tobacco produced in Zimbabwe, if all transformed to cigarettes, Zimbabwe would have a $6-$12 billion tobacco industry.
For the attention of many out there who see in you a success story, what were some of the big challenges you face in building your companies and how did you successfully navigate them?
Success, to me, is a journey rather than a destination. It is a culmination of many failures and continuing to find different paths where one path has failed. Funding is always a challenge. I remember using $75,000 of my university entrepreneurial savings to start a small chicken business after university because I couldn't get funding from the banks to augment this capital raise.
The challenge of raising money for my first business or to buy factory equipment, the challenges felt the same, and had the same ultimate impact – no funding – no business. We've mitigated fund raising challenges through performance. When you perform and develop a track record for performing, paying, and meeting your debt covenants, it becomes a bit easier to raise funding.
Another significant challenge faced was the dearth of African entrepreneurs available and willing to offer mentorship to others on their entrepreneurial journey. I failed to find takers, amongst those I approached, as unfortunately many in our society still see other people's success as a threat to their success and attention.
So, the only option available became to be an avid reader, always reading both success and failure books as a way to understand.
You have been on a crusade for industrialization and entrepreneurship in what shape is Africa in now, and why do you think it is imperative for the continent to change course?
Africa is in a very poor state in as far as industrialization is concerned. We are still significant importers of finished goods and exporters of raw materials.
In 2018, Sub-Saharan Africa raw material exports amounted to $148 billion or 52% of total exports. That is a strong case for industrialization to convert a significant portion of our raw materials into intermediate goods or finished products, creating jobs and increasing the value of our GDP.
China has become the global behemoth owing to industrialization. Thirty years ago, China was where we are today as a continent but has transformed from a developing nation to being at the cusp of being the largest global economy through a deliberate policy of industrialization.
Unless we industrialize, we will fail to unleash the latent potential presented by our abundant resources and youthful population. This youthful population can either be our greatest asset if we leverage it, or our biggest threat if they become restive owing to lack of opportunity.
Late last year you launched the Jua Kickstarter fund to provide entrepreneurs with capital to kickstart or expand their enterprises, may we know what impact you anticipate for Africa for this initiative?
Lao Tzu is famously credited with the saying that "The journey of a thousand miles begins with the first step". The launch and subsequent Jua Olympic week are the start of a movement which I hope will sweep Africa. It is only but a ripple, given the enormous needs on the continent, but we are seeing the impact it is having on encouraging other business leaders to also start looking at how they too can assist entrepreneurs on the continent. Our hope is that this becomes a culture on our continent of entrepreneurs giving back through facilitating the creation of more entrepreneurs, creating a snowball effect. The quality of the finalists as well as the solutions being proffered by the businesses we have decided to invest in give us great confidence that there will be significant impact that will emanate from this initiative.
It was always the intention that the fund would go beyond providing money. Entrepreneurs always need money, that is not in question. But they don't only need money. They also need mentoring, advice, access to networks, access to markets, people to stress test their ideas, advisors and mentors who can help them see the realities and potential of their businesses.
That is what Jua will provide.
Jirogasy and Bryt-Knowledge will be furthering education one through hardware the other through software, Side and Grow Agric, are disrupting the value chain of goods from farm to table, Powerstove Energy is saving the environment by their cooking stove innovation, Whispa Health is taking care of wellbeing, and Xetova is adding African flair to procurement.
Less than a year after it was launched, the first recipients were announced, may we know how the selection was done and your overall impressions on the applications and the eventual winners?
We had over 700 applicants who were shortlisted to 25 finalists, who met the criteria that their ideas had impact and were scalable.
The 25 finalists participated in the "Kickstarter Olympics", a 5-day pitching session during which they were put through their paces by a high-profile panel of judges.
Eventually, we made offers to 7 recipients who all accepted.
We were immensely impressed by all our finalists, even those to whom offers were not made.
So impressive was the quality of the projects from the entrepreneurs that we felt compelled to increase the fund from the original $1m announced to $2m.
About four of the seven enterprises selected have either female founders or co-founders, what role do you see gender or women playing in the vision that you articulate?
Research is clear that empowering women has more impact on societies and communities than empowering men. I am delighted that the Jua Fund, which is aimed at empowering all entrepreneurs, regardless of gender, has been able to benefit females to the extent that it has.
What metrics and support system does the JUA Fund have in place to monitor the outcomes or progress of recipients?
As I indicated, Jua is not only providing monetary support but non-monetary support in the form of mentoring and advice, introductions to other potential investors and funders. Where applicable, we will sit on the boards.
The phenomenal experience of the JUA judges, who have kindly accepted to offer mentorship and coaching, will serve to really help the entrepreneurs unleash their potential.
Through well-established Key Performance Indicators, designed to facilitate milestone-based release of capital, we hope to see better resource utilization and less of the unintended waste of resources that culminates from non-results-based funding mechanisms.
The Jury had some powerful names in the African corporate world, how challenging was it to get these high profile and busy people to dedicate the required time in the selection process?
It wasn't challenging at all because all the judges share our vision of the importance of entrepreneurship for ensuring that Africa gets to assume its rightful place at the economic table, and they all wanted to do their bit to pass on the knowledge they have gained as entrepreneurs or in business to these emerging entrepreneurs.
They were so keen that at times we had more judges than we anticipated and needed. We had judges from across the globe, some of whom woke up at 3am daily to listen to the pitches.
As you may be aware, most start-ups / SMMES fail within the first two years, for a myriad of reasons. The judges who participated are aware of the challenges and want to do their bit to reduce this number.
The applicants certainly appreciated it; many commented on how the judges' questions and insight had helped them rethink parts of their business.
What next for the Jua Fund, there are many young entrepreneurs out there who would love to try their hand in the next round, what are the plans going forward?
What's next is just to keep growing and to support more SMMEs. We will hopefully have more money to avail in the future and we can structure the non-monetary assistance better as well.
We have learned a lot from this inaugural VC round, and we intend to build on that going forward so that it has much greater impact.
Our hope is that the success of the initial projects will, as we exit, create an even larger pool of funds to support even more entrepreneurs, creating a snowball effect. We have invested $2 million, if they perform and this spawns $20 million on exit, as an example, we then invest $20-millionn to spawn $200-million and this multiplier effect is what we seek and what we believe will facilitate our dream of empowering thousands of entrepreneurs.
In terms of recommendations to African governments, what needs to be done by them to create the enabling environment for brilliant ideas and initiatives that millions of Africans have to thrive?
Well, entrepreneurs need the right regulatory environment to grow so all governments need to scrutinize the laws, rules and regulations that they have in place to see whether they help or hinder entrepreneurial activity.
Governments also need to realise that they cannot grow economies and create jobs, that that is the ambit of business and they need to ensure that the business environment is conducive to that. So, the economy and entrepreneurs are not dependent on who is in government, but rather that there is policy certainty and that their markets are open to all. If our governments truly embrace the intentions of the AfFCTA, we will see a significant explosion of economies on the continent.
We also need to relook at our education systems which are largely not suited to nurturing entrepreneurs and entrepreneurial activity.
We also need to encourage local investment. African governments bend over backwards for foreign investors but do not do the same for local investors which means that local investors must deal with an unequal playing field.
What is your take on foreign direct investment and what role do you see the African diaspora playing in the development of the continent?
I think all investment is good. Africa lags in terms of investment so the more people who want to invest, the better.
But I do think that governments elevate foreign investment above that of local investment and I think that this is to the detriment of the continent. The reality is that if locals show confidence and invest, foreigners will invest alongside them. So what we should be doing is giving local investors the same benefits that we give foreign investors, we should be levelling the playing fields for local investors as they have more impact on the lives of Africans. They not only invest their money on the Continent, but they spend their money on the Continent too. This provides jobs for others and opportunities for other Africans.
I think the diaspora can be used more meaningfully than it is now. We know that remittances contribute $48-billion or an average 4.17% of Africa's GDP but we should be looking at how to make better use of the resources of Africans in the diaspora.
Instead of saving their money in low-interest bearing accounts, we should look at getting them to invest in local start-ups and enterprises. In that way entrepreneurs have access to money and the diasporans get better returns whilst positively impacting their home countries to develop.
Looking at the realities today, the challenges, and the potential, what are your hopes and fears for Africa's future?
Africa is at a major crossroad. With a growing young population, if Africa continues to grow at its current rate, it is expected to double to 2.5billion people; a quarter of the world's population; by 2050. All these people need food, clothing, transport, housing and many other goods and services.
China's growth was driven by a large population, creating significant consumption and ability to grow the economy phenomenally through the goods and services required by such a large population.
We dare not fail to rise to the occasion and create the businesses that will produce and provide all the goods and services that will be required by the continent. We certainly cannot afford to create a market for the rest of the world at our own expense. This is going to require significant unity and coordination across the continent to be realized.
China could easily achieve this growth because it is a unitary state. With 54 states, Africa will need significant regional and continental integration and harmonization to facilitate the remarkable infrastructural projects required to cater for such a huge population which is urbanising significantly.
So, the opportunities for the continent are immense, the challenges will really be from our own belief in ourselves to achieve for ourselves. Our leaders will need to develop confidence in the ability of African entrepreneurs and stop seeing our own entrepreneurs as inferior to foreign entrepreneurs.
Our people will need to also develop an appetite for local goods as opposed to foreign goods and our businesspeople will need to ensure that at all levels, our goods meet the exacting global standards for quality. Changing mindsets is a difficult process, as is establishing regional and continental trust; however, if accomplished, Africa could become the global powerhouse it has the potential to be.
*Culled from April Issue of PAV Magazine