Terror suspect Paul Rusesabagina denies Rwandan citizenship
By Jean d'Amour Mbonyinshuti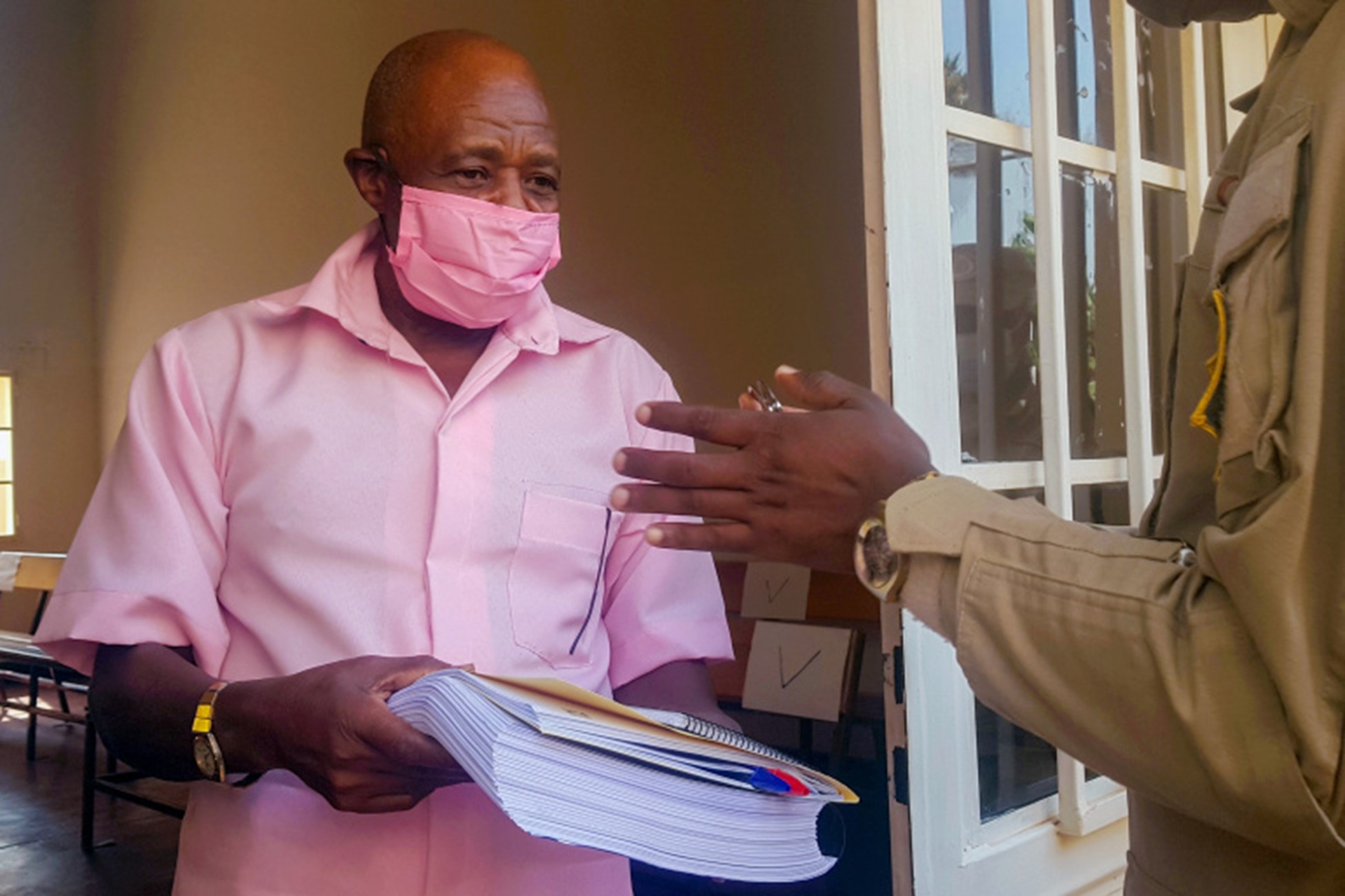 Terror suspect Paul Rusesabagina has objected to the jurisdiction of the High Court Chamber for International and Cross-Border Crimes to try him in a hearing where he is accused of terrorism-related crimes.
Rusesabagina who appeared in court alongside 20 other co-accused on Wednesday said he is a Belgian citizen and requested the court to change that his case file.
He also prayed to the court to have his case transferred to Belgium if Rwanda accuses him of any crime saying Rwandan courts had no jurisdiction to try him.
The 66-year-old was a leader of the Rwandan Movement for Democratic Change (MRCD) in French acronym. It is a coalition of opposition groups, which has an armed wing known as the National Liberation Forces (FLN) also in French.
He was arrested in August 2020 when he believed to have been flying to Bujumbura's capital of Burundi only to find himself at the Kigali International he allegedly brought himself to Kigali International airport.
The case was heard by judges from the Nyanza based High Court Chamber for International and Cross-Border Crimes located in the Southern Province but used the Supreme Court chambers to allow more people to attend given the bigger space of the court.
The court proceedings were live-streamed on YouTube channels on the links provided.
It also attracted both local and international media with some livestreaming it.
The accusations
Rusesabagina is accused alongside 20 other suspects including the famous Callixte Nsabimana alias Sankara who was the Spokesperson of FLN and 19 other suspects all but one are male.
Rusesabagina faces nine crimes including the formation of an irregular armed group, membership of a terrorist group, financing terrorism, murder as an act of terrorism, abduction as an act of terrorism, and armed robbery as an act of terrorism.
The prosecution alleges that Rusesabagina's MRCD through its armed wing FLN launched the attacks in Rwanda's Southern Province through Nyungwe forests and killed civilians, injured others, and committed other crimes.
The attacks were carried out between 2018 and 2019 and at least nine people in the Nyabimata sector in Nyaruguru district were killed according to the prosecution.
FLN had earlier claimed responsibility of the attacks.
Presenting his defense, Rusesabagina whose lawyer is Gatera Gashabana admitted the details read out by prosecution as to who he was such as names, place and time of birth, parent's names among other details but denied being Rwandan saying he acquired Belgian citizenship after denouncing the one of Rwanda.
"I am a Belgian citizen and have repeated it several times this being the fifth one, this should be changed in my case file," Rusesabagina told a three-bench Judges.
Lawyer Gashabana told the court that his client was appearing in a wrong court stressing the Rwandan courts had no judicial competency to try him.
"Given that Rusesabagina has no Rwandan citizenship but he is a Belgian citizen, I find that the court has no competency to try him and your only responsibility should be to send him back to Belgium's court," said the seasoned lawyer.
Prayers denied
The government was presented by three prosecutors led by Deputy Prosecutor General Angelique Habyarimana who Rusesabagina's claims of not being a Rwanda does not strip Rwandan courts of the powers so long as the crimes were committed on Rwandan territory.
The prosecutors also said that there is nowhere in official documents Rusesabagina has legally denounced Rwandan citizenship which is the one of origin.
While Rusesabagina said that the prosecution in Rwanda had referred his case to Belgium prosecutors before and they should the latter proceed, the prosecution said Rwanda had issued an arrest warrant against the suspect.
The prosecution said there were two indictments against Rusesabagina, one issued in 2010 and sent to its Belgian counterparts while it also issued an international arrest warrant against the suspect in 2018 according to Bonavanture Ruberwa, one of the prosecutors, said.
After spending more than five hours, the presiding judges said they deliberated on Rusesabagina's objection on which they could not pronounce as it raised concerns of the court's jurisdiction.
The hearing will resume on February 26, according to the judge.
Prime co-accused pin Rusesabagina
One of Rusesabagina's co-accused Callixte Nsabimana has pinned Rusesabagina who referred to as 'my boss' saying he was surprised by hearing that Rusesabagina was not a Rwandan and yet he coordinated and financed attacks with a belief of becoming the Rwandan president once they win and overflow the current government.
"I was Rusesabagina's vice-president in (MRCD) and I wonder how he claims not to be a Rwandan while his aim was to become the president when we launched the rebel group," Nsabimana who pleaded guilty of all 16 accusations said.
Nsabimana prayed to the court to ignore Rusesabagina's claims and proceed with the trial saying he could not be the victim of the delay. He was arrested in 2018 and has since been in prison.