Sierra Leone:The Travails of Women Empowerment
By Ishmael Sallieu Koroma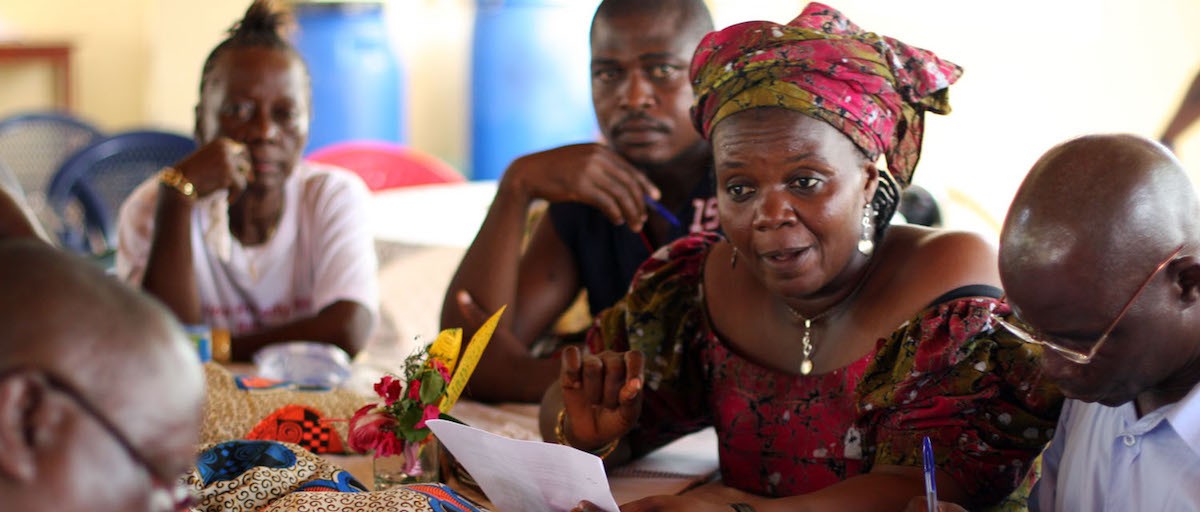 For years, women have been neglected, dejected and left behind in every sphere of life from key decision making, participation, and representation on positions of trust even when they account for about 52 percent of the population yet they occupy less than 20 percent of elected positions in the country. The Truth and Reconciliation Commission findings and recommendations are very clear that "Women have been excluded from decision-making in Sierra Leone. Women are largely absent in the structures of government and traditional forums that are critical in formulating policies. (TRC Recommendation 347)
The challenges they faced are enormous from effect of culture, traditions and patriarchal attitudes towards them have continuously placed them in that position with many been uneducated, in addition illiteracy among them is very low. However there has been some progress as today more than any time in our nation there are more girls in schools, and women in a position of trust and leadership roles compared to 50 years ago in Sierra Leone, even though more needed to be done to fully realise their aspirations as clearly espoused in many international treaties to which the country is a signatory to.
The country experienced one of the worst civil conflicts in the world's community of nations in 1991 which ended in 2002. Women suffered the brunt of the internecine war, many were killed, raped, became widow, and lost their children in addition those who were pregnant were mutilated alive. It was a dark history for every Sierra Leonean, and it is a history that as a nation and people will never forget. Years of decadence corruption, unequal distribution of the state resources, lack of respect for human rights to name a few were the factors responsible for our devastating war.
"Women were subjected to systematic abuse during the conflict. Violations perpetrated against women included torture, rape, sexual abuse, and sexual slavery, trafficking, enslavement, abductions, amputations, forced pregnancy, forced labour and detentions,'' TRC Report No. 323.
Head of Media at Feminist United Sierra Leone Allies, Makalay Saidiatu Sonda, said that its almost 17 years since the TRC recommended for a 30 % representation quota for women yet both past and present government have not been able to do this reform despite the lots of campaigns and sensitization by women's groups in the country.
" The 50/50 group has been really instrumental in that since after the war to make sure that the 30% representation quota that the TRC recommendation should have been made possible and now we should we should be thinking about the 50/50 gender parity because the Truth and Reconciliation Commission has stated in 2004 that a 30% representation for women in elected assemblies , cabinets and other political posts should be made possible in order for us to increase the 50/50 gender ; parity within the next ten years , that means that , 2004 we should have implemented the 30% quota and within the next 10 years , we should walk our way into the 50/50 gender parity,'' she said.
However, in its recommendation to the government, the commission recommended that the government work towards achieving of at least 30% women in cabinet and other political posts.
"The Commission recommends that the Government work towards achieving a representation of at least 30% women in cabinet and other political posts. Government should also work towards incrementally achieving 50/50 gender parity in cabinet and political posts within the next 10years TRC Recommendation No. 351,''
She added that governments not meeting the recommendation of the TRC of the 30% quota nor the 50/50 gender parity is something deliberate on the part of governments stating that she cannot understand how as a country we think it should progress by holding back majority of its population.
"women in Sierra Leone make up more than 50% of our population so if these women are not given a sit at the table to make the right decisions, to implement policies, to better us as women, I don't know where we will be going and we have already so many challenges you know with issues regarding gender issues I will say because now look at the high rate of sexual violence in the country in the past five years, it has been skyrocketing and also just look at the teenage school drop-outs they are mostly girls may be If we have had women in positions of powers, in parliament, cabinet we have majority of women maybe we would have gone past all these social problems,'' Makalay lamented.
Makalay further said the 30% representation quota is not only a TRC recommendation, but it is also a legal obligation for Sierra Leone as a nation to implement adding that the country is a signatory to key international instruments or laws that makes it binding to implement gender parity or laws within decisions making bodies within our parties and political space.
On Political Participation and Access to Power the Commission recommended for women that political parties to ensure an at least 30% quota of their candidates for public elections for women and urged the country's National Electoral Commission to enforce this minimum representation.
"The Commission recommends that political parties be required to ensure that at least 30% of their candidates for public elections are women. This includes national elections, local government and district council elections. Legislation should be enacted to make this a legal requirement. The National Electoral Commission should be required to enforce this minimum representation. Such a stipulation will require all political parties to nurture and develop meaningful participation of women. This is an imperative recommendation,'' 349.
However, with this imperative recommendation, none of the political parties have never reached this threshold, more than ever more women and girls are becoming educated yet they do not give them the political space for them to exercise their political franchise nor the country's electoral enforcing the recommendation on a very important recommendation that has the propensity of making the country reached its women's empowerment drive for a better nation. In parliament, there are only 16 females in the house in a place where there are men and women and even with the Bio administration the number of female cabinet ministers or in leadership roles in government are minimal.
Attaining the 30% quota representation as a nation will mean a great step towards women empowerment in the country and a development to the nation as women can contributes meaningfully in diverse ways if they are given the platform their leadership and interestingly research has shown that women can better deliver in leadership and can reduce corruption in the society.
This article is produced with support from MRCG through the ATJLF project on "Engaging the media to change the narrative on Transitional Justice (TJ) issues in Sierra Leone.