Kenyan troops to remain in Somalia
By Samuel Ouma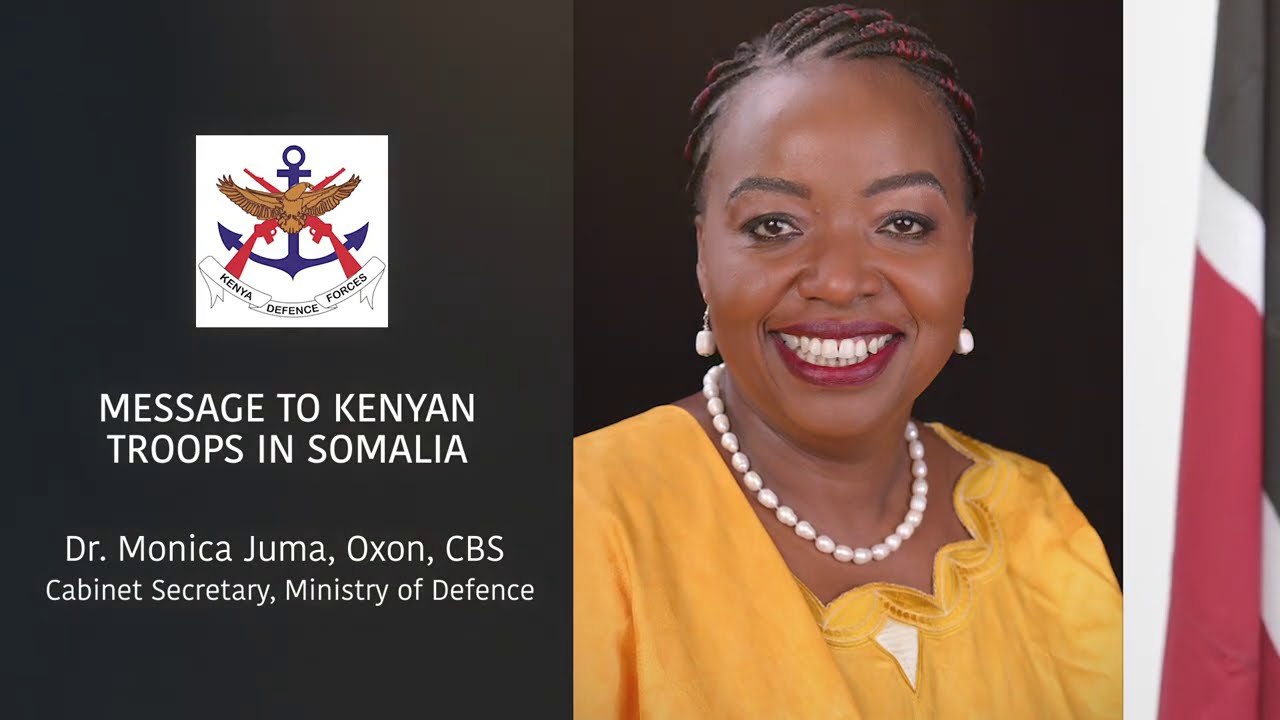 Despite the frosty relationship between Kenya and Somalia, the former has no intention of pulling out its military from the neighbouring country.
This was revealed by the Defense Minister Dr. Monica Juma when she accompanied United Kingdom Secretary of State for Defense Ben Wallace at the British Army Training Unit in Kenya (Batuk) in Nanyuki during the opening of Nyati barracks.
Dr. Juma said the Kenyan Defence Forces troops in Somalia were deployed under the African Union Mission in Somalia (AMISOM). Only the UN Security Council can ratify the decision to withdraw them.
She maintained that bilateral relations do not define the ongoing operations in Somalia.
"The withdrawal is the mandate of the African Union-(AU) which is the authorizing agency, it is not us to decide when to get in or out," said Dr.Juma.
On his side, Wallace said Kenya and the UK would work together to maintain peace and order in the horn of Africa and the entire East Africa region. He added that the two countries being members of the United Nations Security Council is an added advantage.
"Britain and Kenya are now together this year on the Security Council. Britain is the Chair while Kenya has taken up its place on the same, that's good news, and we've jointly gone through the four priorities for Kenya that is climate change, counter-terrorism, nation-building, and regional stability, and that's where Britain agrees with Kenya," Wallace said.
According to him, approximately 200 troops from the UK are permanently based in Nanyuki, noting that the last visiting troop from the European country landed in Kenya on Sunday despite the novel coronavirus's challenges.
The duo noted that Kenyan troops had gained a lot since they joined AMISOM in 2011 and share the expertise with the British troops training in the country, who also share their military experiences of their excursions in Afghanistan and Iraq.
"Putting that knowledge together and joint training personnel helps keep Kenyans safe when they are doing this job because the bombers are crafty, clever, and dangerous," reiterated Wallace.
This announcement comes a day after the Intergovernmental Authority on Development (IGAD) exonerated Kenya from claims by Somalia that it is interfering with its internal affairs.
IGAD said there is no evidence to support the allegations.
"The commission considers that these grievances, some of which are longstanding, do not appear to be sufficient to justify a diplomatic separation between Kenya and Somalia. The federal government of Somalia is indeed sovereign in its decisions," read part of the report.
However, the authority recommended the deployment of more diplomatic efforts to reconcile the two nations.