Sierra Leone: JuSAS Global entertainment bags double awards again as best movie
By Ishmael Sallieu Koroma
Multi awarding winning entertainment company, JuSAS Global Entertainment continues to make headway as one of the leading entertainment companies in Sierra Leone and the United States of America (USA) for its block buster Movie Mind Game: bagging two awards in the just concluded New School Awards (NSA 2020) and the Sierra Mobile Digital Awards (SMDA 2020) as Lead online Salone Movie due to its availability on a monetized YouTube platform.
The movie, which has won several awards, with last year winning the best movie, Best New Act and Best Editor in the National Entertainment Awards (NEA 2019): has been viewed by many as world class, for having used the latest technology in its production.
Speaking to Pan African Visions online in an exclusive interview on Friday, Director of the award-winning movie, Mind Game Sheku Mohamed Sheriff said they were very happy for the double awards they have received this December whilst stating that they were not surprised as they have worked hard to put value into the film industry in the country adding that they are glad for the immense support and accolades they have received from award winning bodies both local and international.
"As the movie director, I feel like we are gradually accomplishing our mission. For JuSAS Global we pride ourselves on the premise of providing quality services for our customers in whatever sector. It is a mission accomplished because when we did Mind Game, our perspective is to change the perception of people about how they think for every film maker in the country,'' he said whilst adding that they believed they have been able to change that narrative by presenting something of international standing.
He said that Mind Game has gained several nominations and have so far won five awards and expressed hope that they will win more awards as they have invested a lot in sober movie productions.
 "we are contributing from our little ways or whatever little we can to ensure that we make the film industry in this country a very important sector in the development of this country. I know, most people know, the entertainment industry, so to speak, the film industry, can support the government in terms of employment but because it is not as enviable as it should be, it has been looked down'' Director Sheriff added.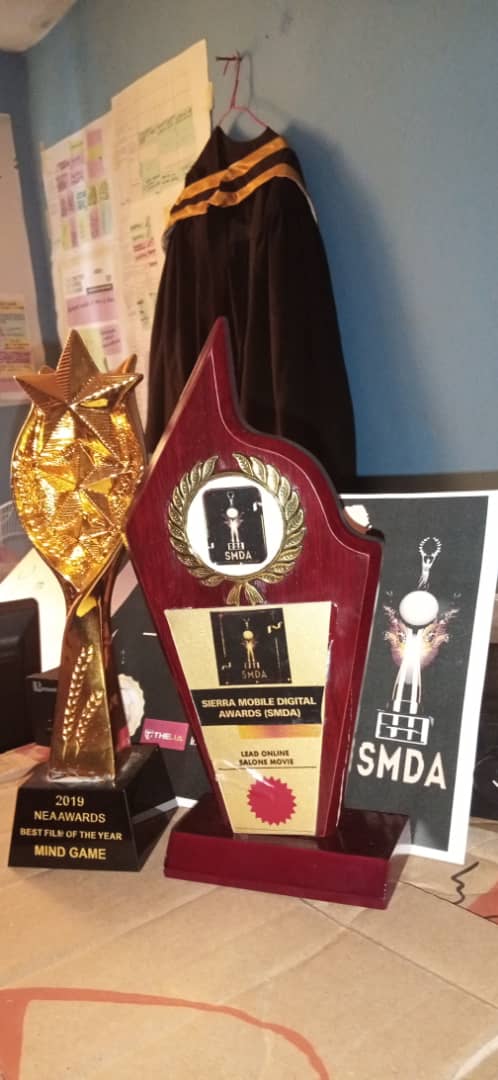 Director Sheriff further added that due to the global pandemic, it has affected them as an industry but nonetheless as an entertainment they were able to collaborate with other film stars to put together a sensitization Television series called 'Nor Touch' and urged other people in the film industry to emulate their work or do more than them.
"People should expect greatness from us, we have laid a solid foundation and we have collaborated with other film makers. By the grace of God 2021 is going to be a smooth ride as we plan to launch our five-film project from JuSAS Global. Of course, watch out for IN THE EYES, KEY TO THE WILL, HYPNOTIZED DEMENTIA etc., '' sheriff revealed.
Meanwhile the Chief Executive Officer of JuSAS Global, Amb. Abdul Sigismond Sesay revealed that they will be launching the Multimedia branch of the entertainment company in January 2021 to facilitate full engagement in the Republic of Sierra Leone.
"On behalf of the Management and Staff of JuSAS GLOBAL I would like to wish His Excellency the President, Vice President and people of Sierra Leone; a merry Christmas and a prosperous New Year,'' he said.
He said that Shady Baby, one big JuSAS GLOBAL affiliates will be launching his newest Album 2021 in Sierra Leone, which he said would have been launched this 2020 but didn't happened because of the Covid-19 pandemic
The entertainment company recently signed its first winsome gospel female artist Lady Mattia (with a hit single; Good God), to join other team of stars like Shadybaby, Boss King, Raj, among others.
Mind Game has been shown on several international channels including the Nollytrailer TV, a monetized YouTube channel. Watch the movie on the link here https://youtu.be/thHHIxcWbQE and see why it has been making headlines.
JuSAS GLOBAL is a one stop shop: For Shipping (Ocean Freight), Car Dealership, Logistics, Multimedia & Entertainment, Clearing and Forwarding, Transportation, Moving & Delivery, Containerization etcetera.