Most US Administrations Have Not Had Good Policies On Africa-Lawrence Freeman
By Ajong Mbapndah L
As the Biden -Harris administration warms up to take power, questions are been asked on how their African policy will look like. To Lawrence Freeman, while the potential of stronger ties and bonds are real, it is best not to have high expectations as successive U.S administrations have not had good policies on Africa.
The political and economic analyst with thirty years of experience working on Africa says the last President who engaged Africa in a substantive way was President John Kennedy in the 60s. Though the relations seemed to have reached an all-time low during the Trump administration, Freeman opines that successive administrations including the more recent ones of Clinton, Bush and Obama all considered Africa as a low priority area, giving the Chinese an opening to hold sway. Freeman who runs a blog on Africa and frequently travels the continent, says his goal is to see poverty eliminated in Africa in his lifetime.
Pan African Visions: It is not every day you see an American whose work has focused on Africa for some thirty years now, could we start this interview with what motivates or makes Lawrence Freeman passionate about Africa?
Lawrence Freeman: It started in the second half of the 1960s. Some people will remember that it was a time of political activism, and I was involved in High School and later on in College. One of the things I began to think about was the conditions in Africa – the fact that it is a large continent with so much land and why will the people go hungry. About 30 years ago I began to focus on Africa, and I began to write, had meetings started with some Cameroonians, Liberians, and then I ended up going to Nigeria in the 1990s which I have been many times. I now teach a course on African History and it has been my passion increasingly and every year I am more and more involved. 3 years ago, I set up my website so I can publish my articles. I am a researcher, journalist, consultant and my goal is to eliminate poverty in Africa in my lifetime.
Pan African Visions: How will you describe African policy under President Trump, what were some of the changes that you observed?
Lawrence Freeman: US policy under President Trump was not effective. I have to say many of the Presidents in recent periods have not had very good policies for Africa. Many of them do not understand Africa, and they already have an interest which is a low priority on the President's list. The last President to engage himself in Africa was John F. Kennedy. He established a very unique relationship with Kwame Nkrumah and the latter was the first Head of State that John F. Kennedy brought to the United States on March 8 before any other country in the world. Trump has done very little; he has a programme called Prosper Africa which does not do much but focus on Trade and not a real development programme. He has involved himself in the Ethiopia dam issue in a very provocative manner by suggesting that Egypt may bomb the Grand Ethiopia Renaissance Dam which was very unfortunate.
On the other hand, he has been very supportive of Prime Minister Abiy Ahmed in his confrontation with Tigray and also very supportive of President Ouattara in the election in Cote d'Ivoire. But overall, I would not give him a very high mark, but that is not very different from President Obama or President Clinton.
Pan African Visions: Some people have described him as been dis-engaged, for African countries that yearn for genuine independence, was this not an opportunity to let them handle their affairs while pushing other colonial powers notably in Europe to scale back their influence on Africa?
Lawrence Freeman: The problem is the lack of a coherent policy for Africa from the United States. Africa should be independent but there are ways that a country like mine (USA) could help which China is doing to a great extent. We can provide long term loans with credit for infrastructural development; to assist and collaborate with African countries and not to dictate and tell them what to do. This is a big omission on the current administration and the previous.
Pan African Visions: The USA opposed the election of Dr Akinwumi Adesina for a second term as AfDB President despite his huge accomplishments and unanimous support from African countries and other international partners, and most recently the candidature of Okonjo Iweala at the helm of the WTO was also opposed, can you put some context on these controversial options from the USA?
Lawrence Freeman: For the case of Iweala it was clear that the Trump administration was supporting another candidate – this hurt the African nations as they wanted to have someone of prestige in that position. The question of the African Development Bank I do not understand that. I believe President Trump was giving some false information about President Adesina and somehow his people in the administration acted on this in a way to try and undermine the President of the AfDB. The AfDB has its procedures for investigating internal fraud or mishandling of funds and that should have been left alone for the AfDB to handle and they did and cleared him (Adesina) of any wrongdoings. I am not sure why or who gave President Trump this false information, but it was something that did not help build a strong relationship between the United States and Africa.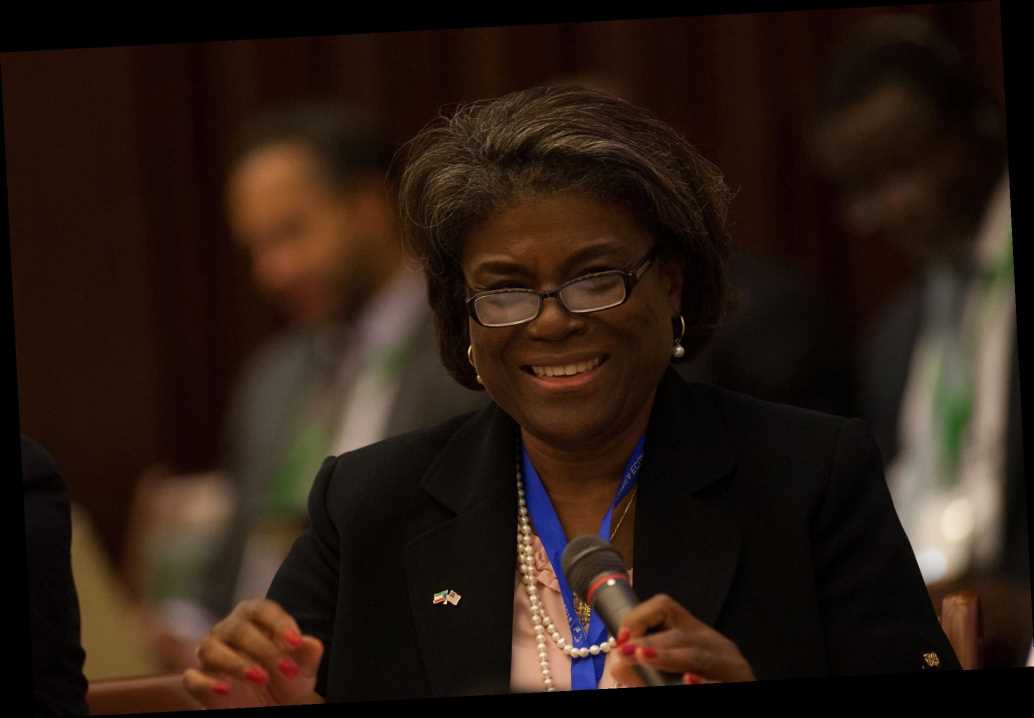 Pan African Visions: What kind of changes do you anticipate seeing on US-African relations in the Biden-Harris Administration?
Lawrence Freeman: Unfortunately, the group of people for the most part that President-elect Biden has been bringing out to the public represent long-term establishment figures, people who were in the Obama administration, and people from the Clinton administration which is going back some 20 years. These are people who do not have a vision for the development of Africa the way I do, and the leader of the United States should do. The interesting possibility lies with his pick for the UN Envoy Ambassador Linda Thomas-Greenfield. She will not be in the state department where policies are made but she will be a member of the cabinet as UN Ambassador. She from contacts I have on the continent is viewed as a reasonable, thoughtful, even-handed representative in terms of dealing with problems in Africa and some of my friends in Africa think highly of her.
Because of her background as Ambassador to Liberia, working as secretary of State for Africa under President Obama, she has a background in Africa which very few people on the cabinet-level bring in. I do not know if she will be, but she could be a type of person that introduces some positive policies for Africa that are useful. The main problem we have now is that Africa needs development, specifically infrastructural development; electricity, roads, hospitals and this is where the United States could play a major role. Unfortunately, under several administrations and more emphatically under the Trump administration, they define the Africa policy not as simply for Africa but as countering China. They saw Africa as playing the game between the US and China and they used Africa as the chessboard rather than developing our positive policy.
China has done many good things for Africa such as their investment in infrastructure, rail and energy and I would like to see the United States do more, and for the United States to allow other nations like Russia and India to put their investment in infrastructure in Africa. I do not think that is going to happen during the Biden administration, but I am hopeful some positive steps will happen even though I don't think Africa is going to be top on Biden's list. It has not been on any President's agenda.
Pan African Visions: If you were advising the administration what would be some of the priority areas that you see prospects of engagement with Africa?
Lawrence Freeman: We have a list of very important infrastructural projects in Africa that the United States should be involved in. for example, a project I have been working for over 20 years called Trans Aqua and it is a great water project to bring water to build a canal (2400km) into the Central African Republic and which will lead to the filing up of Lake Chad. Lake Chad is drying up and it is 90 per cent from where it was in 1960. More importantly by building this canal it will increase trade and development to all the countries around the Great Lakes; Congo, Tanzania, Uganda and the countries around Lake Chad which are without water such as Nigeria; Cameroon, Niger and Chad. We are working with the Italian government to initiate a feasibility study on Trans Aqua. The United States has had no role to play and has not even supported the project. This is a great project. These kinds of projects will transform the continent, and this is where economic powers like the US, China and other nations could contribute to providing long term low-interest credit because infrastructural projects take many years to complete. Nuclear energy is another area where I think the United States can contribute because the electricity deficit on the continent is so huge. I think most politicians think very narrowly – they think about tomorrow and I think about 40 years ahead.
My thinking is better – you have to think 20 to 40 years ahead to plan policies. The United States like other European leaders have no vision of a future 20 years to advance. This is very unfortunate, and the Biden administration is bringing the same old people who did not have a vision when they were in government 10 or 20 years ago and I do not think they are going to have one now. If they are smart, they will make me their economic adviser and maybe I can win them over to some of these long-term plans that we are developing.
Pan African Visions: For many Africans and African countries that look up to the USA as a model for the kind of democracy worth emulating, what message or lessons could be drawn from the recent US election?
Lawrence Freeman: The main thing is that the United States has a great constitution written by some brilliant founding fathers. In that constitution, they take care of all concerns concerning elections. The idea of having electorates is correct; all the procedures outlined in the US Constitution are working. The basis of the US constitution is the preamble and not all the separate by-laws. No matter what goes on there are rules set, dates set, the electors have to be certified, read to congress and the constitution works. We have not had any coup, but we have had several Presidents assassinated but we survived that. My recommendation to African Presidents is for them to study the constitution of the United States and all the documents involved. We are not going to have a civil war, we will not have riots, and we will move on to the next government – whether that government has any good ideas that is another question. A government will continue in the United States.
Pan African Visions: On the conflict in Ethiopia, you described it as a war won to preserve the nation-state, and seem to support the position of President Abiy who opted for force and not dialogue, can you shed more light on your arguments?
Lawrence Freeman: I have studied the Ethiopian constitution and the history of Ethiopia for several years. The main problem is that ethnicity became the basis of the constitution – they wanted to comprise with the various ethnic groups, and they set ethnic regional states. This caused a problem because it did not establish an Ethiopian identity with the same problem existing in Nigeria. The Tigray Peoples Liberation Front (TPLF) was the leading group that carried out the coup. They maintain power not only in the Tigrayan region but all over the entire country. PM Abiy set up the Prosperity Party which was not based on any ethnicity and the TPLF rejected that and made different moves to undermine the government. From my standpoint, it was a necessary action to preserve the nation. If that action was not taken Ethiopia would have ceased to be a leading nation in Africa.
Pan African Visions: Coming less than a year or so after he bagged the Nobel Peace Prize, is the world right in faulting Prime Minister Abiy for not doing more to explore a peaceful resolution or opening up to third-party mediation?
Lawrence Freeman: The situation in Tigray is that there was an attempt to set up negotiations, there was a dialogue going on. The problem is that the TPLF violated national law and the government declared they could not carry out their election in May due to the COVID-19 crisis and set it forth for next year. The TPLF went ahead and had elections and they took military actions. At that point, I think the PM did what he could do giving the conditions that existed in Ethiopia where you had this ethnonationalism which does not respect the centralize power that existed in Addis Ababa that represented the nation.
Pan African Visions: The conflict comes at a time when Ethiopia was grappling with a crisis over the Nile, what do you make of the insistence of Ethiopia to proceed with the Grand Ethiopian Renaissance Dam?
Lawrence Freeman: First of all, the Grand Renaissance Dam is 75 per cent complete and nothing is going to stop its completion. This is a matter of national identity for the people and they have funded the Dam by themselves. The Dam is on the Blue Nile which comes down from Lake Tana which is inside the sovereign state of Ethiopia. The Egyptians have a legitimate  right to request that they not be without  water. What needs to be looked is that Egypt is not deprived of necessary water. But the Egyptians are using the legacy of the colonial period that nobody can disrupt the Nile unless they approve it.
The 1929 Water Agreement on the distribution of the Nile allocation was Sudan gets ¼ of the Water and Egypt gets ¾. In 1959 when both Sudan and Egypt were independent there was another agreement and this time between Sudan and Egypt. Again, Ethiopia was not allocated water from the Nile and was told not to build a dam on the Nile without Egyptian approval. Ethiopia is an emerging nation and has very bold economic programmes. The biggest problem in Africa is the lack of electrical power. Agreements on the water can be worked out and it should be worked out.
Pan African Visions: You were in Cote d'Ivoire for the elections and surprisingly spoke favourably about the controversial polls, what is it you saw that influenced the optimistic outlook that you painted of developments in that country?
Lawrence Freeman: This was my first visit to Cote d'Ivoire. Most of my visits have been to Nigeria. I did not know the significance of the Port in Abidjan which is the largest port in West Africa and has a railroad that goes into Burkina Faso and Mali. This has a lot of economic potentials and I also realized that the government of Cote d'Ivoire under President Ouattara has had good progress on the development of its infrastructure and economy, reducing poverty, increasing access to electricity and clean water. I met with some officials and attended some lectures which indicate to me that the country is moving forward.
As an observer in the election, I could see what was going on and I found that the population was very orderly. It was a hot day and hundreds of people were standing in line, no fighting, carrying out their affairs in a good manner. Even though there was a controversy around Ouattara going again for a new term it is legitimate under the new constitution which was supported by the people in 2016. It is something I believe he did not want to do – he had indicated that he will resign but the chosen candidate died unexpectedly. This is almost the same situation in the United States where you had several Presidential candidates that were in their 70s and you had many members of the congress and senate who are septuagenarians who seemed to dominate politics in many parts of the world. I believe there is a new commitment to the new government for economic empowerment and I am optimistic about that.
The people who opposed the election could not provide a viable alternative. They just attacked the government and called for a boycott which they got no vote. After the election was concluded on October 31, they declared themselves a new transition government. In 2010 3,000 people in Cote d'Ivoire  were killed because President Gbagbo would not leave the palace. Now in 2020 to have a group of people declare that they are the government it was uncalled for. I believe there is a lot that must be done but they are getting there.
Pan African Visions: Your position kind of mirrored that of the US Ambassador who said the US supported the sovereignty of Cote d'Ivoire in the elections which many considered as controversial, and in countries like Tanzania the US picks issues with the elections, does this selective criticism or biased critique based on interests not hurt healthy relations between the USA and Africa?
Lawrence Freeman: There are mixed signals, that I have no question about. The Ambassador in Cote d'Ivoire before the election said this election belongs to the people of Cote d'Ivoire and their institutions. And when the opposition tried to meet with the Ambassador (Richard Bell) after the election he did not meet with them. The Assistant Secretary of State for African Affairs at the State Department supported the sovereignty of Cote d'Ivoire. That was very strong support for Cote d'Ivoire, and I was pleased to see it. In other areas that does not exist, and the mix signals is coming even in the same country. Like in Ethiopia you have President Trump who is criticizing Ethiopia for building the Dam and making provocative statements and then when PM Abiy intervenes in the Tigray Region Tibor Nagy of the state department came out in support of the Ethiopian government.
The problem is that there is not a coherent conception coming from the United States on what Africa needs. There is a loud discussion on "democracy", but they do not understand democracy. It is not about how regularly you have elections but the ability of the citizens to discuss and debate important and profound ideas about the future of the country. In the United States we do not have that – everybody talks in 20 to 30sec sound bites, but real democracy like we had during our founding fathers, for that to take place in Africa everybody needs to have a minimum standard of living. Without economic development, real democracy cannot exist. Without a clear idea of what our policy for Africa should lead us to, we give mix signals.
Pan African Visions: The crisis in the English-speaking regions of Cameroon have been raging for some four years with the US and the rest of the international more or less indifferent, may we know the US position on the situation in Cameroon from your understanding?
Lawrence Freeman: The problem of Cameroon is indicative of what we have done to Africa. It is a result of the dividing of Africa. A united Cameroon never existed up to this point and because the French and British divided a legitimate nation is similar to the ethnicity we see in Kenya and other parts of Nigeria. What started in 2016 with the demonstrations, protests and strikes with separatist movements that have come in. I do not believe in dividing nations. I was opposed to the division of Sudan to two nations. I do not want to see Cameroon divided up. What has to be is that there has to be recognition of one Cameroon which may be difficult under Paul Biya who has been in power for almost 4 decades, this is going to be a problem. What we should do is put forward an idea, a one Cameroon that has to be built under the conception of an economic mission for the country.
Let us establish a goal of where Cameroon should be in 5 or 20 years from now and make that mission a goal that unites all the people in the country and that everyone benefits from the economic benefits. That is the way I know how to unite the people. The prejudice won't go away in the model, but they have the capability of going away in time as people see interest in working together. The interest of myself lies in the interest of another and that is a challenging path. I think the United States has eliminated Cameroon from the AGOA process, but sanctions are not going to do it. They do not work that well and you have to put something positive in its place. I will make a great economic mission for the country and unite everyone together and establish a Cameroonian identity, not a French-controlled identity.
Pan African Visions: We end with the last word on how you see 2021 playing out for Africa, what are your hopes and fears?
Lawrence Freeman: If you look at the problems we have now if we do not implement certain measures today, we are going to have problems 10 or 20 years from now. If you have an approximate population of two and a half billion and approximately one billion may be young people; if those young people do not have jobs, see their nation as providing for them then you can have very nasty operations and demonstrations, regime changes on the continent. On the other hand, we have all these very bright people, if we implement policies today that will bring about the kind of economic growth that is needed then you will not have an increase in alienation, anarchy and protests.
I would like to see the United States join with China and probably Russia to help Africa. They have to unite and assist Africa and not tell them what  to do, and not seize anything. I estimate that Africa needs at least a thousand gigawatts of power to give people access to electricity. These things are primary. If we can begin in 2021 with a robust commitment to developing, then I think Africa will have a very interesting and beautiful future. If we do not, then we could be facing more serious challenges over the years ahead. I am approaching 70 years and I am going to put everything I have to make those things happen. If more people in the United States, Europe, and Africa will work with me on that then I think we can make some improvements that will benefit billions of people that are not only living today but those who will be born in the future. And that is my goal and commitments.
Pan African Visions: Thanks for answering our questions.
Lawrence Freeman: Thank you for giving me this opportunity and I appreciate all the work you do.
For more information on Lawrence Freeman and his work visit his blog here
*Interview also features in  December Issue of PAV Magazine