Kenyan journalist bags the continental media award
By Samuel Ouma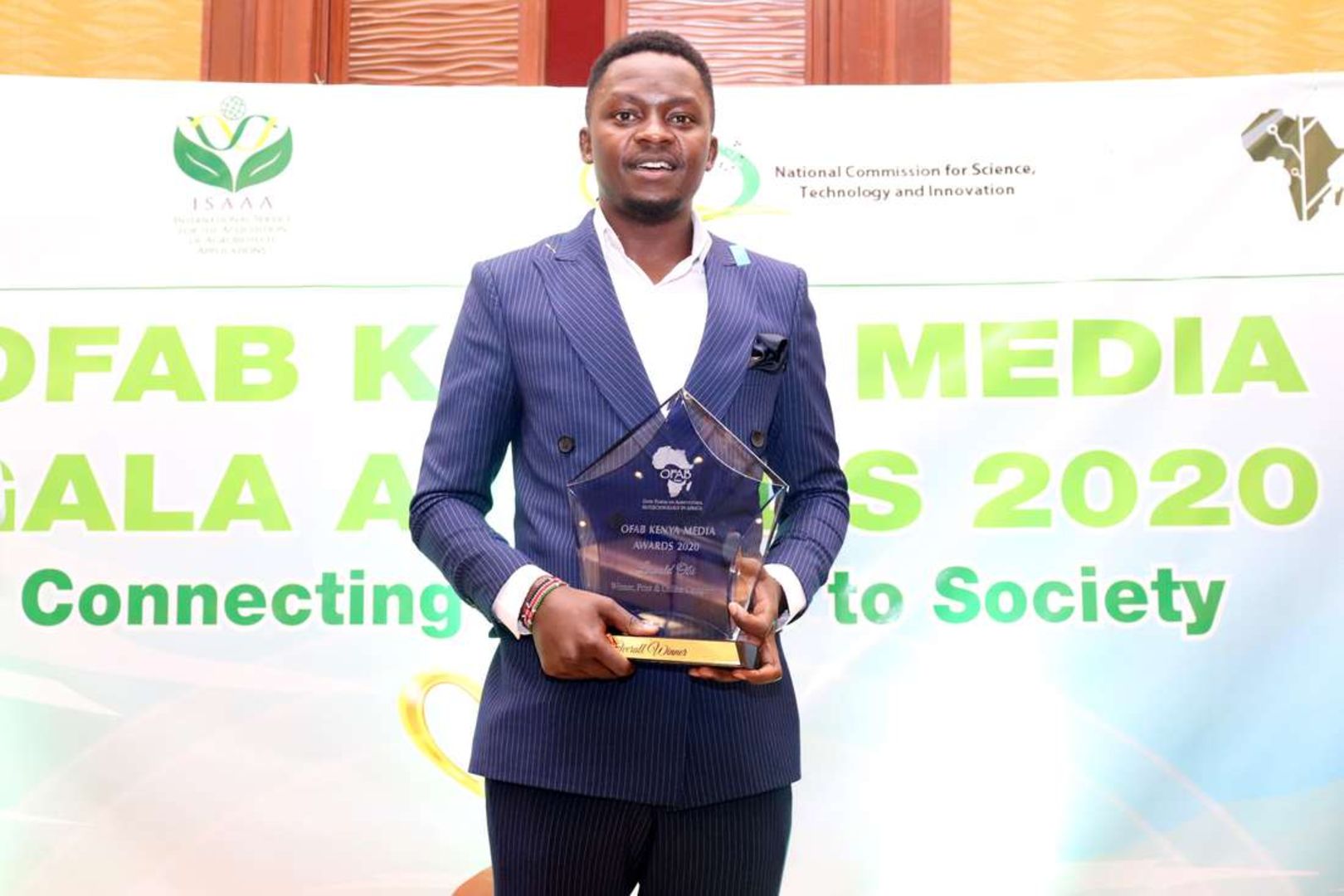 Kenyan news reporter Leopold Obi has won the 2020 Open Forum on Agricultural Biotechnology (OFAB) Africa Media Awards.
Obi works with the Nation Media Group (NMG), where he reports on science, agriculture and the environment.
He was declared the overall winner during a virtual event held on December 3.
The journalist was recognized for his stories: Kenya closer to giving long-awaited GMO cotton a green light, After Bt node Kenya sets sights on biotech food crops and How Bt cotton could tighten Kenya's grip on lucrative US market.
The Executive Director of African Agricultural Technology Foundation (AATF), Dr. Denis Kyetere lauded the media for playing a crucial role in promoting the public understanding of agricultural biotechnologies for food security, sustainable development and poverty eradication. AATF is the host of the OFAB programme.
"The media is our key partner in ensuring smallholder farmers benefit from the same innovations that are transforming food production around the globe," said Dr. Kyetere while urging African countries to adopt favourable policies that support agricultural development through the adoption of technology, particularly agricultural biotechnology.
Obi expressed his gratitude to God, editors and the NMG for helping him realize his dream.
"I am very humbled and grateful for this recognition. This is a top award, which attracts the continent's top journalists. Therefore, I do not take this recognition for granted. The award crowns the hard work that I have put over the years in telling African science stories and I hope it will inspire my fellow journalists to keep telling such stories," he said.
He also won the print and online categories awards.
Other winners are Pretty Ngozi from Nigeria, who bagged the TV category award and Ugandan Sarah Natoolo, who took home the radio category award.
Obi's win comes barely three months after Kenyan TV anchor Victoria Rubadiri won the 2020 BBC World News Komla Dumor Award.
Rubadiri works with Citizen TV and hosts the channel's prime-time shows.