Kenya Airways launches JKIA Express Service for KQ Passengers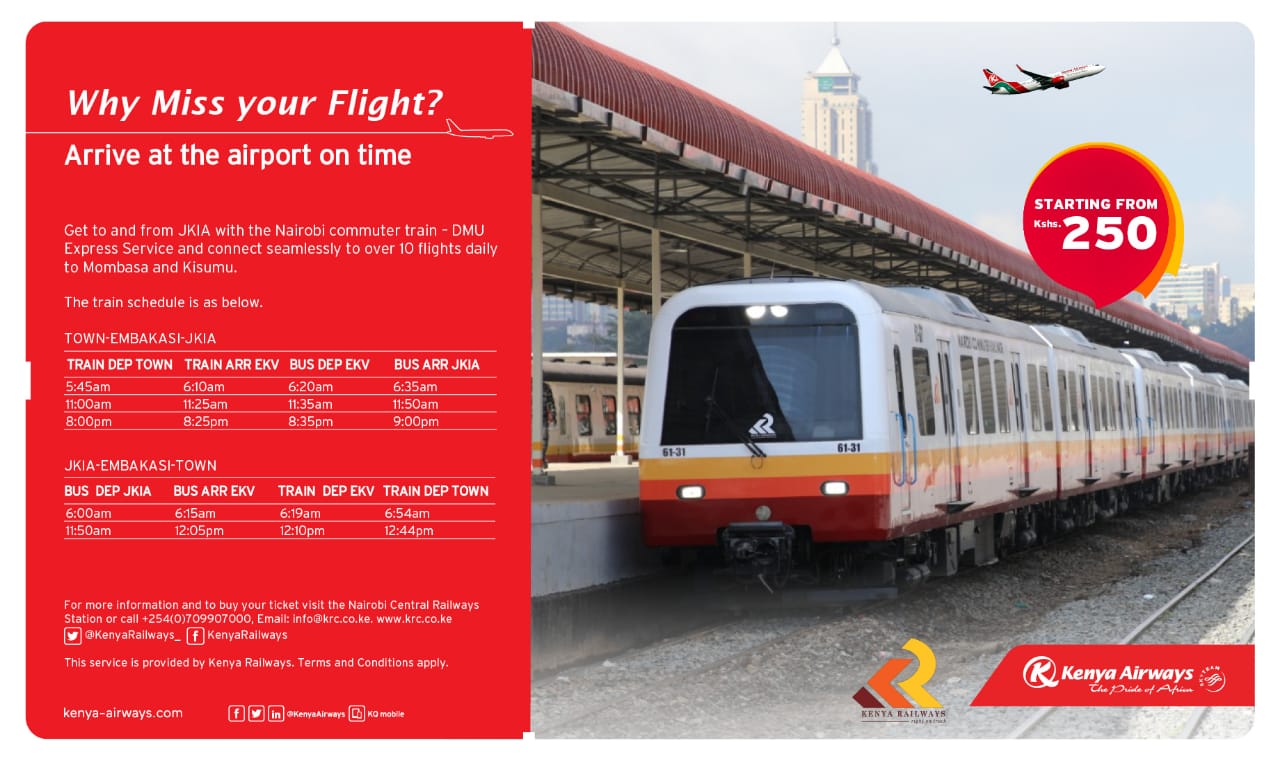 Nairobi, 17 December 2020… Kenya's national carrier, Kenya Airways (KQ) has partnered with Kenya Railways to launch the Jomo Kenyatta International Airport (JKIA) Express service tailored to align with Kenya Airways flights. The service will grant passengers access to convenient, safe, and cost-effective transport to Jomo Kenyatta International Airport (JKIA) from the Nairobi Central Business District.
''We are pleased to launch the new express service which is aligned to our KQ flight schedule to ensure passengers and staff enjoy a seamless journey to and from JKIA. We are honoured to play our role in creating an integrated transport service and marking this milestone for the transport industry in Kenya" said Allan Kilavuka, Group Managing Director and CEO of Kenya Airways.
The integrated service of Rail and Bus Rapid Transit (BRT) will operate between 0545hrs – 2100hrs and will cost passengers Sh250 for a 20-minute ride. The service will see passengers dropped off at the Embakasi Railway Station from where a shuttle will pick them up and ferry them to JKIA. The first official train service departed the city centre at 11:05hrs this morning with the passengers connecting to the KQ Nairobi-Mombasa flight departing JKIA at 13:00hrs.
The Diesel Multiple Unit (DMU) Express Service, which operates on a separate schedule from the recently launched regular commuter service targets both the airport workers and customers travelling to and from the airport.
"This service goes a long way in addressing the challenge of gridlocks on the roads around the city. The service will ensure a safe and cost-effective means of transport for all passengers," said Kenya Railways Managing Director, Phillip Mainga.
In the same breath, Kenya Railways Chairman Maj. Gen. (Rtd) Pastor Awitta stated that he was glad to welcome the public to enjoy a better way to move into and out of the city through use of the Diesel Multiple Unit trains and the Nairobi Commuter Rail- Bus Rapid Transport.
"Besides decongesting the roads around the city, both developments will enhance the ease of doing business within the city. The result of the movement as you well know is growth, our economy will grow, and our people will also grow" he concluded.
The express service will depart Nairobi City Centre three times a day and depart from JKIA twice a day.