Egypt, South Sudan leaders talk Nile water, regional stability
By Deng Machol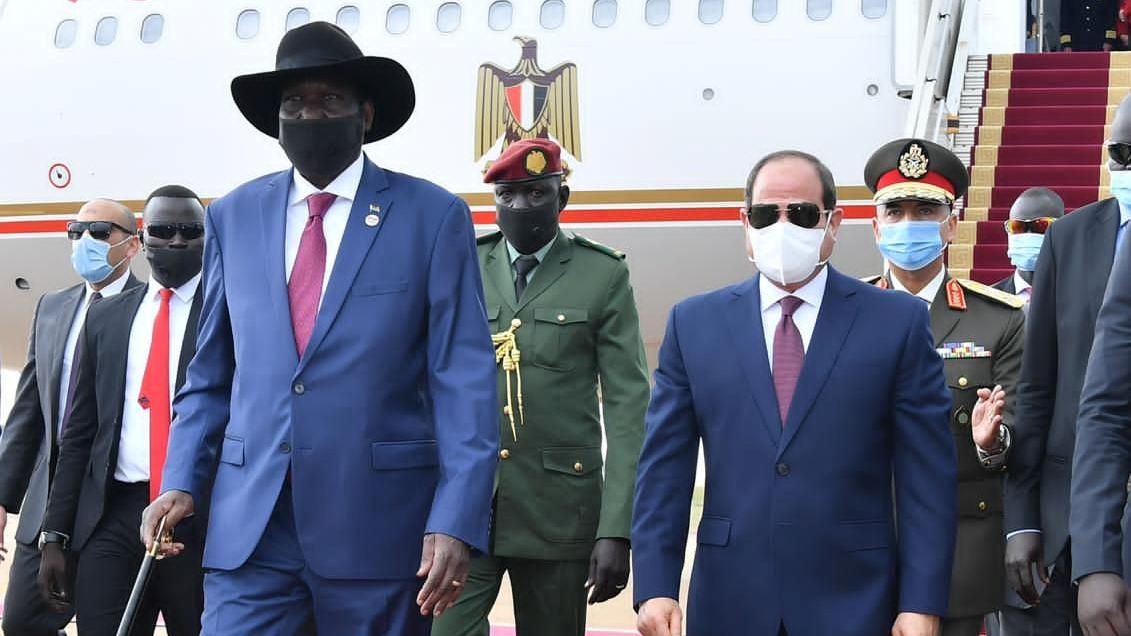 Juba — Egyptian President Abdel-Fattah el-Sisi, in his first visit to South Sudan said he and President Salva Kiir discussed regional security and the usage of Nile waters, including areas of trade and investment.
Abdel Fattah Al- Sisi, President of Arab Republic of Egypt, who arrived in Juba, capital of South Sudan on Saturday, was received by President Salva Kiir. His visit also comes at the time, the Federal Republic of Ethiopia is in political turmoil.
The two leaders broadly discussed matters relating to water resources management, especially Egyptian readiness to use their expertise to help mitigate the impact of current floods, both in short and medium terms through dredging water sources and water harvesting methods such as dams construction.
The statement after Saturday's meeting made no mention of the deadly conflict inside neighboring Ethiopia, which is also in a dispute with Egypt over a massive dam that Addis Ababa is nearing completion on the Blue Nile.
Both Egyptian president El – Sisi and president Kiir agreed on the need to enhance mutual cooperation in areas of education, healthcare, media, energy, trade and investment, and infrastructural connectivity especially with respect to road and rail links.
President Salva Kiir said, South Sudan government strongly feels Egyptian leadership and expertise in these areas can make a difference in our developmental priorities.
El-Sisi in the statement said he and Kiir discussed maximizing the usage of Nile waters, which he said should be a source of hope and national development.
El-Sisi's administrations described Ethiopia's dam project as an existential threat to his country, which relies on the Nile for most of its water supply.
Ethiopia earlier says the dam is needed for development and poverty alleviation in the region.
However, talks among Ethiopia, Egypt and Sudan on the dam have been challenging as issues including the mediation of any disputes have yet to be agreed on.
Thought, South Sudan is a part of Nile water, is yet to be involved in the talks over the share of the Nile water.
Observers want South Sudan to be represented in any discussion over the Nile River
The region has been watching to see whether Egypt would try to take advantage of Ethiopia's current instability as Ethiopia's clashes with the country's heavily armed northern Tigray region for almost a month now.
Egypt's president also said he's asking the international community to lift sanctions on South Sudan, which is slowly recovering from five years of civil war that killed nearly 400,000 people. The implementation of a peace deal is behind schedule.
South Sudan's president also stressed the importance of dialogue in dealing with issues affecting regional stability.
"South Sudan's firm commitment to regional solidarity and responsibility of Africans to seek African solutions to African problems," said president Kiir.
President El – Sisi also expressed his readiness to Support the implementation of the fragile Revitalized Peace agreement, where required.
Egyptian president also pledged the Egyptian full support in alleviating some of the challenges facing South Sudan such as the impact of falling oil prices, COVID-19 pandemic and recent devastating flood across the Country.