African Development Bank receives coveted Stevie Award during virtual ceremony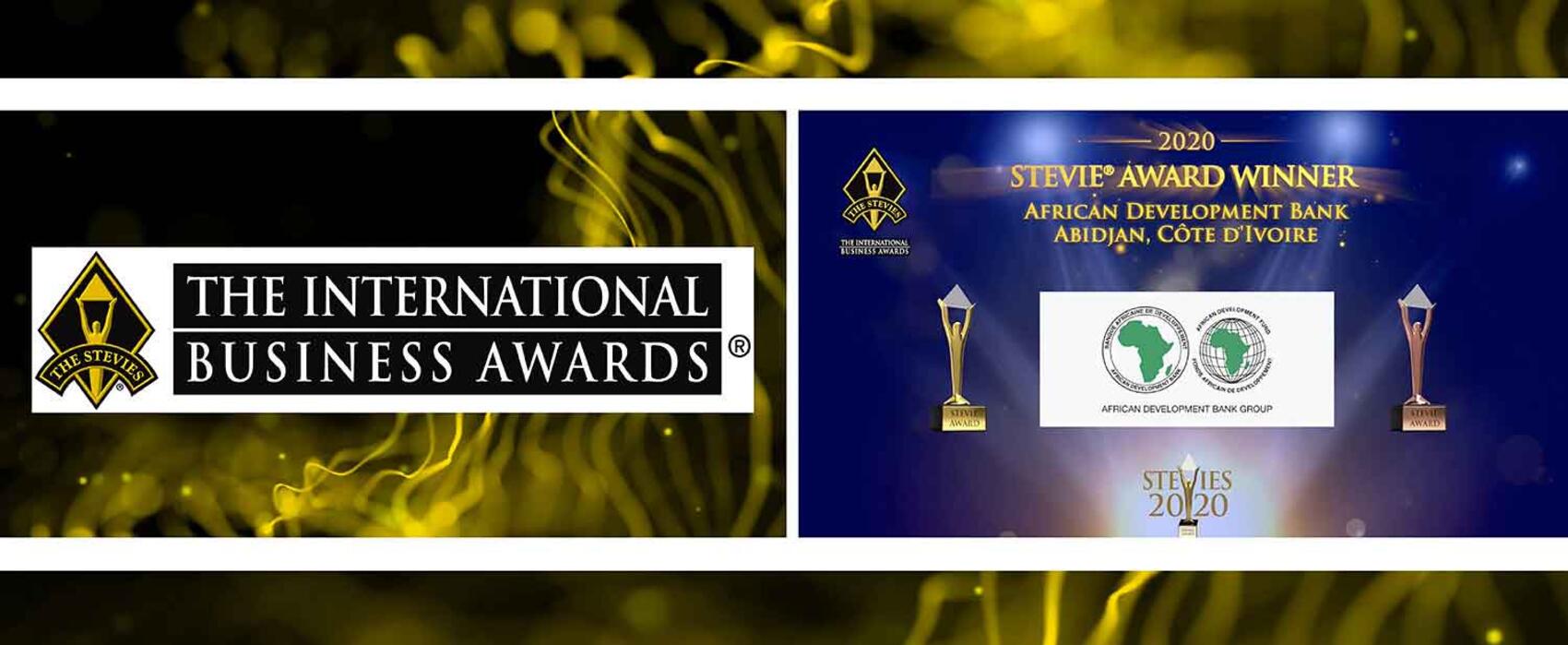 The African Development Bank has taken home two coveted prizes at the 17th Annual International Business Awards in recognition of the institution's 2019 Annual Report.
The Bank was awarded gold in the Best Annual Report Among Non-Profit Organizations category at a virtual event which aired on 1 December. A video produced to support the report took third place in the Video – Non-Profit Public Relations category.
"It is remarkable that the African Development Bank is being recognized with a gold first prize for the Bank Group's Annual Report 2019, and bronze in the video category," Hanan Morsy, the Bank's Director of Macroeconomic Policy, Forecasting and Research, said in an acceptance speech. "Special gratitude goes to all the Bank's entities, management and Board. It's our collective efforts that led to this important recognition."
Described as the "Oscars of international business," the International Business Awards— also known as the Stevie Awards— celebrates excellence in business worldwide. IBA awards first, second and third place prizes in categories relating to business management, marketing, public relations, human resources, new product development, applications and events.
"Well done – a good report about African Development Bank and its strategies," one judge wrote in his evaluation.
"The African Development Bank has produced a high quality, visually engaging, and informative Annual Report video," another judge commented. "I admire the move to use video for the annual report, which is forward looking."
Other 2020 IBA winners include IBM, which won a silver prize in the Company of the Year-Computer Services (Large) category. Eker Dairy Products, a smaller firm based in Turkey, took a gold prize in the Corporate Social Responsibility category.
The International Business Awards is the only global all-encompassing business awards ceremony. This year, more than 3,800 nominations from more than 60 nations were submitted for judging by hundreds of professionals across the globe. The 2020 edition also included COVID-19 response categories to recognize organizations and individuals that have provided much needed support services during the pandemic.
"On behalf of the Bank's management, I am pleased to receive these two prestigious Stevie International Awards," Morsy said. "Together, we look forward, not only for a better annual report next year and many years to come, but more importantly, to an inclusive and sustainable development for all Africans."
*AfDB