WFP outraged by attacks on its humanitarian boat-convoy in South Sudan
By Deng Machol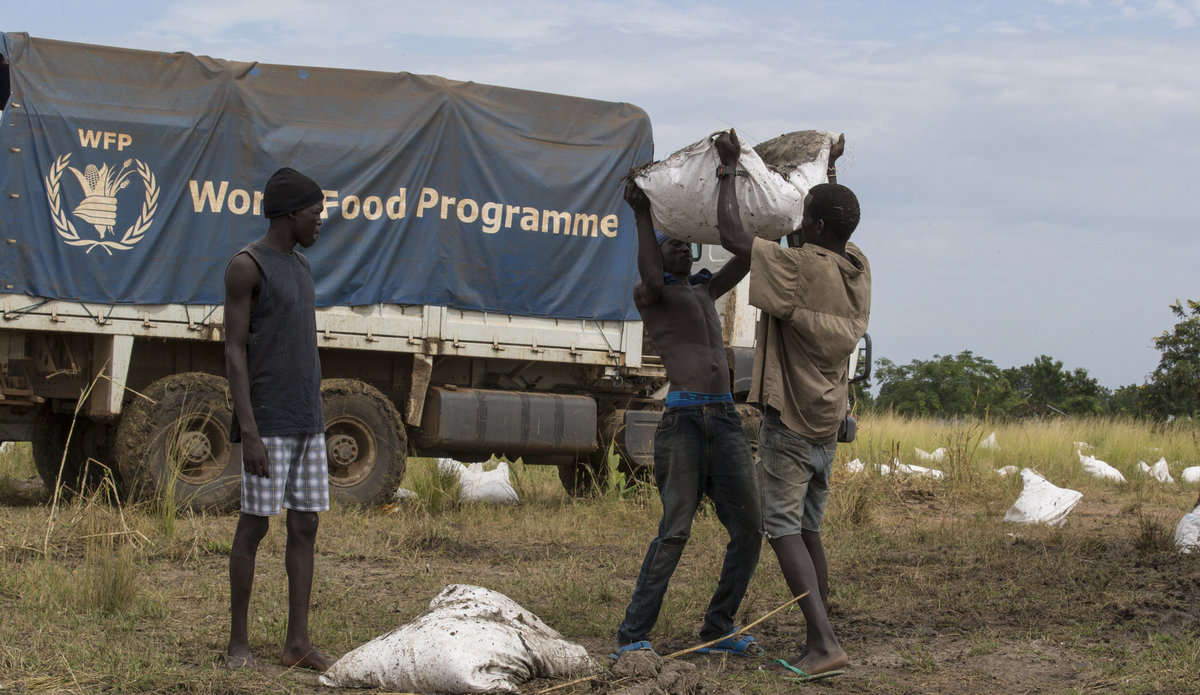 Juba – The United Nations – World Food Programme has expressed anger over an attack on its humanitarian convoy in South Sudan
In the press statement, the UN agency said on October 5, 2020, a WFP boat-convoy carrying food assistance from Bor to Melut and Malakal was attacked around Shambe North in Lakes State, Bahr El Ghazal region.
The WFP stated that the boat convoy consisted of three cargo vessels and one speed-boat, had food items as well as 13 crew members on board.
The UN food reported that one person is reported missing and presumed dead, while three others suffered gunshot injuries.
The food was being ferried to people displaced and affected by floods in the region.
Over 800,000 people have been affected by the floods in South Sudan, according to humanitarian agencies. It reported that an estimated 625,000 people have been affected by flash floods in areas along the White Nile since July.
A total of 37 of counties out of 78 are affected with many areas still underwater and people are unable to tend to their lands and livestock. An estimated 368,000 have been displaced. Women and children are the most affected.
The UN Office for Coordination of Humanitarian Affairs said nearly 90 percent of those affected are in Jonglei, Lakes and Upper Nile states.
However, WFP often uses air, road and river to deliver vital food to isolated communities in the most remote parts of the country.
The WFP further condemned this and any attack on humanitarian workers and contractors, who it says risk their lives delivering much-needed food assistance to the most vulnerable people.
WFP Country Director, Matthew Hollingworth asked South Sudanese authorities to hold those responsible for the unspeakable violence accountable for their actions.
The agency called on all parties in South Sudan to respect international law and conditions that allow humanitarian workers to carry out their jobs in safety.
The agency did not identify those behind this latest attack on a humanitarian convoy.
"Our thoughts are with the families of the missing crew member, and we wish a speedy recovery to those who suffered injuries" said Hollingworth. "Their dedication will not be forgotten. We call on the South Sudanese authorities to hold those responsible for this unspeakable violence accountable for their actions."
South Sudan was just emerged from the conflict that has nearly 400, 000 people and uprooted four million people, creating the worst refugee crisis in Africa since the 1994 Rwandan genocide.
The 2018 peace deal implementation is at the slow path. The clashes, banditry and attacks on aid workers continue.
WFP engages in life-saving and life-changing activities across South Sudan as floods, COVID 19, subnational violence and years of conflict continue to ravage locals' homes and caused widespread severely hunger and malnutrition.
In this effort, WFP announced plans to reach 5 million people with food and nutrition activities in the African youngest nation.
"The violence against humanitarian workers must stop. I strongly condemn this attack on a humanitarian convoy that was transporting food to flood-affected people. Perpetrators must be brought to justice. I call upon the Government and all parties to protect humanitarians and people supporting the efforts to provide assistance to the millions of people who are in need," said Alain Noudéhou, Humanitarian Coordinator in South Sudan, has called for an end to repeated acts of violence which are disrupting life-saving assistance to flood-affected people.
UN has been maintained that the humanitarian crisis triggered by the legacy of civil war, COVID-19 pandemic and chronic underdevelopment continues on a costly trajectory for South Sudanese people and their outlook on the future.
"I stand by WFP and all humanitarians working on the frontline to provide life-saving assistance. Humanitarians workers continue to work in difficult conditions to reach communities affected by the floods, but we need unimpeded access and be able to work in a safe environment." Noudéhou concluded.