Sudanese foes ink historic peace deal to end decades of protracted conflict
By Deng Machol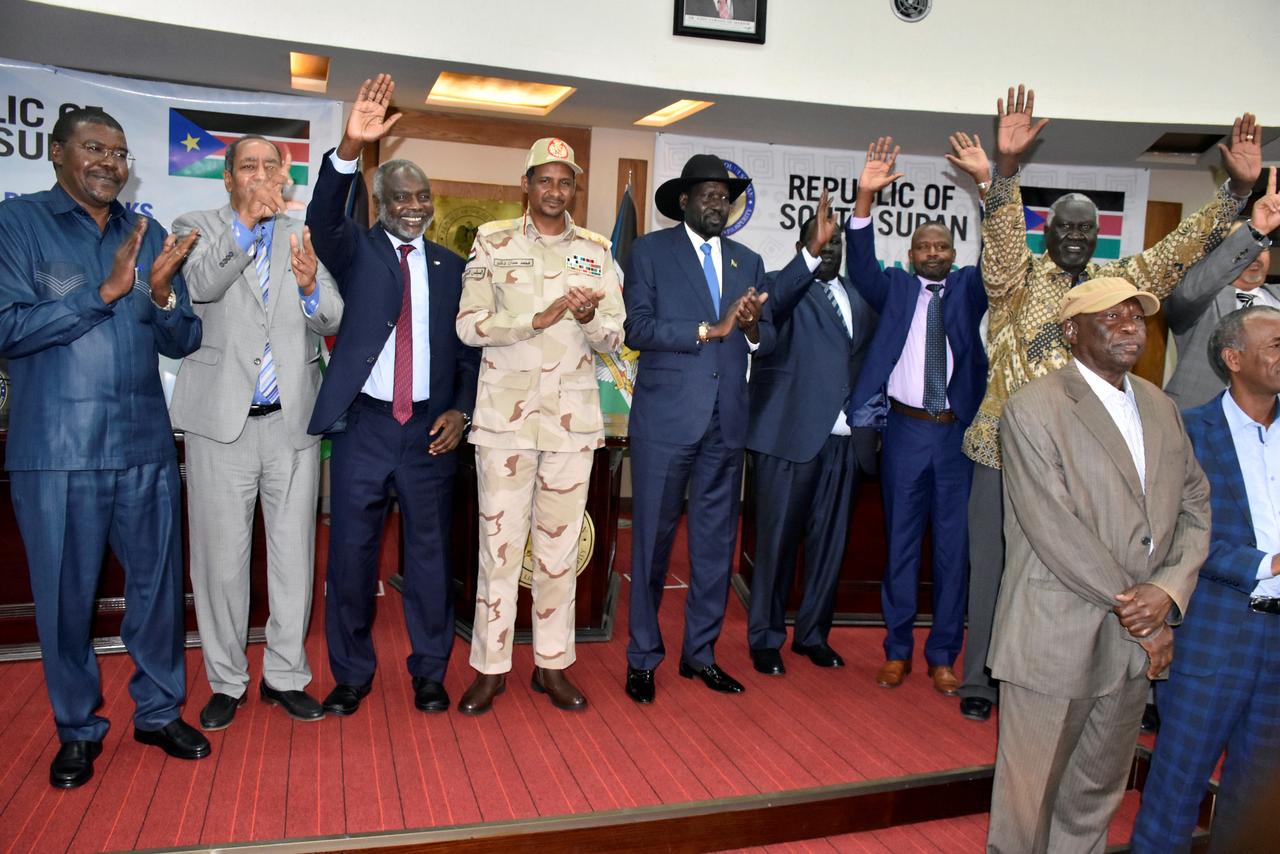 Juba – Sudan's transitional government and several rebel groups, the Sudanese Revolutionary Front (SRF) have signed a peace agreement in it neighbouring South Sudan, capital of Juba on Saturday aimed at ending the country's decades of protracted conflicts that has uprooted millions and killed hundreds of thousands people in the country's restive Darfur region, Southern Blue Nile and the Nuba mountains.
In a raining day, thousands crowd gathered at Dr. John Garang De Mabior to witnessed the signing ceremony that includes agreement on protocols for security, land ownership, transitional justice, power-sharing and the return of refugees.
This landmark deal also provides for the integration of rebel forces into the Sudan armed forces, to form a unified national army whose mandate would only be to protect the people of Sudan.
Gen. Abdlfatah Alburhan inked a peace deal on behalf of the Sudanese transitional government, while Khamis Abdl-gader on behalf of the Sudanese Coalition, Mini Arko Manawi for Sudan Liberation Force, Al-tahir Abubaker for the Liberation Force.
Dr. Jaberil Ibrahim Mohamad also signed for the Justice and Equality, Malik Agar for SPLM-North, Khalid Idriss for the People's United Front for Liberation and Justice, Osama Saeed for Beja Conference, Mohamad Dawod Bandag for the Sudanese Gosh Movement, and Mohamad Said Ahamed for the North Coalition.
The War in Darfur is a major conflict that began in February 2003 when the Sudan Liberation Movement (SLM) and the Justice and Equality Movement (JEM) rebel groups began fighting the government of Sudan, which they accused of oppressing Darfur's non-Arab population.
While, conflict in South Kordofan and Blue Nile erupted in 2011, as South Sudan seceded from Sudan, following unresolved issues from bitter fighting there in Sudan's 1983-2005 civil war.
The faction led by Abdel Wahid, along with the SPLM-North led by Abdel Aziz Adam al-Hillu, have not signed the latest peace agreement.
Several peace initiatives including some spearheaded by the Arabs, with its most notable being the Doha Peace Agreement, have failed with both sides blaming each other for lacking will to fully implement that agreement.
The guarantors are South Sudan's President Salva Kiir, the President of Chad Marshall Idriss Dibbi, and the United Arab Emirates.
South Sudan has been mediating the peace talks between the transitional government and the country's armed groups since last year, following the ouster of President Omar Al – Bashir, in an effort to bringing stability and peace to its foe neighbouring country.