Sierra Leone: Senesie Foundation donates Le 80m worth of school materials to vulnerable children in Moyamba District
By Ishmael Sallieu Koroma
As way of complementing government's Free Quality Education, in the country, the Senesie Youth Empowerment Foundation, based in the United States of America (USA) on Monday 12th October, 2020 donated 80 million Leones worth of school materials to vulnerable children in ten schools through its Youth Empowerment Project learning material support to the less privilege in Moyamba district, Southern Sierra Leone.
The donated items include one thousand school bags, and one thousand 80 pages' exercise books.
Presenting the donation, Country Rep Senesie Foundation in Sierra Leone, Amadu Kamara, said that education is fundamental for any country's development and that investing and supporting education is very important thus the launching of the Free Quality Education by President Bio in order to attain the Sustainable Development Goals sets out by the United Nations.
"We see it as way of giving back, like they say, charity begins at home even though we are thinking nationally, we see it to begin here. This is the second programme we are doing here at Moyamba district as a foundation. During the covid -19 we provided one hundred bags of rice, maggie, salt, tomatoes to vulnerable people to relieve their burden,'' he said.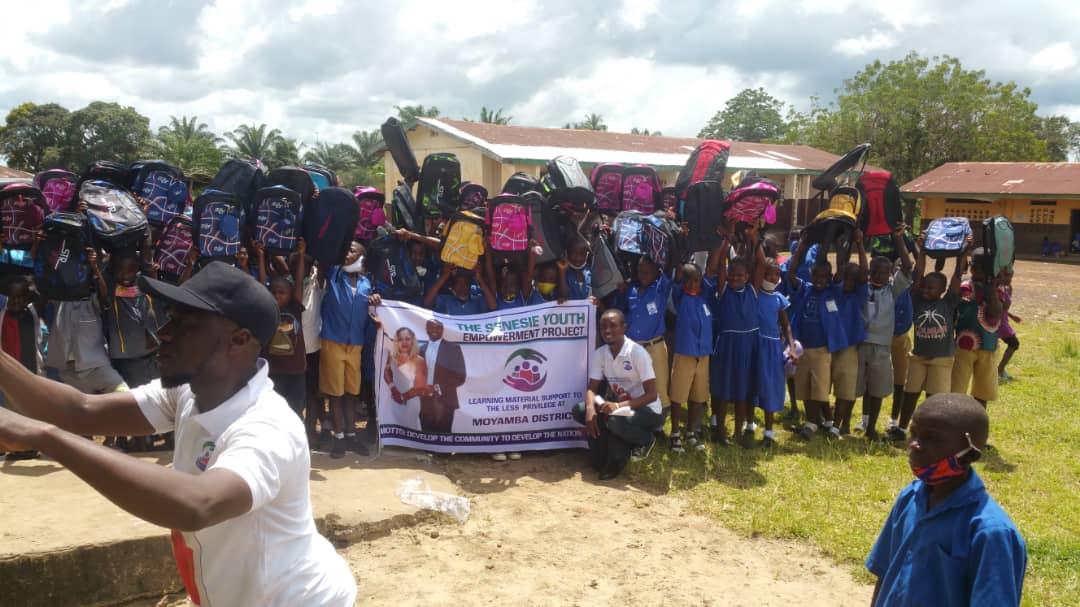 He said that the donation targeted ten schools in the Moyamba district with each of the school receiving one hundred bags and one hundred books as part of the one thousand vulnerable school children targeted as a way of helping them with school materials.
He added that the focus of the foundation is education, helping children to go to school and to support government's Free Quality Education Scheme adding that as a foundation they decided to help the children in the Moyamba district as the founder of the foundation, Senesie is a born of the district and wants to give back to his district and help especially the vulnerable in the area of education.
"Now that schools have re-opened, and our aim is to support education, so we went to the drawing board and decided what to do , even though government is supporting  free quality education, but  there are children out here basic things could make them not to go to school like school bags , unlike adults who cannot drop out of school as a result of school bag because they know the value of education but children drop out ,''Amadu Kamara said ,  adding that thus the reason for them to donate bags and books to six secondary school and four primary in the district.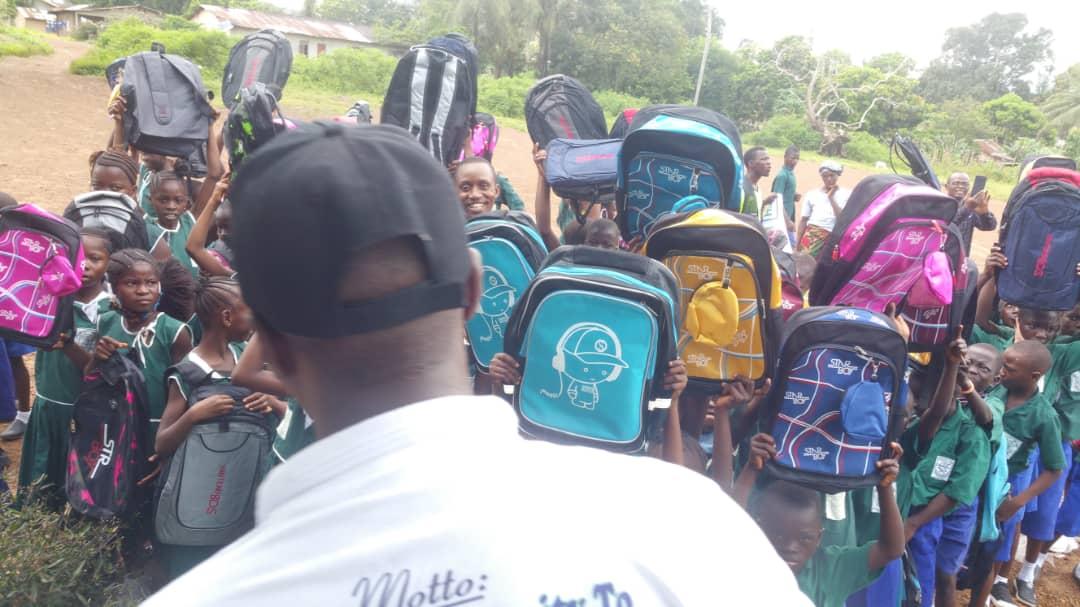 The Senesie Foundation Rep called on the children to take their work seriously and to make good use of the learning materials given to them adding that they will continue to support education in the country.
Chairman Moyamba District Council Joseph B Mbogba on his part, praised the initiative as a laudable venture in complementing the President's Free Quality education stating that the government cannot do it alone as they need partners and other organisation or foundations like these to come in and support the governments initiative thus the reason the foundation sees the need to support one thousand school children with bags and books in Moyamba district.
"we know the areas which the Free Quality covers and we know those other areas that it is not covering, so they came in to support. we believe that this is a laudable venture and we are believing that, you all that are here needed these bags and book. I want to admonish you all, because us as Sierra Leoneans we do not value anything which they give to us free, I advise you to take care good care of them.'' he said.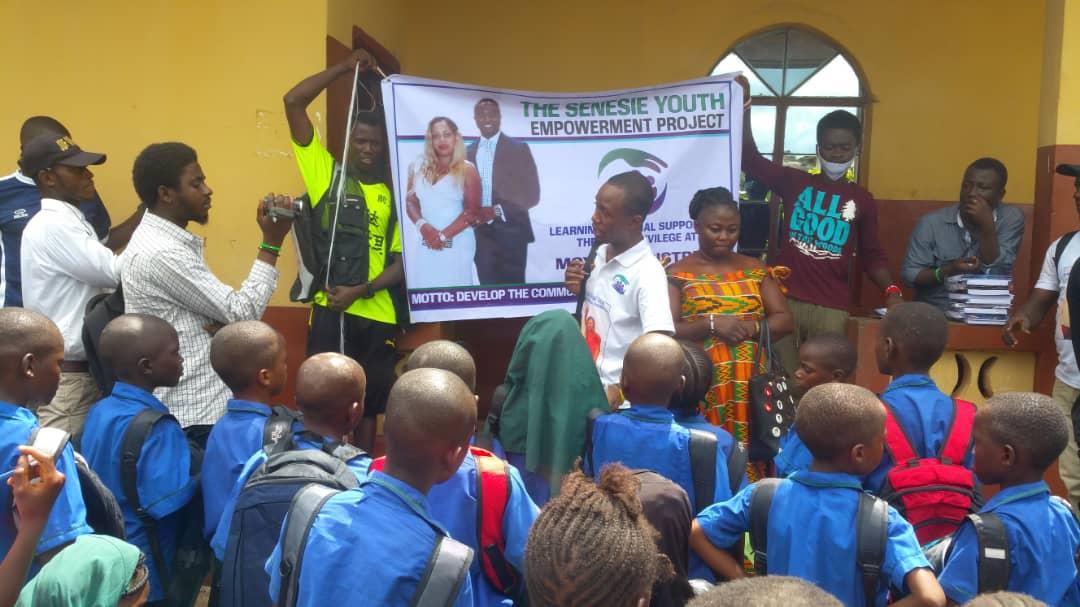 He said that the way the beneficiaries will utilised the learning materials for its purpose, will encourage the donors to help them and do more, stating that the Khulafia Rashideen Islamic Secondary School needed a lots of facelifts, from chairs, benches and a host of other things but said with small kind gesture, it will help in some ways.
"On behalf of council and the people of Moyamba district we will like to express our sincere thanks to the Senesie Foundation for this kind gesture. This is a pay back and this is what we want to see other indigenes of Moyamba district that are out there to come and support the President's vision and to support the district especially the vulnerable children,'' Chairman Moyamba District Council Joseph B Mbogba added.
The Principal of Khulafia Rashideen Islamic Secondary School, Moyamba Town, Abdul Razak Kargbo, whose school benefitted from the donation thank the foundation for donating books and bags to one hundred vulnerable children in his school adding that it would help them a lot as some of them do not have money to buy bags as things are very difficult for some of their families.
"Words are just difficult to come by, I feel very good, very elated for what I have seen here today especially from the Senesie Family we are not expecting such, we only received the message last week, for us to identify vulnerable pupils and today they have received the help. A big job well done by the Senesie Family,'' he said, whilst urging the pupils to take good care of the learning materials that have been given to them as such kind of gesture and kindness is difficult to come by.
He said as a school they are challenged in lots of areas like adequate school materials, chairs, benches and most especially the issue of his school compound as people have started encroaching on the school's land adding that if that continues, in the future that will cause a lots of problem for the school and therefore ask for help from the council.
Lydia Senesie, Headmistress United Methodist Church (UMC) Salina Primary School thanked the foundation for bringing the donation to her school and helping the less privilege who finds it difficult to get school bags to go to school adding that the donation was timely as the school has just re-opened.
Rashida Amara, Pupil of Khulafia Rashideen secondary school, one of the beneficiaries of the donation, expressed thanks and appreciation to the Foundation for helping them with school materials and promised that she will use the donated items for its intended purpose.