It is important that the universities collaborate with us in Sierra Leone -Foday Melvin Kamara
By Ishmael Sallieu Koroma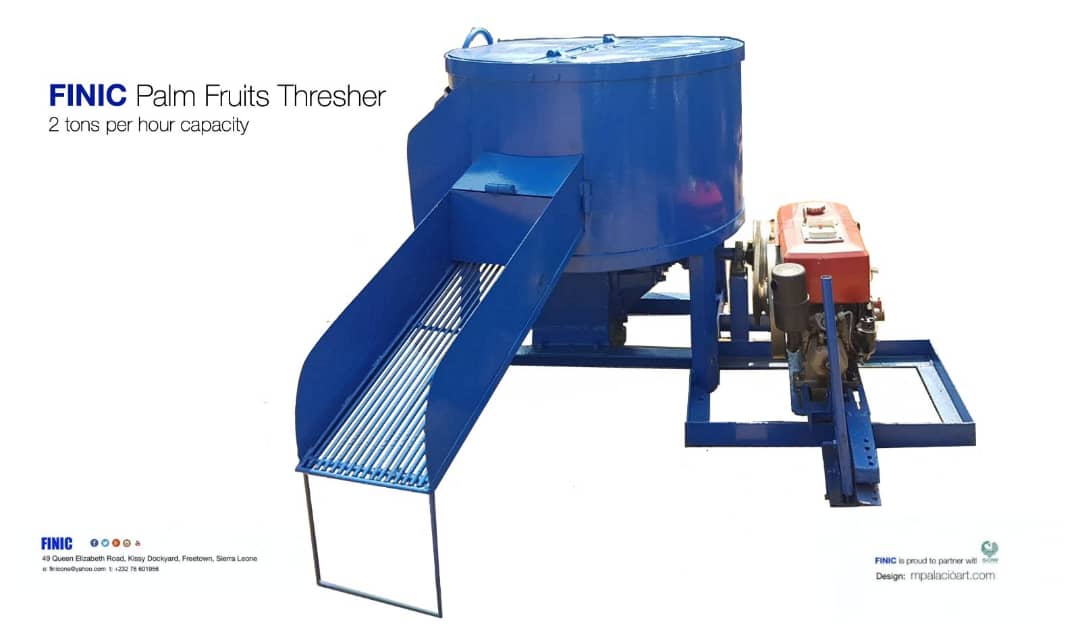 Foday Melvin Kamara is the Chief Executive Officer of Fomel Industries and National Industrialization Centre (FINIC) , a leading and only enterprise that in Sierra Leone and Ghana specializing in the manufacturing and designing of Agricultural machines.
In this interview , he takes us through how he started the only locally manufacturing and designing enterprise of agricultural machines in the country and first asked him to tell me how it all started.
Ishmael : First of , please tell me about FINIC and what it does ?
Foday Melvin Kamara : The FINIC industry founded in 1997 , came about from the awareness that us in Sierra Leone , and Africa generally , we are just too import dependent . we just wanted everything to be brought in and then that thinking made me to remember that if we are bringing in everything, we will lose a lot , not only money , but many are seeing the capital flight . Monies are coming from outside. We are the seeing the brains we are losing in the process because a brain that does not exercise, it's a brain that will grow just like the muscles .The muscles needed exercise for it to grow bigger . If we do not manufacture and all the time its import, import , our brains will become smaller and we will lose and so that give us the kind of impetus for us to venture into machine systems design .we are over two decades now on the ground quietly.
Ishmael : How is it like working and operating in an environment where people mostly believe in overseas goods than locally made products ? How have you been able to go through this and take a foot hole in the Sierra Leonean market ?
Foday Melvin Kamara : It's actually a very , very difficult thing to do. Without the passion in you , its almost impossible . Our people's mentality and mind set everything that is a machine , it is white made. Anything working in the form of machine , they say it white made. So, that mindset is there , for you to break that cocoon , and comes out and starts doing it your self , that trust level is very , very low . They won't believe you , they don't trust that the machines you manufacture are of standard and can stand the test of time , be able to perform its purpose. It is a big, big task. It is a hurdle. But what keeps us going , its our passion , the love for mechanical things that flows in my blood . How did it happened , only God knows , I don't know? I just like machines . I can talk about them the whole of the day and don't feel bored. So that passion is what carries me forward and of course the love for country as well because what we are doing in this country , we see it benefitting Sierra Leone more than it benefits me . Simple reason, we are like laying a foundation , we are like waking up sleeping giants . we are like telling people that yes, we can . we can do it . Any time we do something, that people feel its white made , and we did it and succeeded and bring in something new that even the white man hasn't created or invented, that gives confidence to others particularly the youngsters that are growing up that they could best that our country have brains and let us not limit our brains , to singing, to football and but let's take it to other areas of science that will bring development for the country. And the workers that are working with me here, we don't see them as employees , we see them as people with us for the common good of mama Salone.
Ishmael : what is your background ?
Foday : It's a great one , my background actually I am an automobile engineer trained in Germany . That was long time ago . I did automobile engineering and you see mechanical engineering they are so related with automobile engineering . You know, automobile engineers can employ , mechanical engineers , and also Mechanical engineers can also employ automobile engineers. And then One perfect good thing, that is clearly tells about this love affair is that things we are doing so much related to motor vehicles .some parts of machines that we are doing for threshing of palm bunches to remove the bunches to extract palm oil is from motor engine . That's a perfect relationship. You know , this is one of the reasons why our machines can stand the test of time and why we are succeeding as a company.
Ishmael : As a company how have you been able to collaborate with government as some of your product has to do agriculture and other manufactures?
Foday : Yes! One absolutely will expect that we should collaborate with government , meaning government to patronize us , government has anything to think about mechanization can come to people that is always do this kind of work. That is our expectation and that what we are doing is bigger for the nation and us that are doing the job .we are expect that on that account , the government or governments go patronize us but that is not happening . I mean with that who should be blamed , me or the government? What I'm doing to me , it is more beneficial to country than to me as a personal person and then the government that our work will benefit for create employment for youths, they don't patronize me . They don't place me up there for the youths to see me as a role model , how can we industrialize . if we don't industrialize , how would that benefit the government . How unemployment benefits the government, badly because it will create unrest , it will create chaos. People wants to work , there are no places to work , they will put their talents into a negative form . so, I expect that the governments , both present and past t to patronize me . That's how I see it . The time actually that I should spend to go to the corridors of power to lobby, and buy from me , is difficult to do as long as I am not able to sing the political songs . It is something that I am not able to do , therefore , I prefer the government gives me task once in a while, developing machines systems that will be according to our circumstances to enhance productivity in the agricultural sector and also enhance value -chain addition. This is one way we can push the country forward.
Ishmael : Has there been any collaboration with your company and technical institutions, colleges and universities to help students get practical skills in mechanical and automobile engineering .
Foday : We would be really happy to get this kind of synergy as you put it. And we were one of those people that was with the Bio- led administration started, they established the Science ,Technology and Innovation Directorate and then they appointed a leader to steer that office . we were very , very happy . we thought that we are coming to be recognised because really what we are doing is agricultural related , and we promote production and processing but as time went by we realised, there is still more time actually. We realised that the focus for this directorate is more of information technology , more on electronics . I mean , that there is nothing in my own ears , about mechanization. We have a lot of ideas , we tried , for bring ourselves close to the Chief Innovation Officer in the Science and Technology Directorate by writing him an email stating that , we have got a concept of making a garrie making machine with a potential to do thirty bags of gari in an hour. Yes , absolutely I mean it, but I didn't have response from him and I wouldn't say that he didn't receive the mail from us , probably he may have wanted a different approach , maybe he had wanted me to go there , and put forward my case. Probably he didn't like approach but where we are so serious about mechanization, not only electronics is a matter of just calling the person, and then we sit and then chat the way forward , positive things will come out. One collaborative area he did with me , though it was brief was the hands-Free washing stations ,he sent one video of one working which we didn't manufactured and asked me if we can do it and then I said, of which we can do our own design without copying . Four , five days later we came out with our own design and it is creating a big impact in the country and also in Ghana for schools ,churches in both Sierra Leone and in Ghana. That kind of collaboration I expect to be continued according him , he has told the president about it and forward him the video . probably my approach , they don't want. The collaboration with the universities is ongoing though not how I expect it to be . They sometimes have their students on internship here at FINIC , they will be us with us for one month, two months , and sometimes they used the factory as an incubator centre to hatch their ideas when they are doing their projects. That was going on with Njala , Fourah Bay College , and the for the past four years , that collaborative venture , I am seeing it as much stronger as it used to be unless the last time we had a student who built a stove. It is important that the universities collaborate with us because what they trained is more of theoretical than practice but when the students leave the class room , then the theory just becomes something in the head , and something in the head, without been put into use , is as a good as a dead one. The world pays for what one does , with that which one knows. If you know something in your head, and you do not put it into application who cares. I expect that for them to give confidence to their graduates to send them to go through trainings . Thank God the Ministry of Education I think is coming out with some kind of innovative ways for train such people in collaboration with GIZ and also the World Bank they will be coming within the agricultural , technical and vocational institutions package to help people get practical trainings.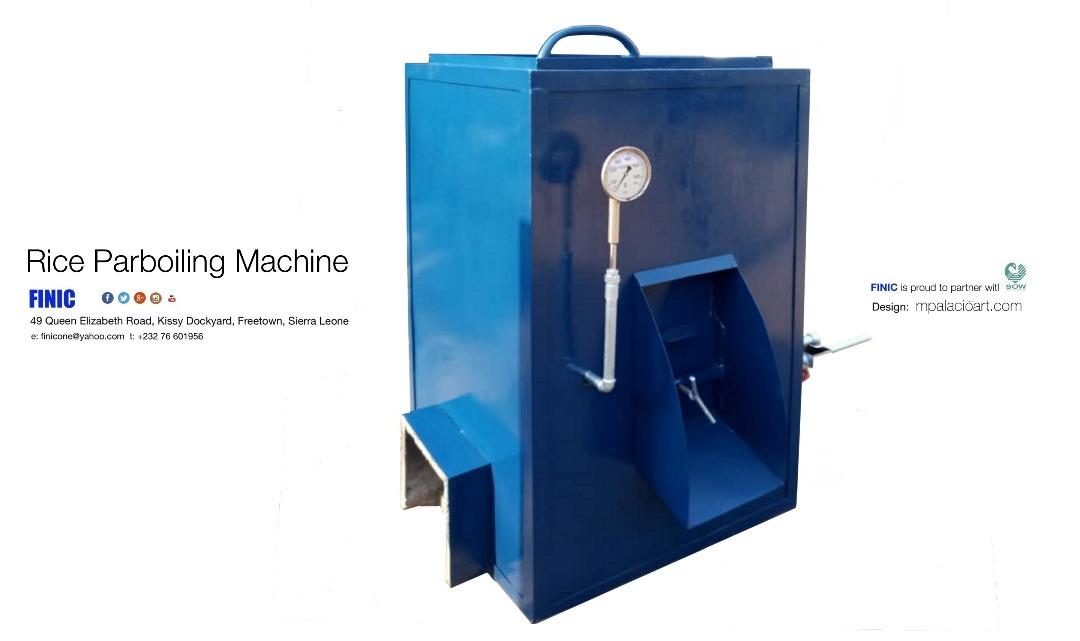 Ishmael : What about the Ministry of Agriculture ,part of their plans is venturing in mechanized farming . Has there any collaboration with them?
Foday Melvin Kamara: Not yet , when we talk about production in agriculture, almost all cases , people think about tractors, almost always when we think enhance rice production tractors come to their minds. That has been the mindset . And these tractors, one we do not have culture to maintain them , we do not have the skills well enough to operate them . And so, if people like us are given the chance to come out with technology that his home grown , that is done considered the circumstances of this country will be very helpful. I have always said, we can use Okada to do lots of operations within the agricultural sector particularly production like in ploughing , processing and rice milling an okada can do that . so, if we have a sponsorship by way of patronage, a lot of things will come out that will enable to enhance in the boosting of agricultural productivity in the country both in terms of growing of the plants as well as adding value to them.
Ishmael : As I see look around your office , there is poster reading FINIC can turn grass into an electricity tell me more about this ?
Foday Melvin Kamara : You know, it's really , very , very sad , the scientist in this country are not known . They just don't care about them . They care about musicians , they care about the politicians . But let me say that any biomass , by biomass , I mean anything that is plant based you can turn it into gas . That gas in turn , run an engine and that engine runs a generator. Yes we are able to build a biomass gasifier which you put palm kernel shells inside it , get turned into a gas , and then you get a bye -product which is charcoal , which is the bio charm materials , like you see the one I have here, you can process it into brisket used for cooking . If we can follow such a technology , we do not need to cut down trees in the name of charcoal making for the energy in the kitchen. When I was in a location seeing the number of vehicles coming in to Freetown from up country bringing down firewood . Just wood , not charcoal , it's terrible , you will know that this country, deforestation is happening very , very strongly and in the next fifteen years is going to be sorrowful . that wood people are bringing is a waste of energy, we are wasting one, the gas there , they just used the wood for cooking , the gases that escape in the form of smoke but if we have a technology that can transform into gasification process.
Ishmael : How Covid-19 affected your business ?
Foday : Yes, I will say it affected our business because the volume of our work we are doing would have been greater . we are struggling but for every adversity ,there is equal opportunity . Covid -19 brought difficulty in the world but as same time , along with it some opportunities . One opportunity, the pandemic gave us , is the manufacturing of the hands free washing stations which FINIC manufactured and because of its demand we were able to open another branch of the company in Ghana.
Ishmael : How do you envisioned FINIC in the next ten years ?
Foday : It is a very good question , maybe I will be retired by that time, but I wanted to see FINIC is five West African countries . Presently we are in Ghana , and we are about sending our team there to go and trained our team members there in order to manufacture dryers for mango chips among other products. We are also in contact with some people in Guinea to as well trained them in manufacturing and designs, but we wanted to do it in a way we would be recognised through their government . we dint care how much they will pay we for it.
Ishmael: Great talking to you
Foday : Thank you , it's a pleasure talking to you !