Citizens Manifesto Takes Accountability, Investigations of Zimbabwe's Perpetrations to Humanity Post Covid-19
By Nevson Mpofu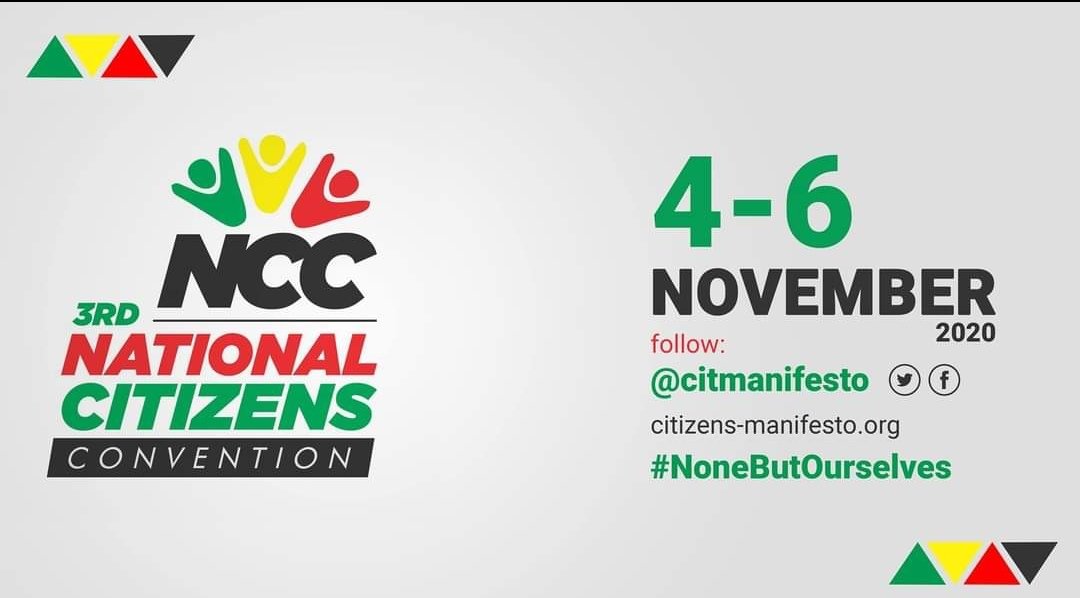 Citizens Manifesto 3rd National Citizens Convention 2020 holds the theme—- Non but ourselves. Re-Imagining the future we want post covid-19. This time again the organisation takes bold action to bring accountability, transparency, credibility, fairness and liberalism for human social justice through investigations on some issues un-addressed of late and recently. The action pack moves towards a National Citizens Convention, 4 to 6 November next month to adventure and explore on real issues affecting Zimbabweans.
In a press release issued to media in Harare on Thursday 22 October, the Civil Society group tells Journalists the convention is the third one since 2018. This is a platform to bring ourselves together to take into account what needs to be addressed as challenges at home post covid-19 exist.
'' We are in our third year with focus to issues to address post covid-19 . We have done it post political crisis, impasses and conflicts in recent years 2018 and 2019. This time we do it post covid-19 and post political issues woven as well in covid-19 pandemic.''
''The convention is set to interrogate key questions around Zimbabwe's on-going impasse and rising new abnormalities brought by covid-19 public health crisis. The key aim of the convention is to create an inclusive environment for citizens to participate in the national discourse defining and building solidarity towards this year's theme '' , reads the release .
Three main questions are – where are we? Why are we where we are? Where do we want to go? The convention will seek answers in the context of three proposed thematic areas. The three are ..
Forging a new social contract based on trust, agency and solidarity begins with us…
The country is a wound that need treatment. It means communities are heavily affected. This has been more caused by covid-19 lockdown, restrictions, curfews and some increase of restrictions and more added days on top of 21 days. . This has diminished the social fabric.
Participatory Democracy and Constitutionalism. Creating room for every- one.
Human rights abuses have increased intensified by covid-19. How then can citizens enjoy their rights, freedom of expression and move towards hunger eradication, ameliorating poverty and moving out of vulnerability. Citizens need representative, participatory and liberal democracy for them to move towards total political, social and economic emancipation.
''To build this democracy from communities upwards, we need an honest and frank interrogation of how representative democracy and equity are experienced in Zimbabwe. There is need to create space for all citizens. All citizens must participate collectively in a manner that shows fairness, oneness''.
An Inclusive and sustainable economy. Getting our national wealth to serve our community/communities and conserve our environment ..
Public accountability, transparency and anti-corruption are deeply entangled in questions of ownership and wealth distribution in Zimbabwe. Under this thematic area deliberations will make link between personalisation and national wealth, natural resource governance, environment and climate justice. The Third convention invites an exploration of how citizens and communities are breathing life into alternative local economies.
''Zimbabwe is a whole bag of abnormalities. These are human made through error and negligence. There are economic issues building up to an impasse pulling society down. Society is totally divided. We need to look at inclusivity and participation of all citizens. This is done through public accountability, transparency and anti-corruption to stabilise the nation.'' It reads in conclusion.