Cameroon: AU Chair, Akere Muna, Barristers Taku, Balla, Others Condemn Killing of Innocent Students
By Boris Esono Nwenfor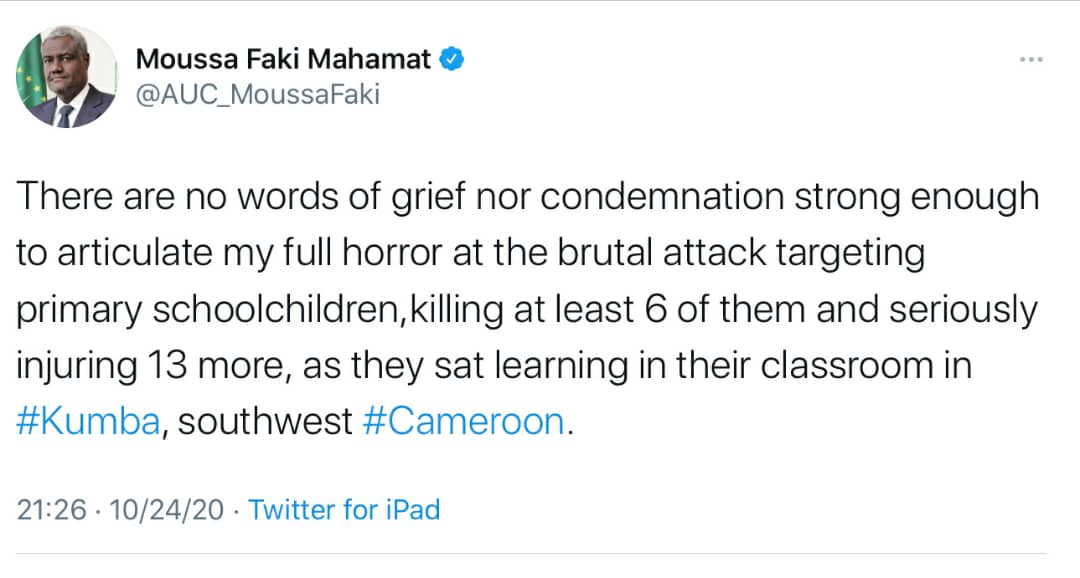 Six children have been confirmed death, while 13 others were wounded after unknown gunmen attacked an educational establishment in Kumba, South West region of Cameroon.
This brutal murder of innocent students at the Mother Francisca International Bilingual Academy in Kumba October 24, 2020, has sparked widespread condemnation in Cameroon and beyond. Social media pages are flooded with messages calling for an end to the rising spade of violence in the North West and South West regions.
There was no immediate claim of responsibility for the attack, described by the UN as "the worst atrocity" since the resumption of the school year earlier this month. It was not clear if the attack was linked to a continuing struggle between government forces and armed groups in the English-speaking Regions seeking to form a breakaway state.
"At least eight children were killed as a result of gunshots and attack with machetes. Another twelve were wounded and taken to local hospitals," the UN's Office for the Coordination of Humanitarian Affairs (OCHA) said in a statement.
African Union Commission Chair Moussa Faki Mahamat said: "There are no words of grief nor condemnation strong enough to articulate my full horror at the brutal attack targeting primary schoolchildren … as they sat learning in their classroom."
Barrister Akere Muna wrote: "Unimaginable and unacceptable! What happened in Kumba should wake us all up. What barbaric instinct can push anyone to go to a school and randomly fire at kids, killing some? Is this who we have become? Numbered by savagery and mayhem we are slowly losing our humanity. To the mothers who are struck with lifeless bodies and all those families forced into mourning, we offer our condolences and our prayers. Suffering and morning have to stop being a lot of some citizens only."
Matthias Z. Naab, United Nations Resident Coordinator/Humanitarian Coordinator in Cameroon has also condemned the attack. He said: "I am shocked and outraged by the killing of innocent school children who were attending school to get an education. On behalf of the United Nations and the wider humanitarian community in Cameroon, I extend our deepest condolences to the families of the children killed and our support to the wounded and their families and all the community."
"The attack against school children is the worst atrocity since the resumption of the school year on 5 October 2020 in which more students enrolled in the North-West and South-West regions than in recent years."
"Children have a right to education. Violence against schools and innocent school children is not acceptable under any circumstances and can constitute a crime against humanity if proven in a court of law. I call on the competent authorities to conduct a thorough investigation into this tragedy," reiterated Mr Naab.
Barrister Felix Agbor Balla in a statement said the barbaric killings are gross violations of the rights to life of these kids. "It is unacceptable for anyone or groups of person to harass, attack, and or kill children. It is a fundamental right for children to be educated…."
"This senseless slaughter civilians, children in particular must stop and the perpetrators held accountable. These acts of impunity must not go unpunished. The massacre of these children adds to a long list of civilians killed in this senseless war. It warrants the intervention of the UNSC to establish a transitional justice mechanism to investigate and prosecute the perpetrators of this and other crimes against civilians and civilian targets in the ongoing genocidal campaign in the Southern Cameroons. The fact that no credible investigations and Prosecutions have occurred despite the widespread and systematic nature of the crimes is a slur on the conscience of the civilised world. The international community can no longer sit back while the responsibility for these crimes are determined by speculative war propaganda. Submitting to this subtefuge will give tacit blessings to impunity. The UNSC should urgently intervene and send an urgent fact finding mission with a robust independent investigation authority. Doing so,will foster the objectives of the UN and international justice," said Barrister Charles Taku, a former President of the International Criminal Court Bar Association- ICCBA
The Senior Divisional Officer for Meme, Chamberlin Ntou'ou Ndong after visiting the scene of the killings said "Some fighters went to Fiango and attacked innocent students. Four were killed, and others seriously wounded. Let me seize this opportunity not only to condemn what has happened but to tell them that we are going to do our best to shut them down. Let them run, we are behind them".
"I cannot understand that during the day, separatist fighters are attacking innocent children. The surrounding population witnesses without doing anything. That is why I have given instructions for them to be arrested."
Despite the fingers being pointed at separatist fighters for carrying out the attack, the Southern Cameroons Civil Society Consortium, SCASCS in a communiqué has blamed the Cameroon government for carrying out the attack. "The inhumane act, perpetrated on innocent children is one too many coordinated by the Cameroon government apparatchiks for political and nefarious ends," part of the communiqué stated.
In late 2016, long-standing complaints of political and economic discrimination against English speakers by the central government spilt over when lawyers, students and teachers began calling for reforms. Both sides have since been accused of committing atrocities in a conflict that has killed some 3,000 people and forced hundreds of thousands of people from their homes.