Sierra Leone : MRCG ,MFWA partnership facilitates workshop on safety of Journalists
By Ishmael Sallieu Koroma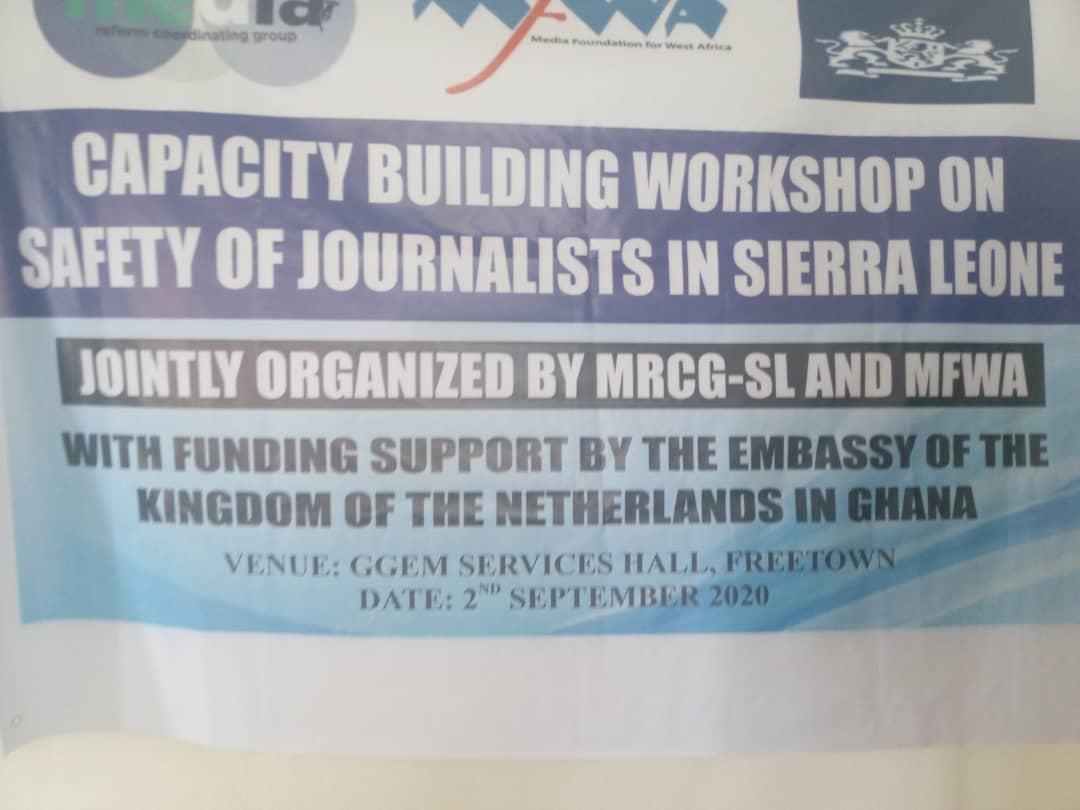 As part of  its effort  to reform and capacitate the media in Sierra Leone , the Media Reform Coordinating Group (MRCG) in collaboration with Media Foundation for West Africa (MFWA) with support from the Embassy of the Kingdom of the Netherlands in Ghana has on Wednesday 2nd September  held a one-day capacity workshop on safety of journalists.
The workshop , held at the GGEM Services Hall in Freetown presented 30 senior journalists with an opportunity to learn how to produce responsible , fact-based coverage while staying safe , the basics of safety in journalism , Risk awareness and physical safety which practical sessions among other things.
Chairman MRCG, Dr. Francis Sowa, in his statement said, the aim of the one-day training on the safety of journalist is equipping journalists , with requisite skills on how to protect themselves in the line of duty such as covering events and reportage.
"An important step to protecting the safety of journalists is when journalists themselves become conscious of potentially dangerous situations and how they can protect themselves at all time inline of duty . This workshop is part of the means to improve the safety of journalists' situation in Sierra Leone. The MRCG notes that even with the repeal of the criminal libel law, there are still other issues in the safety and security of journalists,'' he said.
Dr. Sowa said the workshop is a project MFWA is implementing aimed at improving press freedom and safety of journalists in the country stating that while the democratization process over the years have been appreciated with general improvement in press freedom conditions, there have been attacks of media personnel by state security agents and officials , political party affiliates and individuals.
"Quite often, press freedom and freedom of expression violations tends to be criminal in nature . However , over 90% of those violations go un investigated , the perpetrators going unpunished. This has resulted in the culture of impunity in most instances particularly when it comes to crimes against journalists ,'' Dr. Sowa added.
Executive Secretary Independent Media Commission (IMC) Khalil Kallon whilst making a statement on behalf of the Commissioner praised the efforts MRCG saying what the reform group was doing is in the right direction thus assuring them as a commission they are ready to be taking steps to ensure that journalists are safe and are protected whilst practising their profession.
"As such last year we started the media call, and then one of the principal things we are looking at is the environment in which the media institution itself is held. And then we realized that couple of media institutions do not have an enabling environment for their workers . So, we spend some time talking to some of the media institutions and owners and then going forward we decided for those that are coming in for media institutions , we will now need first of all go and check their offices and some of other places we are sure that all the safety measures are in place before ever licences are granted,'' he said.
Speaking on how to produce responsible , fact -based coverage while staying safe , Umaru Fofana , BBC Correspondent in Sierra Leone, said journalist should be careful when covering riot , health hazards , fire outbreaks , road accidents, and rescue scenes stating that there are people who wish journalists harm because they expose the nefarious activities of those of their patrons.
" No story is worth compromising your life . Be aware of your surroundings. Be really aware , pay attention . A journalist must prioritise their own safety at all times, '' he urged.
He said 9 out of 10 journalists killed according to the Committee to protect Journalist (CPJ) are local journalists adding that more than 95% of journalists imprisoned in the world are local bloggers , reporters and photo journalists thus advising media practitioners to be very careful and cautious whilst carrying their duty.
"In producing responsible fact -based coverage while staying safe should consider these points among them , identify perceived risks , check telephone network availability , avoid looking like one of the group members you are covering. Whilst also be attentive to warning and pull out when necessary ,''Umaru advised.
Umaru advised that journalist should have personal protective equipment, local clothing , trauma kits and a grab bag whilst recommending to SLAJ , and MRCG for a first aid trainings for journalist as it is very important for the safety of journalists.
The BBC correspondent further added that digital and cyber safety is an important issue of safety to journalist stating the safety of data and protection of your sources in addition to defending your data are critical to journalist's safety thus saying it's a big deal and its every body's business.
"Be very careful with the way you use your data . Protect your self , protect your source . Be careful with your phone detail , password your devices . Be careful with your digital footprint.'' Journalist Umaru Fofana further stressed.
On his part Francis Languba Keillie , ONS , whilst talking on identifying safety mechanisms available to journalist said in order to develop the relationship between the media and the security sector in the country , the ONS have develop , validated a strategic media communication plan in order to demystifying the issue of security.
" we did a national threat assessment from 2001/20002 . The national threat assessment informed us that 95% of our threat as a country is largely internal and those threat are human security related. Poverty , denial of justice , unemployment , lack of access to educational opportunities . No sooner you are denied those human security rights it is a recipe for insecurity. ''he said, adding that a man that has been denied justice can kill , so also a man is hungry would resort to stealing.
He said when talking about national security it is not just that strategic , gun totting security as he said 90% is related to human security relating issues thus stating that social scientist have postulated that country's that have gone through conflicts especially conflicts that are related to governance , resource allocation adding that if those deficiencies that precipitated are not addressed there is every tendency for that society to relapsed which he said it can be low intensity after 20-25 years .
He concluded that even though that the war has ended there are still issues like poverty , unemployment to name but a few which are potential threat to national security of the state thus the need for the collaboration with media to serve as watch dogs in society.