SADC Steps Up On Post Covid-19 Recovery Agenda
By Nevson Mpofu*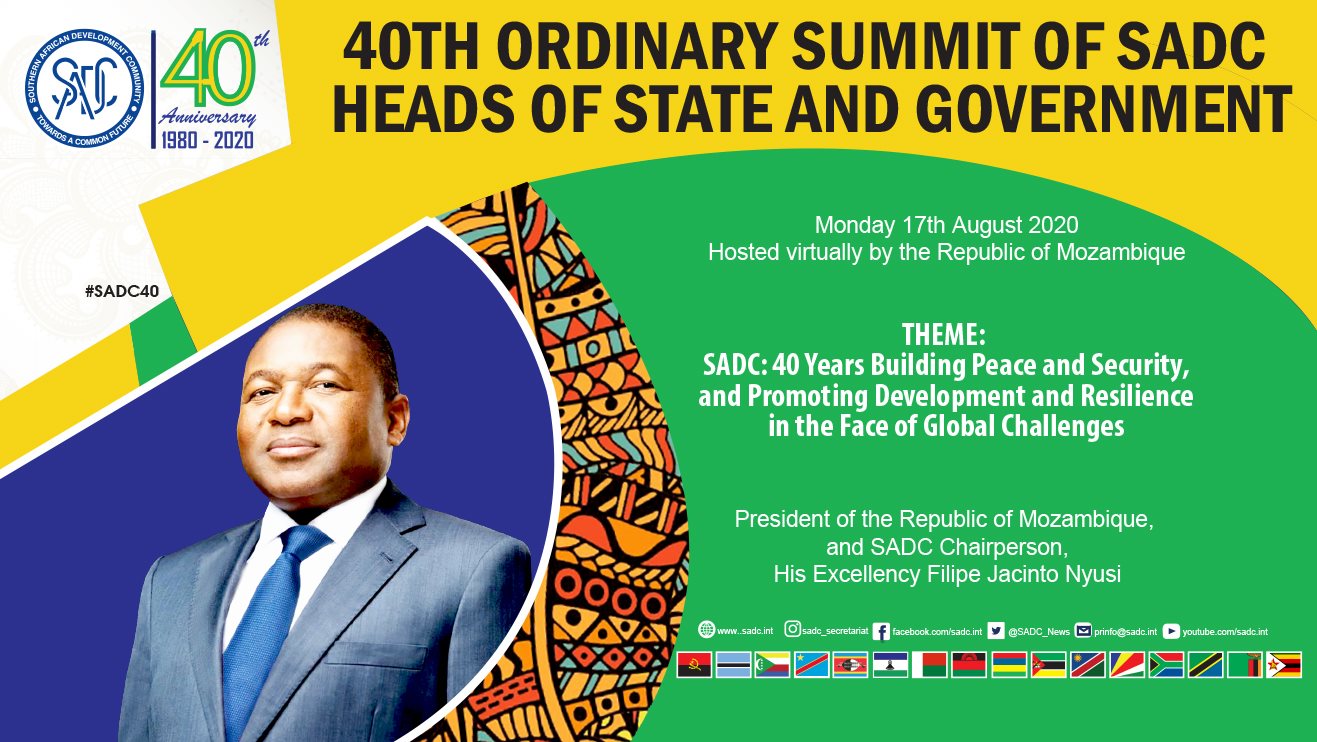 African countries as well like what SADC heads on to fight against covid-19 , the same must be with the East African Community and the Economic Commission for West African States . Covid-19 has turned some African countries into poverty of all forms after some opted on lock-down. SADC recently took a stance showcase to address thorny, tightening and dragging challenges exposed to humanity by covid-19 .
SADC's five countries Mozambique, Lesotho, Zimbabwe, South Africa and Botswana were at it to discuss vital issues of concern for the people of Southern Africa. The three-day conference which started on 18 August in Maputo ended on 20 August. There are vital issues of concern that were addressed to pave way for countries in the region into a path for economic recovery.
-People demanded a People Centered Covid-19 recovery
-People rose voices to end In-Equalities
-Voices against poverty
-A SADC with Leaders who respect dignity and integrity of All people regardless of race, tribe, religious affiliation or creed.
-Economic Recovery post covid-19 to face no new challenges that affect people and the Economy.
The theme of the summit was titled Towards a People Centered Post Covid-19 Recovery Plan for SADC. Boaventura Monjane is the organizing committee member and Janet Zhou , a Zimbabwean who is Secretary General of Southern Africa People's Solidarity Network [SAPSN] is leading with voices of demanding a people centered post covid-19 recovery . She is also the Director of ZIMCODD [Zimbabwe Coalition on Debt and Development]
The conference stood by the people of the Region to address inequalities between men and women and the rich and poor. The gap of gender in-equality continues to widen in this time of covid-19 in the Region. Janet Zhou's eulogy flew through communication posted to media days before the conference This came as an invite to attend the virtual symposium.
"We therefore appeal to Governments in the SADC Region to institute emergent measures towards elimination of covid-19. We go deeper as well in addressing how best we can alleviate poverty and vulnerability which is increasing in the Region.''
"There are gaps created by increase of in-equalities between men and women, the rich and the poor in this Region. That is what we have to talk about with various social movements. Countries must move towards equitable sustainable development meant to address poverty amicably in an equal society.'
''Governments in the region must put in place emergency measures to find lasting solutions to challenges which are widening gaps between the rich and the poor. This comes at a time we are facing civid-19 . It therefore gives us the punch to make Governments accountable and transparent so that people's problems at large are quickly addressed.''
There were several Social Movement Leaders from the 5 countries. There were also a big number of panelists who made strong effort to stand for the truth and save the people in their respective countries from where they are from. The conference started with feed-back from the Consultative Solidarity Assembly with the Solidarity message for a United SADC against in-equalities, closing in-equality gaps, alleviating poverty and coming up with emergency solutions.
The 2nd day, 19 August looked at Thematic Assemblies and side events. It also took on SADC Universities Public Speaking Championships and Lastly the Cultural Festival Show-Case in the evening. The last day 20 August is the Launch of 2020 SADC People's Summit Declaration. It was followed by feedbacks. After that came the adoption of Summit Declaration and plan of Action. A Press Conference closed the symposium.
Through Twitter, Face-Book and Instagram some Leaders of Civil Organizations have spoken. Speaking in persiflage writing Rachel chagonya of Tanzania said some Regional organizations must emulate the work done by SADC in solidarity with the people to end poverty.
''Some other regional organizations must be at it to join the same band-wagon. Let us join hands in other parts of Africa to talk on daily issues affecting the people at large. Let us remain focused on a reflective practice to look from where we came, where we are and where we are heading to . Let us build a new Africa through social movements like the SADC People's Forum.''
''Yes, we have Health Challenges of this pandemic but let us know that there is nothing we can do because its us who are the culprits. We have to remove obstacles that impacts on our development, move forward in the spirit of pulling down our challenges, burying them and building a new Africa with rest of hope in people of united solidarity.''
Mukasiri Sibanda an Independent Researcher comes out with solutions of African organizations to remove obstacles of the past Africa that used to make people plunge in poverty .He further illustrates with fine examples of what SADC comes out with in Regional Integration , policy development and the Regional Indicative Strategic Development Plan [RISDP] that gives SADC a headway into a delve to address economic challenges through a policy with people at heart .
''If countries come together through Regional organizations in a unison of oneness for economy progression, we see a new Africa. A new Africa is built by Leaders and their people with the hope to remove obstacles and all challenges. Yes, we have challenges, but, now what s next then in the light of a new Africa we want. Let us unite for a New Africa with Transparency and Accountability.''
A Policy Analyst Rangarirai Chikova of the African Forum on Debt and Development bursts out .. ''We need to review our policies, repeal some of them and make a new way forward of new ideas with a new line direction in the light of development. We need to make Leaders become accountable for their behavior. Let us hold them for transparency and put them on sharp corners so that they understand what we want as people.''
John Mpola of the Ministry of Finance, Tax Division in Malawi takes this discussion with its real meaning for a new Africa. John believes in accountability, transparency, credibility and professionalism. He says if all countries make it accountable, we see change through our financial ideas that work to save future generations.
''We just need to be accountable, transparent, and credible. In-fact we link this with accountability to have an Africa with that light of economic change. Countries must work more on new tax policies to financialize their economies''.
Bishop Enock Okanji former Chairperson of EEWANET] from Kenya takes covid-19 era as time to move forward without stop rather than getting locked.
''The moment you lock-down, you have as well locked yourself. Let us work like how we have been doing it to remove obstacles along our way. Africa needs new innovative ideas. Africa needs new blood of Leaders who are in direction, who are learned and down to earth for economic development.''
''God has come with his time to test us whether we are defensive against what is nature. At the same time, we people we create problems for ourselves rather than fighting problems we fight against each other. God has now time with us to see if we are strong to stand against huddles on our way.''
James Boboya is the Director of the Institute of Social Policy and Research [ISPR] in South Sudan. He represented [EWANET] at the People's Summit in Mozambique. Let us work on policies that protect and support people. Policies must focus on poverty reduction, social protection and support with the people at heart.
A Political Analyst Frank Chikomba blames Politicians in Africa for failure be accountable and transparent in terms of policy development. They take time in political aggrandize and avarice rather than working on a New Africa.
'' Policies must focus on Social Support and protection in-order to address issues that are real and existing. These affect peoples. So we need to work out on new robust policies for social change ''
''The problem with Africa is political. They fight at a time they are supposed to build their economies. Some Leaders of Africa have no valued vision, instead they have optical illusion.''
Africa has a number of Social Movements with the punch to fight for change. Many of them have taken lead in building equal societies, fighting poverty, pushing for new Revolutions with the mind to free the mind of those undermined rights. In this age these movements have come to the front protecting people from the mounting Health challenges.