Cameroon: Makoge Collins, Biggy237 Contestant "Extraordinaire"
The King of "Talk and Do" has the prime objective of winning the competition and giving back to his community.
By Boris Esono Nwenfor
The inaugural version of a reality show termed "Biggy237" is set to hit TV screens across the country this August 1, 2020. Biggy237 was set to begin in January 2020, but due to the coronavirus pandemic, it was pushed forward.
61 contestants from across the country are set to enter the inaugural show. One of the contestants set to thrill viewers is Makoge Collins, Biggy contestant No.18. A graduate from the Department of Journalism and Mass Communication, 25-year-old Makoge Collins was born in Kumba, into a family of six children, being the last child, is a journalist at HiTV Cameroon, a sales representative at Colgate-Palmolive Distribution Company.
In an exclusive interview with Pan African Visions Cameroon correspondent this July 13, 2020, the self-styled king of "Talk and Do" say through Biggy 237 he intends to be one of the best Cameroonian entertainment journalists and also plan to become a creative Director.
PAV: How did you get involved in Biggy 237?
Makoge Collins: I saw the ad on Facebook but I was not interested because I was like it is another competition in Cameroon that things will go sideways. When it comes to competitions in Cameroon they always give it to the wrong persons, focusing on like, votes, and shares which for me is not a good way to say somebody merits an award. I was persuaded by my friend to go in for it, and I sat I thought what do I have to lose if go in for it? I did an audition video and send, and everything just exploded from there. With time, I knew that I needed the exposure, for people to see what I can do, and to see entertainment at its core.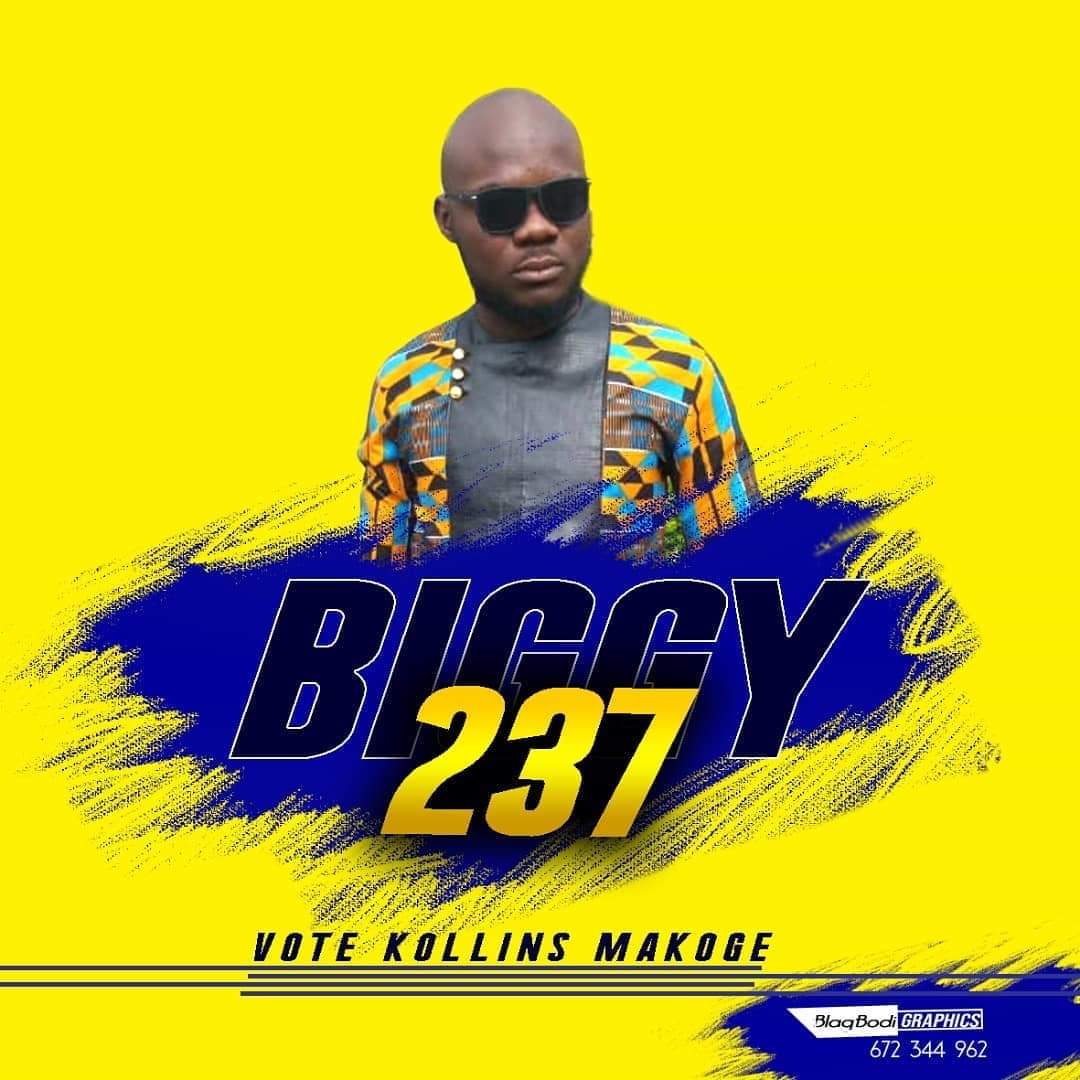 PAV: What are some of the tasks you have been able to achieve so far?
Makoge Collins: We had four tasks that were presented and voted on. The first task was selling our location since as I am from Buea I sold it to tourists to make them interested to come to Buea. We had other tasks like how will you protect the environment; show how you care about your family and do an advert. All these things were very easy for me because it is something I love doing. It was a fun exercise.
They (organizers) told us that the winners will get a prize or something as it was based on votes and likes. There were many contestants whose tasks were not good at all based on quality and content. The panel knew that but since the contestants were popular hey had more views, likes and shares and votes because they could afford it. That is the only issue I faced with the assigned tasks.
PAV: What makes you stand out from the other 60 contestants competing?
Makoge Collins: What you see is what you get. I will not go there and be fake but I am going to be myself. I am confident and if I know I can't do something I say it. With me Collins I am the king of talk and do. Even if it means I might fail or not always the winner it won't stop me because I will work hard next time so I do better. I will not let anything stand in my way, I am a fighter. It is all about impressing people, creating awareness of what I can do. Many contestants will be like I can do this and that but with what I have seen, not all can do what they say they can do. What I see is just a brand but it is empty, it does not come with a package.
PAV: So what is your ambition?
Makoge Collins: I want to be one of the best entertainment journalists in Cameroon. With this (Biggy 237), it will give me great exposure. I also intend to become a creative Director. I like coming up with unique ideas, something different because with entertainment or fashion, unique or something different stands out more. I intend owning a business as it is my plan B. Apart from journalism, I want to be a great business person because have that mindset.
PAV: What are your telling your supporters and fans?
Makoge Collins: I am telling them that that thank you very much for standing by Collins, for being on this journey, for the push, for believing in me even when I did not fully believe in myself because what they tell me I feel like I can do more. I want to do more, not just for myself, my family but for them. If I end up winning, it is not just for me because it is always good to give back to society. I will make sure that they get a token of my prize, it might not be much but just to say thank you. I want to make them know that they are under the right flag, they are supporting the right person and we are going to fight till the end.