Cameroon: CHRDA Trains CSOs on Human Rights Monitoring, Investigating, Documenting and Reporting
By Boris Esono Nwenfor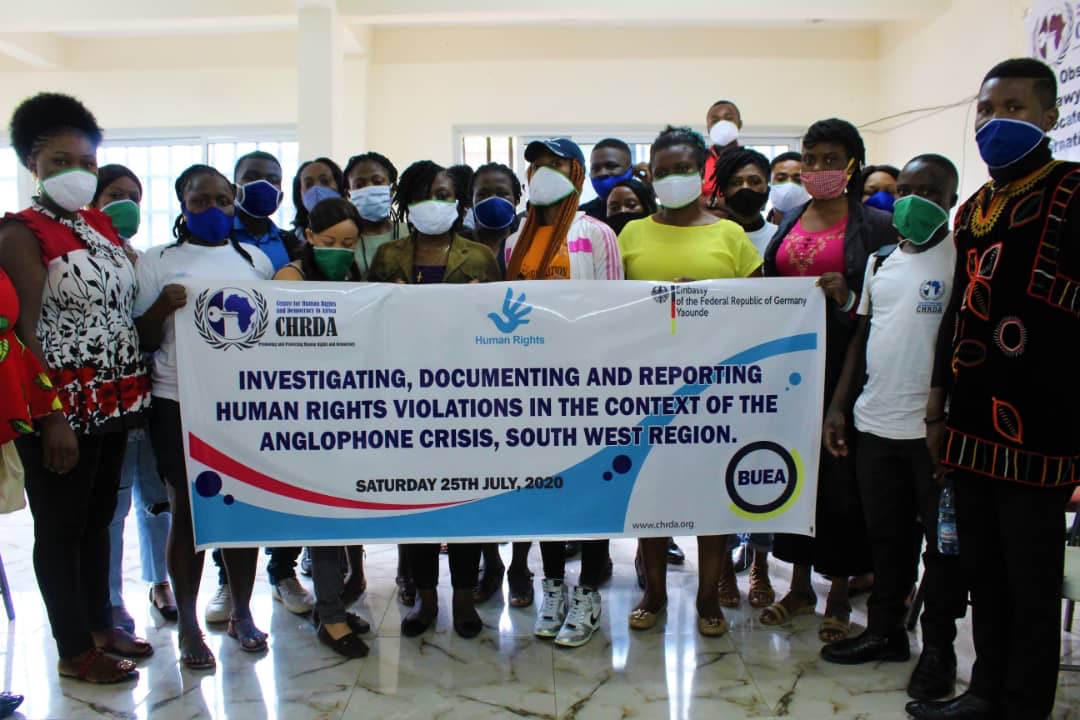 Over 30 civil society representatives from across the South West Region of Cameroon received training on monitoring, documenting and reporting on human rights violations in Cameroon. This was during a one-day training workshop organized by the Centre for Human Rights and Democracy in Africa (CHRDA), in partnership with the German Embassy in Cameroon on Saturday the 25th of July, 2020.
The training session, organized under the theme "Monitoring, Investigating, Documenting and Reporting Human Rights violations in Cameroon", sought to build the capacity of human right defenders, civil society groups and Individuals currently monitoring, investigating and reporting human rights abuses and violations committed in the two English speaking regions of Cameroon.
The training comes amidst worsening human rights and humanitarian catastrophe in Cameroon's Anglophone regions and falls in line with CHRDA's capacity building programme for human rights defenders and civil society groups in Cameroon.
Speaking, Bar. Agbor Nkongho Felix President of CHRDA stressed on the importance of knowing the goals and objectives of monitoring human rights violations, as well as the necessity in respecting due process when reporting violations. He regretted the fact that the COVID-19 pandemic has been affecting the works of human rights actors, though he encouraged participants to share the knowledge gathered with their respective organizations to ensure adequate promotion and protection of human rights in times of crisis.
Akem Kelvin Nkwain, Human Rights Officer at CHRDA, in his presentation stated that the training is important as it is a way of keeping track of all human rights atrocities committed by the different actors, and to hold perpetrators accountable for their crimes by eventually seeking for justice.
He added that this training was delivered to human rights defenders as a means to give justice and the rule of law a chance to prevail over impunity, not only in Cameroon but everywhere in the world. "As human rights defenders, we try to put an end to the impunity which could be achieved if we monitor document and report gross human rights abuses," Akem Kelvin said.
The second session focused more on documentation and report writing. During this session, the emphasis was laid on the importance of accuracy and details in human rights reporting, citation of sources, cross-checking of information, impartiality, the use of qualitative and quantitative information. Tonga Benjamin, Humanitarian Officer at CHRDA, ended his presentation with a quote from Dina Asad, Euro-Med Monitor Coordinator on investigating human rights, which states "when human rights violations are not investigated, documented and reported and serious consequences do not follow, human blood becomes easier to shed."
Participants at the workshop expressed their gratitude and satisfaction to the organizers of the training session especially because it comes at a time in which the human rights situations in the two English speaking regions of Cameroon have been deteriorating.
Major presentations delivered at the workshop included but are not limited to, the meaning of monitoring and investigation, the methods of monitoring, how to conduct an investigation, the importance of understanding international human rights law, humanitarian and criminal law as tools to protection and promotion of human rights.
Dr Vera Fokum, Executive Director of CHRDA said the timing of the training program could not be underestimated especially within the context of the Anglophone crisis in Cameroon. "We need to be seen on the field and most importantly, we need to serve as genuine defenders in the face of alarming violations of human rights. The necessity of this workshop cannot be underestimated especially with the current situation in the North West and South West Regions.