Cameroon: Chief Nkemayang Paul, Publisher of The Star Newspaper interred
By Boris Esono Nwenfor
One of the leading campaigners for media rights in Cameroon and the Publisher of the Star Newspaper Chief Foanyi Nkemayang Paul, who died June 18, 2020, had been laid to rest. The burial of the journalist, traditional ruler took place July 25, 2020, in Limbe, South West Region of Cameroon.
The late traditional ruler died of a reported diabetic coma at the Presbyterian Health Centre in Down Beach Limbe. According to the wife, the late Chief Nkemayang Paul was rushed to the hospital and his vital signs were checked, revealing that his blood sugar level was above 500 which made him to go into a diabetic coma before his demise.
Scores of people, friends, family members, fellow journalists, and government officials (Minister Paul Tasong, Senator Mbella Moki Charles, Andrew Motanga Monjimba, Limbe City Mayor) turned out at the Catholic Church in Bonadikombo, Mile 4, Limbe to pay their last respect.
He founded The Star Newspaper in January 1991. The Knight of the National Order of Valour was pioneer President of the Commonwealth Journalists Association, CJA Cameroon cumulatively serving as Vice President of CJA Africa.
Chief Nkemayang Paul was a founding member of the Cameroon Association of English-Speaking Journalists, and a founding member of the National Communication Council. He was also technical adviser to the Cameroon Anglophone Newspaper Publishers Association, and a traditional ruler in his native Lebialem. He was crowned Osari Maribu in Manyu among other traditional titles he received.
Speaking to the mourners His Lordship Bishop Andrew Nkea of the Bamenda Metropolitan Archdiocese said, "We have lost a promoter of social justice, and an ambassador of truth." "Chief Nkemayang was ready to give his all for his people and defend human rights."
The Bishop went on to call on all to stay awake and for all to be ready as they do not know what tomorrow lies ahead. To him, everyone should be dress for action as one can just drop dead at any moment. "Always stand for truth and do not manipulate information for your advantage. Always have the duty for you to defend those who are being oppressed," Bishop Andrew Nkea told journalists.
Chief Nkemayang dedicated his over three-decade journalism career fighting for a better society, improved working conditions for journalists and the abolition of obnoxious and archaic media laws. As a journalist he had no fewer than eight detentions without trial. He was never prosecuted, but was always persecuted. Chief Nkemayang's courage and readiness to continue doing his work in truth won him several distinctions at home and abroad.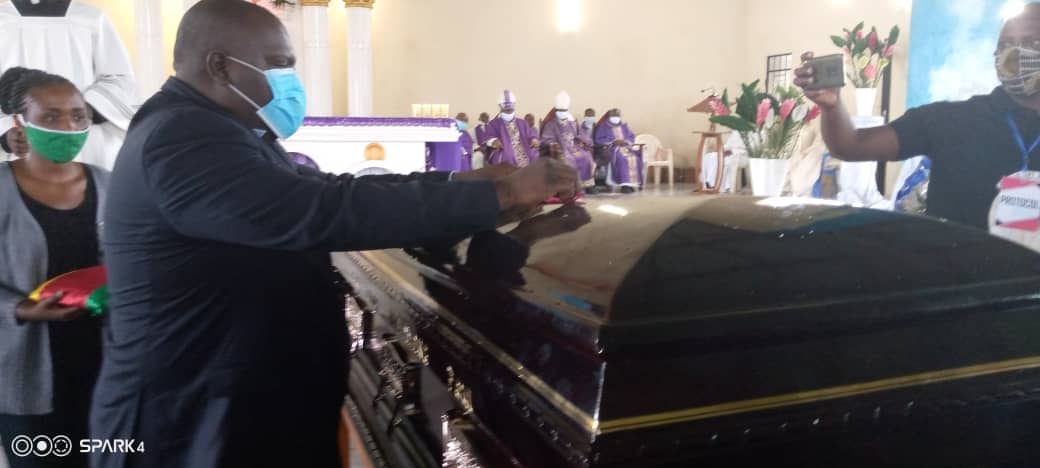 It was his advocacy of a free press and journalists' rights for which Chief Foanyi will probably be most remembered. He was detained several times by the authorities but never prosecuted. He was prominent most recently in the campaign for justice for fellow Cameroonian journalist Samuel Wazizi, who died in suspicious circumstances while being detained by the military.
"A good journalist must be somebody who is courageous, one who speaks the truth without blinking, and one who writes without blemish," Chief Foanyi Nkemayang Paul once said.
Samuel Wazizi had been accused of speaking critically on air about the authorities and their handling of the crisis in Cameroon's English-speaking regions, where clashes between soldiers and separatists calling for independence or more autonomy have left many dead. Many more thousands of people have been displaced.
The late Chief Nkemayang Paul was posthumously decorated Commander of the National Order of Valour, something the chief had been seeking before his demise. "… Today I feel like he is a happy man and I feel that what he wanted 9Commader of the National Order of Valour) the state has recognized him even at his dead," Solomon Agborem, Editor of the Star Newspaper told PAV.
"… We are going to miss him but I can assure the Cameroonian people that we will continue dedicating service and truth as our motto of The Star Newspaper. The paper lives on, and they should expect to read from us as the bigger stories are right ahead."
"He was someone who not only fought for the rights of journalists but fought against all forms of gross human rights violations. It is a big loss not only to the media houses but for everyone in the North West and South West Regions. We hope the young journalists will follow in the chief's footstep and leave a legacy for posterity," Barrister Agbor Nkongho Felix said.