Cameroon: A Heavy Toll On Journalists Covering The Anglophone Crisis
By Amos Fofung*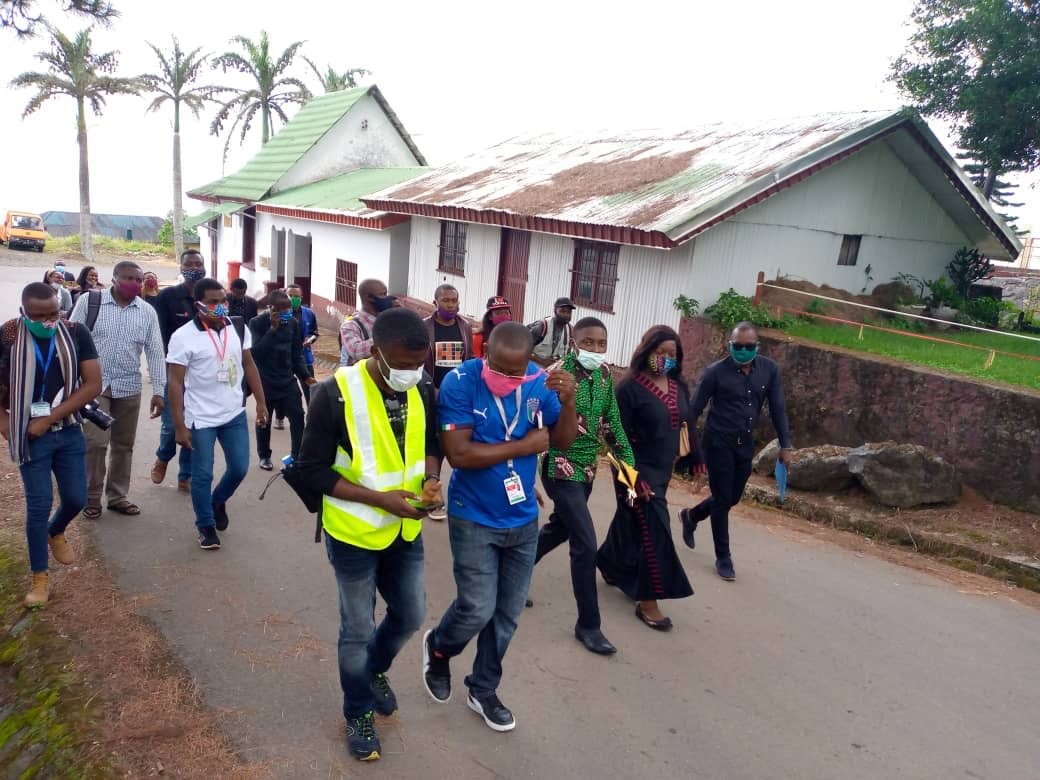 For over ten months, judicial and administrative officials in Cameroon's English-speaking town of Buea, dribbled journalists, civil society actors, press advocates and international organizations in what is now described as one of its biggest cover-ups of the 21st century for the sub-Saharan nation.
This comes after journalists filed a habeas corpus in court demanding the whereabout of their colleague, Samuel Ajiekah Abuwe, popularly known as Samuel Wazizi. The said journalist who works for a local TV station, CMTV, was arrested in August 2019 for" criticizing the government's handling of a separatist revolt" according to rights group Reporters Without Borders (RSF).
Journalists sought to make contact with the detained pressman but were told he had been transferred from police detention to a military holding site. After months without any necessary due legal process to charge or prosecute him, his colleague feared the worst might have happened and filed a habeas corpus.
The case was presented in court and suffered many adjournments. It was not until about ten months after his arbitral arrest that rumors emerged he had died in custody after he was brutalized by security forces.
Faced with international condemnation and diplomatic pressure reinforced by protest from journalists in the country, the government of Cameroon in an attempt to save face said he died from a medical condition.
In June 2020, Cameroon's army confirmed Wazizi died in detention but insisted that he died "as a result of severe sepsis". In the statement, army spokesman Cyrille Atonfack Nguemo said the military took custody of Wazizi on August 7 after investigations revealed he was coordinating logistics for separatist fighters – charges his family and colleagues deny.
On August 13, Nguemo said, Wazizi was placed into the custody of the national gendarmerie – a military police force. Soon after, Wazizi became sick and was taken to hospital in Yaounde, where he died on August 17, Nguemo said.
"He clearly died from a severe sepsis and not from any acts of torture," Nguemo said, rejecting accusations of torture made by the head of the journalists' union.
Nguemo also said that Wazizi's family was informed of his death. But Wazizi's brother, Henry Abuwe, denied that.
His mortal remains are yet to reach the family and no autopsy results have been conducted. The government via the military spokesperson failed to explain why colleague of the deceased journalist were never informed of his death when they filed a case in court and continuously showed up in court for several months.
The Committee to Protect Journalist, CPJ, which has being monitoring the dilapidating state of press freedom in Cameroon wrote that for months following Wazizi's "diasperance" before he was declared death, they tried to get in contact with Cameroon's minister of Communication, Justice and even the Prime Minister's office but all messages and calls were ignored.
CPJ's Africa Program coordinator, Angela Quintal expressed her frustration with the silence from Cameroonian authorities saying, "the unbelievable cruelty of the Cameroonian government…just as with the death of journalist Bibi Ngota, it believes it can cover-up what happened by lying. We demand an independent inquiry into Samuel Wazizi's killing and the conviction of those responsible."
After meeting with Cameroon president, Paul Biya on June 5, 2020, French ambassador Christophe Cuilhou tweeted that the president had promised to open an investigation into the death of journalist Samuel Wazizi.
Anyone apt with the politics in Cameroon will know that investigations are always opened on paper – and ends there. Throughout president Paul Biya's 38 years in power, a handful of his promised investigations have ever been completed, worst till made public.
The situation in Cameroon could not be worse. There are currently about seven journalists detained in relation to their work in the central African country that currently occupies the 134th position on Reporters Without Borders 2020 press freedom index.
Kidnapping of journalists on the rise
News about the abduction of journalist Ambe Macmillian Awa on February 21 2019, in Bamenda landed another blow on press freedom efforts in Cameroon.
Local media reports hold that the broadcast journalist was "kidnapped" by gunmen in Bamenda, chief town of the North West, region. His disappearance comes barely twenty days after the release of two other journalists, Theodore Tchopa and David Eyengue who were arrested while covering a protest against electoral hold-up in Cameroon.
Ambe Macmillian Awa is the Secretary-General of Cameroon Journalist Trade Union, CJTU, North West Chapter. He also serves as the North West President of Cameroon Association of English-Speaking Journalists, CAMASEJ. Both bodies advocate for better press freedom in Cameroon.
Reacting to the news, Fongoh Primus Ayeh, Secretary General of Camasej called on the perpetrators of such a "grievous act" to release him with immediate effect.
His arrest prompted journalists in Cameroon to launch a campaign dubbed #FreeAmbeMacmillian, twitting that "Journalism is not a crime."
24 hours after his abduction, Ambe Macmillian was liberated by his abductors after a near-dead experience. Debriefing his colleagues at his Bamenda residence, Amba -explained that he was taken away at gunpoint by pro-separatist fighters who threatened him to cease from reporting about school resumption in the North West region.
In a public statement after his release, the Cameroon Association of English-speaking journalists, CAMASEJ said they, (separatist fighters) "accused" Ambe of advocating for school resumption.
Throughout his abduction, the government made no public statement concerning the situation. A situation which does take many by surprise as private journalists in Cameroon are said to receive little or no protection from the state.
"Journalist Not Terrorist"
In its September 2017 report titled "Journalist Not Terrorist", New York-based press freedom advocacy organization, Committee to Protect Journalist, CPJ, observed that "in Cameroon, anti-terror legislation is used to silence critics and suppress dissent.
Since 2016 with the commencement of civil protest in Cameroon's English-speaking regions in what is today known as the Anglophone Crisis, media crackdown has taken central stage especially "as the government tried to control the narrative of information disseminated about the crisis." A CPJ report about press freedom in Cameroon wrote.
Journalists in their numbers have been arrested, charged, detained, threatened and some forced to leave their jobs. Media organs and practitioners have suffered severe sanctions and suspension from Cameroon media watchdog, National Communication Council, NCC, whose members are all appointed by the government.
The body has on many occasions "threatened to suspend media organs and reporters" that report on the crisis; CPJ noted.
Worsen by the Anglophone crisis
On January 19, 2017, Mancho Bibixy, broadcast journalist with Abakwa FM, in the North West region became the first journalist to be arrested and jailed in relation to the simmering Anglophone crisis.
The mastermind behind the coffin revolution had before his arrest being very vocal of the government's failure to carryout basic socio-economic developments and paraded the streets of Bamenda with a coffin stating that he is ready to die and be buried unless the government provide answers as to why the English-speaking parts of the region were grossly neglected on the country's developmental agenda.
He is currently serving a 15-year sentence on anti-state charges and false news in relation to his advocacy for greater autonomy for the English-speaking minority in Cameroon. Bibixy was tried along with two other journalists, Tsi Conrad and Thomas Awah Junior both serving jail terms.
By the end of 2017, some eight Anglophone journalists were behind bars for covering civil protests in the North West and South West regions. Many have been forced into self-exiled for fear of persecution.
In November 2018, television presenter, Mimi Mefo Takambo who heads the English desk for privately-owned Equinoxe TV was released from jail after been charged by a military court for "publishing and propagating information that infringes on the territorial integrity of the Republic".
She was arrested on November 7, 2018 and freed three days later. All charges levied against were dropped.
Her arrest was described by press freedom advocates as a tool to intimidate media practitioners covering the civil unrest in Cameroon's restive English-speaking regions.
In July of 2018, then Cameroonian Minister of Communication, Issa Tchiroma Bakary insisted that no journalist was detained in Cameroon due to their work, even though the superfluity of evidence proved otherwise.
The government has continued to paint Cameroonian as a great respecter of press freedom even though journalist Akumbom Elvis McCarthy continues to languish in jail as he undergoes trail for reporting military excesses in the restive English-speaking regions of Cameroon.
Government's altitude fueling attack on journalists?
Journalists in Cameroon receive very little protection from government and security forces while covering sensitive issues. A print journalist who spoke to this reporter noted said threats and assaults on media practitioners are hardly investigations.
The newspaper editor who pleaded for anonymity for fear of prosecution told us that the government needs to do more to protect journalists in Cameroon. He says governments actions and treatment of journalists spurs further attacks on the practitioners.
Calls on the government to investigate the stabbing of Cameroon Web reporter Paul Chouta who was assaulted with a knife outside his home in Yaounde in January 2019 has yielded no fruits.
A Deutsche Welle correspondent in Bamenda, Cameroon's restive North West region was seriously beaten by soldiers May and was hospitalized.
Jean Marie Ngong Song received medical treatments after the military inflicted severe injuries on his body. According to the journalist his identification documents were seized by the soldiers who forced him to enter a military vehicle.
"I was beaten, my identity card collected. They asked me to go and enter their car, I asked them to tell me what crime I committed. They didn't. I entered a taxi and left. They interviewed my friends and… they only sent my ID card later," he narrated.
*July issue of PAV Magazine