Arcadia Cameroon Equips Young Entrepreneurs with Inimitable Business and Personal Development Skills
By Boris Esono Nwenfor
The 6th edition of the Arcadia workshop series has been organized with young Cameroonian entrepreneurs and prospects drilled on business and personal development skills.
The Arcadia Cameroon workshop is the brainchild of Pamela Happi, popularly known as Miss P, in partnership with the Miss P show and other sponsors were under the theme "Business and Personal Development". The époque-making event this July 11, 2020, was spiced with great discussions on various topics such as "The Stand out strategy", "Growth strategy", and "Financial strategy".
Speaking to the youths, the CEO of COSDEF Group Javnyuy Joybert said the right mindset requires deliberate practice. To him, practice is very important because one does not get up and is successful. "Succeeding takes a process, you learn, upskill, you succeed and people backstab you, many things happen," He said.
"For you to become a phenomenal expert in your field you need to go to work. The intense practice is good and for you to become an expert in your field you have to put in at least ten thousand hours. So we need to respect the basic practices of time, patience and hope."
It is very important for young people to not only look at the industries that are booming now but should look at industries that will start booming in two or three years now. Many people are missing that, and there are industries by 2022 we are not going to see them. As COVID-19 is ending it is going to take away many industries."
"… You need to look at what will change and what is going to stay the same, and how do I upskill in that direction… we need to look at what can I build to fill the gap, that is where foresight comes in, and creativity comes in."
"Youths should have that mental strength, that massive action attitude that no matter what happens today there is a better tomorrow and I can take actions today that can give me the right success I want to see."
With the present health pandemic, many businesses have gone out of business, while others are struggling to survive. One of the things to do to succeed in this present time is to be very agile, very dynamic and most of all very observant. "We are not going to go back to the way we were functioning because COVID-19 has destroyed many things and has also led to innovations. Some people will never again go to the physical office; they are going to work from home until they retire. As entrepreneurs we should always be observant, agile, create new ways of serving our customers."
Speaking on the Growth Strategy with focus on goals setting, Marja Motanga, of Dunamis Safety Net told the young entrepreneurs and prospect that before they set goals they need to first understand the beliefs system in which they harbour coming from external influences. "You need to identify the things you are doing now because other people had told you it was right to do but it not what is helping you grow. You need to reverse those things and rewrite your own story," She said.
"Goal setting is a process, it is not a one-day thing and there are so many characteristics you should take into consideration when you are going goal setting. You have to know. You need to know why you are setting it, who is holding you accountable, you need timelines, and you need to know what you are going to be doing to achieve those goals."
She added: "Having an accountability partner and right mentors is very important, and your goals will always be defined by your vision and purpose in life. There are so many things around goal setting but the first thing is at least have that target because if you do not have the target you will end up anywhere."
Nzima Yengue Landry, a participant said: "I came to the workshop to learn how to grow myself and develop my skills as I am into making videos on YouTube. This programme has changed my mindset. I believe in success and achieving your goals. I believe you can start small and you grow big."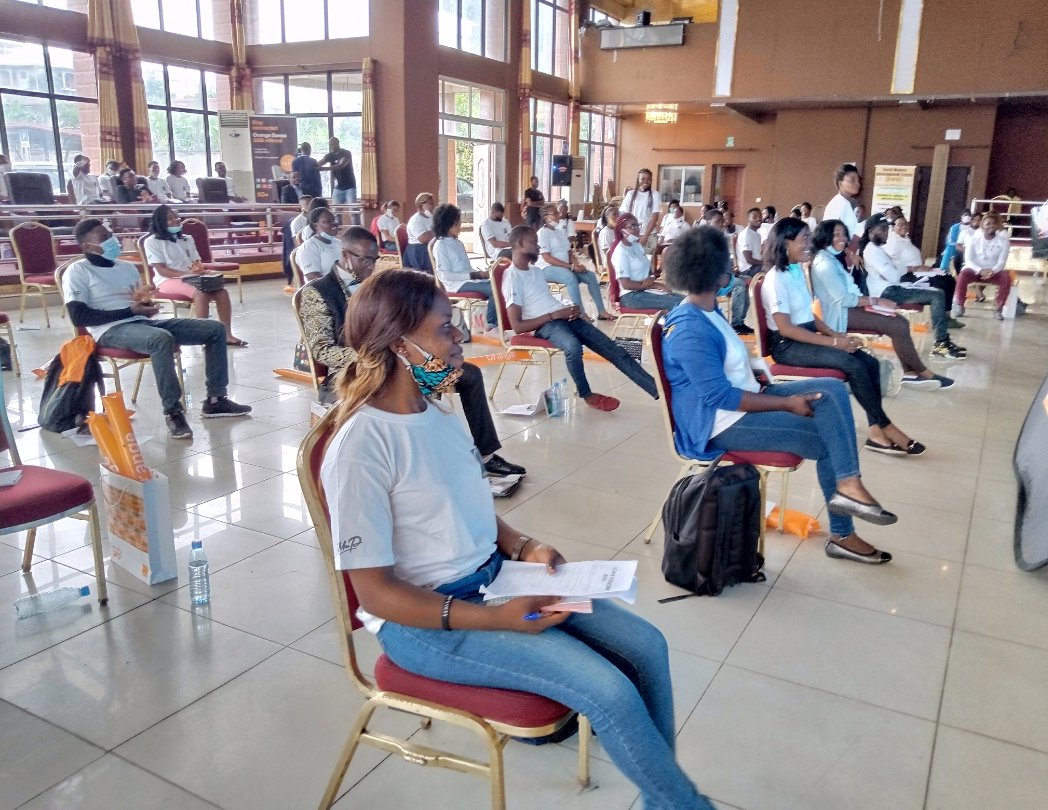 Netongo Ndolo Remy a school councillor and participant said the reason why she came to the workshop is that it was geared towards business and personal development since she is into that area. "What I have learnt is not something I knew but they have a different kind of insight they gave. I can say it was enriching and it has added to the knowledge I already had," She said.