Nigerian elites rise up to the COVID-19 occasion
By Kole Ade Odutola *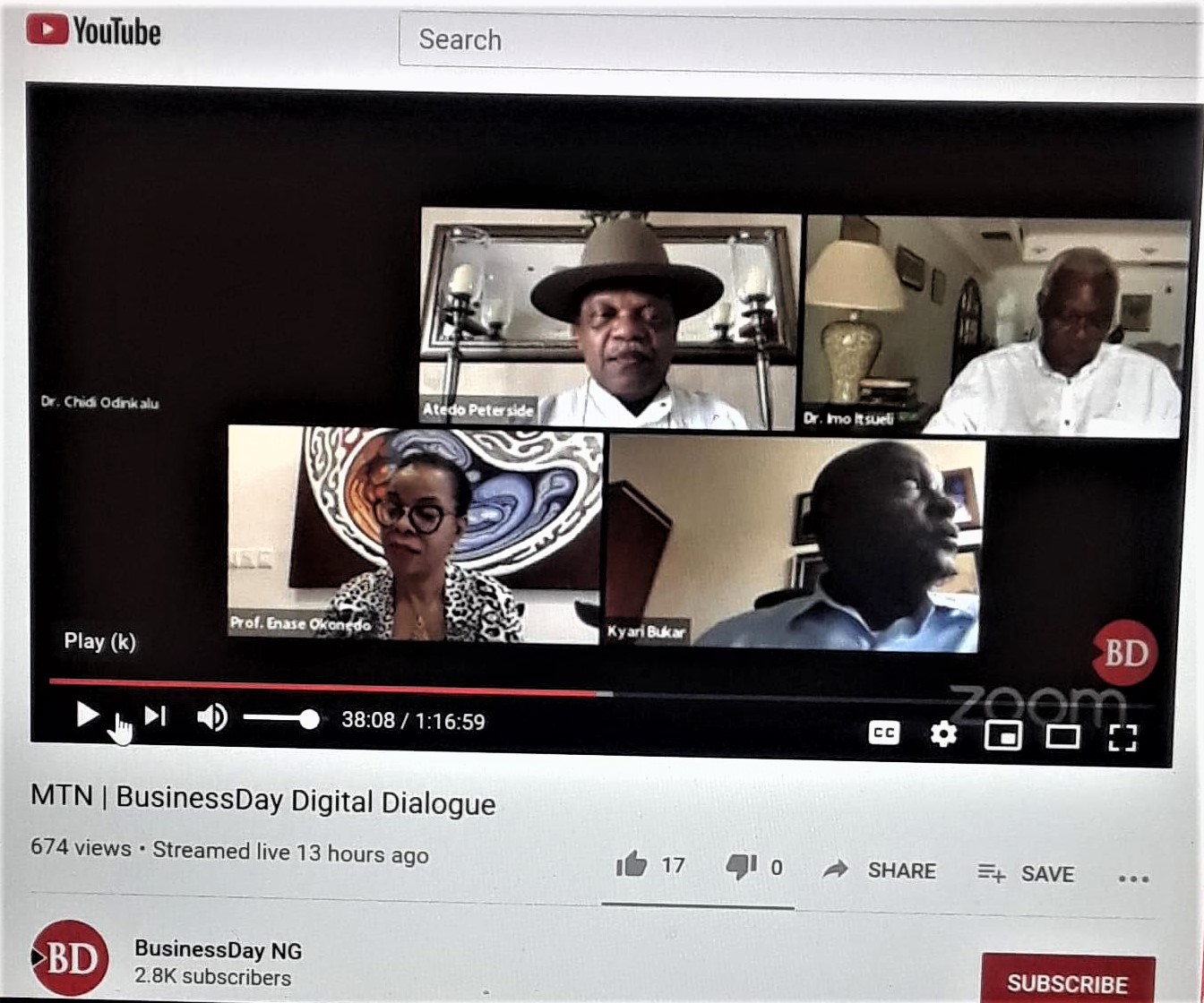 To those who study Nigeria and the elites, frustration is the first indicator you need to learn how to deal with. This is because there is no method to how they choose to intervene in social change. The poor of course are the binary opposite to the tiny minority of highly comfortable elites. It did not take very long to understand that if one wants to study the poor in Nigeria one must constantly pay attention to the activities (or inactions of) the economic elites. These bloc try to stay out of politics but they are king makers who refuse to show their faces in public unlike the political elites. A good case study is when Bill Gates a well known Billionaire the world over encountered Nigeria's Dangote, he was surprised at the shorter distance to power a Dangote has to those governing the different states in Nigeria. The story has been told too many times to merit a re-telling here again. As it is known Dangote is a brilliant mind but he never pretends to be an intellectual. He can perfectly read the direction of funds globally and his ability to place himself and his conglomerate in the path of good business has never been in doubt.
To those who have been following how Nigerian elites have tried to lead the way in the area of funding and ideas, you will know that Dangote started the COVID Coalition and his friends parted with Billions of Naira. They built make shift hospitals and helped with testing kits. Apart from their collectively efforts, there are also a series of actions they have been embarking upon individually that should go on the records.
Funding was not all the elites supplied. This brief report intends to single out three Bankers who in the last 20 years have shown the temperament of daring to run where intellectuals without financial muscles feared to crawl. These three men have been running with ideas using the instrumentality of information technology and a captive audience to send their own messages and signals.
(1). Atedo Peterside, Chair of the ANAP foundation and founder of Stanbic IBTC Bank was the first of the trio to hold a webinar (combination of web based seminar) in conjunction with Business Day about what the government can do about containing the novel corona virus. The webinar titled: The National Economic Emergency (Nigeria; the economy, governance and citizenship in the time of COVID-19). Prior to the webinar, he had formed an eighteen-member committee from across the six geopolitical zones of Nigeria and the diaspora (USA & Germany). They are said to be volunteers 'with decades of expertise in medicine, logistics, e-commerce, economics, finance, law, communications, religious knowledge, academia, mobilization, advocacy, sustainability, governance, accountancy, actuarial science, health management organisations, grant making and international disaster management" There is a lot to be said about his composition. The link up with Business Day, to my mind ensured maximum media exposure of the ideas they were generating.
I am not sure if his association with Stanbic IBTC Bank was pressed into service in any way but his bank was invisible during the webinar.
The take-away during the very well organized webinar was the reinforcement of the five initial mistakes the government made.
"a. Underestimating the coronavirus threat and having an Ebola mindset.
b. Allowing international flights to come in and not shutting the country's airspace on time.
c. Limited testing ability
d. Having a large informal and disorganized society, which makes it difficult to track people.
e. Inability to look after the poor and handicapped in society. Which is estimated at 80million people."
For further information on the alert the committee created see https://www.thecable.ng/anap-foundation-covid-19-think-tank-presents-coronavirus-alert
(2). If the Bank, Atedo Peterside has interest in was not visible, the same cannot be said of Tony Elumelu of UBA. He pressed into service all the resources of the Bank and ensured that his ideas or person is not upstaged in any way. The Bank has also capitalized on our email registrations to send us occasional emails (just a couple in fact). I guess nothing goes for nothing. During the webinar, his team ensured he was the moderator of the first part of the two part series. Moderation is not a new thing to Tony Elumelu. He did the same last year when Wole Soyinka and Femi Kuti were invited to speak about History in schools. You will give him a pass mark for that but this year around we only got to see his global connection and I as a critical listener did not get much out of that all male segment that included one president (if I am not suffering from memory lapse). If you had to bear the not too coherent segment, the second segment sort of rescued the day. Here Mrs. Euginia Abu, brought in all her years of broadcasting experience to give listeners a robust conversation. There is no need bothering you all with a summary of the segment. I think it is still on Youtube for you to watch.
(3). "A Global Pandemic: Local Realities and Peculiarities- A View from the Frontlines"
The last but never the least is the whiz-kid (or whiz-grand pa) of Banking of the 80s/90s, Hakeem Belo-Osagie (everyone called HBO). How can a brief "what is on my mind" do justice to this man. The good things I heard about him came from an Old Girl of Queens College who needed sponsorship for one of those TV series that took Nigerian Television by storm. HBO himself is one of those well connected Kings men. His friendship with El-Rufai and Mallam Sanusi is not a secret at all.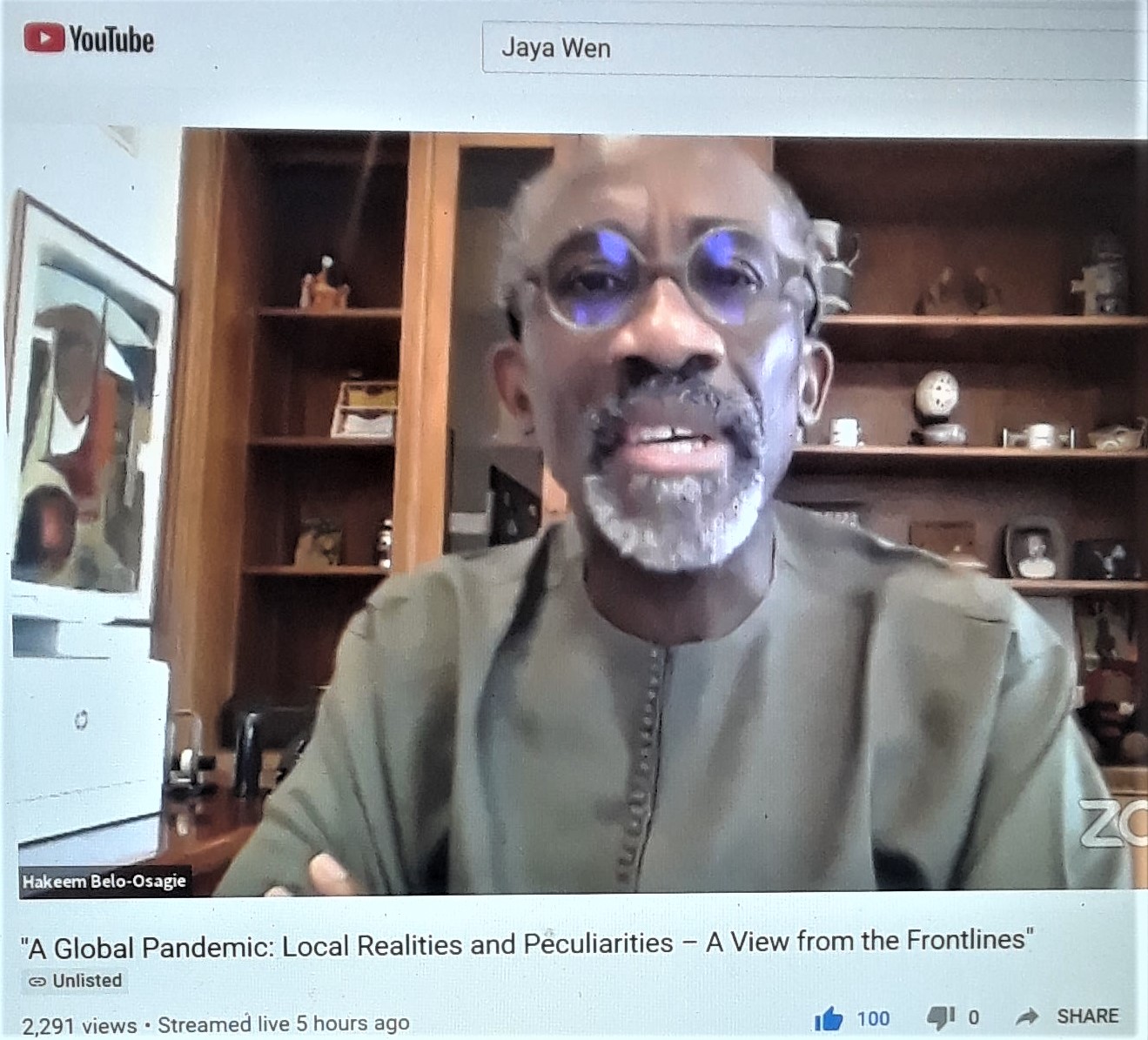 During his own version of COVID-19 webinar, he brought in three Governors and a fast talking Dr. Alero Robert, who had a lot to same in the very short time she had. There is no repeating the fact that El-Rufai scored very high grades in public speaking while he was at school. You may not agree with this style of governance but he speaks like someone who knows what he is talking about. He presented the situation in his state (Kaduna State) with so much grace. During his presentation he let a few "state secrets" slip out. Now we know that with the permission of National Communication Commission, states can use cell phone data for contact tracing. He presented his case in such a systematic way you almost will think that Kaduna state knows something that other states do not know and they are not asking him.
When it was the turn of Sanwo Olu of Lagos, he let us know as usual that he was taking copious notes. I have known about his idea of taking notes from the time of the debates.
I am saving money to buy those notes off him for my private collection. He gave a good account of how Lagos was tackling the situation. Yes, a lot has been done but the results and the efforts are not tallying for the simple reason that the Governor and his team think Lagos is one. As a geo-political, it may be one on paper but you cannot deal with crisis communication in the same way.
The third governor, from Edo State was not to prepared for the webinar and the IT guys were not helpful at all.
If there was a star of this show, it was HBO himself. I did not expect less from a King's man. He ended the session with a mini-lecture on leadership. Ha! Lest I forget this webinar was at the instance of a Bank HBO has interest in. The FSDH Merchant Bank based in Lagos, Nigeria while Mr. Belo-Osagie himself is probably based somewhere close to Harvard.
Conclusion: By the time science and systematic management delivers us from the menace of this novel virus, I hope Nigerian will not forget their capitalists who brought out their purses and ideas to help manage the situation. If anyone who is reading this is a friend of Professor Pat Utomi, please let him know I am not unaware of his COVID-19 information coalition, the pity is that there are hardly any digital footprints to help me reflect on his activities. He will not be forgotten when the long list of Nigeria's COVID-19 freedom fighters is compiled.
I am sure there are non-elites in Badiya, Bodija and other difficult spaces to get to, who are doing wonderful things as well. When this documentation is continued the Daily PTF will be reviewed too. These folks are working hard; I am just not sure they fully understand the diverse nature of Nigeria they are working for. Let us leave matters for now
*(Diary of a Lagos Bobo, June 2 2020) .Kole Odutola is a university teacher based in Gainesville, Florida. He is the author of Diaspora and imagined Nationality (Carolina Academic Press, 2012)