From Lost Boy To Beacon Of Hope For Global Refugees- Manyang Reath Kher On The Sharing Award
By Ajong Mbapndah L
From the wreckage of the South Sudan civil, a new generation has emerged with fresh hope on how to better the lot of refugees across the globe. One of the perfect epitomes of this new generation is Manyang Reath Kher who was part of the 4,000 Lost Boys who was fortunate enough to land a ticket to the United States in 2001.
A University Lecturer at George Mason University today, Manyang Reath Kher is better known for using the social enterprise 734 Coffee to advocate and conscientize the American population on the plight of refugees. Working with others under the aegis of the NGO Humanity Helping Sudan, Manyang Reath Kher has partnered with some other organizations to come up with the Sharing Award to understand and support the most vulnerable in society-refugees.
In an interview with Pan African Visions, Manyang says the Awards are intended to support individuals and organizations that work on sustainability, social inclusion, and diversity to recognize the humanity and hard work of refugees.
"My advice to successful citizens and especially those considered lost boys, is to invest in South Sudan. The country will not move forward if those of us who have learned and excelled in our respective professions or ventures do not return to invest our time and financial resources," Manyang says.
Thanks for granting this interview to talk about 734 Coffee and the Sharing Awards, first could we start with an introduction and your journey from South Sudan where you hail from to the United States?
I currently teach Human Rights at the George Mason University (Virginia). I also steer the social enterprise 734 Coffee, as we take the lead on human rights advocacy for refugees and distribute conscious consumer goods to educate the broader American population. When I, Manyang Reath Kher, was three years old, my village was attacked and destroyed by unspeakable violence. My uncle was killed while trying to help me escape. I managed to survive and lived in three different refugee camps for the next 13 years. Blessed by the hands of parishioners, I am one of the 4,000 Lost Boys who was fortunate enough to land a ticket to the United States.
How was the adaptation process like for you and what motivated you to come up with 734 Coffee and how long has it been running now?
I have a burning desire to help my fellow refugees who are forced to make their new homes in a foreign land. During my senior year in high school, I began working to develop my nonprofit, the Humanity Helping Sudan Project, and recruited others to help me with this effort. Founded in 2008 in Richmond, Virginia, my award­-winning NGO seeks to provide aid and assistance to the Sudanese Diaspora in the Gambella region of Ethiopia. HHSP's mission is to create sustainable solutions to help alleviate suffering in the region by providing over 40,000 displaced people in refugee camps with materials and resources to battle famine, agricultural training and cultivation of indigenous crops, and clean drinking water through expansion of water wells and springs. Within the past 8 years we have gained national recognition and top sponsor dollars to do just this as well as further enriching thousands around the world with my story, and the plight of the Sudanese refugees.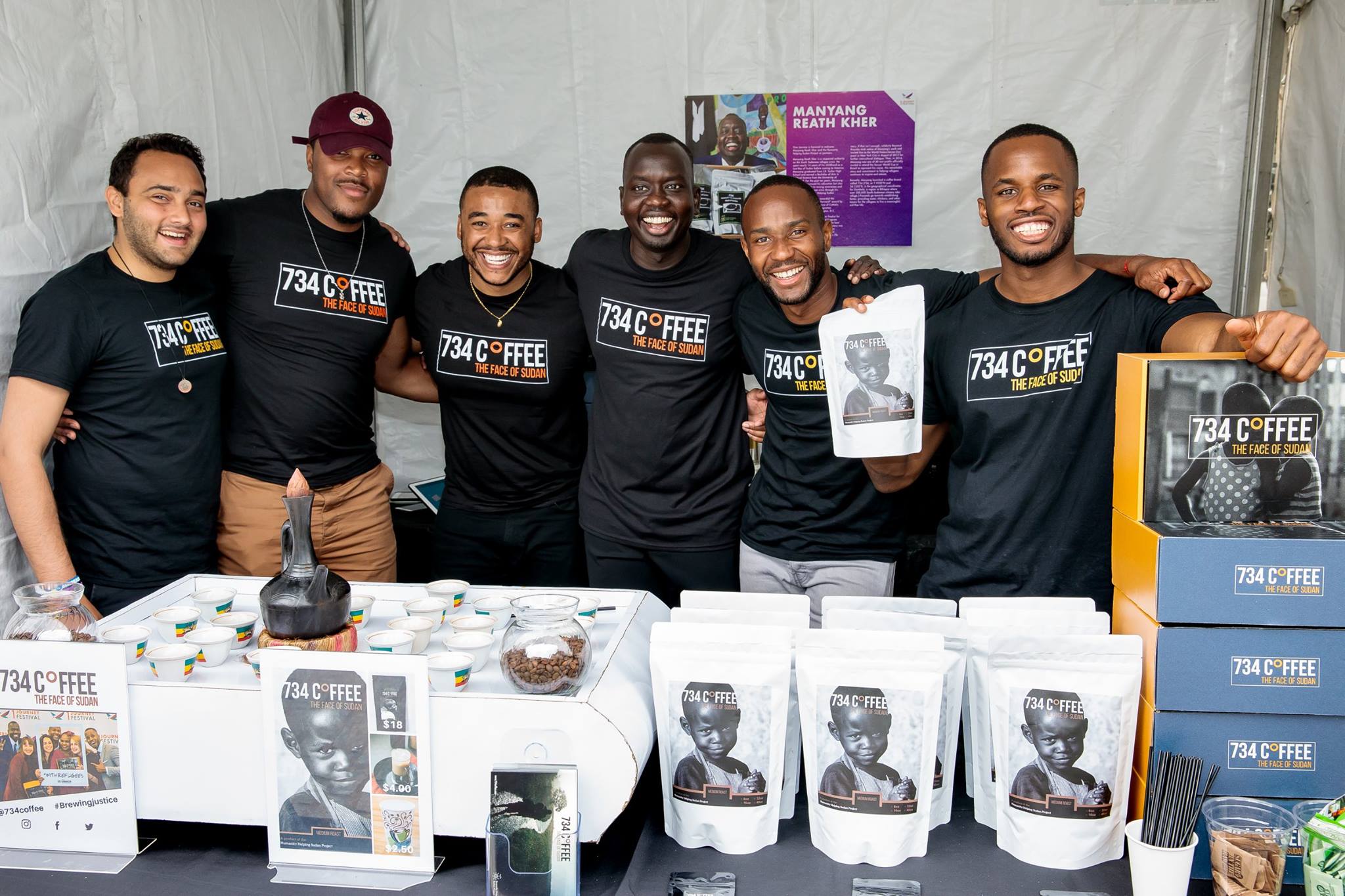 There is coffee from so many countries, what makes 734 coffee unique and how has it fared in the USA market?
In the world today, racial injustice continues to be prevalent, however, when we couple that injustice with another factor, it becomes a heightened situation that needs immediate attention. Refugees already experience unimaginable social injustices and human rights violations, especially during the current political climate in the United States, that impacts the entire world. However, when refugees (especially those of African descent) do make their way to the United States, they are met with yet another desperate circumstance, that is the racial divide in America that systemically leads to racial injustice.
734 Coffee exists to level the playing field for the often-forgotten refugee population that hails from East Africa. 734 Coffee uses America's most popular beverage as a gateway to introduce Americans to the world refugee crisis and how the U.S government's actions play a part. The 734 Coffee project distributes Arabica coffee from the Ethiopian and South Sudan region of Gambela; it caters to over 250,000 refugees, many of whom historically have been relocated to the United States. New policies in the U.S have not allowed for many refugees to find refuge here in America, this puts a burden on neighboring countries that already struggle to maintain an economy.
Coffee is Ethiopia's number one source of export revenue generating about 30% of the country's total export earnings yearly. Using Fair Trade coffee, to create opportunities, educate and build the local economy.
In terms of distribution, how wide is your network in the USA and considering that it has become a brand of its own, are there plans for expansion beyond American shores?
734 Coffee currently distributes coffee to commercial and residential complexes including Hosteling International, The WhyHotel (Tysons Corner and Arlington Campus), The Warner Building (D.C) and The Louis at 14th by Greystar (D.C); specialty coffee shops, TimGad Cafe (Reagan Center and F. st., D.C), Porter's House (D.C) and Z-Zoul Cafe (San Francisco, CA) ; retail stores, Takoma Park Co-op (Takoma, MD).
Commercial and residential complexes and specialty coffee shops:
Commercial and residential complexes, specialty coffee shops and retail stores currently make up 70% of revenue. These accounts were obtained primarily through in-person events. To retain these existing accounts and compete for new accounts, 734 Coffee will invest in equipment for them. Providing equipment for these accounts guarantees a minimum of a year-long contract and consistent and reliable purchasing of coffee beans from 734. These investments will be secured through contracts that detail the terms of use, including machine maintenance and exclusivity. This will be the most cash intensive investment that 734 Coffee makes in 2020.

734 Coffee plans to expand distribution to South America, Europe, the middle east and Asian in the future, but the next couple of years are focused on North America.
What are some of the challenges that you faced in the course of taking 734 coffee to where it is today?
Of the many challenges that 734 Coffee has faced on its journey to where it now stands, we have noticed two developing trends. The first, the bigger players in the space are undoubtedly ready to defend their market-share like any business would, regardless of our mission and the positive output that we have on the world. Second, establishing partnerships and deals at the intersection of social good and profit has been a daunting task.
We understand you are working on a very important project dubbed the Sharing Award, could you shed some light on this?
The Sharing Award is the result of a partnership between Humanity Helping Sudan, 734 Coffee, The Miller Center for Social Entrepreneurship and One Journey Festival. It was inspired by the generosity of The Tides Foundation following the spotlight placed on HHSP by the refugee-focused film THE GOOD LIE, and the advocacy of its award-winning producers, Ron Howard, Brian Grazer, Karen Kehela Sherwood and Molly Smith. The purpose of the award is to support innovative individuals and organizations that work on refugee sustainability, social inclusion and diversity in order to build communities that welcome refugees, recognize their humanity, value their hard work, offer them a path to dignified work and have respect for their cultural differences, religious ideals and political beliefs.
The Sharing Award was launched earlier in June — World Refugee Month — to shed as much light as possible on the many organizations that are moving the needle on refugee issues.
Who is eligible to benefit from the awards, what is the application process, what exactly will you be looking for in successful applicants?
The Sharing Award Winner (individual or organization) will be awarded our prestigious Vision Development Package:

A cash prize of US $5,000,
Acceptance to the world-renowned Atlas Corps Fellowship,
Invitation to attend the exclusive 2021 Nexus Youth Summit, a global community founded to bridge communities of wealth and social entrepreneurship, where the most innovative social entrepreneurs gather to discover new ideas and collaborate on world changing projects (choose to attend in New York City or Washington, DC – virtually or in person).
Applications will be reviewed by a select committee from Ashoka. Ashoka is known for its transformative program that supports the world's leading social entrepreneurs.

1st Runner Up will be awarded:

3 Months of business mentoring support through the highly regarded Miller Center for Social Entrepreneurship Jumpstart accelerator program.
Invitation to attend the exclusive 2021 Nexus Youth Summit.
Applications will be reviewed by a select committee from Ashoka.

2nd Runner Up will be awarded:

Invitation to attend the exclusive 2021 Nexus Youth Summit.
Applications will be reviewed by a select committee from Ashoka.

All Finalists (top 20):

Thanks to an innovative co-review partnership with Unfunded List, all of the Finalist applications will also be independently reviewed by an experienced evaluation committee. Each finalist will receive helpful and candid feedback regardless of whether or not they win.

Special Nomination(7):

Additionally, 7 applicants will also be nominated to receive an Ashoka review.
Individuals and organizations that submit an application for The Sharing Award must fulfill each and every one of the following criteria to be deemed eligible:
Individuals and organizations must have fully developed conceptual ideas or existing projects that focus on tackling challenges faced by migrants and refugees. Examples include projects in the areas of: entrepreneurship, job opportunity, education, leadership development, capacity building, interfaith dialogue, integration, developing welcoming communities and civic engagement.
Applicants must have a valid mailing address where postal mail can be shipped.
Applicants must have a bank account (eligible financial institution account) in the name of the organization or individual (special circumstances will be considered).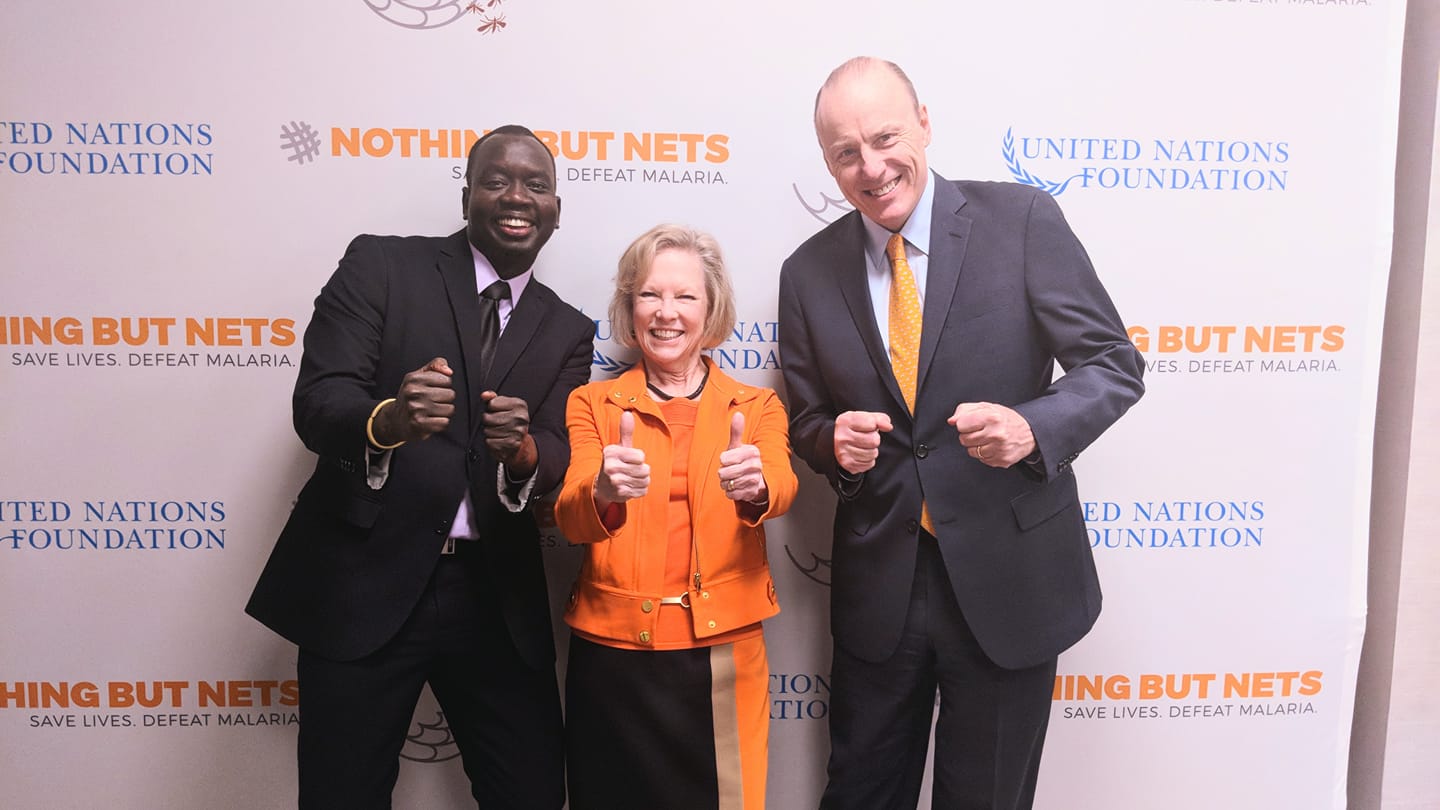 What do you make of the political and economic developments in South Sudan, and what is it "lost boys" who have eventually turned out to be amazing success stories could do to help build or contribute your home country forward?
The political and economic landscape in South Sudan is an ever improving one with the people's voice slowly but surely making a dent in actions taken by the government. With new appointees that have fresh ideas, I think that there is a lot of hope that we can look forward to.
My advice to successful citizens and especially those considered lost boys, is to invest in South Sudan. The country will not move forward if those of us who have learned and excelled in our respective professions or ventures do not return to invest our time, financial resources and key partners.
Yours has been a tale of resilience in the face of great odds, what message can you send the millions of refugees across Africa and the world going through experiences similar to what you went through?
Accept that Life is NOT "Supposed to be Fair": Know that there is no single way that life is "supposed" to be. Demanding that life meet our expectations is a sure fire recipe for a miserable existence. Life is a game with no rules. Life just happens to us regardless of our best intentions. Our only path to happiness lies in being open to receiving whatever life throws at us with Gratitude.
*For more information on the awards and how to apply visit here