From Kenya To East Africa, African Made SUV Mobius Eyes Continental Market
By Ajong Mbapndah L
In the hugely competitive world of cars, Mobius, a Kenyan based company manufacturing luxury SUVs, has carved a niche for itself, and is set for expansion into the East African market.
Designed specifically to handle the rugged African terrain with consideration for income levels, business needs, vehicle loading and more, Mobius vehicles are a strong combination of very high level durability, and very high levels of affordability, says Joel Jackson, its Founder and CEO. Speaking in a skype interview with Pan African Visions, Joel Jackson who was pushed into car manufacturing because of the transportation challenges he faced in Kenya while working with a forestry NGO, says Mobius is developing cars specifically for the local market.
"To get the combination of high durability, and affordability with a free one-year warranty covered, and authorized servicing in a way that has not been offered before is a truly unique proposition from Mobius," says Joel Jackson.
With roots firmly established in Kenya, Jackson says the next phase involves expansion into other countries in East Africa and eventually across the rest of the continent.
PAV: Good morning and thanks for granting this interview to talk about Mobius cars. Can we start with an introduction of the company and its products?
Joel Jackson: Mobius is a new car company in Kenya, and we design, manufacture, and sell vehicles suited specifically for the African markets. We launched our first generation vehicle in 2015, and we are preparing to launch our next generation vehicle now, and the vehicle is built in Nairobi factory in Kenya.
PAV: When you say the cars are designed for the African market what do you mean by that, and how different are your cars from Japanese, American, French or even German cars?
Joel Jackson: Firstly, they are very durable; they offer the same type of performance as an SUV in the Kenyan market, but they are also very affordable as well. Our position in price is just over $13,000 for a brand new SUV which is unparalleled in price offering in the market. So, it is a combination of very high-level durability, and very high levels of affordability but offered in a very attractive package which consumers find very appealing.
PAV: You are from Britain, what prompted you to get into the car business, and why the choice of Africa, and why Kenya out of 54 African countries?
Joel Jackson: My first experience in Kenya was working with a forestry NGO on the coast of Kenya, and it was quite an eye-opening experience. I spent a lot of time moving around in the rural areas of the country and I really had first-hand experience of the kinds of transportation challenges the people in those communities were facing so that was the original inspiration for Mobius to develop a car that was durable enough to handle the kinds of roads, terrains I saw in those areas. Although I planned to be in Kenya for a relative short stint, and move back to the UK and continue my career as a management consultant, I ended up staying in Kenya and founded Mobius, and I have done that since.
PAV: Let's talk about the work force of Mobius, how many workers do you have and are there Kenyans or Africans who actually participate in the production process of your cars?
Joel Jackson: Yes. So today we have about 55 people on the team, and that continues to grow. We have been fortunate to hire some incredible people from all around the world with very deep automotive experience. The vast majority of our team are Kenyans, and that includes Kenyans who have been educated abroad, worked in different car companies for a while and decided to move back to Kenya and join Mobius.
PAV: With regards to the models that you currently have, could you tell us the kinds of cars you have in the market at the moment?
Joel Jackson: Our next generation Mobius 2 vehicle is currently available for pre-order, and our customers can log into our website and pre-order the vehicle. It is an SUV offering which gives customers specifically developed rugged performance for rough road driving environments. It has many of the key features customers will expect in a vehicle, power steering, air conditioning, an optional Wi-Fi enabled tablet entertainment system in the vehicle as well. But it is specifically developed for high durability, drive performance, and a very low price rate.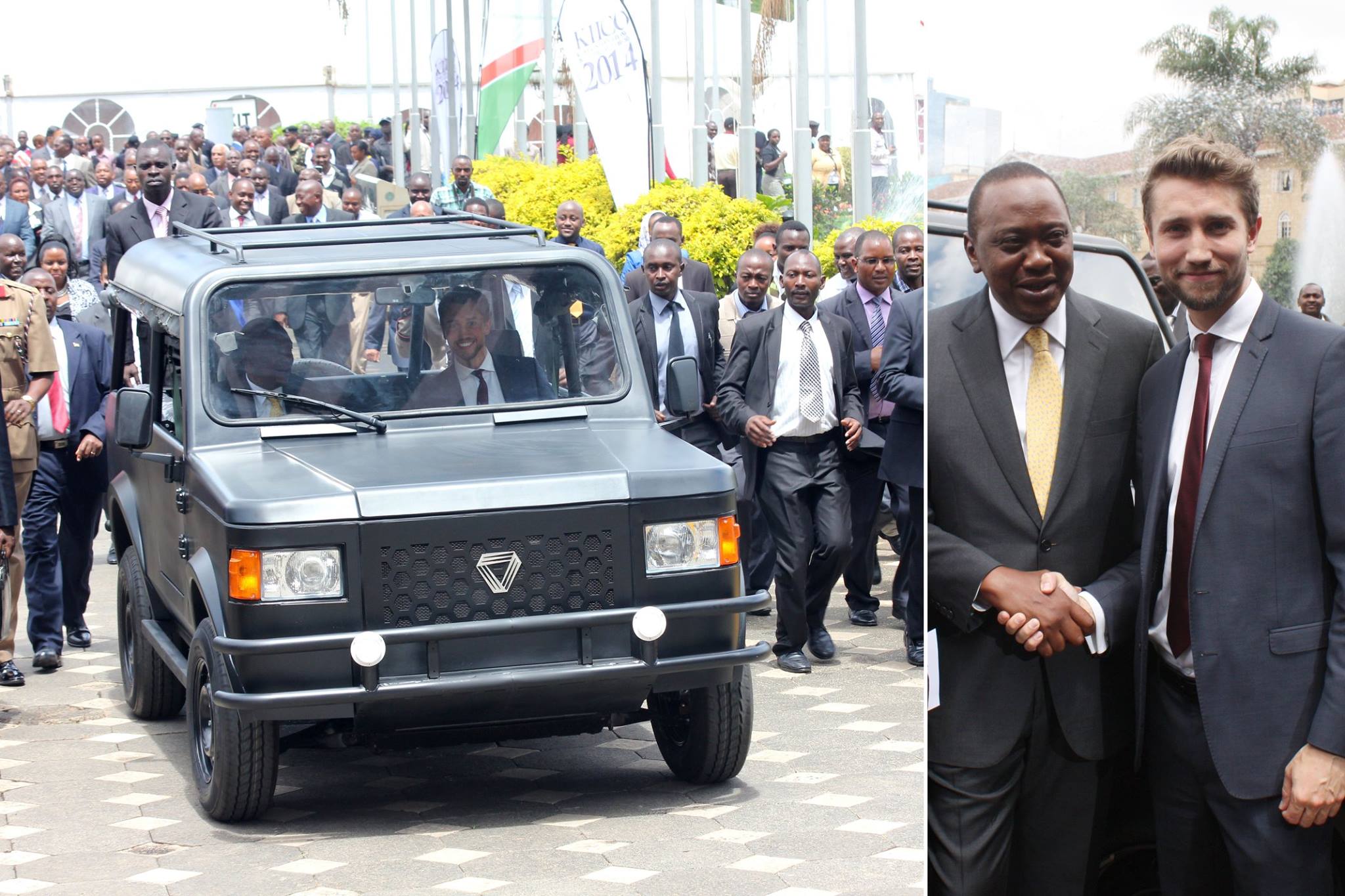 PAV: We believe there are many car companies in Kenya, how is Mobius copping with the competition from Japanese, French, Italian, and German cars?
Joel Jackson: The vast majority of cars in Kenya are mostly imported from countries like Japan. Those vehicles tend to experience high import duty when they arrive, so in many cases cars are mostly doubling in price. We are one of the few car companies operating on the continent which means we do not experience the same taxation as imported vehicles. What Mobius is doing is developing a car specifically for the local market which is highly differentiated regarding its combined durability, and affordability and that is a unique offering in the market.
To find an SUV at this price rate; we are the only one offering. Even when you compare Mobius to a five, six-year-old SUV import from Japan, our vehicle is lower in price, brand new with a free one-year warranty offer, assembled, and authorized servicing. So, it is a genuine, exceptional proposition to the consumer.
PAV: What has the response been from the consumers regarding sales, how excited are Kenyans about using your products?
Joel Jackson: Kenyans are really excited about the introduction of Mobius. We have already generated hundreds of pre-orders with minimal marketing to date and that is largely based out of the positive experience customers in Kenya have already received for our first generation vehicle we launched a few years ago. There is a huge anticipation in Kenya for the launch of our next generation car, and again our brand is well perceived in the local market.
PAV: With regards to expansion, do you plan to limit yourself to just the Kenyan market or what plans do you have in place to expand production to other African countries?
Joel Jackson: So, we plan to expand to other countries in Africa very quickly. We will be starting expansion out of Kenya initially within East Africa, and the focus there is stabilizing the production and distribution systems. One of the unique elements to Mobius that we are pioneering is a new model of sales and service for the customers, so beyond offering fantastic products in the market we are also looking to offer a better sales and service experience as well.
We have built in Mombasa a new sales and service centre that we will be launching later this year and that centre is quite different from traditional dealerships, you find in East Africa. It will be run by Mobius and has quite a distinctive architecture, it combines service operations alongside a show room facility, and we will be building such facilities across East Africa in the coming years. We will be expanding the Mobius brand presence in the Region, and we will also be offering customers much closer touch points for servicing their vehicles outside the major cities alone in East Africa. This is the big focus of the company in the coming years to scale up our distribution to reach many customers not just in Kenya, but across East Africa. Long-term as that system is stable, we will look to replicate in the other regions of Africa.
PAV: With regards to challenges, what are some issues that you have face?
Joel Jackson: The first challenge is setting up global supply chain for a product such as a vehicle, there are thousands of components going into it and each of those components have different suppliers, sometimes, the same suppliers. In our case, our primary sourcing, and has been in Asia and one of the things we have heavily been investing is building a body chain in Kenya, building that ecosystem of suppliers in Kenya in the coming years for the contents of our cars. We have a view of driving industrial change in Kenya and across East Africa and to create more jobs, and the increase in skilled levels across countries. So there has been a lot of investments in so far as working with our existing suppliers to improve the production capacity. We will be doing more work in the coming years as we drive up local content in our cars even higher from where we are today. That's certainly been one of the big focus areas of the business.
The second challenge has been in setting up the right talent base in the business to do what we do. Obviously as I have mentioned earlier, developing a vehicle in an African context is new. We are really pioneering the development launch of vehicles specifically suited for the African market. Finding the right kind of skills sometimes can be challenging particularly when you are talking about specific engineering kind of skills. But again, we have been fortunate to hire a really strong team over the previous years and develop our in house capabilities in those areas. But again, when you are starting on a baseline where sought of expertise does not exist, you have to progress as you build that over time.
PAV: Is there any kind of support or partnership that you have received from the Kenyan government as you go about business in Kenya?
Joel Jackson: Yes, we are already working according to the existing incentive scheme that the Kenyan government offer, and we are in discussion with the Kenyan government about how we can work more closely with them over time to improve the incentives that are offered in industry. We are also in discussion with the government about potential purchase of our vehicles, clearly these vehicles are well suited to the African context, and this extends to various government ministries and different parastatals which may want to buy products suited for their needs. There is also in Kenya a buy Kenya, build Kenya initiative that we are a big supporter of, and we see a kind of natural synergy in Mobius supplying Kenyan made vehicles to Kenyan government.
PAV: What impact has COVID-19 had on your activities?
Joel Jackson: At the moment as we finalize the preparation of the vehicle ready for launch, there is a lower degree of impact on Mobius than it will be on other car markers around the world who are actively in production and revenue generation. Clearly, COVID has had a major impact around the world and across all sectors. Majority of our team are working at home at the moment for obvious health reason and exercising social distancing for those who do need to be in the office, and at the factory. The first sign of this situation as we look forward to post COVID-19 world is that Mobius really has unique potential in the Kenyan and East African context to be a real proponent of change and recovery in the economy by driving job creation, and skill creation in the country, as our local content increases, and the supply chain in Kenya, increases. As our production increases, we need to be hiring more people on the production line, there is a knock-on effect to the economic potential. We also need to expand the knowledge of the workers to expand their knowledge of automotive processes.
These are value-added skills that will benefit the economy more generally, and ultimately the intention of Mobius as we drive our production volume is that we are starting to export content from Kenya to other countries in East Africa and as you export contents you drive up GDP. There is huge development potential of Mobius particularly in post COVID-19 world where there is even more need for stable manufacturing operations as a backbone for economic recovery
PAV: There is a lot of talk on the continent about the Africa Continental Free Trade Agreement, are you looking forward to that?
Joel Jackson: We are. We welcome any news that will make the trade of goods easier, quicker, and cheaper. We think the African Union has a huge potential long-term to benefit from the same type of trade or regulation that we see in the EU for example. We think our vehicles are well suited to a broader Pan-African market, and we see clear potentials in other markets beyond East Africa, so, we are all in favour or encouraging the free movement of goods. We think also on the supply chain as well as we invest in greater self-reliance in Africa to boost local industrialization. In Africa, we need to encourage more suppliers to come on board. There are many benefits, and we think everyone can win by increasing the movement of goods long-term.
PAV: How does your company give back to the community?
Joel Jackson: There are a number of ways as I have already referenced regarding industrialization, job creation, skills creation, all of these things can make a big difference to many people's lives as they get jobs they enjoy doing, get a good salary, and get a good environment that their skills can develop. Also, one of the unique characteristics of Mobius is that we are positioning our vehicles as enablers of mobility. So really there is a two-prong social impact potential of Mobius; one is in driving industrialization, and two is driving access to mobility.
So not only in the SUV offering that I was describing earlier, but also with a feature configuration of that platform that is currently under development that will enable owners to physically plug in different modules for different businesses with. It could be a public transport business, delivery service, and a wide range of applications. Those are the kinds of businesses that these entrepreneurs can run to generate income with and crucially the kinds of services that enable users in their communities to benefit from transportation. So, for everyone one entrepreneur owner of a Mobius vehicle there can be hundreds of more beneficiaries.
We hope that when people buy Mobius to run public transport businesses with, in turn we will see more people in communities in rural parts of Africa benefiting from all the kinds of services that the transportation system literary provides. So, industrialization, and mobility are two really important elements to what Mobius is doing.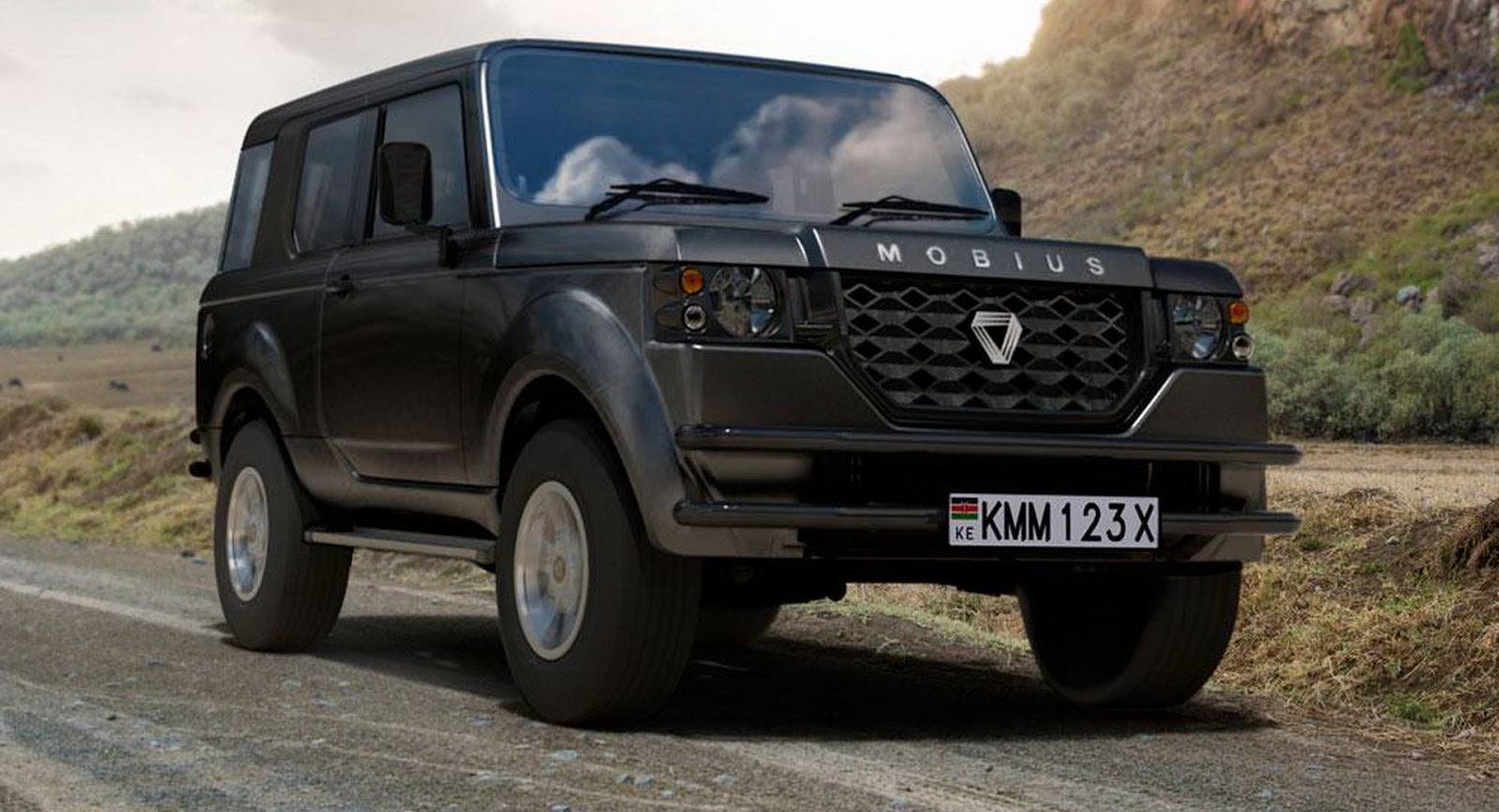 PAV: Looking at the economic conditions of Kenyans and Africans, how affordable are the cars with regards to the economic realities you see?
Joel Jackson: Relative to the incumbents in the market they are really affordable. As I mention earlier, if you buy a five or six-year-old SUV in Kenyan today imported you are paying well over $20,000. For a brand-new Mobius SUV you are paying a price starting from around $13,000. So, it is truly exceptional in that respect. But equally, many customers when they buy, they buy the vehicle with vehicle financing, and we have already work with a number of customers, and their banks to help to set up vehicle financing lines that they can purchase their vehicles with. Obviously, vehicle financing is something that we will be placing more and more emphases on over time as we expand our market, and we hope long-term with more vehicle financing products available many more customers in East Africa will be able to buy these vehicles.
PAV: We end with an opportunity for you to make a direct pitch to Kenyans and Africans out there on your business, why should they go for a Mobius made car as opposed to a Toyota ,Honda or some other brand ?
Joel Jackson: To get the combination of high durability, and affordability with a free one-year warranty covered and authorized servicing in a way that has not been offered to date, is a truly unique proposition, and it's a very attractive vehicle that is a lot of fun to drive in, and we will encourage customers to come visit our showroom and see for themselves
PAV: Mr. Joel Jackson thank you for talking to Pan African Visions.
Joel Jackson: Likewise, it was great to be with you and thanks for taking the time.
* The full interview is featured in the upcoming July issue of Pan African Visions Magazine.For more information on Mobius cars click here