Cameroon: #JusticeForWazizi as Journalist Reportedly Killed by Security Forces
By Boris Esono Nwenfor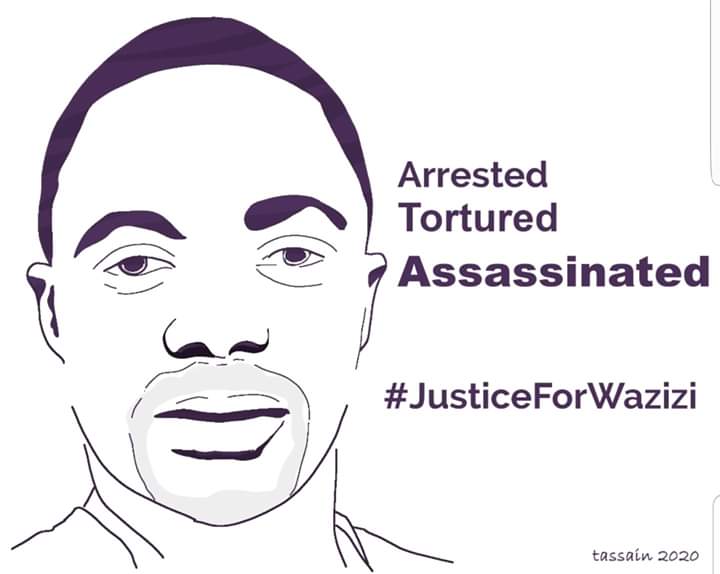 The hashtag JusticeForWazizi is the number one trending topic in Cameroon at the moment after confirmed reports from Journalist Associations say Samuel Ajiekah Abuwe, popularly known as "Wazizi" has been allegedly killed in the hands of Cameroon's security forces.
The Pidgin-English broadcaster who worked for CMTV was known for hosting the programme "Hala ya Mata". He was arrested on Friday, August 2, 2019, and has been held incommunicado ever since.
News of the alleged death of a popular Buea based journalist "Wazizi" has been received with great consternation from the media family in Cameroon and politicians. It is still uncertain whether or not the journalist who was arrested last August 2019 is alive or dead, as he has not been seen in public ever since he was arrested.
At the late hours of Tuesday, June 2, 2020, reports were circulating on various social media sites in the country reporting that the journalist had been tortured and ad leading to his death. This information at the time could not be corroborated by the defence counsel handling the case. He like the rest of the Cameroonian journalists has not seen WAZIZI ever since his arrest.
In a tweet from the National Bureau of CAMASEJ, they have confirmed that Wazizi is dead. "He died at the Military Hospital in Yaounde after succumbing to torture. CAMASEJ and SNJC will issue a plan of action later today. Journalists on your marks," the tweet read.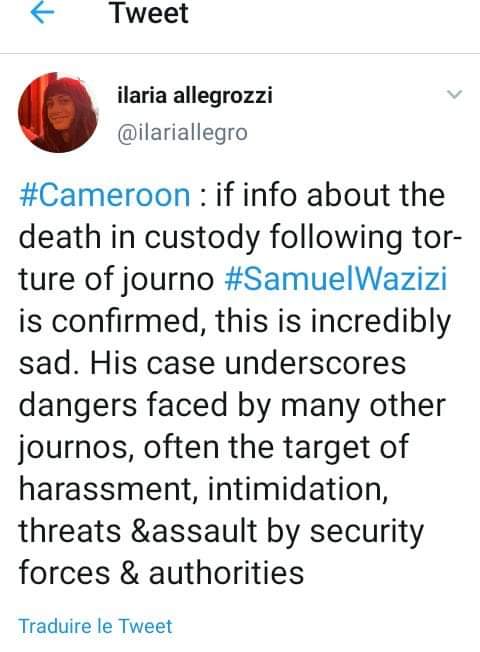 To demand action from the authorities in the country, Journalists under the banner of the Cameroon Association of English Journalists (CAMASEJ) Buea Chapter is planning a protest match tomorrow June 4, 2020, from the Buea Independence Square to the Governor's office to demand answers.
"It is time we all stand together as a people to demand justice for WAZIZI. And all other journalists unjustly incarcerated today and languishing in the dungeons just for doing their job. This is unacceptable! This is intolerable! This jungle justice system of the out-dated regime must be redressed by the people and thus only through civil disobedience, internal and external pressure for a political transition to a new government and a new REPUBLIC," a statement from Popular Action Party and signed by its national President Njang Denis Tabe read in part.
"We call on all lawyers, civil society organizations, and most especially the community of English speaking journalists to stand to their feet and fight for their rights and the rights of the oppressed people of Cameroon and journalists in particular. Because today it is WAZIZI, tomorrow, YOU may be next."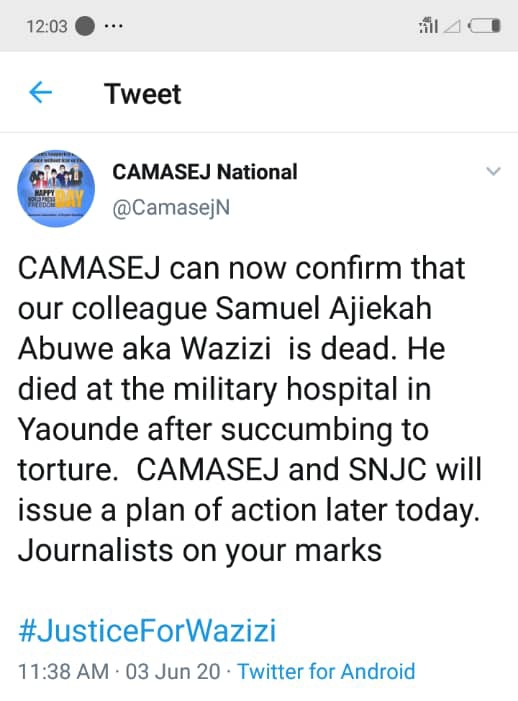 Barrister Michelle Ndoki, leader of the Women's wing of the Cameroon Renaissance Movement (CRM) wrote: "This is how you know you live under a dictatorship: a journalist is arrested, dies while under custody, and lawyers and family knows almost one year after. This is unbearable and we can't be asked to continue to bear with."
"The day will come soon we will all rise as a people against this small tiny group of oppressors. I can see that day coming," She added
Renowned Human Rights lawyer Barrister Felix Agbor Balla, who himself was arrested by Cameroon's security forces wrote on Twitter: "What really happened to Samuel Wazizi? We need answers from the government. We say no to impunity and yes to accountability."