The Rockefeller Foundation Announces New Awards to Strengthen Covid-19 Response in Communities Across Africa and Asia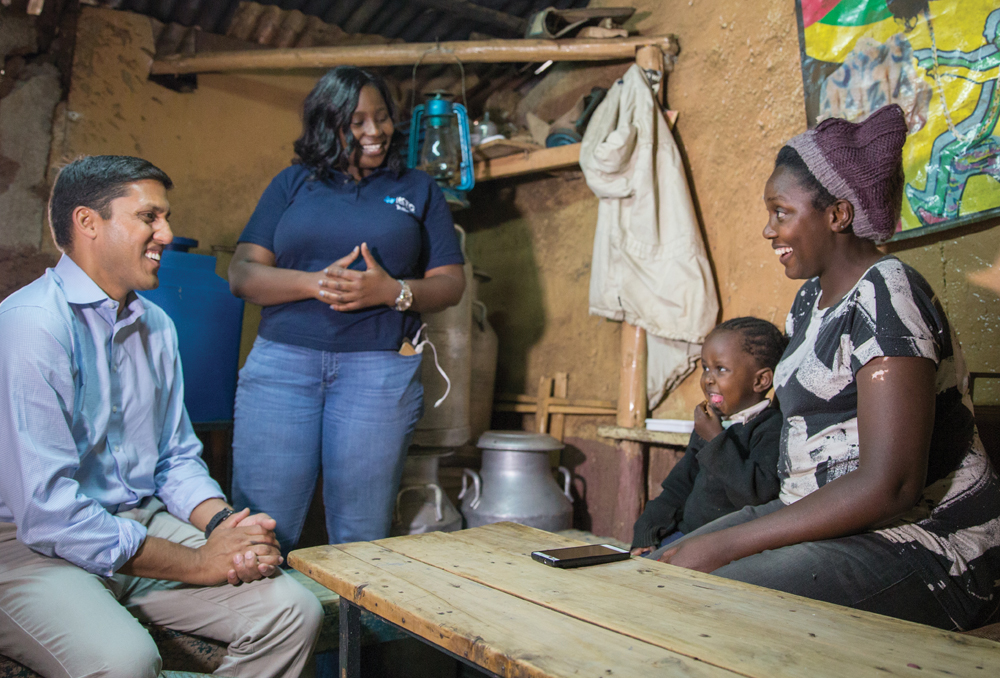 The Rockefeller Foundation announced today that it will award three new grants to support organizations that are working with countries, communities and regions in Africa and Asia to leverage data and technology to bolster their Covid-19 response. These grants will enhance data collection through contact tracing, symptom checking, and testing that can generate data that is crucial for ensuring efficient Covid-19 responses across community, country and regional levels. The Foundation is also expanding its support of off-grid technologies that can quickly address the energy needs of healthcare facilities currently operating without electricity.
"When I was leading the U.S. response to the 2014 outbreak of Ebola in West Africa, using transparent, location-specific, real-time data was a game-changing innovation," said Dr. Rajiv J. Shah, President of The Rockefeller Foundation. "Employing a data-driven response to outbreaks is critical to target prevention and response efforts much more precisely and return to normal more quickly."
With more than 5 million cases globally, countries have turned to technology at all levels of their health systems to respond to Covid-19. Yet many lower- and middle-income countries do not have the same resources as wealthier countries to develop innovations that meet their unique needs and could aid their responses. As a result, those countries with the fewest resources to combat a Covid-19 outbreak are often the least well-positioned to leverage data and technology to drive efficient responses.
"We are partnering with countries and local communities to equip them with the technologies and tools that will help to protect their health and save their economies," said Ashvin Dayal, Senior Vice President, Power Initiative, The Rockefeller Foundation. "Reliable electricity is essential for effective testing and treatment, and off-grid technologies can be rapidly deployed to address this crisis."
To support countries and those on the frontline in their Covid-19 responses, the Foundation is awarding grants totaling $2 million to four organizations: Dalberg, Dimagi, Medic Mobile and Odyssey Energy Solutions. These new grants build on the Foundation's efforts to improve public health and provide reliable electricity to vulnerable communities worldwide and brings its total commitment to the global Covid-19 response to over $50 million.
The Foundation's new grants include:
Dalberg has received a grant to strengthen the Incident Management System (IMS) capacity of West African Emergency Operations Centers to prepare for, detect and respond to public health emergencies. The foundation's grant will support work in six West African countries: Senegal, The Gambia, Guinea, Guinea-Bissau, Mali, and Mauritania. "Emergency Operations Centers help countries and communities come together in a way that saves lives and allows economies to get back on their feet more quickly after disasters have passed," said Madjiguene Sock, Partner at Dalberg. "This grant will allow us to bolster the effectiveness of the Emergency Operations Centers we have supported for more than seven years, as well as establish a platform for collaboration and knowledge sharing between centers across West Africa."
Dimagi and Medic Mobile have received funding to equip community health workers with new digital tools that can bolster a data-driven response to Covid-19 in up to 50 countries. Dimagi and Medic Mobile are the two largest developers of apps designed specifically for community health workers, reaching 700,000 community health workers across the globe. "Digital tools can make a real difference in fighting Covid-19, but only if they make it into the hands of health workers," said Isaac Holeman, PhD, Co-Founder of Medic Mobile. "This collaboration is an opportunity for our organizations to share what we know, to leverage our respective strengths in order to deliver systems that are optimized for frontline workers in hard-to-reach communities." Jonathan Jackson, Co-Founder and CEO of Dimagi added, "By creating and sharing these tools, we can help community health workers better respond to this devastating virus and optimize public health in the long-run. These tools will shape a future in which we can predict and respond to pandemics faster and more effectively."
Odyssey Energy Solutions is receiving funding to develop its data platform, which will enable the fast and sustainable deployment of donor capital to energize healthcare facilities with distributed renewable energy technology. The Odyssey platform will align donor efforts, targeting efficient allocation of over $200 million across at least 2,000 health centers in sub-Saharan Africa. "Over 70% of healthcare facilities lack access to reliable electricity in sub-Saharan Africa," said Odyssey CEO Emily McAteer. "By integrating key datasets with the location of priority health facilities, matching them with developers, supporting the bulk procurement of mini-grid components, and utilizing asset management technologies to track performance, this project will help address the energy needs of healthcare facilities immediately and reliably." Dana Rysankova, Global Lead for Energy Access at the World Bank noted: "The Energy Sector Management Assistance Program (ESMAP) is supporting World Bank client countries in their efforts to electrify health facilities to help mitigate the Covid-19 health crisis. Odyssey can be a very powerful tool in this effort. In Nigeria, for example, the Rural Electrification Agency and the World Bank are partnering with the Odyssey platform for a significant Covid response effort to electrify isolation and treatment centers and primary healthcare facilities, many of which are subsequently expected to be expanded into mini grids that also serve neighboring communities and businesses."
"The Rockefeller Foundation has supported the field of public health for over 100 years, fueling progress against disease through innovation," said Naveen A. Rao, MD, Senior Vice President, Health, The Rockefeller Foundation. "These grants build upon that legacy to ensure that countries can fight a 21st century pandemic with 21st century tools."
The new grants are part of the Foundation's overall response to the global pandemic, as described in Dr. Shah's 2020 Annual letter.
About Dalberg
Dalberg is a leading social impact advisory group that brings together strategy consulting, design thinking, big data analytics, and research to address complex social and environmental challenges. We work collaboratively with communities, institutions, governments, and corporations to develop solutions that create impact at scale. With more than 30 locations worldwide and a diverse footprint in the global south, Dalberg is driven by a mission to build a world where all people, everywhere, can reach their fullest potential. In the midst of COVID, Dalberg is coming together with a diverse range of partners and collaborators to mitigate the most serious effects of the crisis for vulnerable communities around the globe. From preparing and transforming under-resourced healthcare systems to partnering with governments to re-imagine existing supply chains and open up new opportunities for livelihoods, we are building systems and solutions that address immediate risks and fend off broader socio-economic disruptions. In all that we do, we rely on our diverse capabilities, cross-sector experience, global mindset and local presence to contribute to the building of a more inclusive and sustainable society for the future.
About Dimagi
Founded in 2002, Dimagi, Inc. is an award-winning, socially conscious technology company that helps organizations around the world deliver quality digital solutions for a variety of sectors, across urban and rural communities. Dimagi's flagship solution, CommCare, is a leading open-source mobile data collection and service delivery platform designed to improve data collection and the quality of frontline services in low-resource settings. More than 700,000 frontline workers have used CommCare across more than 2,000 projects in 80 countries. Today, Dimagi is supporting COVID-19 response efforts with several state, local, and national governments. Dimagi's team of exceptional physicians, engineers, and health system architects perform technical strategy, systems design, software development, and health research with partners around the world.
About Medic Mobile
Medic Mobile's mission is to advance good health and human flourishing with and for the hardest-to-reach communities. A unique non-profit organization, Medic Mobile works with partner organizations to build and apply software that helps health workers deliver equitable care. As technical steward of the Community Health Toolkit open source project, Medic Mobile supports more than 27,000 health workers who provide care for over 12 million people in sub-Saharan Africa and South Asia. Most of the organization's nearly 100 engineers, designers, and global health practitioners work from offices in Nairobi, Dakar, and Kathmandu, and roughly a third work remotely or from offices in Seattle and San Francisco. The organization and its open source community envision a more just world in which health workers are supported as they provide care for their neighbors, universal health coverage is a reality, and health is a secured human right.
About Odyssey Energy Solutions
Odyssey is an investment and asset management platform that enables data-driven capital deployment into distributed energy portfolios. The platform manages data across the lifecycle of project portfolios, including feasibility analysis, investment diligence, and asset monitoring. Odyssey is being used by key donors, governments and development finance institutions to manage large-scale mini-grid, solar home system, and other electrification initiatives across numerous countries in emerging markets.
About The Rockefeller Foundation
The Rockefeller Foundation's mission – unchanged since 1913 – is to promote the well-being of humanity throughout the world. Today the Foundation advances new frontiers of science, policy, and innovation to solve global challenges related to health, food, power, and economic mobility. As a science-driven philanthropy focused on building collaborative relationships with partners and grantees, The Rockefeller Foundation seeks to inspire and foster large-scale human impact by identifying and accelerating breakthrough solutions, ideas and conversations. In health, The Rockefeller Foundation has been working to improve global public health for more than a century – from eradicating hookworm in the American South, to launching the field of public health, to seeding the development of the life-saving yellow fever vaccine. The Foundation's Precision Public Health initiative aims to empower community health systems and frontline health workers with the latest digital innovations – including more accurate and precise decision-making tools based on predictive analytics, artificial intelligence, and machine learning.
*AMA/ Rockefeller Foundation